Search engine optimization (SEO) is an excellent way to make your healthcare practice visible to more patients. When people need a new healthcare provider, many turn to Google for their research, and SEO helps your practice appear at the top of their search results.
Due to the complexity of healthcare SEO, many practices partner with an SEO agency to optimize their site. If you're considering doing the same, you might be wondering, "how much does healthcare SEO cost?"
In short, it depends.
While there is no simple answer to how much medical SEO costs, on this page, we'll explain:
With this information, we hope to simplify your research and help you make an informed decision about whether to invest in healthcare SEO.
Keep reading for a complete overview, or if you'd like to go ahead and learn about our SEO packages for your healthcare practice, check out our SEO services page!
How much does healthcare SEO cost?
Healthcare SEO can cost anywhere from $100 to $30,000 or more, but it most commonly costs between $400 and $10,000.
This cost includes various deliverables, depending on your service provider, their pricing model, and the plan you choose. However, monthly SEO services from a reliable agency or freelancer should include:
These deliverables cover the most critical aspects of a well-rounded SEO strategy for healthcare practices.

Hear What It's Like to Work With WebFX!

"WebFX has completely transformed my practice. With their support, I have expanded my practice significantly and grown exponentially. I could not have expanded to this degree, nor this quickly had it not been for the incredible efforts provided by WebFX and my team."
Healthcare
How much does local healthcare SEO cost?
As a healthcare provider, you might also want to invest in local SEO to promote your site to local searchers. Local healthcare SEO costs anywhere from $300 to $2000 per month.
When working with a reputable local SEO provider, this cost should include:
Routine reporting
And more
These tactics will help your site appear in the local search results when people search for providers near them.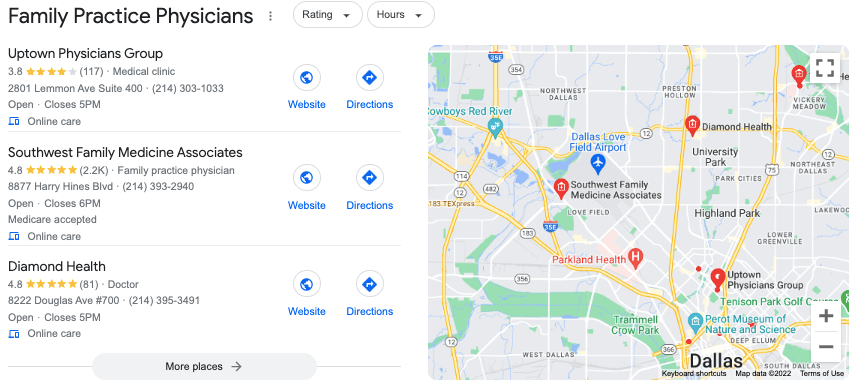 You might also find three types of local healthcare SEO, which can affect your price:
Automated local healthcare SEO: With automated local healthcare SEO, automated platforms submit your practice's phone number and location to local directories. This type of local SEO costs $84 to $499 per year.
Small-scale local healthcare SEO: As the name suggests, small-scale local healthcare SEO is performed by an SEO expert, albeit on a smaller scale than comprehensive local SEO. This type of local SEO costs $399 to $899 per month.
Comprehensive local healthcare SEO: For a robust local healthcare SEO plan for multiple locations, you'll want to invest in comprehensive local healthcare SEO. This type of local SEO costs $899 to $1999 per month.
As you can tell, local healthcare SEO costs less on average than general SEO, but the prices vary considerably based on the type of service you need.
What are the different healthcare SEO pricing models?
The previous sections give average costs for healthcare SEO, but while researching services, you'll also find various pricing models. The most common healthcare SEO pricing models include:
Monthly: A monthly pricing model, also known as a monthly retainer, is most commonly found with agencies. If you pay for healthcare SEO on this pricing model, you can expect to pay anywhere from $1500 to $5000 per month.
Hourly: If you hire an SEO agency or freelancer on an hourly basis, you can expect to pay anywhere from $100 to $300 per hour.
Project-based: While monthly and hourly pricing models pay time-based fees, you can also choose to pay for specific projects or tasks. A project-based model might charge $5000 to $30,000 per project.
Fixed-price contract: You can also opt to pay a fixed price for various medical SEO tasks. Under a fixed-price contract, you might pay $0.15–$0.50 per word for SEO copywriting, $500–$7500 for a site content audit, $500–$7500 for a link profile audit, and $500–$3000 for social media site setup.
The pricing models vary considerably, and the one you choose affects how you set your healthcare marketing budget. So, how do you determine which pricing model is best for your practice?
If you want to hire an SEO company to complete a specific task, a project-based model might work well. Perhaps you want to maintain your SEO yourself, but you need an SEO expert to audit your site's SEO and set up your Google Business Profile.
However, if you don't plan to maintain your SEO yourself, a continuing service plan is likely best. SEO is an ongoing process, so a pricing model like a monthly retainer ensures you keep your SEO services consistent for as long as you're working with your SEO provider.
What affects your medical SEO cost?
Within these averages, you might have noticed a considerable range. Due to the complexity of healthcare SEO, many elements affect these prices. A few of the most common factors you might see in your research are:
Agency expertise: The more experience an SEO provider has, the more they might charge. However, given the complexity of SEO, this extra cost can be a worthwhile investment.
Your goals: How aggressive do you want your SEO strategy to be? An SEO plan that targets more keywords, for example, will likely cost more.
Competitiveness of your niche: The healthcare industry can face steep keyword competition, but if you operate in a specialized niche, you might have less competition. The more competitive your specialty, the more intense an SEO strategy you'll need, which can affect your SEO price.

Your current SEO standing: If your practice already has a consistent presence in local directories and a robust backlink profile, your SEO provider will have less upfront work to lay a strong As a result, your current SEO standing can impact the cost.
Extensiveness of your SEO plan: Will you need your SEO provider to write many pages for your website, or would you like to take advantage of other closely related SEO tasks? If so, you might need to invest more.
Number of locations: If you invest in local healthcare SEO, the number of locations you wish to target directly impacts your price because your SEO provider will need to complete SEO tasks for every area.
Given the many factors that affect healthcare SEO, the best service providers create a customized plan for your business. A custom plan is the best way to ensure your SEO strategy meets your unique needs and drives the desired results.
Should you invest in healthcare SEO?
Now that you know what to expect from healthcare SEO pricing, how do you determine if it's worth the investment? Healthcare SEO brings considerable return on investment (ROI), with nearly half of marketers saying organic search yields the highest ROI.
SEO carries a considerable ROI because of its many benefits, namely that you're helping your practice appear higher in the search results when nearby patients search for providers like you.
Because many people research healthcare providers online before booking an appointment, this high placement can directly impact the number of new patients you receive.
Healthcare SEO also means investing in content marketing — your web content is how you'll target your chosen keywords. This content creates the perfect opportunity to showcase your expertise as a healthcare provider, increasing patient trust before they book their first appointment.
In a field where people must trust you with something as precious as their health, this opportunity is priceless.
Meet WebFX:
Your world-class, tech-enabled marketing agency with over 1.6 million hours of combined expertise.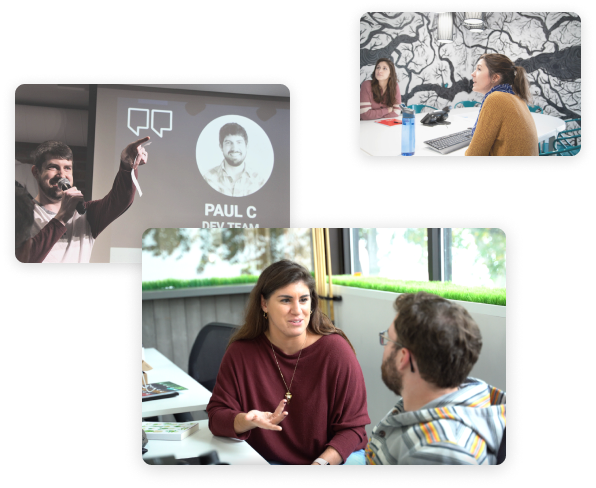 Grow your website with healthcare SEO from WebFX
Are you ready to invest in one of the most foundational digital marketing strategies for your healthcare practice? Consider partnering with WebFX, a premier SEO agency with experience in industries like yours.
We offer transparent SEO pricing, so you know what to expect when working with us. All our SEO plans include a customized strategy tailored to your business's needs and access to a team of more than 500 digital marketing experts.
With over 25 years of experience in digital marketing, we're SEO pros. However, we're also familiar with your industry. We understand the complexities of marketing a healthcare company while staying HIPAA-compliant.
If you want to partner with an agency that knows healthcare SEO, learn more about our SEO services today.
Or, if you'd like to speak with a strategist, call us at 888-601-5359 or contact us online today!
Earn a 20% greater ROI with WebFX