Are you a healthcare provider looking to drive more local patients to your practice? If so, the best way to gain the visibility you want for your healthcare practice is through local search engine optimization (SEO). By investing in local SEO, you'll help more local patients find your practice.
Ready to get started boosting your practice's website with local SEO? Check out WebFX's awesome local SEO services or read on!
WebFX helps clients in the healthcare industry grow their practices.
"My practice has grown quickly and improved our accessibility to those we serve or hope to serve within our community. WebFX is directly responsible for our growth and the fact that we have more than doubled our revenue in six months."
— Merrimack Valley Psychological Associates
See Case Study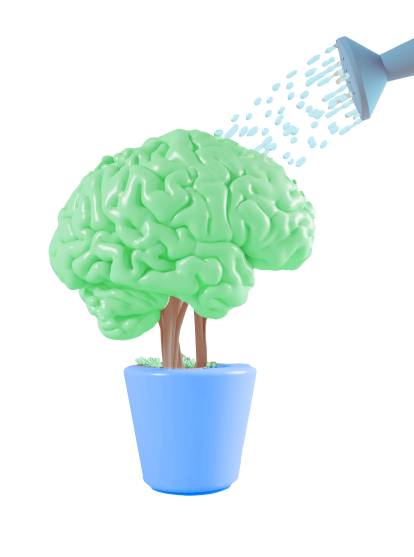 Why local SEO matters for the healthcare industry?
Did you know that there are more than 70,000 health-related searches on Google per minute every day? With healthcare marketing statistics like that, you need a local SEO strategy for your healthcare company.
Local SEO means optimizing your medical practice's pages more specifically for local searches.
In its basic sense, local SEO is about increasing your website's visibility for the people that have a high chance of wanting your healthcare services in your area, as well as providing your site's visitors with an excellent experience.
Optimizing your healthcare site for local SEO will:
Reach more local patients by increase your site's crawlability for search engine web crawlers and boost your healthcare site's rank in local searches
Make a positive first impression through a well-designed website, making patients more inclined to engage with your practice online and get familiar with your brand
Improve your site's user experience (UX) for patients and improve your patient's perception of your brand
Match your content to your local audience's search intent and provide valuable information to patients
When you optimize your healthcare site for local SEO, your site will appear higher in local searches like "near me" and others that Google understands the intent as users wanting the location of within their near vicinity — searches like "restaurants" or "gas station."
Local SEO has concrete steps you can take that can supplement your SEO efforts while also improving your healthcare practice's local visibility in searches.
When you take these steps, you have a high chance of appearing on a Google local 3-pack like this one here, which can help you drive traffic to your page and physical location.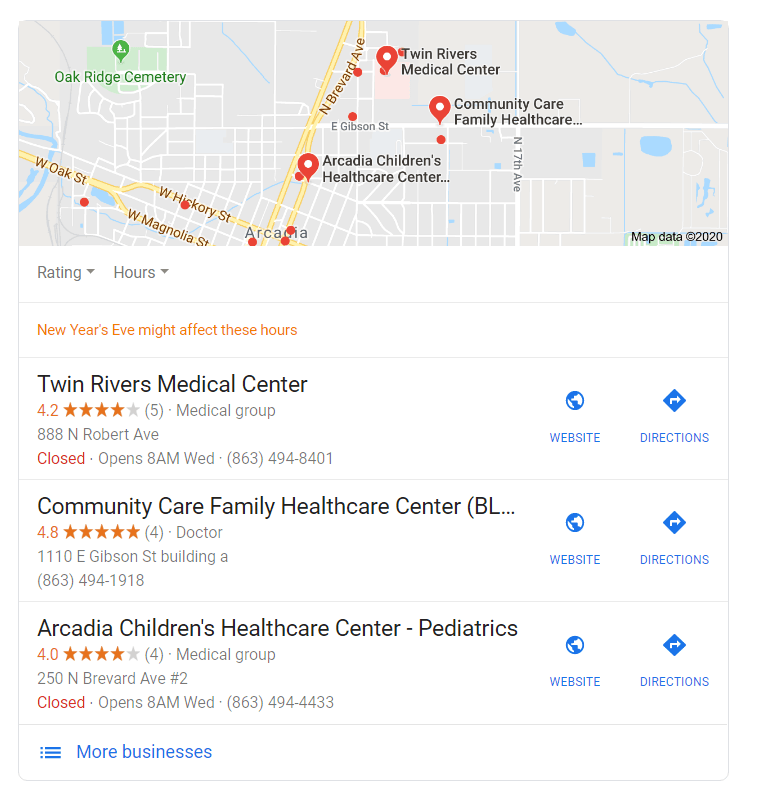 Hear What It's Like to Work With WebFX!

"WebFX has completely transformed my practice. With their support, I have expanded my practice significantly and grown exponentially. I could not have expanded to this degree, nor this quickly had it not been for the incredible efforts provided by WebFX and my team."
Healthcare
5 tips for getting started with local SEO for healthcare
If you're ready to dive into Local SEO for healthcare for your practice, check out these five tips for getting started!
1. Claim your Google Business Profile listing
If you want to garner success with local SEO for healthcare, start by claiming your Google Business Profile listing. This listing appears in search results at the top with two other businesses, known as the local SEO 3-pack.
If you haven't claimed your Google Business Profile listing, it's easy and free to claim it.
Once you claim your local listing, you'll provide information such as:
Practice's name
Address
Contact information (phone number, email)
Hours of operation
Photos of your practice
Small blurb about your practice
By adding this information, you'll provide local searchers with a detailed listing of your practice.

2. Manage your local listings
As a local business, your information is posted on multiple websites and directories. From Google Business Profile to Yelp, it's important that you manage your local listings to ensure you're providing everyone with accurate information about your practice.
Tools like LocalFX can also help you manage your online local listings. With it, you can do things like:
Sync listings across 100 directories
Check listing reports to measure performance
Monitor listing status (e.g., listed, unlisted, etc.)
Make sure to check your listings to make sure that your practice's information is accurate. You'll want to verify your:
Name
Contact information
Hours of operation
Location
Services
It's crucial that you keep your listings consistent, so patients have accurate information about your practice, regardless of where they find you.
If you find incorrect information on any publisher, platform, or directory where your healthcare information appears, make sure to take action to correct the information.
In many cases, directories such as Yelp will require you to claim listings to verify that the information they have gathered is correct.
There are several tools like our proprietary LocalFX that you can use to find and manage your healthcare practice's local listings.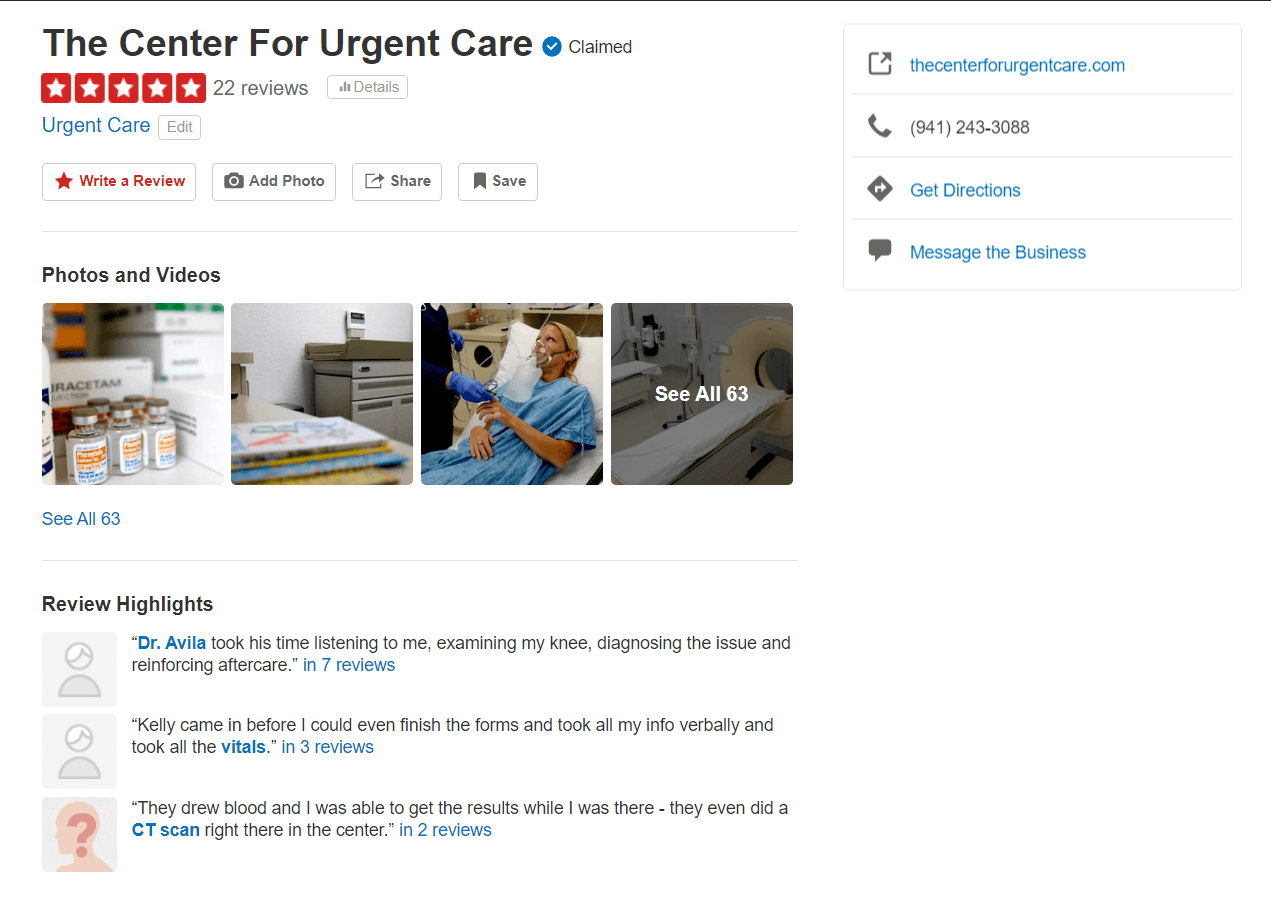 3. Ask for and respond to patient reviews
With the invention of the web, the importance of online reviews for the healthcare industry has soared: 80% of consumers trust reviews as much as personal recommendations.
People want to find the right practice for their needs. When researching your clinic, they'll turn to reviews to help with their decision-making process. Reviews can help them see if they'll get the quality of care they need.
Reviews can also build your health center's trustworthiness in your community and help patients understand how you handle negative feedback, so they're essential to manage.
To start garnering reviews, ask your current patients to rate their experience at your practice. Encourage them to leave feedback on your Google Business Profile, or other local listings, by giving them a handout with information on how to review, sending an email, or sending an automated text message.
When you have reviews on your website, take time to respond to them, whether positive or negative. Here's how to respond to reviews:
If it's a review with positive feedback, show appreciation that they enjoyed their experience at your healthcare center and thank them for taking the time to leave the review.
If it's a review with negative feedback, apologize to the patient for their negative experience and ask them to follow up with your practice, so you can get more information and rectify the situation.
Remember, it's good to have some negative reviews because it allows people to get a full picture of the practice. It also allows you to showcase that your practice values transparency.
Gathering reviews helps your medical center gain trust and build credibility with new patient checking out your practice. Reviews get more people to interact with your listing and visit your website to learn more about your practice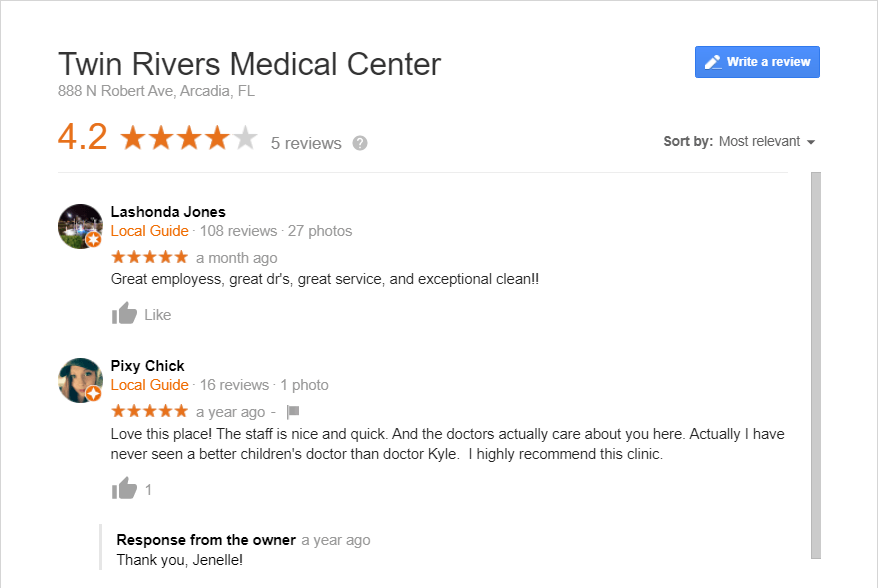 4. Improve your website
Your website serves as your healthcare organization's first impression for new patients. You want to exude professionalism, expertise, and care to your patients, so you must invest in creating a user-friendly and informative website.
You want your patients to have a good experience with your clinic from beginning to end, so you need to have a website that's visually appealing, contains clear information and easy to navigate.
Some local SEO best practices for your healthcare website include:
Displaying your clinic's phone NAP and hours of operation (make sure it's consistent) in a visible location somewhere on your website, such as within a footer or "Contact Us" subpage.
Creating simple navigation, so users can find information quickly. Highlight places like the services page, about us page, contact page.
Integrating your brand's colors and design into the page.
Integrating CTA buttons that help move patients towards the next step.
Adding contact information, so leads can get in touch.
Adding visuals, like photos and videos, to make content engaging and break up text on the page.
Integrating a responsive design to make it easy to look at the practice's site on any device. People often need to see a medical professional fast, so they'll look on mobile devices to find the right one.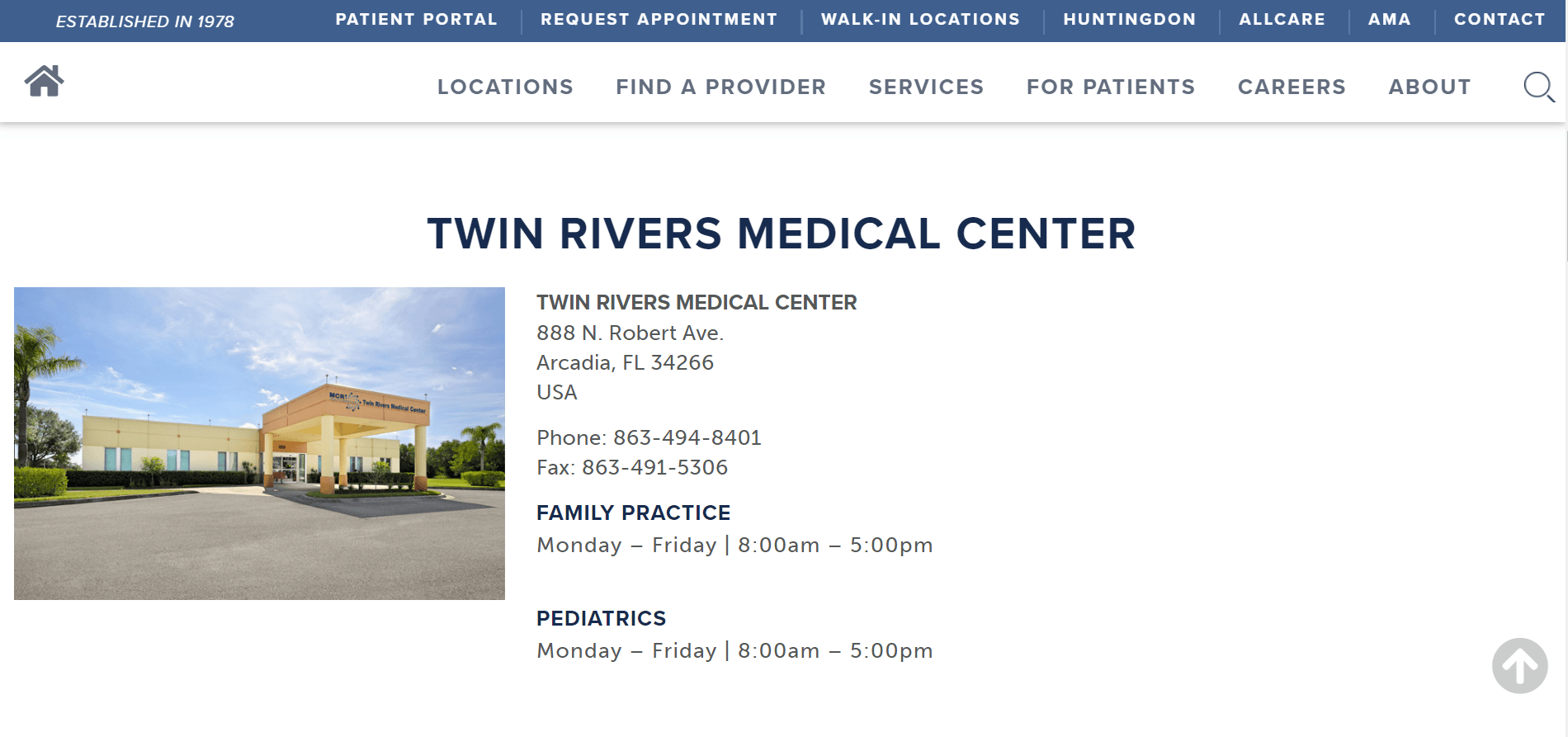 5. Create informative content for local patients
If you want to drive more patients to your local practice, you must invest in creating content. Content helps improve your ranking in the search results by driving more traffic to your website. You attract this traffic by creating well-informed or interesting content for prospective patients.
Here are some examples of content you can create:
Information about a local event you're hosting or attending [wellness fair, flu shot event, etc.]
Feature article about a new medical professional joining your team
Article about a new service you're offering at your practice
Video about how to stay healthy in the winter (if you're located in a cold area)
Services you perform for specified areas
Information on new locations in those areas
Health-related events you sponsor
And more
Where ever relevant, include location-based keywords in your content. The city where you have your healthcare center located is an important keyword to include throughout your website content. Other keyword research items you could include on your agenda are:
Researching in-depth relevant local keywords that mesh well with your healthcare site's content
Understanding your target audience
Generating new local content for any local keywords you don't already have content for
Choosing the right format of content for a topic [blog, video, infographic, etc.]
Use a content schedule to create content often
Implementing your brand's voice in every piece of content
Monitoring content performance to ensure its driving results and being effective
Using local keywords where appropriate in content URLs, headings, title tags, meta descriptions, and image file names
Start using local SEO for healthcare today
Local SEO for healthcare will help you drive more patients to your practice.
If you want to invest in local healthcare SEO but don't have the time to dedicate to building your campaign, WebFX can help. WebFX is an industry-leading healthcare marketing agency specializing in crafting revenue-driving SEO strategies.
With over 25 years of local SEO experience, our team at WebFX knows how to create local SEO campaigns that drive results. We have over 1020 client testimonials that attest to the excellent work we do for them!
Want to learn more about how our local SEO services for healthcare will help your practice grow? Contact us online or call us at 888-601-5359 to speak with a strategist!
Earn a 20% greater ROI with WebFX