When it's time to move into a new place, people turn to a moving company to help them. Moving is a stressful process, but companies like yours make it easier.
People research the most qualified movers in their area to ensure that only the best movers are handling their possessions. Most people will conduct a search on Google to find moving companies in their area. They'll select the top few results, check out their websites, and make a decision.
If your website isn't one of the top results, you're missing out on potential consumers. The top three search results get the most clicks, with the first position garnering a 35% click-through rate (CTR). For each position after that, the CTR drops significantly, and the CTR for the sixth position and below is less than 5%.
So, how can you move your way to the top of the results?
Search engine optimization (SEO) is one of the best ways to get your website ranking higher. In order to boost your ranking, you'll need to know how to make the most of your SEO plan.
Keep reading for more information about how to improve your SEO plan, or call 888-601-5359 to speak with a strategist!
1. Create your Google Business Profile listing
Google Business Profile is a free tool available to you. It is a great opportunity to get your business in front of more customers.
With Google Business Profile, you can share pertinent information with your consumers. You post your address, contact information, hours of operation. In addition, you can post photos and links to your content.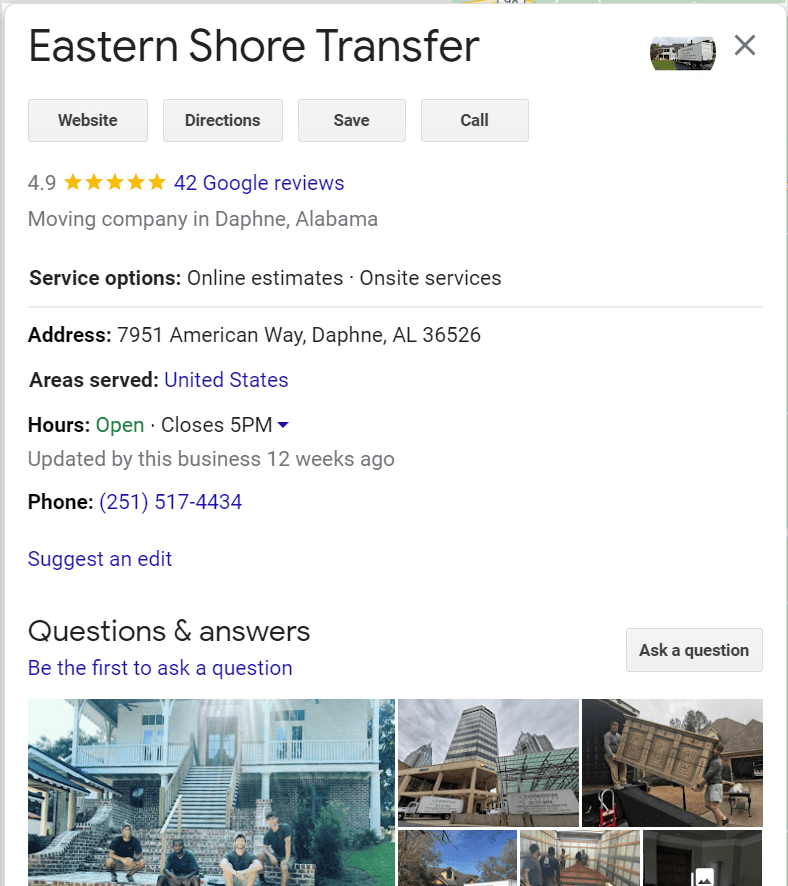 Google also allows people to leave reviews about your business that will appear in this listing. You can thank people for their nice reviews and address any issues in bad reviews.
Your Google Business Profile listing will appear when people conduct location-specific searches. For example, if someone searches "moving companies near me" or "moving companies in [your city]," your Google Business Profile listing will appear.
"Near me" searches have increased 34 times since 2011. People are constantly searching for businesses near them and seeing these listings.
In addition, "near me" searches are great for generating traffic and new customers. In fact, 50% of consumers who conduct a local search visit a business in a day. This means that someone may see your listing and contact your business soon after.
It is important to take advantage of this free tool in order to reach the most consumers.

Hear What It's Like to Work With WebFX!

"Our organic traffic has increased every month since we started working with WebFX. Organic is by far the leading source of traffic, making this our best return on investment of anything else we do online."
Trailer Company
2. Make your website functional
This is a very important part of SEO. There are many aspects you need to look at in order to make sure your website is functional.
Design
Design plays a big role in a visitor's first impression of your website. A well-designed website keeps consumers interested. A poorly designed website can have users returning to the search results in a matter of seconds.
Your design should fit your business. The colors scheme you choose should reflect your brand, and you'll want to keep your colors consistent across all aspects of your digital marketing plan.
Navigation
Users need to be able to visit different pages on your website with ease. It shouldn't be difficult for them to find the right pages.
Your headings should be categorized to help people find information quickly and easily. Examples of headings include "About Us," "Pricing," and "Types of Rentals." These are headers that give users a clear indication of the information people will find when they click.

Page speed
One very important ranking factor in SEO is your page speed.
Users don't want to wait around for pages to load. They will return to the search results and select a different website. This signals to Google that your website is not valuable to users because they do not stay on it.
In order to keep people on your page, you want to constantly monitor your page speed and improve it. You can do this by using Google PageSpeed Insights.
Optimize for mobile
Many people search for moving companies on their phone. Specifically, 60% of searches are conducted on mobile devices.
You want your website to be mobile-friendly in order to create a good experience for mobile users. If you aren't sure if your website is mobile-friendly, you can test it.
3. Choose your keywords
Your keywords are the basis of how people will find your business. It is important that you choose keywords that are relevant to a person's search query.
So, how do you go about selecting the right keywords?
Short-tail vs. long-tail keywords
The first step is to know the difference between short-tail and long-tail keywords. Short-tail keywords are ones that contain only one or two words. Long-tail contains three or more words.
If you use a short-tail keyword, such as "moving company," you're going to have a lot of competition since it is a very general term.
Long-tail keywords, such as "moving company in Harrisburg, PA," are more specific. You want to target long-tail keywords so that your site appears in more relevant search results.
Keyword selection is an important process for your business. You need to make sure you pick the right keywords, so your website can be found. There are some great keyword tools available to help you select the right words.
4. Create quality content
Content creation plays a large role in driving visitors to your website. People are constantly seeking out information.
Your content can be about anything that users would find useful. It can be how-to instructions, helpful tips, or advice.
The mediums for sharing this content can be blogs, videos, and infographics, amongst other things. You can even use a combination of these mediums.

Content marketing is valuable for consumers and your business. You are creating a way for consumers to connect with you.
As a moving company, you have a lot of opportunities to share valuable knowledge with consumers. Moving is a process that is stressful for many people. Your helpful information can make the process easier for them.
The content ideas you can post are endless. You can create videos about how to properly pack different types of items, or blog about tips for selecting a moving company.
Customers will see you as an authority in your field when you share your knowledge. They may not convert right away, but they will remember you. When it comes time that they need a moving company, they'll remember the helpful information you shared.
Content marketing is also a great way to boost your SEO. If you are producing good content that keeps people on your pages, it sends a signal to Google that your site is valuable.
You'll want to produce a lot of content and regularly post. It is imperative that you update your content as things change. By doing all of this, you'll be able to boost your website's rankings for keywords related to your business.
5. Build up backlinks
Once you have created content, you'll be able to gain more backlinks. Backlinks are links to your website from other sites.
If you're creating valuable content, you want people to be able to find it. When you utilize SEO, they can.
This means that other companies, blogs, and industry gurus can read these posts when they search for those topics. If they like it, they can write about it and link back to your site. You can also reach out to them to see if they are willing to share your content and link back to your site.
Backlinks are so important because they build your credibility. If Google sees that there are many credible sites linking back to your page, they're going to see that your site is valuable and accurate.
These links back to your site are important because they help boost your SEO ranking. This will, in return, enable you to gain more traffic and ultimately more conversions.
Independent research from Clutch has named WebFX the
top SEO company

in the United States.

Clutch has personally interviewed more than 250 WebFX clients to discuss their experience partnering with us.

Read More Clutch Reviews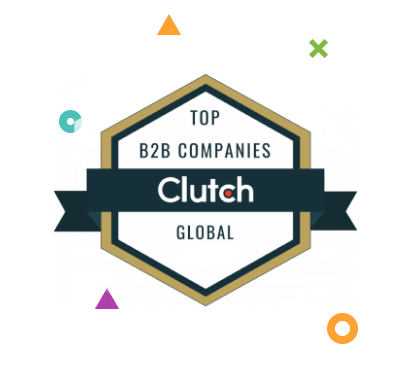 Move in with WebFX
If you're ready to take the next step, WebFX can help. Our full-service digital marketing company will do all the heavy lifting.
Our dynamic team can help you optimize your website with advanced SEO techniques. We'll help you make your website functional and interesting for users.
The SEO plans we provide are unique to your business. No two businesses are alike. Our plans are tailored to meet the needs of your company.
If you want to create valuable content, we offer services that can help you produce it. You won't have to worry about missing out on a great opportunity.
When you choose WebFX as your SEO partner, you can feel confident that you will get the results you desire.
Learn more about SEO for your moving company
Contact us online today to speak with a specialist about how we can help you start making the most of your SEO plan. You can also give us a call at 888-601-5359!
We look forward to working with you!
Earn a 20% greater ROI with WebFX