As the renewable energy industry grows, companies need new ways to stand out from the competition and connect with customers. Digital marketing for renewable energy is the perfect solution.
In this post, we'll explore why Internet marketing is so useful for renewable energy companies and discuss some of the top online marketing strategies for renewable energy.
WebFX is a full-service digital marketing agency , and we've generated more than $3 billion in revenue for our clients over the last five years. Contact us or call us today at 888-601-5359 to learn more about our digital marketing services.
5 reasons to use digital marketing for your renewable energy company
So, why should renewable energy firms use digital marketing strategies? Here are five of the most important reasons:
1. The popularity of the Internet
More than 4 billion people use the Internet worldwide, and more than 70% of users research companies online before becoming customers. People increasingly use the Internet to discover, research, and purchase goods or services.
The way people use the Internet lends itself well to renewable energy marketing. The buyer's journey is long, and the purchase is somewhat complex, so potential customers seek out educational information online.
Digital marketing for renewable energy gives you the opportunity to provide users with information about energy through your website. Once someone is on your website, they'll get to know your company, and you have a chance to gain a new lead.
2. The return on investment (ROI)
Internet marketing provides an impressive ROI that enables you to drive more revenue for your renewable energy company.
Here are some average ROIs for online marketing strategies.
Pay-per-click (PPC) advertising provides an average ROI of $2 for every $1 spent
Email marketing has an average ROI of $44 for every $1 spent
Influencer marketing offers an average ROI of $6.50 for every $1 invested
3. Precise targeting
Online marketing for renewable energy allows you to target much more specific audiences than traditional marketing does.
SEO helps people that search certain keywords, like "solar companies near me" or "how to buy renewable energy," find your website.
With PPC and social media ads, you can target people with certain demographic characteristics or interests , such as homeowners or people who follow pages related to renewable energy, environmental issues, or home improvement on social media.
The target audience for renewable energy companies may include several groups, such as homeowners, small businesses, and electricity distribution companies. With digital marketing for solar companies and other renewable energy businesses, you can easily create multiple campaigns targeting these different audiences.
4. The ability to measure results
Since interactions with leads and customers occur online, you can closely monitor how your campaigns perform.
Programs like Google Analytics provide you with detailed information about:
Who visits your website
How people interact with your website
Who clicks on your ads
What keywords your site is ranking for
And more
There are many digital marketing tools that can measure the success of online marketing for renewable energy companies. At WebFX, we keep our clients informed about their campaigns through regular updates and our AI-powered digital marketing platform, MarketingCloudFX .
Below is an example of a website traffic report in MarketingCloudFX. It shows how much revenue, leads, phone calls, and qualified traffic have increased year over year.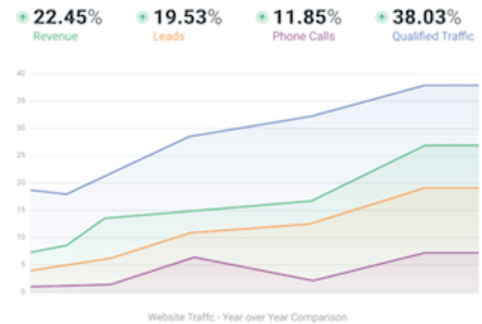 5. Adaptability
As you monitor your online marketing campaigns, you'll discover some aspects that are working well and some that are not. You might discover that you aren't reaching the right audience, for example, and want to target a new group.
Luckily, digital marketing for renewable energy companies is highly adaptable. You can adjust your targeting and content as you go, enabling you to continuously improve your campaigns' performance.
Generate more revenue through the web
When you partner with WebFX, we'll help you use the web to bring more leads and sales to your energy company.
Hear What It's Like to Work With WebFX!

"We transitioned to WebFX last year and have been extremely pleased with the level of transparency into the processes and the response time to any questions we have. Our account manager does a great job at keep our team informed and talking through our strategy for growth on our website."
Energy Provider
5 online marketing strategies for renewable energy
Renewable energy companies can use numerous digital marketing strategies to gain new leads and convert them into customers. Some top strategies when it comes to online marketing for renewable energy companies are:
1. SEO
About 93 percent of online experiences begin with a search engine, so your company needs visibility in search.
SEO is a set of strategies for increasing the quantity and quality of traffic a website gets from search engines. It involves making sure that search engines can index your website and helping your site show up in search results for relevant keywords.
Digital marketing for solar companies, for example, might involve targeting keywords like "best home solar systems" and "solar installers near me."
To rank for these keywords, you would include them in your site's content, in addition to improving the overall quality of your website, among other strategies.
2. PPC
PPC ads enable you to advertise your services to potential customers across search engines, social media sites, and other websites. With PPC, you bid on keywords and only pay when a user clicks on your ad.
For instance, if your company is located in New York, you might bid on the term "renewable energy providers in New York" through Google Ads.
When someone searches that term, Google launches an auction process, which takes just milliseconds to complete. If your ad is one of the winners, it will appear on the search engine results page.
Here's an example of what your Google PPC ad might look like: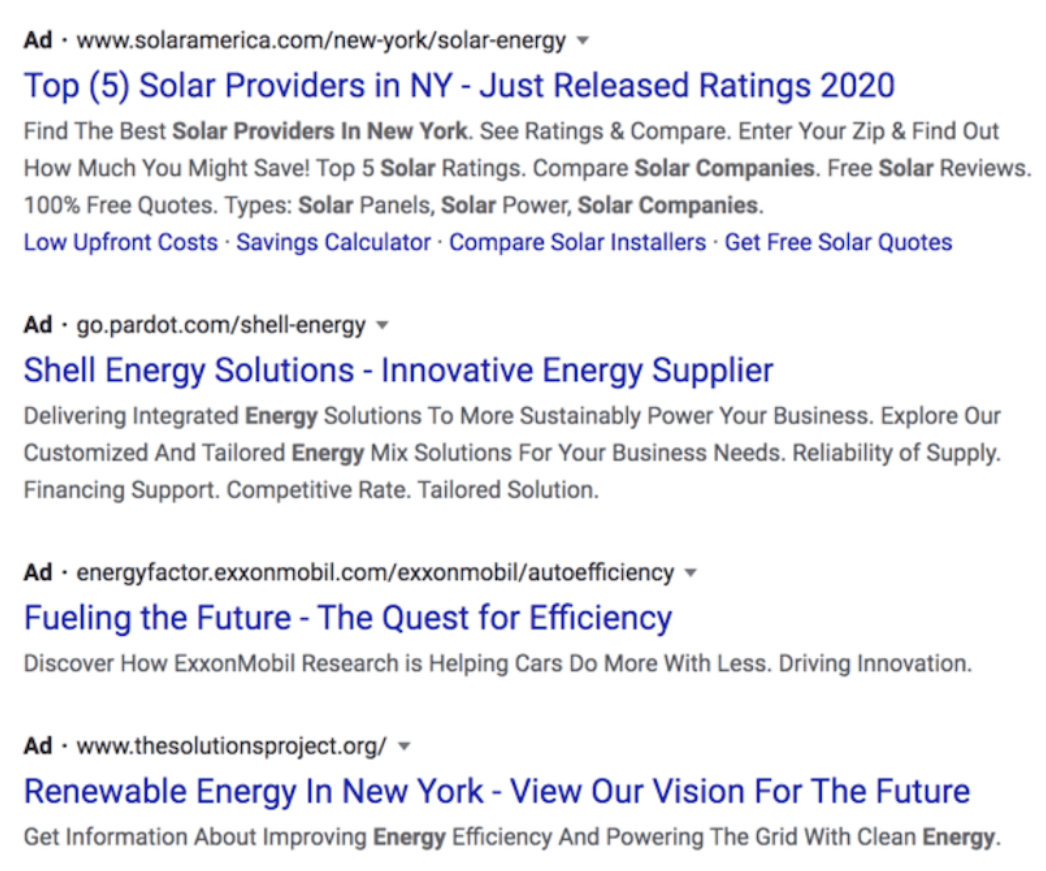 3. Social media marketing
Another top renewable energy marketing channel is social media. With 5 billion active social media users , social sites give you access to a huge potential audience.
Social media is an excellent tool for building brand awareness and authority within your industry and local area. Posting regularly in a consistent style helps you create a recognizable brand. Sharing useful information about renewable energy can make your company a recognized resource and authority on the subject.
You can also use social sites to connect with leads and customers directly and build relationships. Social media platforms help you answer customer questions as well as encourage interaction by asking questions in your posts.
Social media ads are also an excellent way to connect with new customers, as you can target your ads to certain geographic areas and users that fit your target audience. These ads will appear in users' newsfeeds, which helps you increase brand exposure and leads for your business.
Email marketing
Email marketing is an excellent way to turn leads into customers and stay top-of-mind with current clients.
With an email marketing platform like EmailMarketingFX , you can easily segment your subscriber list and send different emails to each group.
For example, you might send an email about solar panel installation to new leads, but send an email about solar system maintenance to current customers. You can even create drip campaigns, which send emails to customers based on actions they took on your website.
It's also easy to track the results of your email marketing and test different strategies. With EmailMarketingFX, you can run an A/B test of two different subject lines, for example, to see which one leads to the highest open rate.
5. Web design and development
When people research your company online or interact with your online ads or content, they'll eventually end up on your website. Having a professional-looking website that's useful to visitors is an essential part of Internet marketing for renewable energy companies
Nearly 75% of people judge a website's credibility by its design. Potential customers will evaluate your company's reliability and competence based on your website, so professional web design is essential.
Your website also needs to work correctly, be easy to use, and provide useful information. If it doesn't, visitors likely won't stick around long, and you'll lose potential customers.
Drive revenue with digital marketing for renewable energy
If you want to stand out from the competition and grow your renewable energy company, you need a strong online presence. The right digital marketing strategies and the right partner can help you achieve this.
At WebFX, we have a team of more than 500+ digital marketing experts ready to put together a strategy that will help you meet your goals. Over the past five years, our work has generated more than 7.8 million leads and over $3 billion in revenue for our clients.
As a full-service digital marketing agency, we offer a wide range of services, including:
Interested in learning more about how our Internet marketing services can help you grow your renewable energy company? Contact us online or at 888-601-5359 today to speak with a digital marketing specialist.
Earn a 20% greater ROI with WebFX