In two years, the total annual spend for digital marketing in the U.S. will reach almost $120 billion. Companies continue to invest more of their marketing and advertising budgets into online channels (and full-service digital marketing agencies) because of their cost-effectiveness and impressive returns.
What is a full-service digital marketing agency, though?
If you're looking into partnering with a dedicated agency on your online advertising and marketing efforts, then it's essential to understand what a full-service digital agency is and how it compares to niche agencies.
Keep reading to learn more about the role of digital marketing and what a full-service digital marketing agency can provide for your company. If you already know that a full-service digital marketing agency is the best option for your business, contact us online to learn how our award-winning services, custom strategies, and talented team can help your company!
We serve clients across the country, so whether you need lead generation services in Philadelphia, PPC services in Orlando, or social media marketing in Detroit, we've got you covered.
WebFX is a partner businesses trust.
Hear from HydroWorx, who saw a 236% increase in organic sessions with WebFX services.
Watch the Video Testimonial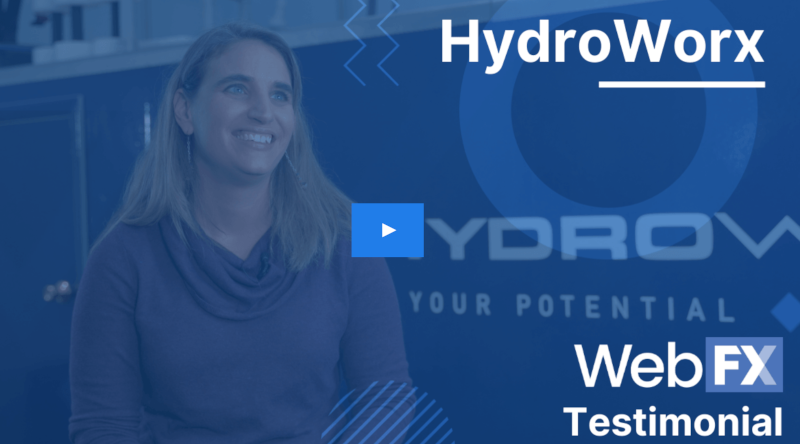 Ok, what is a full-service digital marketing agency?
A full-service digital marketing agency provides your business with a one-stop shop for online marketing and advertising services. These agencies, like WebFX, offer a complete suite of web marketing services, which can range from search engine optimization (SEO) to pay-per-click (PPC) advertising and more.
Your full-service marketing agency does more than provide all the digital marketing services necessary to market and advertise your business. They also deliver an integrated strategy that incorporates these different services.
This approach allows your company to launch a coordinated effort when it comes to your marketing and advertising initiatives. Each of your strategies, from SEO to PPC, support one another and work towards your overall goals, like increasing your brand awareness, sales, and revenue.
What services do full-service digital agencies offer?
In most cases, full-service digital agencies (like WebFX) offer the following services:
Depending on the agency's experience, resources, and talent, they may provide services that would usually require a niche agency. A few examples include marketing and advertising services for Amazon and Walmart Marketplace, as well as voice search optimization and account-based marketing services.
If you're wondering — yes, WebFX offers all these services and more!
93% of WebFX customers are extremely satisfied with their digital marketing results.
"Working with WebFX, everything is very organized and strategic. We're only a year into our partnership, and our expectations have definitely been met."
View More Client Testimonials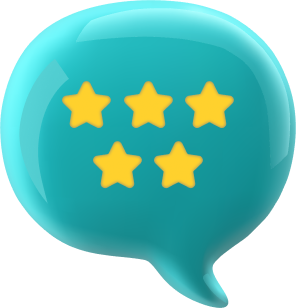 What is an example of a full-service strategy?
When explaining what a full-service digital marketing agency does, it's helpful to provide an example.
Take York Saw and Knife, an industrial blade manufacturer, that wanted to increase its leads and revenue. The company took a multi-pronged and coordinated approach to achieve this goal, partnering with a full-service web agency (in this case, WebFX).
As a part of their strategy, York Saw and Knife invested in the following services:
SEO
PPC
Email marketing
Social media marketing
If York Saw and Knife had worked with a niche agency for these services, they would have had to collaborate with four separate agencies. That would have required a tremendous amount of time and effort from their team, which is one reason why they partnered with our full-service web agency. By partnering with a full-service digital marketing agency, York Saw and Knife was able to launch a coordinated strategy for increasing their leads and revenue.
A few examples of some additional benefits that came from the full-stack digital marketing partnership include a boost in conversion rates and a decrease in conversion costs.
How much do a full-service web agency's services cost?
The cost of a full-service web agency varies substantially and depends on several factors, including:
The number of services needed
The agency's experience
The agency's service deliverables
The service turnaround time, like for an expedited web design
The size of your company
The complexity of your strategy
If your company invests in only SEO and PPC, for example, you'll probably have lower costs than a business using SEO, content marketing, PPC, and social media advertising. The size of your organization, however, can result in vastly different budgets. A corporation, for example, will almost always have a bigger marketing budget than a small business.
Overall, however, the average investment for full-service digital marketing agency services ranges from $2500 to $12,000 per month for small-to-midsized businesses.
This range is an average, though, so keep this in mind when browsing full-service web agencies and their services.
Bonus Reading: What is SMB Marketing?
Why choose a full-service digital marketing agency
Companies partner with full-service digital marketing agencies for a few reasons, including:
Align online marketing strategies
Improve web marketing and advertising results
Maximize the time of in-house team members
Expand digital marketing strategies
Access specialized skill sets in one place
For many businesses, a full-service web agency like WebFX offers not only convenience, but also results. That's why more than 90 percent of our clients stick with us, creating a lasting partnership that continually drives growth.
Bonus Read: How to Vet Marketing Vendors
How does a full-service digital agency compare to a niche agency?
When businesses decide to outsource their digital marketing or advertising efforts, they often start with niche marketing agencies. A niche marketing agency, in comparison to a full-service agency, specializes in one to two services.
They may provide SEO, for example, or social media services. If you're considering both full-service and niche agencies, it's essential to understand how they compare. That way, your team can make the best decision for your business when it comes to choosing between the two.
The three most noticeable differences between niche and full-service agencies include:
1. Focus
Focus is a difference that separates niche and full-service agencies from one another:
Niche agency
A niche agency specializes in one area, like web design or SEO.
If you hired a niche marketing agency and asked them to help with an upcoming PPC campaign, they couldn't. It's outside their area, which means your team needs to either manage the campaign in-house or partner with a second niche agency that specializes in paid advertising.
Full-service agency
A full-service digital marketing agency specializes in multiple areas, from marketing to advertising.
In comparison to a niche marketing agency, a full-service web agency could assist with your PPC campaign immediately. They feature multiple teams with different marketing specializations, like web design, paid advertising, and online marketing, to help with every aspect of marketing and advertising.
2. Capabilities
Niche and full-service agencies also differ when it comes to their capabilities:
Niche agency
Since a niche agency focuses its efforts on one area, like web design, they have limited, specialized capabilities. For example, a niche agency may offer access to exceptional designers, but can't help in other related areas, like SEO.
That's why niche agencies work well for specialized, one-time projects, like a website redesign.
Full-service agency
A full-service agency comes with a tremendous amount of capabilities. From talent to technology, they provide your business with the services and strategies to succeed in your industry and marketplace.
Plus, they can often grow with your company, scaling their services to align with your needs.
3. Management
Management requirements also highlight a difference between full-service and niche agencies:
Niche agency
Partnering with one niche agency doesn't cause management problems for your internal team. It's when businesses work with more than one niche agency that things get messy. Your team needs to set aside time to call and meet with multiple agencies, as well as try to coordinate the efforts of these agencies.
For many companies, this situation results in lost time, miscommunication, and low-performing services.
Full-service agency
A full-service agency provides your team with a one-stop-shop for all your marketing and advertising needs.
You collaborate with a dedicated account manager (if you partner with WebFX) and receive a comprehensive and coordinated online marketing strategy.
This approach saves time, maximizes service performance, and improves your team's experience. While full-service and niche marketing agencies both offer value, it's smart to partner with a full-service web agency when you're looking to invest in more than one service for the long-term. You get a hassle-free client experience, plus help your digital marketing strategy reach its full potential.
Our digital marketing campaigns impact the metrics that improve your bottom line.
See More Results

WebFX has driven the following results for clients:

$3 billion
In client revenue

7.8 million
Leads for our clients

5.2 million
Client phone calls
Get the complete benefits of a full-service digital marketing agency
A full-service digital marketing agency offers not only a convenience for your team, but also a competitive advantage in the marketplace.
Your company can make the most of online marketing and advertising, maximizing your growth and your return with a trusted full-service agency.
For businesses worldwide, WebFX is the trusted choice for online marketing. With a client recommendation score that exceeds the industry average by almost 500%, plus more than $3 billion generated in revenue for clients, we're the best partner for your company and your team.
Contact us online (or call us at 888-601-5359) to learn how our full-service solutions can help you grow!
Get posts by email
Join 200,000 marketing managers and subscribe to Revenue Weekly!
"*" indicates required fields
WebFX Careers
Join our mission to provide industry-leading digital marketing services to businesses around the globe - all while building your personal knowledge and growing as an individual.