From industrial plating to metal finishing, your business offers a variety of services for your clients. With social media for plating solutions, you can create organic posts and launch paid advertising campaigns on different platforms to show off your brand's services and reach new audiences.
Keep reading to learn more about the benefits of social media for plating solutions, along with some best practices to help polish up your next social campaign.
Learn how you can team up with WebFX to develop a social media strategy for plating solutions by getting in touch with us online or dropping us a line at 888-601-5359.
Our digital marketing campaigns impact the metrics that improve your bottom line.
See More Results

WebFX has driven the following results for clients:

$3 billion
In client revenue

7.8 million
Leads for our clients

5.2 million
Client phone calls
Benefits of using social media for plating solutions
Read on for some major benefits of using social media for plating solutions.
Attract new customers
Social media for plating solutions allows you to show off your previous projects and encourage new customers to partner with you. With over 3 billion active users on social media, you can get more eyes on your and show off your brand — all before people even view your website!
Plus, when you post on social media, you're not just reaching out to your audience. Shareable content puts you in front of your audience's audience. And, if their audience likes your content too, you could reach even more leads. Shareable content puts you in front of new audiences and attracts customers who weren't previously available to you.
Show your business's personality
Social media helps businesses engage with their customers in a casual setting while showing off their personalities. In short, social media humanizes businesses in a way that isn't possible through a website or traditional advertising campaigns.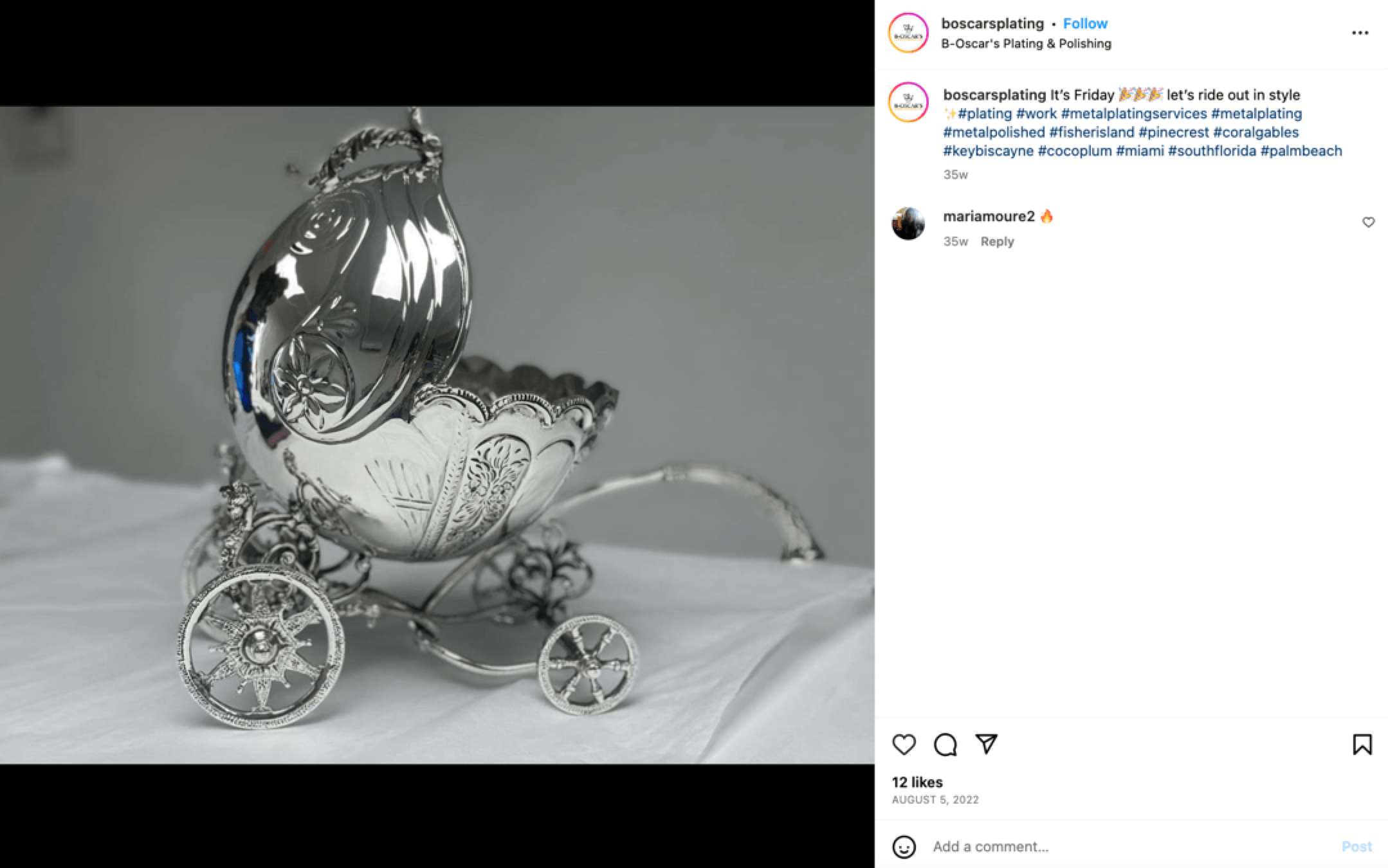 Through friendly interactions in a post's comments section or other engagements, customers can get to know your business in a different light.
Increase customer loyalty and brand awareness
Another benefit of social media for plating solutions that's also a benefit of showing your business's personality is increased customer loyalty and brand awareness.
Staying active on social media keeps your company top of mind for your followers and prospective customers. Even better, engaging with them on social media and fostering positive interactions leaves lasting impressions on users, encouraging customer loyalty.
Best practices of social media for plating solutions
Read on to get some key insight into some best practices to keep in mind when planning a social media strategy for plating solutions.
Show off your latest projects and clients
Keep the saying, "Show, don't just tell," in mind when running your plating solutions social media pages. Turn your past projects and clients into engaging posts that encourage your audience members to partner with you.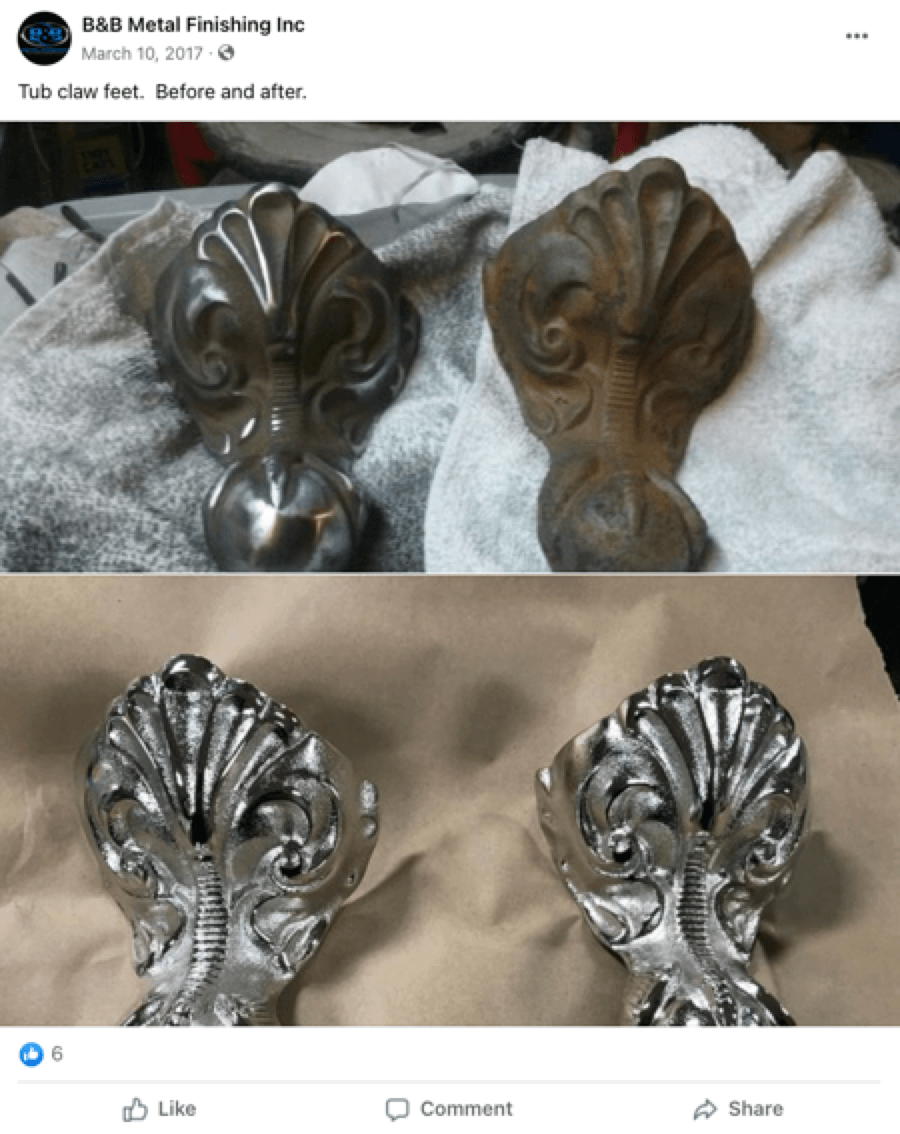 Showing off past projects gives users a better idea of what your company can do and encourage them to reach out to inquire about services. Additionally, you can turn previous testimonials from clients into social media posts to promote your services and your client's brand.
Engage with your audience
As mentioned earlier, social media platforms offer businesses the opportunity to engage with their audience members in a casual environment.
By engaging with your audience on social media in different ways, you can show off your brand's personality, increase loyalty among current customers, and build meaningful relationships with them. Here are just a few ways you can interact with your social media audience.
Respond to comments
A simple "Thanks for looking!" can go a long way with social media users. Take time to respond to some of your followers' comments whenever you can. Doing so reminds users that there are real people behind your business's page, not just a brand looking to advertise itself.
Responding to follower comments encourages engagement from other users and allows you to show appreciation for your followers' continued interaction with your company.
Answer questions
Sometimes you've got to turn to social media to get answers. Rather than sending an email and waiting for a response back, people will turn to your social media pages to pose questions on your posts, whether it be about pricing or specific services. Don't be afraid, answer them!
Answering user questions directly on your posts gives you the chance to show off your stellar customer service skills and begin building meaningful relationships. Not to mention, answering questions benefits other users looking at that post too. Who knows, they may have had that same question too!
Start conversations
Finally, don't be afraid to start a conversation on your page. Questions and polls directly encourage customer engagement on your page and offer you a unique opportunity to jump into the conversation and show off your personality and industry expertise.
For example, consider posting something like "What a question you've always wanted to ask your plating solutions team but never had the chance to?" Respond and react to your audience's questions and use the opportunity to reassure them that your business is the right choice for their plating needs.
Take advantage of advertising opportunities
Social media platforms offer paid advertising options that can take your business to new heights that your organic posts aren't always able to reach. With paid social media advertising for plating solutions, you can reach an expanded audience and utilize targeting features that ensure you're reaching the right people with your ads.
Additionally, social media platforms offer a variety of advertising formats for businesses to use to expand and reach their audience. Check this brief rundown of the social media advertising options for plating solutions:
Growing your social presence with WebFX is a walk in the park.
"WebFX allows growing your social media platforms to be stress-free! They are knowledgeable and adapt to your company needs!"
Learn More About Our Social Media Services

WebFX takes social media for plating solutions to the next level
At WebFX, we know how to expertly navigate the ins and outs of social media for different industries. Having worked with partners in 154 different industries, we know what strategies work and don't work for each one, including plating solutions.
Learn how WebFX can help you develop a plating solutions social media strategy that drives results and improves your bottom line today by giving us a call at 888-601-5359 or contacting us online today.
Increase your leads, sales, and revenue with digital marketing
Find Us Driving Revenue Nationwide