If you work in the recruiting industry, you understand the importance of generating qualified leads.
Since seeking out candidates is a major part of every recruiter's job description, it's important to know how to get the most out of the lead generation process.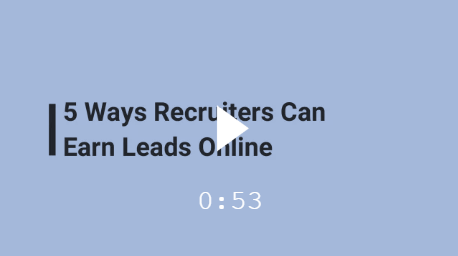 Using lead generation strategies, recruiters can fill more job vacancies with qualified candidates and streamline their recruitment approach. To learn more, keep reading, and give us a call at 888-601-5359 for more information about our lead generation services!
Our digital marketing campaigns impact the metrics that improve your bottom line.
See More Results

WebFX has driven the following results for clients:

$3 billion
In client revenue

7.8 million
Leads for our clients

5.2 million
Client phone calls
Why is lead generation important for recruiters?
Recruiters need to fill open positions, but sometimes it's difficult to find qualified applicants. The most skilled candidates aren't on the market for long, so recruiters need to act quickly.
Lead generation strategies help recruiters efficiently find and attract new talent.
In addition, lead generation allows recruiters to get and stay in contact with potential candidates. Not only does this increase revenue, it also increases the satisfaction of both employees and employers.

Hear What It's Like to Work With WebFX!

"WebFX is the area if not the region or national experts on SEO. Their service is incredible."
Healthcare Recruiter
How can recruiters generate more leads?
Let's take a look at some specific strategies that work well for recruiters.
1. RSS job feeds
RSS feeds automate the job posting process to the websites of your choosing after a job has been published on your company career site.
Rather than posting various job openings by hand to these platforms, RSS feeds make it easier for recruiters to reach more people.
In addition, they make the job of the recruiter less administrative, allowing them to focus on crafting the actual job postings.
2. Opt-in opportunities
Opt-in content simply refers to the process of offering free content and requiring people to enter their email addresses to receive access. Webinars, guides, and live demos are great examples of opt-in content.
While you don't want to force people to hand over their email addresses, you can give them an incentive by providing something of value. Then, consider adding a pop-up that asks readers to opt-in to receive access.
This is a win-win situation because it connects recruiters with leads, while providing qualified prospects with valuable content that aids them in their search for information online.
3. Social media
Social media gives recruiters access to a large audience of people interested in their services.
Though it takes time to build a loyal social media following, you have the opportunity to quickly share information about job openings and company news.

People may not be interested in every job opening you post, but they can easily share listings with friends and family members who might be a good fit.
Plus, when people interact with you on social media, it will also show up in the feeds of people in their network, automatically expanding your reach.
4. Job fairs
Taking part in job fairs at colleges and universities is a great way to connect with fresh talent. You can also build relationships with college career centers, a valuable resource for connecting you with applicants.
This will not only allow you to increase your brand awareness, it will also help you connect with students who are actively looking for employment.
In addition to taking part in job fairs, some colleges facilitate online networking events. By participating in online events, you can engage potential students without racking up travel expenses.
5. Email marketing
Email is a powerful tool that allows recruiters to connect with leads right in their inboxes.
People can provide their email addresses to receive access to your talent community or to sign up for updates about new job postings.
As soon as people enter their email addresses, you can follow up with automated welcome emails that provide further instructions and encourage them to fill out their profile and upload a resume.
You can also send email alerts tailored to each individual recipient.
Be sure to design your emails with action in mind, and include links to your website and social media where appropriate.
In addition, you can send re-engagement emails to people in your network who haven't completed their profiles or searched for jobs in several months. This will help to remind them of your company and the opportunities you offer.
37% of marketers say that generating high-quality leads was one of their biggest challenges.
We want to decrease that percentage.
WebFX can help you generate high-quality leads with a customized marketing strategy.
Learn More About Lead Generation Services
Want to generate more leads?
Are you a recruiter looking to generate more qualified leads? WebFX can help!
Our team of lead generation experts understands what it takes to attract the best candidates. We work with hundreds of businesses across the United States, and we'll work with you to develop a custom lead generation plan designed to attract and convert more qualified leads.
Stop wasting time on marketing efforts that don't resonate with your target audience. Contact WebFX today. We're excited to hear from you!
Earn a 20% greater ROI with WebFX