Merger and acquisition (M&A) firms have an important responsibility to guide businesses in their corporate decisions. To grow your firm and continue helping companies seal the deal, you need to invest in digital marketing to increase leads and boost conversions.
As an M&A firm, attracting clients is all about exuding trust and reliability. A merger or acquisition is a transformative process for a company to go through, so it's crucial that your marketing efforts display your firm's competency and trustworthiness.
Our digital marketing campaigns impact the metrics that improve your bottom line.
See More Results

WebFX has driven the following results for clients:

$3 billion
In client revenue

7.8 million
Leads for our clients

5.2 million
Client phone calls
Digital marketing strategies for merger and acquisition firms
The following digital marketing strategies are designed to help M&A firms like yours reach your business goals and help more clients.
Increase visibility with search engine optimization
Search engine optimization (SEO) is an enormously effective marketing tool to help get your firm in front of the eyes of qualified leads. With SEO, marketers use search engine algorithms to determine the factors that give websites the highest ranking on search engine result pages (SERPs).
Google is always updating its algorithm to provide better results for its users. In recent updates, they've improved their helpful content rankings, which gives precedence to sites where users have satisfactory experiences and ranks pages that don't meet user expectations lower.
Search engines are always seeking to improve the user experience, so increasing your rankings with SEO also means you're creating a more valuable experience for your audience. Here's how SEO can work for your M&A firm:
Find relevant keywords:

With keyword research, marketers can find specific words and phrases that align with the most common search terms for your industry and audience. Using these keywords in your website optimizes your pages so the algorithm can identify your site as valuable to the searcher. With a great keyword strategy, you can considerably increase your SERP rankings.

Build authoritative linking:

Linking can also

impact your search engine rankings

. Strong internal linking strategies can build the authority and ranking of other pages on your website, and authoritative external linking practices will improve your site's credibility, an essential ranking factor.

Understand your audience:

With SEO, you can come to a better understanding of what your audience wants. Researching your customer's online behaviors will help you provide a more fulfilling online experience for them, which increases their likelihood of converting.
Update your website
Another essential digital marketing strategy involves updating your website. Since a user's first impression of your website is largely determined by design, your M&A firm should carefully consider how that first impression goes for first-time visitors.
Factors like load speed, navigation, and other features can influence how a potential customer views your entire brand. Websites with outdated design features, lagging loading speeds, and confusing navigation can turn a visitor away before they even read your first call to action (CTA).
When looking to update your firm's website, consider the following questions:
How can you demonstrate trustworthiness and authority through your design?

Does your navigation have a clear and logical flow?

Are your CTAs prominent and effective?

Does your page load quickly?

Is your website optimized for mobile and other formats?
Leverage paid advertising
If you've optimized your website and still aren't seeing the numbers you'd like, start a paid advertising campaign. Paid advertising is a digital marketing strategy where you pay to promote your pages to the top spots on the SERPs. Because the top results get the most clicks, you can increase your click-through rate (CTR) using paid search engine advertising.
The pay-per-click (PPC) model is highly effective for M&A firms because it's customizable and scalable to your marketing goals. You can set a budget, which means you control exactly how much you spend.
Engage your audience with social media
Because building trust with clients is important as an M&A firm, social media is a great strategy to improve engagement. Most people peruse social media for entertainment, but due to the huge amount of time people spend on these platforms, they're also a prime way for businesses to target their customers.
Posting regular content on platforms like Facebook, Instagram, and Twitter can increase your brand's reach and visibility. LinkedIn is a social media platform for professionals, making it especially great for M&A firms, as it can help you contact the businesses most likely to need your services.
M&A firms can take advantage of organic, paid, and earned social media marketing. With organic and earned marketing, you can gain leads simply by posting and using relevant hashtags or locations. Paid social media marketing works similarly to PPC ads, promoting your posts to your target audience.
The benefits of using social media for your M&A firm's marketing goals include:
Generating new leads

Building connections with your followers

Encouraging conversions with compelling CTAs

Getting advanced analytics on the success of your posts

Targeting different segments of your audience
Provide valuable content
One of the most effective strategies for M&A firms is content marketing. Customers tend to resist direct marketing messages that overemphasize a company's products or services — instead, your firm should focus on providing value to your customers. You can do this in a few ways:
Webinars:

Mergers and acquisitions are complex, and many companies are likely seeking information about this process. Webinars are a great way to accumulate qualified leads and encourage them to convert because they can remain available online for a long time.

Blog posts:

Educational content can also help establish your company as an authority in the industry. Offering educational sources on a broad range of topics relating to mergers and acquisitions will increase your brand's trustworthiness.

Premium content:

Free content is a great way to generate interest, but you should also consider offering premium content — in-depth content at a price. While you may not charge money for this content, you can operate on a different kind of exchange, collecting emails and other contact information so you can double back with marketing content after they enjoy your content.
Meet WebFX:
Your world-class, tech-enabled marketing agency with over 1.6 million hours of combined expertise.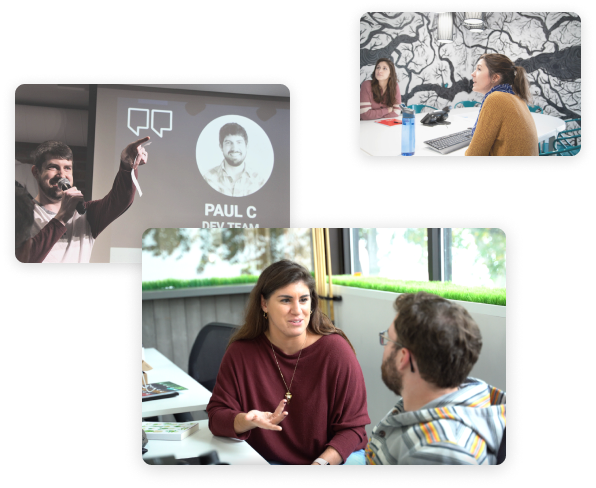 WebFX can help market your merger and acquisition firm
If you need help getting started or want to enhance your current digital marketing efforts, contact the professionals at WebFX. Our talented Internet marketers can help you construct a strategy that suits the unique needs of your merger and acquisition firm. Contact us today!
Earn a 20% greater ROI with WebFX