Are you wondering if you could do more to reach valuable leads for your sign company? If you haven't created a digital marketing plan, you're missing out on a big opportunity to attract many valuable leads.
A strong digital marketing plan will help you reach leads you can't obtain through traditional methods, like radio or billboard ads.
On this page, we'll provide you with the top three digital marketing strategies for sign companies. If you're interested in creating a customized digital marketing plan that helps you earn valuable leads, call us today at 888-601-5359 or contact us online.
Let's get started!
Our digital marketing campaigns impact the metrics that improve your bottom line.
See More Results

WebFX has driven the following results for clients:

$3 billion
In client revenue

7.8 million
Leads for our clients

5.2 million
Client phone calls
1. Use search engine optimization (SEO) to boost your sign company's traffic
Google is the most popular search engine on the web. It has the power to help you connect with people who are interested in your business. By using search engine optimization (SEO), you'll help your sign business optimize your website to appear in the right search results.
SEO is the process of boosting your website's ranking in the search results. When users conduct searches, you want to appear on the first page of results, so they check out your business.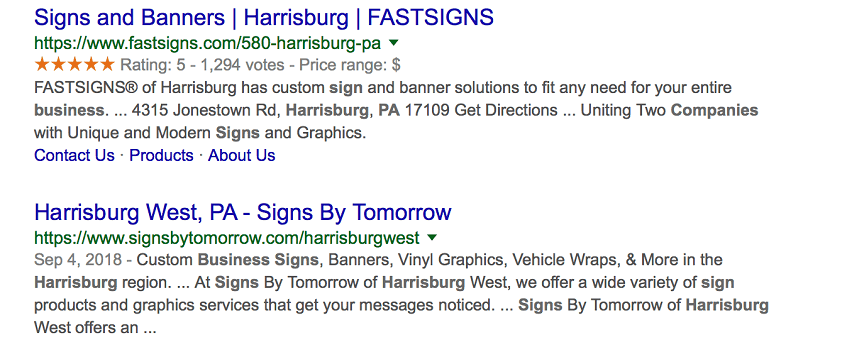 Considering 75 percent of people don't go past the first page of results, it's important that you get your website ranking higher if you want to connect with valuable leads.
The first step to optimizing your site for SEO is conducting keyword research. Your audience will use specific keywords to generate relevant results. If you want to connect to relevant leads, you must use the right keywords.
As you conduct keyword research, focus on long-tail keywords. These are keywords that contain three or more words. An example of a long-tail keyword is "sign companies in Harrisburg, PA."
This is a specific keyword that indicates user search intent. You know that people who use this keyword want to find a local sign company.
Once you have your keywords selected, you'll integrate them into your site. This will help your site appear in the search results for those keywords.
Aside from keyword integration, there are numerous other optimizations you can do to improve your site's performance. These include obtaining backlinks and improving page speed.
SEO is a great method for helping your business obtain valuable traffic to your sign company's site. You'll attract people who are looking for a sign company and get them interested in using your business. It's a valuable method for helping your business grow.

Hear What It's Like to Work With WebFX!

"I am very happy with the service and the rate we are climbing the ratings. This is a company that understands the SEO game enough to give you the competitive edge you need against your competitors."
Full Service Sign Company
2. Use pay-per-click (PPC) advertising to obtain leads ready to convert
If you're looking to quickly reach qualified customers, pay-per-click (PPC) advertising can help.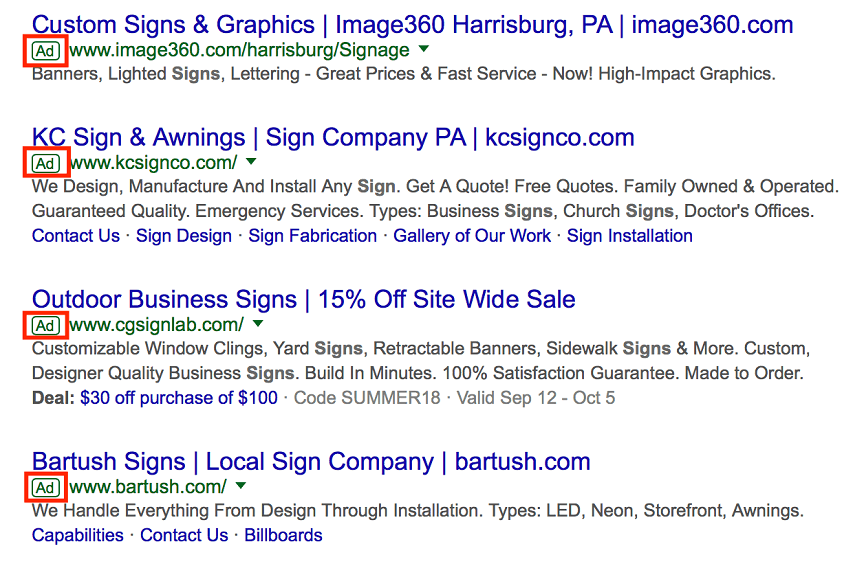 To start using PPC, you'll need to select the keywords you want to trigger your ads. You'll want to use long-tail keywords like you do for SEO.
For PPC, long-tail keywords have less competition, so the bid amount is lower. This means you can earn more clicks and, subsequently, more leads for your business.
Once you have your keywords selected, you'll bid for your ad's placement. This is done through Google Ads.
You'll set your maximum bid, which is the amount you are willing to pay each time someone clicks on your ad. This amount is flexible and can be changed at any time.
Your maximum bid and quality score will determine your ad's placement. Once you have your placement, you'll launch your campaign.
PPC is one of the most cost-effective methods for your business. You set the budget that works best for your business. Whether it's a $100 or $1000, you choose the amount that fits with your budget.
Though you can choose the amount, you'll want to be wise about how much you invest. The amount you invest will greatly affect your campaign's success, but there's no set requirement for how much you must invest.
PPC has a desirable pricing model, too. You only pay when people click on your ad. This means you're paying for people who are interested in your sign company and want to learn more.
Our team of 500+ experts can help you set up a PPC campaign that drives results. Give us a call today to learn about your custom PPC campaign!
3. Email marketing
Email marketing helps you nurture leads towards conversion. It's one of the few digital marketing methods where you build a direct connection with your audience.
To start using email marketing, you'll need to gain subscribers. The best way to do this is through your website.
Create an email sign-up bar on your site and place it in the header or footer of your page. This ensures that your audience always knows where to find your sign-up bar.
It's best to obtain emails from your website rather than buying lists. Paid email lists don't have as many valuable leads for your business.
When you send emails to people from these lists, they will end up in spam or get deleted. It's not a great use of your time or money.
Instead, organically earning email subscribers will drive better results for your campaign. These are people who voluntarily sign up for your email list. You know they're interested because they chose to hear from your sign company.
Once you have a list of subscribers, you can start sending them valuable content. You can send them information about your sign business. This includes things like deals, promotions, videos, and links to blogs.
This is an opportunity for you to directly market to your audience. To have a fully effective email marketing campaign, you'll want to segment your subscribers.
You can segment subscribers by age, gender, buying habits, marital status, and more. It will help you deliver content the resonates better with your audience.
Email marketing is a valuable method because it allows you to send content straight to interested leads. You know who your leads are and can better market to them.
Sign up for a digital marketing plan from WebFX
If people are searching for sign companies, you want them to find your business first. A strong digital marketing plan will help get your business in front of valuable leads. At WebFX, we have more than 25 years of experience creating digital marketing plans that work.
We're a full-service digital marketing company that specializes in customized digital marketing campaigns. We have a team of 500+ experts that will bring their knowledge and expertise to your campaign. You can count on us to help you create a digital marketing strategy that drives results.
If you want to partner with a result-driven digital marketing company, WebFX is a great option. To date, we've driven over $3 billion in sales and over 7.8 million leads for our clients. Our team will focus on creating a custom digital marketing plan that works for your sign business.
Want to know what it's like to partner with us? Just ask our clients! Check out our 1020+ client testimonials that attest to the great work we do.
Get started today
If you're ready to start obtaining valuable leads through your digital marketing plan, contact us online or call us today at 888-601-5359 to speak with a strategist.
We look forward to helping your business grow!
Earn a 20% greater ROI with WebFX