Obtaining government contracts is a competitive field, and you need every edge you can get to stand above your competition.
With B2G digital marketing, you can help put your business in front of important government officials and get them to consider contracting your business to government (B2G) company.
But where do you start with digital marketing for B2G companies?
On this page, we'll cover the top three B2G digital marketing strategies you'll want to use to increase your brand's exposure and get more government officials to contract with your business!
If you need help launching any of these strategies, our professional marketing services company has a team of over 500 marketing experts ready to launch your campaign. Contact us online or call us today at 888-601-5359 to speak with a strategist about our digital marketing services!
WebFX is a partner businesses trust.
Hear from HydroWorx, who saw a 236% increase in organic sessions with WebFX services.
Watch the Video Testimonial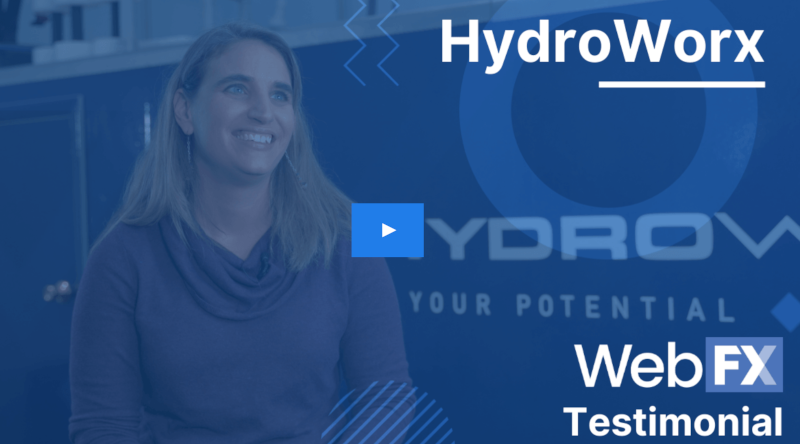 B2G digital marketing strategy #1: Search engine optimization (SEO)
First on our list of B2G digital marketing strategies is search engine optimization (SEO). SEO is a strategy that helps your business appear in relevant search results to reach qualified traffic that needs your products or services.
Considering 93% of all online experiences start with a search engine, many government officials will likely begin their research on a search engine like Google.
SEO is one of the best strategies to include when doing Internet marketing for B2G companies because it helps more government officials find your business first.
You can help your business rank better in search by following these best practices:
Optimize for relevant keywords
If you want your business to appear in relevant search results, start by optimizing your site for relevant keywords. Government officials will search on Google using keywords to help them find relevant businesses like yours.
To help your company appear in the right search results, start by doing keyword research to find relevant terms for your website. You can use a Google keyword research tool, like KeywordsFX, to help you find the right terms.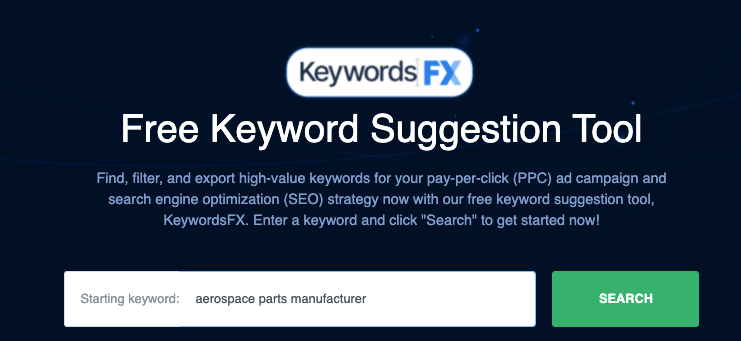 When your keyword tool returns a list of terms, you'll want to focus on those containing three or more words –– also known as long-tail keywords. A long-tail keyword like "aerospace parts manufacturer" will drive better results than "aerospace parts."
These keywords are best for your business because they drive more qualified traffic. Since they're specific, you know the people searching with those phrases are looking for your business and what you offer.
Once you identify your keywords, you can integrate them throughout your site.
Integrate keywords into your:
Improve your site load time
When you invest in SEO as part of online marketing for B2G companies, you must deliver a site that loads quickly. Google doesn't rank slow-loading sites highly because users don't like slow-loading sites.
Users expect your website to load in three seconds or less. If your site loads too slow, you risk people bouncing from your site and heading back to the search results.
To improve your site's load time, start by seeing how quickly your site currently loads.
Plug your website URL into Google PageSpeed Insights and get a report on your site's load time. Google PageSpeed Insights will help you see your current load time on desktop and mobile, as well as provide suggestions for improvement.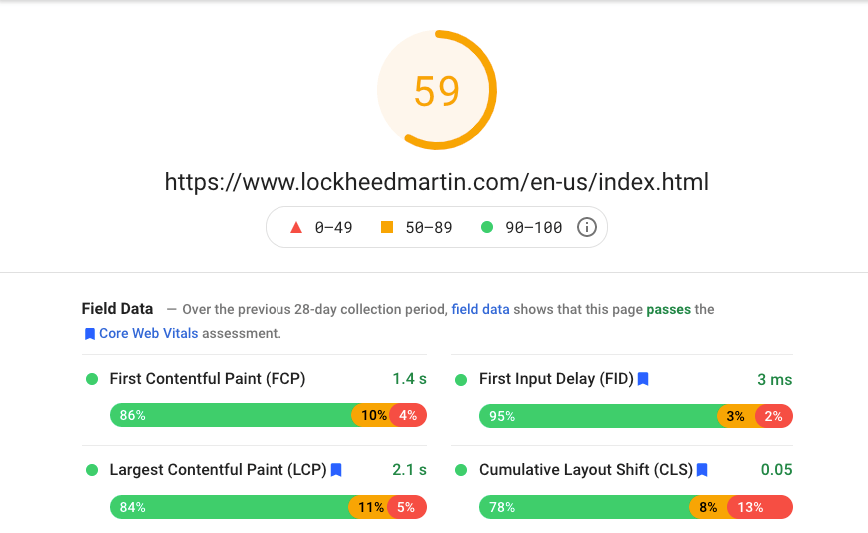 Some ways to improve site load time include:
Optimizing image file sizes
Enabling browser caching
Reducing redirects
Using a content distribution network (CDN)
Minimizing HTTP requests
Make your site mobile-friendly
With Google's mobile-first index, neglecting to have a mobile-friendly site is not an option. You must deliver a positive mobile experience if you want your site to rank in search results.
You can use responsive design to help create a mobile-friendly site. With responsive design, your website adapts to whatever device your audience uses. It ensures your audience gets a positive experience, no matter how they choose to access your website.
When you integrate responsive design into your website, make sure you add mobile-friendly elements to your design. Some mobile-friendly features include hamburger navigation and thumb-friendly buttons.
These elements will deliver an even better mobile experience for your audience.
B2G digital marketing strategy #2: Pay-per-click (PPC) advertising
If you're doing digital marketing for B2G companies, you must invest in pay-per-click (PPC) advertising. PPC ads appear at the top of search results as a paid listing. They're tagged with the word "ad" to indicate paid content.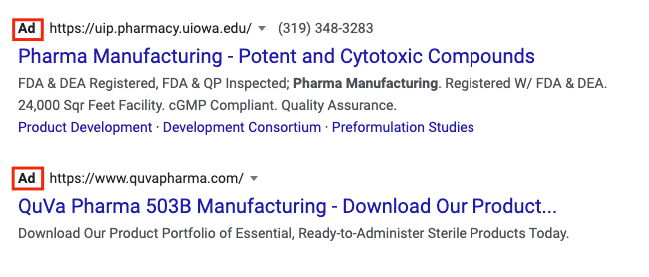 PPC ads are an excellent way for you to get your business at the top of search results and above your competition.
Not only are these ads great for building brand awareness, but they also drive more qualified traffic –– you only pay when people click on your ad, which means you only pay for relevant leads.
To do PPC successfully as part of online marketing for B2G companies, follow these best practices:
Use ad extensions to enhance your ad
If you want your PPC ads to succeed, consider using ad extensions. Ad extensions enable you to include more information in your ad that encourages government officials to click.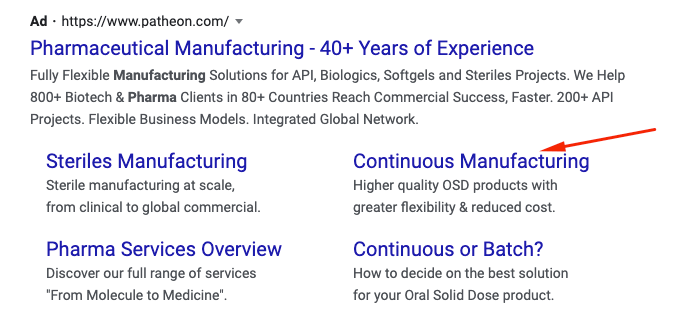 You can use numerous ad extensions to help deliver more information to your audience, including:
Call extensions
Message extensions
Location extensions
Price extensions
App extensions
You can use multiple extensions to provide your audience with more information about your business, so they click on your ads.
Create a custom landing page to keep leads focused
Getting leads to click on your ads is half of the battle. Once they click on the ads, you need to keep prospects engaged and focused. Creating a custom landing page is the key to achieving those goals.
If you use a page from your site or your homepage, you risk visitors getting distracted or frustrated that they can't find the information they need.
With a custom landing page, you keep your audience focused on the information that matters most. You can omit distracting elements, like your navigation bar, and only include information relevant to your ad copy.
You can also add a central call to action (CTA) button to guide people to the next step.
By creating a custom landing page, you will drive better results with your ads.
Test your ads to deliver the best version
To ensure you deliver the best ad experience, you'll want to test your ads continually. There's always room to improve your ads and drive better results. By testing your ads, you can constantly optimize to deliver a better experience.
You can improve your ads using A/B testing.
With A/B testing, you can test individual elements on your landing pages and in your ads to see how they impact performance. You'll only want to test one element at a time to ensure you get precise results.
B2G digital marketing strategy #3: Content marketing
The last strategy we'll look at regarding digital marketing for B2G companies is content marketing. Content marketing involves sharing your knowledge with your audience to build your business's trust and authority.
Content comes in numerous forms, including:
You can create numerous forms of content to appeal to your audience.
To successfully use content marketing as part of Internet marketing for B2G companies, follow these best practices:
Focus on the search intent
When you create content, you want it to rank in search results to drive valuable traffic. To help your content rank better in search, you must consider the search intent. The search intent is what users mean when they search for a keyword.
To find search intent, search your keyword on Google and see what shows up.
Whether it's informational pages, listicles, or service pages, you want to ensure your content follows something similar. For example, if you see that the search results are all lists, you'll want to deliver your information as a list.
By matching search intent, your content will perform better in search results.
Create content often
Another critical practice to follow with content marketing is to create content often.
There are numerous reasons to create content often, including:
You keep your strategy fresh If you're only posting once a month or less, you don't give people a reason to come back. If you create content often, whether once a day or a few times a week, you keep your strategy fresh and make people want to come back.
You create new ways for prospects to find you: When you publish content often, you develop new ways to get found online. People search for different topics surrounding your industry, so covering multiple topics can help you reach more people.
How frequently you create content depends on your team and how much content you can make. You want to ensure you're not putting out content that's low quality and uninformative. Focus on creating content that's informative and helpful for your audience.
Use a content marketing calendar to stay organized
When you're creating content frequently, it's easy to get overwhelmed and lose track of what you're making. To help you stay organized, use a content marketing calendar.
A content marketing calendar enables you to plan when to create, edit, and publish your content. It ensures you stay organized and meet deadlines as they come.
Time to Level Up Your Sales
Our long list of services helps you grow every aspect of your business with marketing strategies that are proven to increase bottom-line metrics like revenue and conversions.
In the past 5 years, we've managed more than 12.9 MILLION transactions across our client base.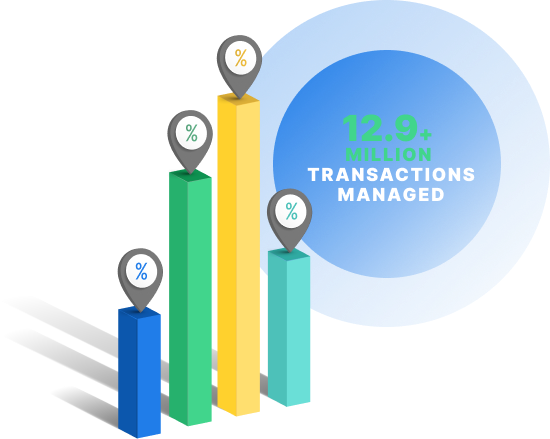 Need help with digital marketing for B2G companies?
The three strategies listed above are a great starting point for launching your digital marketing strategy. But if you find yourself feeling overwhelmed with trying to tackle these strategies, especially the more complex ones like SEO, WebFX can help.
Our award-winning team of marketers will create a custom digital marketing campaign built to help you succeed. In fact, we've driven over $3 billion in revenue and over 7.8 million leads for our clients in the past five years alone.
Our client-first approach to digital marketing makes us an unmatched partner for success.
Ready to grow online through digital marketing for B2G companies? Contact us online or call us today at 888-601-5359 to speak with a strategist about our digital marketing services!
Earn a 20% greater ROI with WebFX