Social media is an excellent tool for businesses, including property management companies.
You can use it to build relationships with current and prospective tenants, establish your brand, and manage your reputation. Plus, it enables you to reach a huge audience — more than 70% of U.S. adults use social media.
Even if you're convinced of the value of social media for property management, coming up with ideas for content can be tricky. That's why, in this guide, we'll give you nine ideas for social media content for property management companies.
1. Highlight your employees
Social media is a great way to show your employees and management team some appreciation and help your tenants get to know them.
Try selecting a different team member each week or month or posting about employees on their birthdays or work anniversaries. Post a picture of the employee, along with some basic information and fun facts about them.
Highlighting your team on social media will help them feel appreciated. It will also showcase the human side of your company for your tenants, make them feel more a part of a community, and build their relationship with your brand.

Hear What It's Like to Work With WebFX!

"WebFX has been fantastic to work with! Their knowledge and consistent communication of tasks and project milestones is exceptional. I never feel like I am being sold to and instead I am able to have conversations about specific SEO and web related topics that I was unable to have with other SEO vendors."
Property Management Company In Pennsylvania
2. Highlight your tenants
Another social media marketing idea for property management is to highlight and acknowledge your tenants on social media. When someone moves in, for instance, you could post a picture of them at their new place, congratulating them on their new home. You could even make posts for tenant's birthdays or other milestones.
Like highlighting your employees, posting about your residents will make them feel appreciated, help build their relationship with your company, foster a sense of community, and encourage engagement.
Just make sure you get tenants' permission before sharing pictures of them or posting about them on social media.
3. Hold a contest
Social media contests can help increase engagement with your company, improving your tenant relationships and sense of community. They can also help you find new tenants.
Feel free to get creative with your contest ideas and make them open to just your tenants or the broader community as well. Some social media contest ideas include:
Having tenants send in pictures of how they decorated their units
Having tenants refer a friend to your company
Having participants send in pictures of their pets
You can then pick a winner at random or via a survey or panel of judges. Make sure you let people know what the prize for the content is, as this will encourage participation. Some prize ideas include gift cards to local restaurants, parking passes, and kitchen gadgets.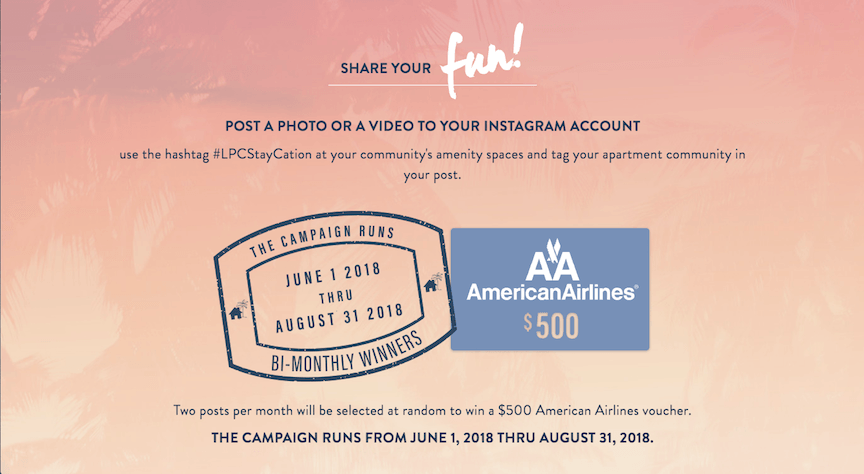 4. Share available units
When a unit is vacant, you want to get it filled as soon as possible. Social media can help with that!
When you post about your available units on social media, your followers, and, potentially, friends of your followers will see it.
You can also expand your reach with social media ads. You can target these ads to people who are looking for somewhere to live or considering a move.
Working with a social media advertising agency can help you make the most of your social ad campaigns. The team at WebFX can help you optimize your ad spend, targeting, messaging, and ad design.
5. Provide updates on your latest projects
Building a new apartment complex or renovating a house? Why not share your progress on social media?
Videos and photos of your latest projects make for attention-grabbing and engaging social media content for property management companies, and your followers will enjoy watching you make progress.
Plus, it helps build interest in your new or renovated units so that when the project is finished, you have lots of future tenants who are eager to move in.
6. Create video tours
When you have new units complete or want to fill vacancies in existing units, consider posting video tours to YouTube and other social media sites.
These tours make for highly visual content, which gets users' attention. It's also a convenient way for people to see your units. When you make the process easier for prospective tenants, they'll view your company more favorably.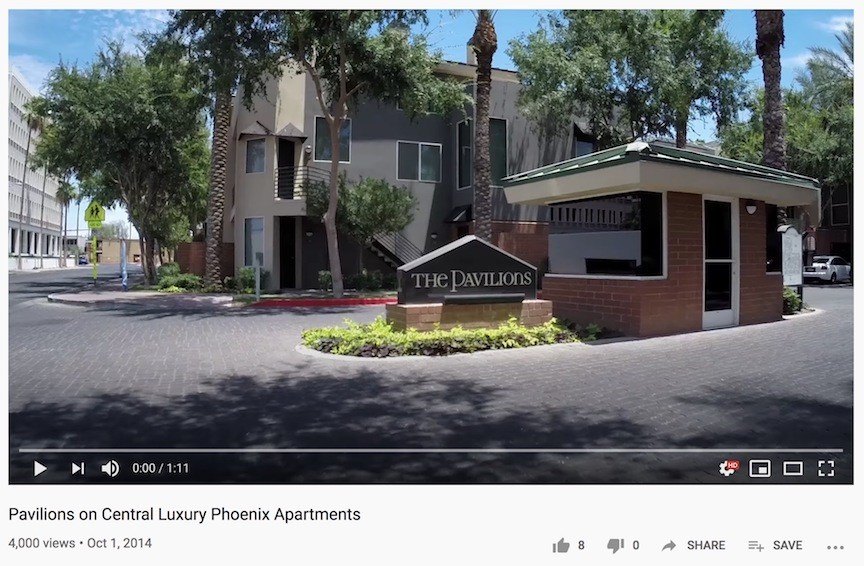 7. Promote local businesses and events
A great way to encourage a sense of community on social media and increase awareness of your property management company is to promote other local businesses and community events on social.
To do this, you can share these businesses' or organizations' content, post reminders about their events, or just share an appreciation post for a local business that you like or that's popular with your tenants.
When you do this, you'll become more integrated into the community, your reputation will improve, and more people will get to know your company.
Here are a few property management social media ideas for promoting local businesses or organizations:
Share a post about the new shop opening up in town
Take a poll of your tenant's favorite local restaurants and share the results
Post a timely reminder about an upcoming community event
8. Respond to reviews, comments, and messages
One of the biggest benefits of social media for property management is the ability to interact with your audience. To make the most of your social media presence, check your profiles regularly, and respond to your reviews, comments, and messages.
When you respond to interactions on social media, it shows people that you care about your tenants, and you're easy to get a hold of.
When you get a positive review or comment, acknowledge and thank the user.
If you get a negative review or comment, acknowledge the user using a friendly tone and ask them to send you a direct message or call you so that you can resolve the issue. Publicly acknowledging a negative comment and offering to fix the problem shows people that you care about your tenants and may help negate the effect of the comment.
Social media for property management can also involve using your profiles for 'customer service.' If someone asks you a question on social, answer it as quickly as you reasonably can and try to give them a helpful response.
9. Create private groups for your property residents
One of the most useful property management social media ideas for your residents is creating private groups. You can set up private groups for residents of your apartment complexes or other properties to help build a community and encourage engagement.
You can share updates in this group that are relevant to the group members and encourage members to post as well. Residents can use these groups to talk with you and each other about various things, from the best Internet providers in the area to their favorite ways to decorate their apartments.
Excel at social media for property management with WebFX
Social media is a powerful tool for growing your property management company. There are many ways you can use social media, but hopefully, these nine social media marketing ideas for property management get you off to a good start!
If you want to make the most of your social media marketing, consider working with a professional social media marketing company like WebFX. We have the skills to develop and implement a social media strategy that drives results for your property management company. In fact, over the last five years, we've driven over $3 billion in revenue for our clients.
Want to learn more about how we can help you grow your property management company with social media marketing? Contact us or request a free quote today!
Earn a 20% greater ROI with WebFX