Martech for Ecommerce: Everything You Need to Know
Businesses that use martech are able to measure their marketing goals and create data-driven marketing strategies. This not only helps with their marketing performance but also business growth through calculated marketing performance. Learn more about using martech for ecommerce now!
What is martech for ecommerce?
Martech for ecommerce means marketing technology used in ecommerce applications. Traditionally, companies will use martech to automate, measure, sync, and track their online marketing initiatives.
What is a martech stack?
A martech stack is a group of tools that efficiently perform marketing activities and carry out marketing goals and objectives. These tools can range from software for email marketing to web-based platforms for social media management.
Why invest in ecommerce martech?
Ecommerce businesses that use martech can measure their marketing goals and create data-driven marketing strategies. Martech does not only help with your marketing performance but also your brand's growth through calculated marketing performance.
For an ecommerce website, including martech has become inevitable. That's because selling online has become a competitive business, especially with online marketplaces like Amazon and Walmart. With the benefits of ecommerce automation from martech, your ecommerce store gets an operational advantage.
How to create an ecommerce martech stack
Now you know the answer to the question, "what is martech."You might be wondering, with so many martech applications available for ecommerce websites, which should your ecommerce company choose? The simple answer is that it depends on the goals and objectives of your business.
You can narrow down which tools to use, though, with these steps on how to create an ecommerce martech stack:
Determine your goals
To create an ecommerce martech stack, you need to determine what goals you have for your company. For example, let's consider a jewelry store looking to increase online sales. This goal is straightforward and can get knocked out with the right marketing technology.
Research your tools
Once you have a clear goal and an objective for your ecommerce website, brainstorm a few strategies that could help your business achieve its goal. Those strategies will help you uncover potential marketing technology tools.
Using the jewelry store website, the store might decide that conversion rate optimization (CRO) could help generate more sales. With some research, they might determine a tool like CrazyEgg will help with using CRO to earn more sales.
Using the tool, they can see where users are most engaged on the jewelry store website and where the website is getting the most clicks with heatmaps. This information allows the store to determine changes that will increase conversion rates.
Implement your strategy
After coming up with the different tools, make sure you use each tool to its fullest potential. Simply having the software does not add any value to your business.
A clear strategy and goal is needed with the tools to determine what works best for your ecommerce website. Remember that each website is different, and not every martech tool works for every business the same way.
Therefore, it is important to do research and testing on these tools. Read their wikis, follow the company on social media for updates, and stay in the know on the tools and capabilities, so you can maximize each tool's applications.
Once you have the tools for your marketing goals, you have your ecommerce martech stack.
Meet MarketingCloudFX:
One platform tracking countless metrics and driving stellar results.
Learn More About Our Proprietary Software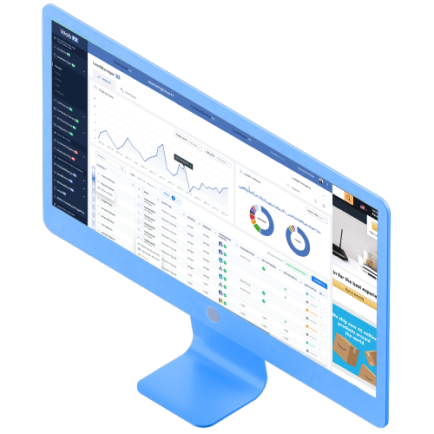 5 ecommerce marketing technologies to use
Not sure where to begin with researching ecommerce marketing technologies? Check out this list:
1. Ecommerce martech for email marketing
For an ecommerce website that wants to grow its customer base, email marketing is one of the cost-effective marketing channels and offers your business a way to nurture potential clients, like those who abandon their shopping carts.
Here is a list of some of the best email tools:
EmailMarketingFX via MarketingCloudFX
Mailchimp
SendinBlue
2. Ecommerce martech for review management
One of the best ways to increase site credibility and user trust is by including reviews on your site.
Here are some other review martech tools to consider:
ReviewBoostFX via MarketingCloudFX
Brand24
Trustpilot
3. Ecommerce martech for social media
Social media is another must-have tool that allows you to reach your target audience.
The goal is to select the social media platforms that have most of your target audience. Your ecommerce platform might benefit from using one or two social media platforms. Using every social media platform is rarely the right strategy.
A few examples of some great ecommerce martech for social media are:
Buffer
Hootsuite
SocialPilot
4. Ecommerce martech for analytics
The most important tool for the martech stack is to have ecommerce analytics.
If you are making changes to your strategy, you need a way to measure the impact of your changes. How did the changes improve or decrease your performance? What are some indications that your strategy is working? What makes you confident your strategy will work?
A few examples of some great website analytics tools for ecommerce martech include:
Google Analytics
Ahrefs
5. Ecommerce martech for customer relationship management (CRM)
Lastly, for any ecommerce business to succeed, customers are needed.
To manage customer relationships, a CRM is a must on the martech stack. A CRM tool can make acquiring and maintaining customer relationships easy.
A few examples of some CRM tools for ecommerce martech include:
Salesforce
Microsoft Dynamics
All these separate tools are great to include in your ecommerce martech stack. One setback is that these tools use different platforms. Despite most of these tools' integration features, getting all your data in one place is still challenging.
With MarketingCloudFX, you can change this!
Measuring the metrics that affect your bottom line.
Are you interested in custom reporting that is specific to your unique business needs? Powered by MarketingCloudFX, WebFX creates custom reports based on the metrics that matter most to your company.
Leads

Transactions

Calls

Revenue
Learn More

Upgrade your martech stack with MarketingCloudFX
MarketingCloudFX makes strategic decision-making, performance tracking, industry research, and complex attribution analysis much easier. This platform includes email marketing, review management, analytics, customer relationship management, and more.
You can expect the following questions to get answered when using MarketingCloudFX:
Where are sales coming from, and how much am I paying for each?
Which marketing channels are performing the best?
How does my website stack up against competitors?
Make your martech research simple and learn about how MarketingCloudFX can be your one-stop shop for your ecommerce martech stack! Contact us to learn more today.