Updating Your SEO for 2023
Search engine optimization (SEO) is not a one-and-done process. Google updates their algorithm often to ensure that users are getting the best content possible, and your competitors are likely making changes to their sites in an effort to outrank you.
This means it's essential to regularly update your SEO strategy. Digital marketing is a fast-paced industry, and it's important to keep up – but doing so is often easier said than done. That's why on this page, we've put together a list you can use as a starting point to update your strategy for this year.
Call us at 888-601-5359 to speak with a strategist, or keep reading to learn more about the changes you can make to stay ahead of your competitors in search engine results.
Time to Level Up Your Sales
Our long list of services helps you grow every aspect of your business with marketing strategies that are proven to increase bottom-line metrics like revenue and conversions.
In the past 5 years, we've managed more than 12.9 MILLION transactions across our client base.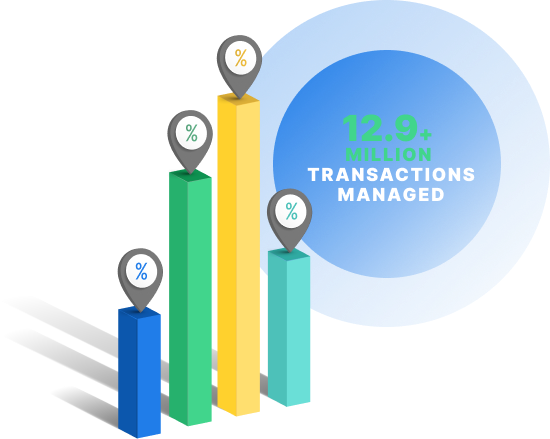 Keywords
Identify new keywords
Keywords play an integral part in the success of your SEO campaign. It's extremely important to regularly identify new keywords for your site update your on-page optimization strategy.
Keyword research is the basis of your online marketing plan. It is important to constantly research new keywords because SEO is constantly being improved. In order to make the most of these improvements, you'll need to stay up-to-date with your keywords.
As search patterns change, you'll want to update your keywords. The way people search for products and services is constantly evolving, and updating your keywords will ensure that you are getting the best results from your SEO strategy.
You'll also want to add keywords that you may not currently be targeting. It's important to think about different ways or phrases people will use to search for you, and how those trends may evolve over time.
If you add new products or create a new service, you'll need to do keyword research for those, too. New offerings often lead to opportunities for new content, and incorporating relevant keywords can help you boost your sitewide SEO strategy.
Optimize your title tags
Your page title is the main piece of information users will see in search results. This means that it needs to grab their attention and make it clear that your page has what they're looking for.
Each page on your site should be designed to target a specific keyword, and your title tags should reflect that. If you want a specific page to rank for "women's distance running shoes," for example, you should include this phrase in its title tag.
Title tags are important for establishing strong clickthrough rates, or the percentage of users who click on your page after seeing it in search results. When you include the specific keywords a user searches in your title tags, they'll be more likely to click on your page, because it's clear that you have the information they want.
Use keywords in meta descriptions
Meta descriptions are the other piece of information that show up along with title tags in search results, making them valuable pieces of real estate in results pages.
Although meta descriptions don't have a direct impact on rankings, you can use them to improve your clickthrough rates. This sends positive signals to search engines, which can boost your rankings as a result.
Plus, when a user searches for a specific phrase, each word in that phrase appears in bold on the results page – so if you incorporate those words into your meta descriptions, your page will stand out.
Review your meta descriptions to make sure that you are using relevant keywords, and that they're written in a way that encourages users to click through to your site.
Incorporate keywords naturally in your content
Whenever you add a new page to your site – or update an old one – you typically have a specific keyword in mind. You'll want to incorporate this keyword throughout the page's content, but do so in a way that feels natural to readers.
Keywords help search engines like Google understand what each page on your site is about, and rank it for relevant searches in their results. Their goal is to provide the most relevant information for each user, and these words and phrases point them in the right direction.
As you update your site for the coming year, you may decide to target new keywords for different pages on your site. In this case, you'll want to rewrite certain elements to include those keywords and have a better chance of ranking for them.
You can include your target keyword throughout your body copy, as well as in headings and subheadings where it makes sense. That being said, it's important to understand the issue of keyword stuffing and how to avoid it.
If you use keywords excessively, especially in ways that don't make sense and negatively impact user experience, search engine crawlers can detect this. It shows that you aren't providing valuable information, but using misleading practices to improve your rankings in search results. This can lead to a search engine penalty – ultimately damaging your rankings and having the exact opposite effect of what you want.
Links
Links play an important role in your website's ability to rank well in search results, but earning them has become increasingly difficult over the past few years. If you're looking to improve your SEO strategy and continue moving up in search results, you'll need to build out a strong backlink profile, as well as a solid internal linking structure.
Backlinks
Backlinks are links to your pages from other websites, and they show search engines that your site is a reputable source of information. When another site owner links to you, search engines see this as a vote of confidence in the value you provide.
The more links you have from credible sites, the higher you'll be able to rank in search results. That being said, it's important to note that your backlinks should ideally be from authoritative sites. Links from spammy, unreliable sites won't improve your rankings – and if you actively seek them out, they can actually have a negative impact.
Even if your site has a robust backlink profile, earning new links is an effective way to stay ahead of your competitors. So instead of simply publishing content and hoping people will find and link to it, you need to take a proactive approach.
There are a few methods you can use to earn quality backlinks:
Reach out to bloggers. If you want to promote a specific product, do some research and see who's writing about similar products online. You'll likely find many industry blogs that write reviews for their readers, and you can offer your product to them at no charge and encourage them to review it on their site. The bloggers can choose if they want to review it and if they do, they can link back to your site.
Reclaim links. If you ever stumble across someone mentioning your business or brand name, make sure they link back to you. If there is no link to your company's website, send them an email and ask them politely to add a link. Most bloggers and editors will be happy to make the change, making this an easy way to build credible backlinks.
Create infographics. If you have valuable information or data to share, consider creating an infographic about it. Once you publish it on your site, you can reach out to news sites and industry blogs and encourage them to share it with their readers. Then, if they publish it on their site, they'll link back to you as the source – generating quality backlinks for your business.
By creating quality backlinks, you will be able to boost your rankings. Google will view you as a more reputable and valuable site. This will help you move towards becoming one of the top search engine results.
Evaluate your outbound links
Excessive outbound linking can have a negative effect on your rankings, especially if your links are to less-than-trustworthy sites. Linking to information that isn't reputable or useful sends negative signals to search engines, and can harm your chances of reaching searchers.
Having lots of links can also take away from your content, because they direct readers away from your site. This can be distracting and have a negative impact on your ability to convert visitors.
Outbound links are best when used sparingly. Use them whenever you cite outside information, and when an outside source could help a visitor gain a better understanding of a topic, but make sure to only link to trustworthy sites.
If you haven't looked over your outbound links recently, it's worth your time to revisit old pages and make sure that you're only sending your visitors to authoritative sources. If not, you may want to rewrite some of your content, and look for opportunities to link to pages on your own site instead.
Link internally
In addition to links from other sites, the links between your site's pages also have an impact on your ability to rank in search results. Internal links help search engines find new content, and helps users find other relevant content on your site as they browse.
As you review your site content, look for opportunities to link to other relevant information on each page. This can help keep visitors on your site for longer periods of time, and encourage them to learn more about your company and products.
If you haven't recently updated your navigation system, this is a great way to improve your internal linking structure. By adding newer pages to your navigation bars, you increase the likelihood that they'll be crawled and indexed quickly, and start ranking in search results as soon as possible.
Remove broken links
Broken links negatively impact user experience and make it difficult for visitors to find the information they want. Having too many broken links is damaging to your SEO efforts, and can harm your rankings in search results.
Go through your site and look for broken links, and fix any you find. This is an inevitable issue as you update and change content, but one that's relatively easy to fix.
Content
Content is a key point to boosting your SEO. It drives people to your website and gets them interested in your business. Content is time-consuming, but it has big rewards. If you're too busy running your website to focus on your content, check out our content marketing services !
Create long content
Search engines want to give their users the best possible pages on any given topic, so the more in-depth and informative a page, the better its chances of ranking well. This means that if you want to target competitive keywords, you need to create lengthy, informative pages.
The average amount of words on a first page result is around 1,890 . Although you don't need to target this exact number for each page, it's a good benchmark for whether any given page is strong enough to achieve a page one spot.
As you review your site, look for any pages that are on the shorter side and have room for additional information. Adding a few hundred words can make the difference between page two and page one – and have a serious impact on your traffic.
Eliminate duplicate content
Each page on your site should have unique information. Although it may seem helpful to include certain pieces of information on multiple pages, too much overlap can lead to duplicate content issues.
When pages on your site contain the same information, search engines won't be able to determine which one to rank in search results – and in some cases, they won't rank either. You can use Google Search Console to determine if this is an issue on your site, and fix any instances.
Duplicate content can also be an issue with pages on other sites, even if you've properly cited your sources. Avoid copy and pasting any information, and if you've done this in the past, revise your copy to eliminate it.
Update your content
Search engines want to give their users relevant, up-to-date information. So if you published a page a few years ago and haven't updated it since, there's a strong chance it could benefit from a few updates.
Check to make sure that all of the information on your site is still relevant, and update any pages that are no longer accurate. In addition to helping your readers, this can give you a boost in search results.
Add multimedia
As you're checking for broken links and updating content, you'll also want to look at the visual content on each page. Pages with graphics, images, and videos are more effective in attracting and keeping visitors' attention, and increase the amount of time they spend on your site.
Videos, in particular, are effective because they encourage visitors to spend at least a few minutes on content that's easy to understand and entertaining to watch. As your average time on page increases, search engines see this as a positive signal, which may have an impact on your ability to rank well.
As a result, adding visual content to your pages can improve your site-wide performance. If any of your pages have large walls of text with no visual interest, these are good places to start.
If you notice some of your pages are lacking visual elements, add some pictures, infographics, videos, or other content to improve the user experience.
Check the readability
Search engines want to provide their users with a positive experience, so sites that make it easy for visitors to access and understand information naturally perform better in results.
One of the biggest factors in making this happen is the readability of your content. If your pages are filled with jargon and incomprehensible paragraphs, your visitors won't want to spend much time on your site. This means less engagement, and lower rankings in search results.
Content that's easy to read can keep visitors on your site for longer periods of time. Review your copy and improve the structure, organization, and language wherever necessary. The right tone and style for your business depends on your target audience, but writing in a way that's accessible and enjoyable to them will help you make the most of your site content.
Site performance and maintenance
Your website is your company's home online, and it needs to provide a great experience for potential customers. Regular maintenance is essential for keeping your site running at maximum efficiency, and can improve your overall digital marketing results.
Monitor your page speed
Users hate slow loading pages. Google knows that and factors it into their rankings. If your pages take too long to load, this can negatively impact your rankings.
You'll want to make sure that your page is loading as quick as possible. Use PageSpeed Insights to see how long your pages take to load on both desktop and mobile devices, and use their free insights to identify opportunities for improvement.
Optimize visual content
You want all of your visitors to see your graphics and images, and optimizing them is essential for making that happen.
Make sure that all of the images on your site are responsive, and that the file sizes aren't too large. Large, full-screen images will naturally be larger files, but compressing your files and resizing too-large images will help your pages load faster. And as we mentioned in the previous section, the faster your pages load, the better chance you have of ranking well in search engines.
You'll also want to make sure to include alt text for each of your images, with accurate descriptions of the file's content. This text is what displays when a user's device can't load your image, and it also helps search engines understand what the image depicts. Include keywords where relevant, but avoid stuffing your alt text with irrelevant words and phrases.
Ready to update your SEO?
If you're ready to improve your SEO and rankings, WebFX can help! We have years of experience creating results-driven campaigns for our clients, and we'll do the same for you.
Contact us today to speak with a strategist and get a free quote!
How Is Your Website's SEO?
Use our free tool to get your score calculated in under 60 seconds.