Search engine optimization (SEO) is an ever-evolving strategy. Google continually updates its algorithm and how it processes queries, so your SEO strategy must stay fresh to stay competitive.
If you're preparing your SEO strategy for the new year, take a look at these 2023 SEO trends and predictions before you go any further! Keep reading to learn more about what to expect with SEO in the next year and how you can optimize your SEO strategy for these trends!
P.S. Concerned your SEO strategy isn't keeping up with your competition? Use our free SEO checker to find out where you can make improvements to your SEO!
15 top SEO trends for 2023
Want to see what's trending for SEO in 2023? Here are seven trends that will impact your SEO strategy.
1. First-hand experience on topics
First on our list of SEO trends for 2023 is to show first-hand experience in your content.
Search engines like Google want to ensure they provide users with the most valuable content to answer their queries and provide them with the solutions they need.
And the best way to do that is by showing users content in which the creator has relevant, real-world experience on the topic.
How to optimize for this trend
If showing first-hand experience in your content is trending for SEO in 2023, what does that mean for your business?
You'll want to take a look at your existing content and topics to ensure you're only creating content within your wheelhouse and where your brand has relevant experience and expertise.
You should also consider who is writing your content and ensure your writers have experience in the topic they are writing about.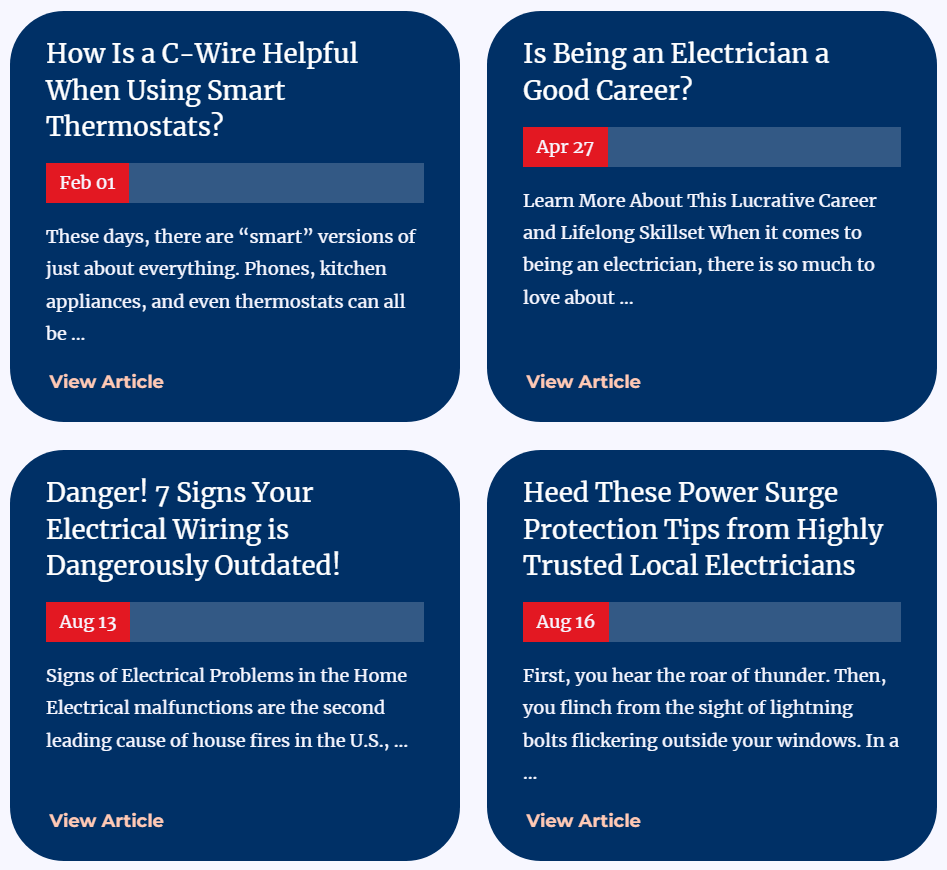 It might be tempting to write about numerous topics to create more opportunities for your site to rank in the search results. But creating content that's outside your niche or area of experience can negatively impact your rankings in the long run.
2. Conversational queries
Next on our list of 2023 SEO trends you need to know are conversational queries. Google continually focuses on improving the user's search experience to help them find relevant information fast. A critical part of that improvement is understanding the complexities of language.
Google launched LaMDA to understand natural language better. With the implementation of LaMDA, Google focuses on understanding dialogue better to deliver results more efficiently.
This process includes understanding vernacular and how users converse when trying to find what they need.
How to optimize for this trend
With conversational queries trending for SEO in 2023, you'll need to put a great emphasis on optimizing for voice search.
Voice search focuses on natural language processing (NLP) to understand how users search verbally compared to typing a search query. Since Google is moving towards understanding conversational searches from users, it's in your best interest to optimize for voice search queries.
You can optimize for voice search by:
Targeting phrasing: The way someone phrases a typed query is different than a verbal query. Someone may type "best hiking boot brand" but verbally search "what's the best hiking boot brand?" Optimizing for these verbal searches is a great way to target conversational keywords.
Keeping answers short: If you're optimizing for conversational keywords, keep your answers concise to deliver helpful information fast. To answer the best hiking boot query, you may have a short blurb highlighting the top brands and diving into more detail later.
Considering vernacular: Different regions have specific phrases they use to describe objects or places. People who live in the state of Pennsylvania, for example, typically call it "PA." Knowing vernacular can help you optimize for more conversational keywords.
3. Video marketing
Another SEO trend in 2023 that we'll look at is video marketing. Over half of all consumers rely on videos to help them make purchasing decisions.
With more people watching videos, you'll want to make it a component of your SEO strategy if you haven't already. Additionally, Google is rolling out features to help users find information faster through videos.
In particular, the new features of focus are:
Clip markup: Clip markup enables you to highlight key points of your video so that users can hop straight to those parts. If you had a video containing tips, for example, you could create a markup for each tip.
Seek markup: Seek markup tells Google how your URL structure works. This information is critical because it allows Google to display the key moments of your video automatically. It enables Google to link within a specific point in your video.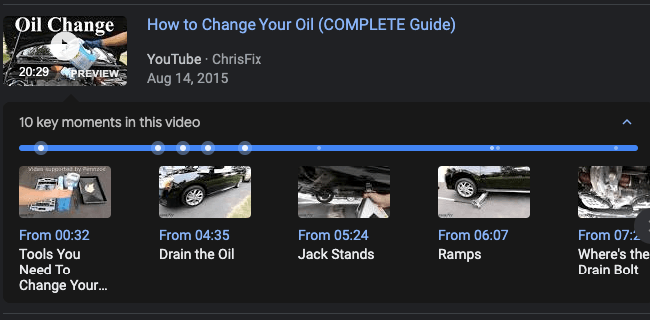 With these two new features, you can optimize your videos to appear in search results for more relevant and competitive terms.
How to optimize for this trend
Start by incorporating video into more of your pages. Users spend 88% more time on pages with videos, so incorporating them in your content can help boost engagement, rankings, and traffic. As for the clip markup and seek markup, make sure you're using detailed, keyword-rich markups.
If you have a video on tips to save money, don't label your markups "tip 1," "tip 2," and so on. Instead, use markups like "Save money by couponing" and "Stash cash from your paycheck."
These specific markups provide you with more opportunities to rank in relevant searches and increase engagement with your videos.
4. Reinforcing your EAT signals
Google's guidelines have repeatedly stated the importance of amplifying your EAT signals where applicable on your website. Looking ahead, search engines will continue to look at your website's Expertise, Authoritativeness and Trustworthiness when ranking content. The user experience remains central to Google, and showing that your site is worth its visitors' time will remain key in scoring those top results. Your E-A-T signals can include social proof, customer testimonials, links to authoritative sites, expertise and badges and much more.
How to optimize for this trend
As you meticulously craft your website's content, keep EAT in mind. You can do this by backing up your data with statistics and facts, links to authoritative websites such as .edu and .gov, reinforcing your social proof, showcasing awards and badges and displaying customer reviews and testimonials. You can also boost your EAT signals by winning over links from other authoritative websites.
5. Image optimization and accessibility in 2023
Google has always been clear about the best practices regarding website image optimization— unfortunately, few have taken this as seriously as it should be.
Now is the time to look at the images on your website and see how they score up on the optimization meter. We want the web to be accessible for all, and your image optimization will play a role in ranking factors to ensure that images can be served optimally to those with visual disabilities and impairment.
This isn't the only reason Google's so keen on pushing for good image optimization – in the future, images will be used for much more than simply conveying an idea visually, but will be used in search to shop, obtain information, and more.
How to optimize for this trend
Now is a great time to conduct an image audit on your site to identify which of the following you need to implement to get your image optimization score up:
Serve images in next-gen formats
Make sure images are compressed
Name each image file appropriately with the correct keywords where possible.
Give each image unique alt text
Want to learn more about image SEO? Check out our post on image SEO with ten tips on optimizing your images!
6. Rise of the featured snippet
For our next trend prediction this year, we can't ignore the rise of featured snippets in search results. Featured snippets will continue to be served and will likely become more prominent as time goes on.
If you haven't noticed them just yet, featured snippets are the boxes of results you often see above the actual search results— these can take the form of how-to's, FAQs, bulleted lists, or simply a single sentence.
These are great little shortcuts to the top of the SERPs without the need to craft long-form content. If your page offers valuable information that people frequently search for, you're probably eligible for a featured snippet.
How to optimize for this trend
To make your way to the top in the form of a featured snippet, think carefully about the searcher, their intent, and how they'd search, and focus your content on question-based terms. Using Google's autocomplete or "People also ask" sections are both excellent tools for finding profitable keywords and topics to write about. Next, you'll want to ensure your content has the correct schema markup to appear in search results. You can then test your markup using Google's Schema Markup Testing Tool.
7. The importance of semantically related keywords
Over time Google's algorithms have become increasingly sophisticated in the way they interpret our searches with related keywords, search intent and semantics playing a role in what we see on the SERPs.
At a recent I/O conference, Google introduced its Multitask Unified Model or MUM, which may play a role in the future of search as it is an AI that can discern emotion and intent from search queries in over 75 languages.
Over are the days when search engines looked at strings of text to match and here we are in the day and age where search is becoming more intuitive and relevant than ever.
How to optimize for this trend
Instead of laser-focusing your efforts on one keyword, try instead to focus your writing on topic clusters. Create the ideal customer personas you want to reach with your content, write for them with answers to questions they may have, and use phrases and semantically related keywords in your content.
Try a different keyword research approach this year by putting yourself in the searcher's shoes to develop keyword combinations and lists that resonate with your audience.
8. People-first content
Google's recent Helpful Content Update in 2023 is a critical algorithm update that will impact how your company creates content in 2023 and beyond.
This algorithm change is designed to deliver more relevant, helpful content to users to satisfy their queries. With this update, Google aims to show users content that's written for people by people instead of search engines.
How to optimize for this trend
If you want to capitalize on this SEO trend, you'll need to ensure you create content that provides value for users and avoid writing content just to help your site rank in the search results.
In other words, don't stuff your content full of keywords or rely on artificial intelligence (AI) to completely create your content. Otherwise, you'll miss out on reaching the top of the SERPs.
To create helpful content for your audience, be sure to:
Give sufficient answers to your audience's questions
Provide a great user experience (UX)
Demonstrate first-hand experience
Avoid writing content for search engines first
Discover More Ways to Create Helpful Content
9. SEO automation
Next on our list of SEO trends in 2023 is SEO automation. More and more people continue to take advantage of automated technology to streamline time-consuming tasks.
And this trend is no different for SEO as more companies use powerful software to automate SEO tasks in 2023.
How to optimize for this trend
Get on board the automation train by investing in SEO automation software to start saving you and your team tons of valuable time so you can concentrate on other business tasks.
Consider utilizing automated technology like:
Keyword research tools: Our KeywordsFX tool enables you to quickly find high-value keywords to target in your content and throughout your website.
Website monitoring platforms: Our proprietary marketing software, MarketingCloudFX, helps you track various SEO metrics at a glance, like your website traffic, keyword rankings, and more.
Website auditing tools: Quickly and easily get the rundown on your website's search engine performance with a handy tool like SEO Checker. SEO Checker gives you a complete SEO score along with suggestions for optimizations you can make to improve your rankings and traffic in just a few seconds.
Looking for an all-in-one SEO audit tool? You've found it.
SEO Checker provides data on key metrics to give you:
Complete SEO score

Content Grade

Site Speed Analysis

and more.
10. Product page optimization
Google rewards long-form informative content in the SERPs. And this trend won't change in 2023. That's why optimizing product pages to include more helpful content that answers users' questions is one of the most popular 2023 SEO trends.
How to optimize for this trend
Spice up your product pages to include more information about your product and brand so you can provide your website visitors with more helpful information.
Consider implementing:
FAQ sections
Drop-down menus with additional details about your products
Product descriptions
Customer reviews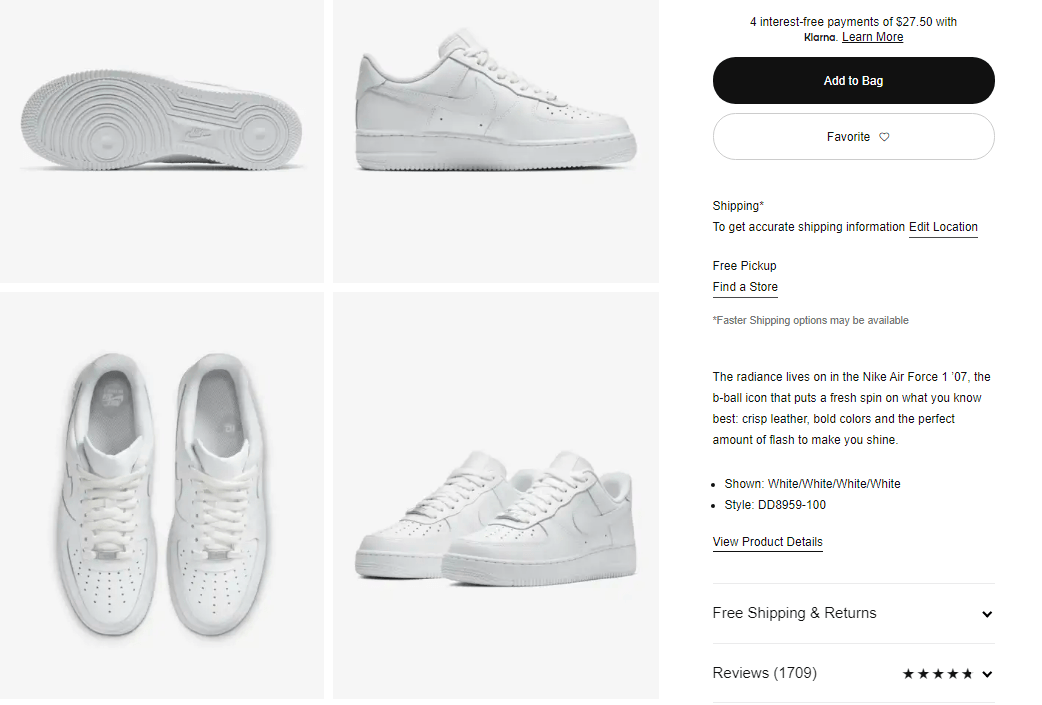 Think about questions that your audience might ask about your products and ensure you provide the answers to those questions on your page.
11. SEO competitor analysis
The SERPs are increasingly becoming more competitive as more brands implement SEO best practices to help their website score a top spot in the results.
That's why conducting an SEO competitor analysis is an essential trend you won't want to skip out on this year.
How to optimize for this trend
Stay one step ahead of your biggest competitors in the SERPs by using competitor research software.
For example, CompetitorSpyFX, a tool housed in our marketing proprietary software, MarketingCloudFX, enables you to conduct an in-depth audit of your competitors' SEO strategies.
Use CompetitorSpyFX to measure how you stack up against your competitors in terms of keywords, content, user experience, and more.
Get Ahead of Competitors in the SERPs with CompetitorSpyFX
12. Fast-loading websites
Users love websites that load quickly, and so do search engines.
Google continues to favor fast-loading websites when determining search result rankings, which is why improving your website speed is number 12 on our list of 2023 SEO trends.
How to optimize for this trend
Use tools like Google's Page Speed Insights or Core Web Vitals to monitor your site's loading speed and gather recommendations to improve it.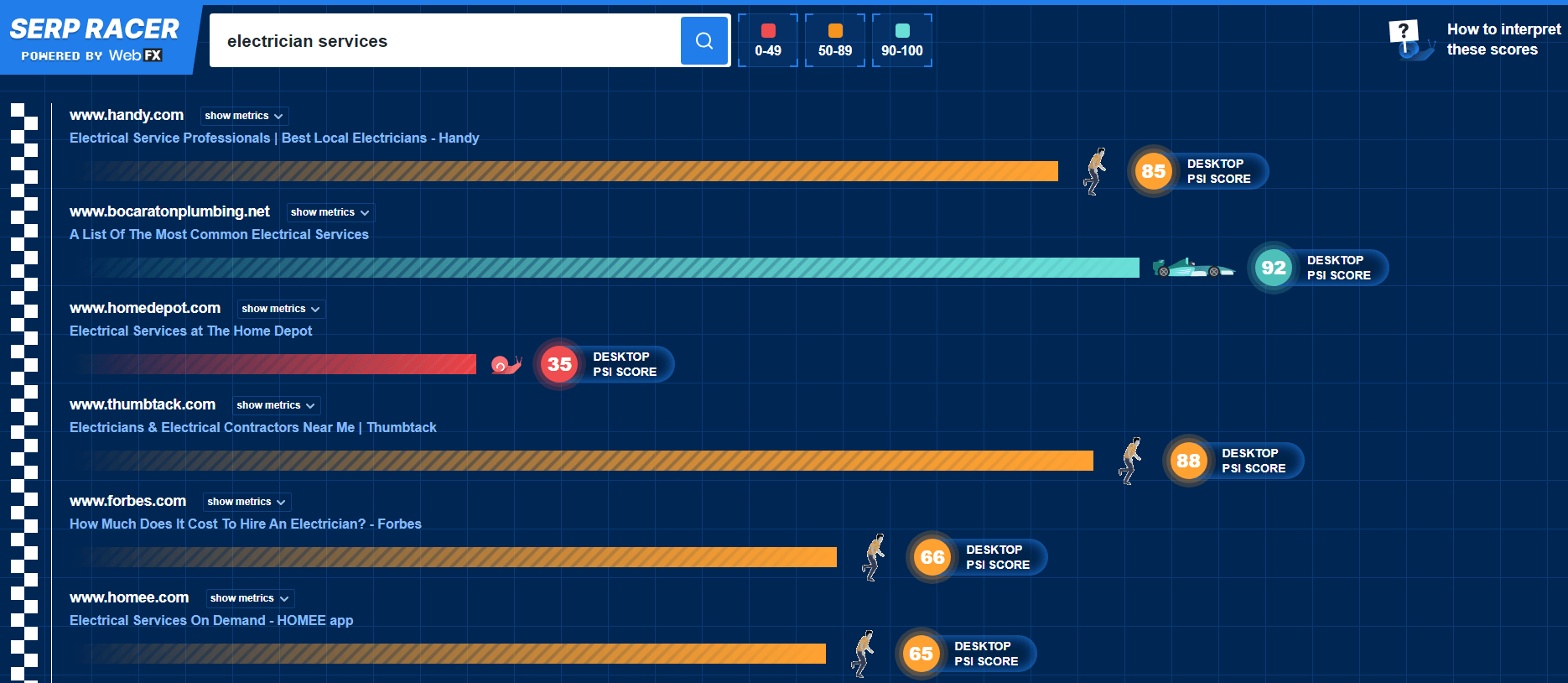 You can also use our SERP racer tool to evaluate your site's loading speed against your competitors in the SERPs.
See How Your Site's Speed Stacks Up Against Competitors with SERP Racer
13. ChatGPT
One of the biggest SEO trends for 2023 is ChatGPT. ChatGPT is a new AI-powered chatbot that uses large amounts of data to interact with users conversationally, answer questions, and provide solutions.
How to optimize for this trend
Users can utilize ChatGPT to get quick answers to their questions, and marketers can also optimize their website's search engine performance.
While it may be tempting to use ChatGPT to create your content and write blog posts or articles, it's essential that you avoid doing so. With Google's most recent Helpful Content Update, Google can identify AI-written content and penalize it in the SERPs.
Plus, AI-written content is seen as search engine first content and goes against Google's guidelines.
However, you can still use ChatGPT for digital marketing:
14. Emphasis on author authority
In 2023, search engines want to make sure that the content that ranks at the top of the SERPs is produced by real people and provides a plethora of value for users.
That's why ensuring your content places emphasis on author authority and expertise is another one of our top SEO trends for this year.
How to optimize for this trend
Not only should you ensure that your writers have relevant experience in the topic they are writing about, but you should also highlight their expertise on your page.

For example, you can:
Include an author bio to communicate your author's knowledge and experience
Add links to your author's social accounts, so Google can see they are real people and experts
Create author pages where you can include links to other content your author has written
15. Continued priority for mobile-friendly websites
Mobile searches aren't going anywhere in 2023. With more and more people using their mobile device to search for products or services and make purchases, it's more critical than ever to ensure your website is mobile-friendly.
How to optimize for this trend
Google wants to ensure mobile users have the best experience. And that means showing them websites that will work and display correctly on their mobile device.
Use Google's mobile-friendly test tool to see if your website is responsive for mobile users.

If it's not, you'll want to look into implementing responsive design for your website to ensure it functions properly no matter what device your visitors use.
Need help making your website mobile-friendly? Our top-tier responsive design services can get your site mobile-friendly in no time.
These are real SEO results driven for a WebFX client.
You're next.
Learn More About SEO Services


260%
increase in organic revenue

198%
increase in organic transactions
150%
increase in organic traffic

3872%
increase in sessions from SEO
Stay on top of the 2023 SEO trends
If you want your SEO strategy to drive success for your business continually, you must keep tabs on SEO trends.
This list of SEO trends in 2023 will help you keep your SEO strategy fresh, so you can perform well in search results and drive more qualified traffic to your website.
Want to see where your website's SEO currently stands? Use our free SEO checker tool to find out where you can improve your website, and contact us to get help with improving your SEO!
How is your website's SEO?
Use our free tool to get your score calculated in under 60 seconds.
WebFX Careers
Join our mission to provide industry-leading digital marketing services to businesses around the globe - all while building your personal knowledge and growing as an individual.