How to Manage Social Media for Vacation Rentals in 8 Steps
When people vacation in your area, they'll need somewhere to stay, and you want your vacation rentals to be at the forefront of their search.
Social media is the perfect way to achieve that goal, with 74% of people using it to inform their purchase decisions. From persuasive posts to paid social media ads, there are numerous ways social media can bring people to your rentals.
But how can you get the most out of social media for vacation rentals? Below, we'll go over eight vacation rental social media tips to help you reach your target audience.
Read on to learn more, or subscribe to Revenue Weekly for more tips on how to optimize your vacation rental marketing plan — brought to you by the agency with over 863 client testimonials!
8 vacation rental social media tips for driving results
What makes a good social media plan for vacation rentals? Even if you're familiar with social media, you may still have questions about how to make it work for your marketing.
Here are eight ways to get the best results from your social media:
1. Interact with users
One of the simplest ways to draw people to your brand through social media is interacting with them.
It can be tempting to treat social media purely as a stage, where you can speak into the microphone and project your messages to an enormous crowd. But a better way to treat it is as a dinner party, where you mingle with your guests and hold one-on-one conversations.
When your followers ask you questions or comment on your posts, be sure to respond. Stay on the lookout for posts that mention you, so you can reply to them as well.
You can stay on top of these new comments and messages with social media management tools like Buffer.
2. Offer special discounts and deals
Something plenty of people look for when they search for a vacation rental is a low price. Whether your rentals are usually low-priced or not, you can appeal to that desire by offering special deals.
Social media for vacation rentals is a great place to advertise limited-time discounts on your properties. These deals are an especially good tactic during times of the year when people are less likely to flock to your area for a vacation.
Whatever the specific discount, the lower numbers are likely to draw many interested eyes online, leading to more bookings.
A handy tip is when a product or service costs over $100, advertise the discount by using the dollar amount — if the product or service costs less than $100, use the percentage off.
3. Share photos of your properties
The phrase "a picture is worth a thousand words" may be a cliché, but it couldn't be more true when it comes to a vacation rental marketing plan. No matter how much you write about your rental properties, no amount of words can convince users as well as photographs.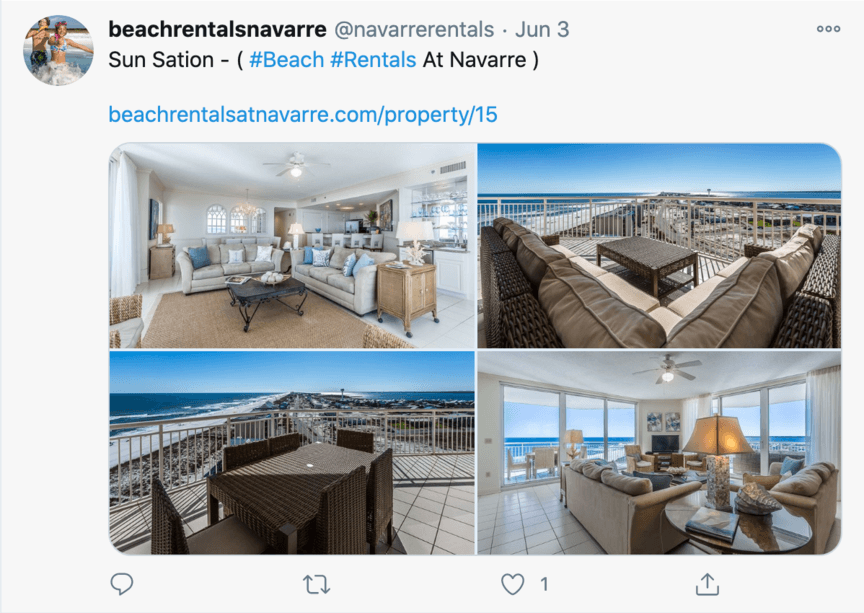 Your social media posts should feature photos of your properties as often as possible to show off everything they have to offer. If they have some beautiful architecture, give your followers a good look at it. If a property has a beautiful view, give it the spotlight.
Like special discounts, your photos should change with the seasons. Don't create posts that feature photos exclusively from July — show users what you have to offer at all times of the year.
4. Cross-promote with local businesses
Next on our list of vacation rental social media tips is cross-promotion.
When you advertise another business's products or services atop your own — while simultaneously receiving free advertising from that business — it will work wonders for your marketing.
The idea behind cross-promotion is that you and another local company partner to improve each of your marketing campaigns. For example, you and a local restaurant could agree that anyone who stays at one of your properties gets a meal discount at the restaurant.
People looking to lower their meal budget will likely want to take advantage of the restaurant discount by staying with you. The restaurant also benefits since everyone staying at your properties will have an incentive to go there.
5. Respond to reviews
People love to post about their experiences on social media — both the good and the bad — and for many of your guests, that will include posting reviews of your properties. Whenever you see these reviews, be sure to respond.
You can address positive reviews with a "thank you" to the person who posted it. Bad reviews deserve a response too, though. Respond to negative reviews by publicly apologizing to the reviewer and offering to fix the problem, and then message them privately to resolve things.
Your responses to both review types will present a positive public image of your customer service.
6. Create a social media calendar
You don't want your social media profile to be inactive, which means you need to post frequently. But it can be challenging to make time for posting on your page every day. That's why you should try using a social media calendar.
With a social media calendar, you can plan out all your posts in advance and schedule them to go live at assigned times. That way, you can put out new posts even on your busiest days, which will help keep your audience engaged.
7. Act as a local guide
Social media for vacation rentals doesn't just have to be about your properties. After all, the people staying there will often spend most of their time at other local spots. As such, you can use your social media to help familiarize them with those spots.
When you adopt the role of a local tour guide in some of your posts, recommending specific establishments or notable events, your followers will likely appreciate it. Those who are looking to vacation there may stay with you simply because you provide such useful information.
8. Use paid social media advertising
Your organic content can go a long way in driving results for your marketing, but most of the people viewing it will be people who already follow you. If you want a way to expand your audience further, you should look into paid advertising.
With paid social media ads, you can target custom user groups based on various demographics and geographic locations. That means you can display your ads for people who aren't following you but are in your target audience.
Paid ads often appear as banner ads and sponsored posts, which are posts from your account that you pay to promote to the top of users' feeds.

We measure our success by how much we WOW our clients.
Bill Craig
Webfx president
Get more help optimizing your vacation rental marketing plan from WebFX
Now that you understand how you can optimize your social media campaign, you may be ready to dive right in. But if you're still unsure of how to go about it or know you don't have enough time to invest in it, don't worry — WebFX has your back.
At WebFX, we have over 25 years of experience with digital marketing, and we know all the ins and outs of social media for vacation rentals. We can optimize your social media for everything listed above and more, so you can drive up your leads and conversions.
Ready to get started with our social media services? Just call us at 888-601-5359 or contact us online today!