How to Get Reviews on Facebook: The Ultimate Guide to Earning Facebook Reviews
Did you know 1 in 3 people use Facebook for recommendations and reviews?
Reviews play a fundamental role in building trust with your audience and can ultimately influence their decision to buy. Since many people rely on Facebook for recommendations and reviews, you want to take advantage of this opportunity and help your business drive more leads to choose your company.
On this page, we'll discuss how Facebook reviews impact businesses, how to enable reviews on your page, and how to get more reviews on your Facebook profile. If you need help managing your reviews, call us today at 888-601-5359 to speak with a strategist about our review management services.
How Facebook reviews impact business
Facebook reviews impact your audience's perception of your business.
The better the reviews you have, the more authentic and unbiased the perception people will have of your business.
And since people want to buy from companies they can trust, they use the opinions and experiences of others to help them determine who to buy from. Because of this, reviews have a lot of influence on purchasing behaviors.
If you want to make a positive impression on your audience, you must invest in obtaining and maintaining reviews on your profile.
Facebook reviews matter to your business because:
12x more is the amount customers trust online reviews over product descriptions
92% of consumers read online reviews to learn more about a business
80% of consumers say online reviews have changed their minds about purchase
And since Facebook has recommendation mechanics built into their platform, you'll be getting both social mentions and authority every time someone makes a mention.
Why ratings became recommendations on Facebook
A major reason why Facebook implemented this change is the hope that the new format will encourage users on the social network to write about their experiences with more detail.
Customers can be more honest in their recommendations since they don't have to worry about giving the "correct" rating for a company. You'll get less spammy recommendations as well since people can't leave a one-star rating out of malice.
Recommendations are better than star ratings because they have a wider range of word-of-mouth travel on social media than traditional star ratings.
Extensive reviews provide users with more authentic and meaningful information and provide businesses with higher chances of gaining more customers and building online trust.
Recommendation ratings are based on how many people recommend or don't recommend a business's page. Facebook also takes pasting ratings into account when deciding on your score.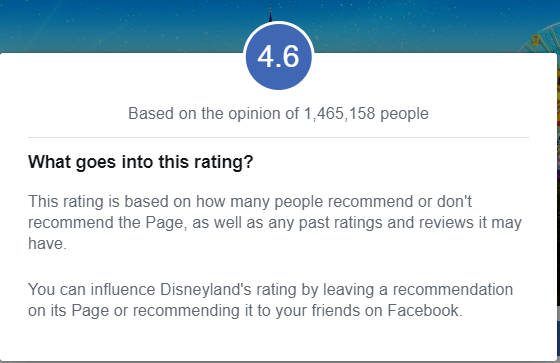 Unfortunately, Facebook doesn't provide any more additional information on what the actual formula for the rating is other than that only public recommendations count towards the score.
Tags and audience settings
When a person selects yes or no for a recommendation, they have the option of commenting on what they would recommend about the company for yes, or what the company could improve on for no.
They also have the option of choosing their audience: "Public," "Friends," "Friends of Friends," "Only me," or "Custom," which lets you select lists and tag users as well as choose anyone to exclude.
Often, recommendations also allow the user to select tags that they can use to mark their experience with your business.
Negative recommendation: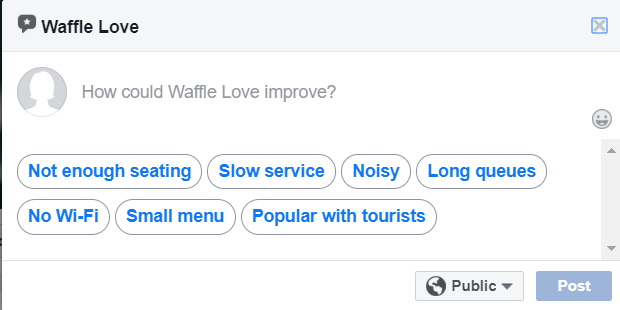 Positive recommendation: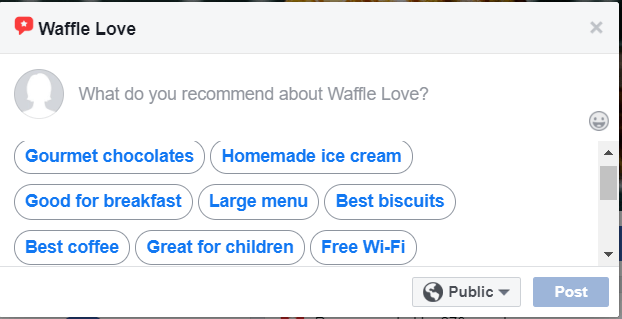 Facebook implemented this change in hopes that the new format will encourage users on the social network to write about their experiences with more detail.
More extensive reviews provide users with more authentic and meaningful information and helps businesses address issues better and build trust with their customers.
How to get the reviews tabs to show up on Facebook business pages
Your reviews tab should be on by default for most page templates, but if your Facebook review page is not showing, here's what you can do:
Your reviews tab should be on by default for most page templates, but if your Facebook review page is not showing, here's what you can do:
Go to your business page's on Facebook
Click on "Settings" in the top right corner of your page
Go to the "Templates and Tabs" option in the left-hand column
From here, you can do two things:
Slide "Use default tabs" in the right-hand column to "On"
Default tabs will make it so that your reviews tab is showing since your reviews are one of your default tabs.
You may not want to do that if you've made any changes to your tabs (such as switching a tab off or moving it around) since any changes you make to your tabs will automatically turn default tabs off.
If that's the case, you can instead head down to your reviews tab and turn it on from there.
Click the box that says "Settings" for "Reviews"
Slide "Show Reviews" to "On"
Hit "Save"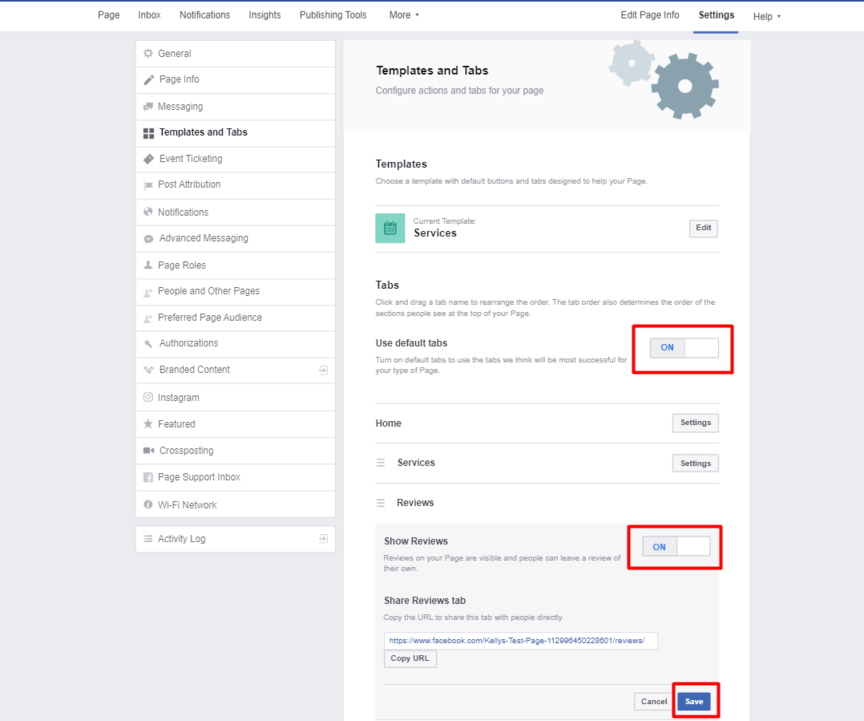 If the reviews tab doesn't show at all in the right-hand column under the "Templates and Tabs" option, you may need to scroll to the bottom of the list and select "Add a Tab." From there, find "Review" and select "Add Tab."
How to monitor your Facebook reviews
Checking your Facebook reviews is a simple task, but an important one. It's critical that you regularly monitor and respond to reviews, so your customers know that you actively listen to what they say about your business.
Once you have your reviews tab set up, you can check out the reviews you have from your company's Facebook page by clicking on the "Reviews" tab in the left-hand navigation menu.
The reviews tab is where you can check your reviews and your recommendation rating. It's also where users can head to make recommendations and respond to others.
How to report spammy or fake reviews on Facebook
Facebook lets you report false or spam recommendations that you may receive.
When you report a recommendation, you select a tag based on which Facebook Community Standard the review violates. Here are a few common reasons to review a review:
REcommendation not relevant
Nudity
Violence
Harassment
Spam
and more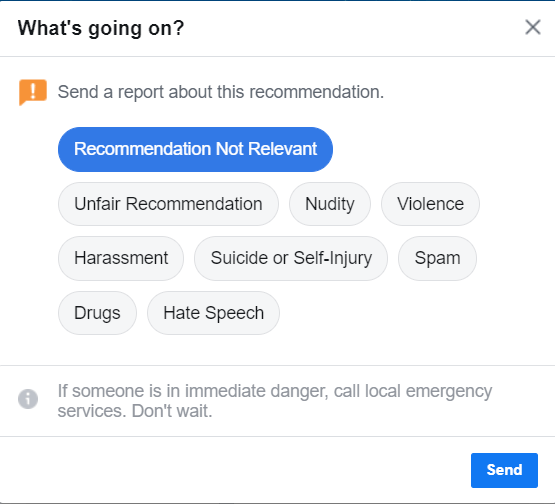 If you need to report a recommendation, follow these steps:
Head to the "Reviews" tab on your Facebook Business page
Find the recommendation post you want to report
Click the three dots in the top right corner of the post
Select "Find Support or Report Recommendation"
Choose the tag the unfair recommendation best fits
Hit "Send"
5 ways to encourage more reviews on Facebook
Once you have your recommendations enabled on Facebook, you'll want to start encouraging more reviews from your customers.
To get authentic reviews, follow the guidelines you're subject to with your business, whether it's local guidelines or Facebook's guidelines. You want people to give their honest opinion of their experience with your business, so your approach to obtaining reviews is critical.
Here are six ways to encourage more reviews on Facebook:
1. Make the Facebook recommendation process simple
Also, make sure that the process to make reviews is as simple as possible. The easier it is for your customers to make reviews, the more likely they are to finish the process.
Any time you encourage reviews like with email follow-ups or handouts, be sure to include links to your Facebook reviews tab (which can be found in the same section you enabled reviews). Don't forget to include directions that explain how to leave recommendations.
2. Use email follow-ups
Email follow-ups are one of the best ways to ask your customers for recommendations on Facebook.
Whenever someone makes a purchase or uses your services, you can send them a follow-up email asking them how their experience went.
If you're a service business, you want your customer's experience to be fresh in their minds, so send the email as soon as possible.
With ecommerce businesses, you want to give people a chance to try out your products and see if they like them, so wait a few days before sending your email so they have the chance to try them out.
Don't forget to provide a link to your company's Facebook review tab so your customers have easy access to writing their testimonials.
3. Use clear CTAs
Don't be afraid to ask for recommendations.
Your customers will understand that you want to know how their experience went and what you can do to make it better, so you can ask for reviews.
The best way to ask is by using recommendation specific calls to action (CTAs) in your content.
When businesses ask for reviews, they should be direct and honest about what they expect from their audience, so when creating content for the purpose of reviews, tell your customers that you'd appreciate a review.
You can use a CTA like "Share your experience with us!" to encourage people to review their experience.
Don't forget to include a link to your Facebook page on your website. Your customers will have an easy way to provide meaningful feedback about how their experience went with your company.
Customers will be more likely to share their experience if they can find previous recommendations easily.
Additionally, there may be instances where your customers will leave feedback about their experience with your business in comments instead of reviews. These comments offer you a good opportunity to thank your customers and ask them to provide that information in a review for future customers' reference.
4. Encourage check-ins
With the Facebook app, users can go to a brick-and-mortar store's Facebook page and check-in when they visit in person.
If your business has a physical location, enabling check-ins on your Facebook page can help you gather reviews, so encourage visitors to check-in and post a photo of themselves at your location.

To enable check-ins:
Click on "Edit Page Info" on the top-right side of your Page (next to "Settings")
Scroll down to the "Locations" section on the right-hand column
Check the box that says "Has an Address"
Type in the address of where you would like people to check-in
Scroll below the map that shows up after typing in your location
Check the box that says "Customers visit my business at my street address"
This last box enables both the map and your check-ins.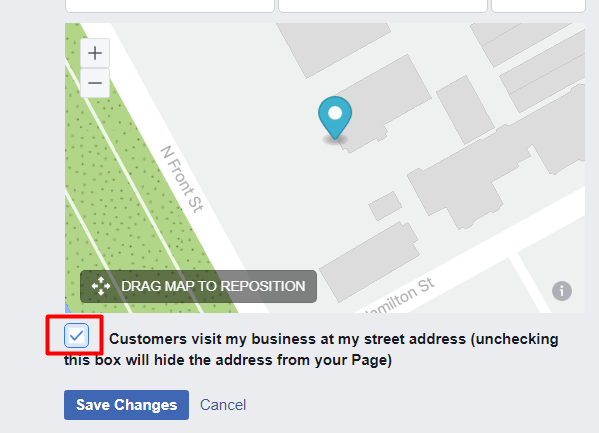 Here are some ways you can ask people to check-in when they visit your location:
Place a sign near your door encouraging users to check in to show others their experiences in-store
Add another sign near your register that also encourages check-ins
Include a CTA to your receipts asking for a review of their experience with a check-in
Place check-in CTAs on product labels and signs
Run ads with in-store only coupons
Install wall art or large art pieces that visitors want to take selfies with
These strategies encourage more people to check-in so they can review your business later.
5. Say thank you
Respond promptly to any reviews you get with a "thank you!" Responding to the recommendations you gather is one of the best methods in generating more reviews.
When you respond individually to recommendations, you have a conversation with your customers. You show that their experience matters to you and that you're grateful for their recommendation. You'll build relationships with your customers and show how much you value them as individuals.
When visitors to your Facebook page see these interactions, they'll be encouraged to form relationships with your business and leave recommendations of their own.
Even when you get negative recommendations, thank the person for their input and apologize for anything that went wrong. Think about how you can implement their concerns and suggestions, and tell them what you plan to do to improve or resolve the situation.
WebFX is a partner businesses trust.
Hear from HydroWorx, who saw a 236% increase in organic sessions with WebFX services.
Watch the Video Testimonial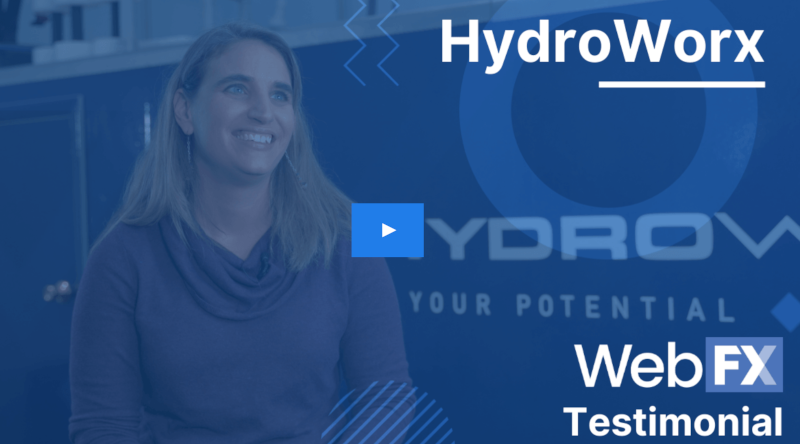 WebFX can help you manage your Facebook reviews
Managing your online reputation is a critical component of your business. From encouraging reviews to managing and responding to them, it takes work to build your online reputation. If you're too busy running your business to focus on manging reviews, WebFX is here to help.
At WebFX, we offer online review management along with our full range of digital marketing services. With over 25 years of experience, you can count on us to help you manage your business's online reputation while you worry about taking care of your customers.
When you partner with us, you partner with someone you can trust. Don't believe us? Check out our list of over 1020 client testimonials and recommendations on Facebook.
Contact us online or call us at 888-601-5359. check out our free guide, "everything you should know about facebook advertising" to learn how WebFX can help you get and manage your Facebook online reviews!