How to Gauge Social ROI and Why It Matters
In today's Internet-driven world, most businesses know that they should have an active presence on popular social media platforms like Facebook, Twitter, Instagram, LinkedIn, and Pinterest. And while that's certainly true, it's only useful if you have way to measure the results of your social efforts.
If you don't measure, you have no way of knowing whether your social media marketing is working. Even worse, you have no insight as to what you're doing right, and what you can do to improve.
Fortunately, gauging social media ROI doesn't have to be complicated. With the right tools and approach, you can get the information you need to effectively use these platforms to reach new customers and grow your business.
Don't forget, we provide our social media marketing campaigns to clients around the world, so whether you need a social campaign in Pittsburgh, or a social campaign in Orlando, we've got you covered!
If you'd like to speak with a specialist, you can reach us at 888-601-5359!
74% of people use social media when making a purchasing decision.
Make their decision easy with a stellar social media presence. See how your brand can level up by requesting a no-obligation proposal today.
One of our experts will be in touch within 24 hours!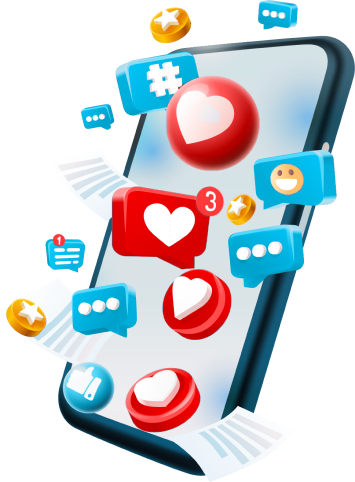 Why should you measure social media ROI?
As we mentioned above, measuring social media ROI is the only way to know if your efforts are working. Much like any other marketing strategy, it's critical to have an accurate reporting system.
One of the biggest advantages of Internet marketing is the wealth of analytics available to businesses. Unlike traditional marketing, which relies on averages to determine reach, you know exactly how many people you reach on social media and how many of them take steps towards learning about your business.
With this information, you can determine which social platforms are the most successful for your business and which types of content resonate best with your audience. Then, you can focus your time and energy on the platforms and content that drive the best possible results over time.
3 metrics you should always track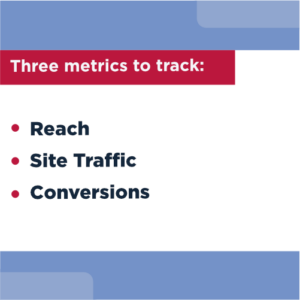 One of the most common mistakes in social media marketing is the tendency to focus on metrics that don't further business goals. These metrics (including followers and page likes) are often called "vanity metrics" because while they can be nice to show off, they're not accurate indicators of whether you're getting more customers.
Instead, you should gauge the ROI of your social media strategy with metrics that will help you reach your business goals. These metrics include:
1. Reach
Every major social media platform allows businesses to see how many users they reach with each post, making it one of the easiest metrics to track across the board.
Although simply viewing your posts doesn't necessarily make someone interested in your business, measuring reach (or "Impressions," on Twitter) can be useful if one of your social media goals is to grow your brand awareness.
You can also use this metric to adjust your content strategy and maximize the reach of your social posts. You can analyze the reach of your posts to determine the best times to post on different platforms, the best formatting for posts, and the best types of content for your audience. For example, if you notice that Facebook posts made in the afternoon only reach a few hundred users, while ones in the evening reach a thousand, you should alter your posting schedule accordingly.
2. Site traffic
Beyond the built-in analytics for each social platform, you should also use analytics programs like Google Analytics to measure the impact of your social media marketing. One of the most important metrics in these programs is the amount of site traffic each of your accounts generates.
If you're using Google Analytics (like we do here at WebFX), you can check by navigating to Acquisition > Social > Network Referrals. Then, click on Facebook, Twitter, LinkedIn, Pinterest, StumbleUpon, or any other social platform you want to measure.
From there, you'll be able to see how many visitors your site has received from that specific social media site and which pages they visited, which can be a strong indicator of the interest users have with your site content, products, and services.
This information will not only help you better understand which social platforms drive the most traffic, but also which site content is most interesting to your followers. If you notice that your infographics, for example, have a much longer session duration than your written content, you can safely assume that sharing links to visual content is more effective for engaging your audience.
3. Conversions
In addition to attracting new visitors, you also need to know what they do once they arrive on your site. This is where conversion tracking becomes extremely useful.
If you already have goals set up in Google Analytics, you can navigate to Acquisition > Social > Conversions.
Then, you can sort by network see who converted from each network, and check how many total conversions you earned.
That being said, many marketers make the mistake of trying to drive sales directly from social, which is often an ineffective strategy. If a visitor is arriving via social media, it may be their first interaction with your site. And in that case, they probably won't be ready to make a purchase right away.
Instead, focus on other conversions like email newsletter signups and contact form submissions. Although these goals don't lead to immediate revenue, they signal interest in your business—and they could very well lead to revenue down the road.
WebFX is a partner businesses trust.
Hear from HydroWorx, who saw a 236% increase in organic sessions with WebFX services.
Watch the Video Testimonial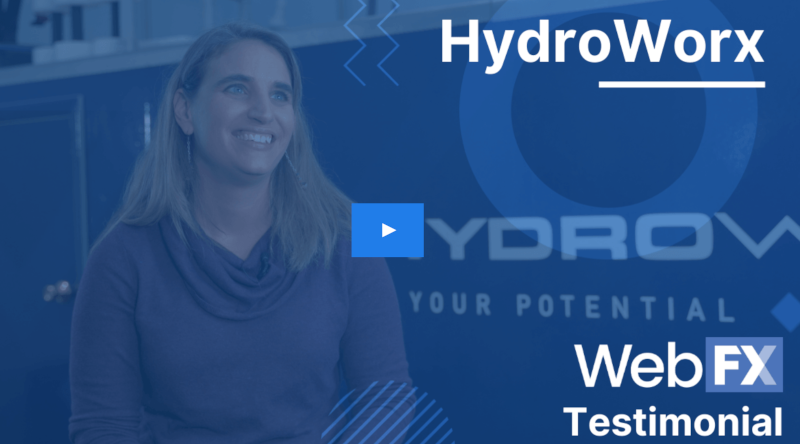 Want to start measuring your social media ROI?
If you're not currently measuring the ROI of your social media strategy, it's time to get started. Accurate reporting can help you get a better picture of how effectively your business is utilizing your accounts, as well as areas that you can improve.
If you'd like assistance measuring or improving your social media ROI, don't hesitate to contact us! At WebFX, we have years of experience managing successful social campaigns for clients in a variety of industries, and we'd love to do the same for you.