The Complete Website Migration Guide for 2024
Website migrations are common, but they're not easy. Migrating your site, whether to a new server, domain, or host, requires significant planning, time, and resources. Mess up a website migration, and it could destroy your company's traffic and revenue overnight.
If you're looking to lead a successful migration, keep reading this website migration guide, which covers:
What is a website migration?
Why does a website migration affect search results?
Why invest in a website migration?
Why create a website migration plan?
What are some common website migration mistakes?
How do I migrate my site?
Get started on building your website migration plan with this guide now! If you need professional help with your company's site migration, WebFX can help. As a seasoned SEO and web design agency, we have the expertise and resources to migrate your website successfully.
Contact us online or call us at 888-601-5359 to learn more!
What is website migration?
A website migration describes any event that changes a website so significantly that it can affect the site's visibility in search results. Examples of these events include moving the site to a new domain, updating the website's structure and design, or adding new content to the site.
Why does a website migration affect search results?
Your website migration can impact your visibility in search results because of search engine optimization (SEO). SEO is a strategy that works to improve your visibility (or placement) in search results by optimizing your website for search engines and users, like by creating a fast, mobile-friendly site.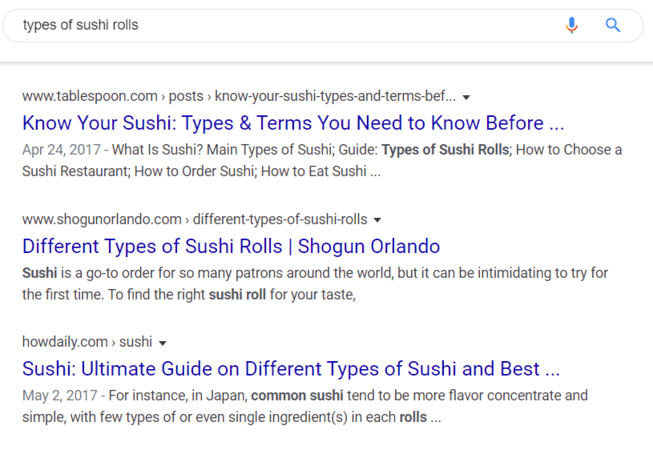 When you make a drastic change to your website, like by moving it to a new domain name, that can affect how search engines see your site. If they can't see the connection between your old and new domain name, like through redirects, that can hurt your rankings in search results.
If you have a lower ranking, that translates to less traffic. Since the first five results earn 68% of all clicks, businesses need to maintain a high ranking in search results. Otherwise, you won't get traffic, leads, or sales.
That's why companies need to take website migration seriously and develop a plan for it.
Why invest in a website migration?
A website migration makes sense if your business wants to:
In most cases, it makes sense for your company to proceed with a website migration, even though it's a big project. A fresh web design, secure website, or on-brand domain name can all make an impact on your business's online success.
A website migration plan is essential to a company's success.

Even if you have the most experienced team, you want to outline your strategy and follow a website migration checklist to ensure your success. Migrations come with many moving parts and team members, and you need them to line up perfectly.
If you skip building a plan, you risk more than a failed migration. You risk traffic, leads, and revenue.
5 reasons website migrations fail (And how to avoid them)
When it comes to website migrations, most fail for avoidable reasons, which include:
Zero planning: Many businesses go into a site migration with zero intentions to create a website migration plan. They want to move to a new CMS, so they go ahead and move to a new CMS, without researching best practices for the move.
Poor strategy: While some companies go ahead and create a website migration plan, they fail to invest enough time developing their strategy. When that happens, you get a lackluster strategy that puts your site migration at risk.
Nonexistent SEO: A website migration demands an SEO. Whether you work with an SEO consultant, agency, or in-house SEO team, you need to get their advice when it comes to a site migration. Their recommendations ensure your business doesn't lose traffic, leads, or revenue long-term.
Missing resources: Unfortunately, some companies do not set aside the necessary resources to plan a successful website migration. For example, the department handling the migration may not have enough funding to hire an SEO consultant or work with a web design agency that specializes in SEO.
Weak testing and follow-up: Companies that skip on a website migration plan will also forget to test and follow-up on their work. For example, they may not check to see if a series of redirects worked. Or, they may fail to find bugs, like within their new navigation or site design.
You can avoid all these pitfalls by building a website migration plan, which helps you:
Create a timeline
Brainstorm a strategy
Note potential challenges
Establish a budget
Estimate the resources needed
And more
Learn more about getting started with your site migration plan in the next section!
How to migrate your website in 6 steps
Are you ready to get started on your website migration? Learn how in six steps now: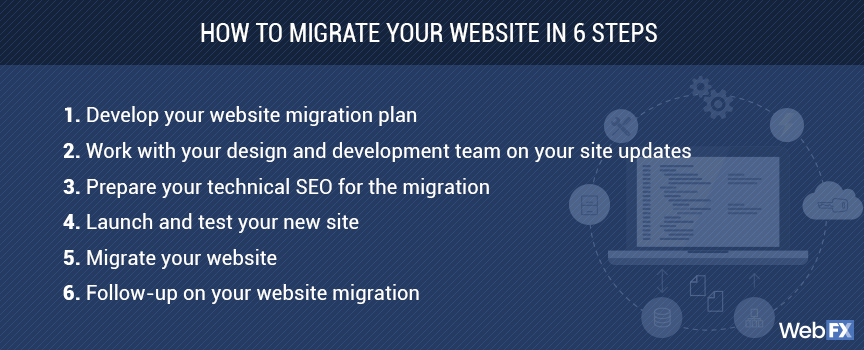 1. Develop your website migration plan
First, you want to create your website migration plan, which will help you accomplish the following:
Establishing the scope and timeline of your migration
Determining who will lead and support the migration
Building a website migration checklist for each task
Creating a budget and list of resources needed
A website migration plan doesn't happen in a day. It will take time. Your business will need to communicate with numerous team members, from managers to developers to SEOs, to establish who will lead and assist with this project.
2. Work with your design and development team on your site updates
Next, you want to work with your design and development team to move forward with your website updates. For example, if you're redesigning your site, then this stage will include reviewing wireframes, providing feedback, and more.
If your website migration goes beyond design, then your development team may work independently during this stage. For example, your developers may focus on improving the overall speed of your site and establishing future processes for maintaining page speed, like compressing images.
3. Prepare your technical SEO for the migration
Once you finalize your website's designs (if applicable), you can move onto this step. During this stage of your website migration plan, your dedicated SEO specialist will outline and prepare the technical SEO specifications for your site, which your development team will then use to launch your site.
These specifications can include:
In addition to building these technical SEO specifications, your SEO should also complete the following:
Crawl your existing website, like with Screaming Frog
Benchmark your existing website's performance, like its rankings, speed, and more
Export your existing website's Google Search Console data for reference
If conducting a website migration that requires redirects, like if moving to a new domain name or transitioning from HTTP to HTTPS, your SEO should also create a document that outlines the planned redirects. For example, "www.example.com/service" will redirect to "www.ourbusiness.com/service."
4. Launch and test your new site
While you can complete this step after the first three, you can also start it earlier. For example, if you're launching a brand-new website design, you can begin testing your site once your development team starts building it.

No matter when you start testing your site, make sure it's not accessible to search engines. You don't want search engines to crawl and index this website when you haven't migrated your old site and content to it.
You can prevent search engines from finding your website by limiting its access to specific IP addresses.
As a part of your testing, you should follow a checklist of items to test, like the following:
Review your site architecture
Check your site's usability
Confirm your page works on mobile devices, like smartphones and tablets
Evaluate your site's internal linking, like its navigation, header, and footer links
Read your site's title tags, meta descriptions, copy and more
Ensure your site functions, like by loading pages, maintaining a decent page speed, and more
Go over your txt file, XML sitemap, HTML sitemap, and structured data
For the best results, you'll want to have multiple team members exploring the site. While one person may find a typo (like from a rebrand) on one page, another may notice a broken button on a different page.
With multiple perspectives, you can find and fix issues fast.
5. Migrate your website
Eventually, your business will reach the phase of your website migration plan where you complete the migration. This step may require weeks or even months of work to achieve. Your work leading up to this moment, however, will help your company launch a successful website migration.
When migrating your site, speed is essential.
If your migration requires your website to go offline, for example, you want to avoid extensive downtime. That's because search crawlers will see that your site is down, which may affect your visibility if it remains down too long.
Once you complete the initial migration, complete these steps:
These three actions will help your business spot critical errors fast, like accidentally blocking a search engine with your robots.txt file. Plus, they'll help your website migration happen smoothly, like by submitting your site to Google Search Console.
6. Follow-up on your website migration
Even though you've completed your website migration checklist, your team still needs to monitor your site. In the days, weeks, and even months following your site migration, it's essential to watch your rankings and traffic.
Your rankings and website traffic can help alert your business to issues with your website migration. While it's normal to see a decrease in traffic and rankings immediately following a migration, long-term drops can indicate a problem with your site migration.
For example, forgetting to set up redirects can damage your rankings. Without a redirect, search engines like Google can't see that you've moved that page or content to another page. When that happens, your company loses your rankings, which hurts your traffic significantly.

Use Google Analytics to monitor your traffic and Google Search Console to track your rankings. You can also use paid tools, like Ahrefs or SEMrush, to keep an eye on your website's performance in search results.
If you continue to have problems with your website's migration, contact an SEO agency. An experienced and trusted agency, like WebFX, can evaluate your site and help your team uncover the reason for your migration issues.
Get professional help with your website migration plan
A website migration plan is more than building a checklist — it's following through on that checklist. For many companies, that's the challenge. You have a business, and it's easy to get caught up in daily challenges and new projects, which can leave your website migration at risk.
That's why many small-to-midsized businesses outsource this task.
They work with an agency like WebFX, which specializes in web design, web development, and SEO. This triple focus allows our team of more than 500 experts to design and develop SEO-friendly sites, as well as build competitive SEO strategies and manage successful website migrations.
Learn more about how our award-winning team can help (and why our client recommendation score beats the industry average by 488%) by contacting us online. Give us a ring at 888-601-5359 if you'd like to chat with a seasoned strategist now!