B2B for Amazon: Everything You Need to Know
You're probably familiar with Amazon's ecommerce marketplace. They're an absolute giant in the ecommerce space. But did you know that they also have a marketplace designed specifically for businesses to buy from? It's called Amazon Business or Amazon B2B, and it can have a huge impact on your own business.
What is Amazon B2B?
Amazon Business is a B2B (business to business) marketplace designed specifically to reach business customers on Amazon's platform. Amazon Business offers business customers the same easy buying experience that it affords to regular customers.
For business sellers, it provides a variety of features and tools to make the selling experience easy.
Amazon Business makes it easier to reach business customers in the age of online purchasing.
Enough consumers use Amazon for personal purchases that it is natural for them to turn there for business purchases as well. When customers create a business account, they see a different version of Amazon's website specifically tailored to business needs.
If you sell your products on Amazon B2B, you put them in front of thousands of new customers, some of whom won't look any further than Amazon during their buying process.
Over one million businesses buy from Amazon B2B, bringing in over $10 billion in annualized sales. You definitely want to be part of those profits.
The first step to increasing your SMB's Amazon sales is getting a FREE proposal.
One of our experts will be in touch within 24 hours!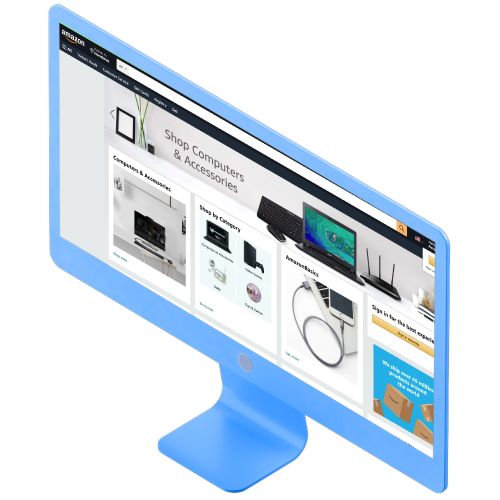 Why sell on Amazon Business?
Amazon B2B offers some great features for sellers, including business pricing and quantity discounts.
Since your products can still be available for all consumers on Amazon, you can set prices specifically for business customers. Only business customers will see these prices, which will often be less expensive than for normal consumers.
By selling your products at more competitive prices, you can expect to increase your sales in no time.
You can also set up your Amazon B2B account to sell in bulk.
With quantity discounts, you can entice business customers to buy the amount of your product they need at a better price. You can also allow business customers to request a quote on large quantity orders.
Even though you'll be selling at a discounted price, the larger quantity often is equivalent to or even greater than the profit you would make off of selling B2C.
There are also enhanced product features that allow you to add more information to your product listings on Amazon.
Learn How to Market Your B2B on Amazon
Many business customers like to see all the specifications for products they're considering purchasing. With these features, it's easy to provide them with extra resources like CAD files, user guides, installation manuals, and more.
More information equates to more transparency, which customers love to see in the companies they purchase from.
You can also display your business' certifications, both for quality and diversity.
Amazon has special pages that feature businesses with these credentials. For example, if you have the Veteran-owned certification, you would come up in the search results for products from veteran-owned businesses.
Amazon makes it easy for you to view the impact Amazon B2B is having on your business with visual dashboards. These show everything from sales growth to industry breakdowns to top products. Amazon even offers recommendations for actions you can take to boost your business even more!
How to sell on Amazon Business
Setting up your business to sell on Amazon Business only requires a few simple steps:
Register for a Professional Selling Account on Amazon. If you already have one, you just have to add the Amazon Business features through Seller Central.
Create your business profile. Add your credentials and certifications to show businesses that you're a qualified seller.
Use Amazon's listing tool to add your products.
Start selling!
There is a cost to be a Business Seller on Amazon B2B — a fixed monthly subscription fee and variable referral fees based on category. The subscription is the same as for B2C sellers, so if you already have a Professional Selling Account, you can sell B2B at no extra expense.
Depending on how you choose to fulfill your orders, your shipping may be eligible for Prime shipping.
If you select Fulfillment by Amazon (FBA), then your orders will have Prime shipping. If you fulfill the orders yourself, your orders won't be eligible. Many businesses select a hybrid model and sell some of their products with FBA to take advantage of the value-add to their customers.
Capture more revenue with Amazon B2B
Still not convinced that you need Amazon Business?
You certainly can sell B2C on Amazon as some businesses do purchase through the regular website, but many businesses don't allow their employees to do so. They only want to buy from B2B retailers.
That means that you could be missing out on valuable business if you don't sell B2B.
Setting up your Amazon Business Store is a great first step, but there are other ways to capture more revenue with Amazon B2B. Amazon is like a specialized search engine, which means you can use SEO tactics to promote your product listings on Amazon.
Similarly, there are paid opportunities on Amazon as well. You can have sponsored product ads, sponsored brands, and product display ads similar to what you'd have on Google's display network.
Want to tap into the Amazon B2B marketplace but not confident you can do it yourself? WebFX can help! Check out our marketing services for Amazon and contact our experts to get a free quote today.