The best marketing strategies for small businesses in 2020 will involve maximizing limited budgets for big effects across search, social, email, and more. Read on to discover the eight best 2020 marketing strategies for SMBs to stay competitive or call us today at 888-601-5359 to speak with a strategist about your SMB marketing strategy.
Bonus reading: Organic or paid social media marketing?
8 best 2020 marketing strategies for SMBs
Are you ready to dive into the best marketing strategies for small businesses in 2020? Check out these eight awesome tactics for growing your business online!
1. Start content marketing to boost traffic on your website
In 2020, content marketing will play a pivotal role in helping your SMB grow online. When you create content, you establish yourself as an authority in your field, build trust with your audience, and create new avenues for leads to discover your business. Content is anything you create to be published for an audience.
Some content options include:
Blogs
Podcasts
Infographics
Videos
Ebooks
And more
Content comes in a wide variety of formats, which makes it one of the most effective marketing strategies for 2020 because you have numerous options for delivering valuable information to your audience. You can create an amazing graphic to post on your blog and then share it on social media, then later promote it in a display ad or print ad or even show it off in a video. The key to a good content marketing strategy is to remain consistent when creating content, which means publishing content often.
It isn't enough to publish one blog post a month. If you want to get a maximum return on investing in content marketing, you need to create content frequently for your audience. Additionally, you'll need to create high-quality content, which includes:
Answering your audience's questions thoroughly
Using simple, easy-to-understand language
Incorporating your keywords throughout your text
Making content easily skimmable
Supporting content with visuals
Content also needs to be informative and relevant to your audience, which is why you need to know your audience. If you're looking for one of the best 2020 marketing strategies for SMBs, content marketing is a great place to start!
2. Get working on search engine optimization (SEO) to rank higher in search results
Search engine optimization (SEO) is an integral part of building your SMB's presence online. Some businesses shy away from it because it can seem intimidating, but SEO has numerous benefits to offer your business, which is why it's one of the top marketing strategies for 2020. SEO is the process of boosting your website's listing in the search results. When you improve your website's ranking, you drive more traffic to your page. This strategy involves numerous techniques, such as:
Keyword optimization and integration
Content creation
Creating a mobile-friendly website
Improving user-experience
Build backlinks
And more
With SEO, you help search engines crawl, index, and understand what your pages are about so your website can appear in relevant search results. When you have a well-optimized site in 2020, you'll drive more traffic to your site. Bringing more people to your site will increase brand awareness and lead to more conversions and sales.
3. Turn up the paid advertising to earn search visibility
Paid advertising is another one of the top marketing strategies for small businesses in 2020. If you don't already have a pay-per-click (PPC) advertising campaign in your small business marketing strategy, this year is the year to look into it. PPC ads are sponsored text ads that appear with organic results in search engines like Google.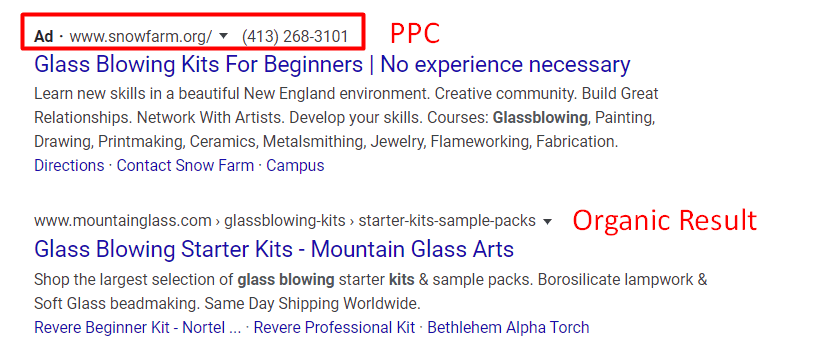 With PPC, businesses can bid to have their ads appear in search results in front of their audience.
When you run PPC ads, you'll only pay when someone clicks on your ad, making it one of the most cost-effective advertising methods for small businesses. To get started with PPC, you'll need to set up your free Google Ads account, where you will create and set up ad campaigns. Once you set up your account, you'll want to choose keywords for your ads.
Choosing long-tail keywords, which contain three or more words, allows you to get more valuable clicks for your budget. Since these keywords are specific, they have fewer bidders, which leads to a lower cost-per-click (CPC). Next, you will set a bid amount based on how much you're willing to pay for each person that clicks on your ad.
Your bid amount is flexible and can change as needed. Once you set your bid, Google will look at your bid amount and quality score to determine placement. Your quality score is composed of factors like:
Your ad's quality and relevance to the search query
The competitiveness of keywords
Your landing page experience
Clickthrough rate (CTR)
For the best results with this top marketing strategy for 2020, run your PPC ad campaign for at least three months. You can use a paid advertising guide to help you create successful PPC ads that drive results.
4. Hop on social media to connect with your audience
Social media advertising is one of the best marketing strategies for SMBs. Popular social media platforms you can use include:
SMBs use social media networks for promoting content and for advertising. Social media networks work as powerful advertising platforms. Your ads have the potential to reach billions of people.
Facebook, in particular, is often used by SMBs since there are more than a billion daily users on the platform, and Facebook has very advanced targeting methods for ads. With social media, you can show your ads to people who show interest in buying your products and services. Social media allows you to target your audience based on unique targeting options, like buying habits and interests.
You can also create an audience for users who searched for similar products or who have interacted with you before. With the wide reach and social aspects of social media, these networks are the perfect place in 2020 to meet and get to know your customers. They're also the perfect place to spread awareness of your brand by working with influencers.
Find Out Why We Think Simon Cowell Vracked the Vode to Facebook Marketing
5. Set up email marketing to grow customer relationships
Email marketing as a marketing strategy for small businesses is still going strong in 2020. With email campaigns, you increase your audience's interaction with your brand. Each email you send reminds them of your brand and presents them with additional opportunities to convert. As one of the best marketing strategies of 2020, emails present a great opportunity to grow your relationship with individual leads.
With advanced email automation and personalization, you can easily send out content that's relevant to each person on your customer list. You don't get this level of targeting with most other marketing strategies.

In your email marketing campaign for 2020, make sure that you're sending out emails for things like:
Weekly newsletters with content relevant to your audience's interests
Specials for your audience's birthdays, anniversaries, and other events
Timely reminders for things like items they recently looked at or abandoned shopping carts
Just make sure that you're not spamming your customers with emails.
6. Launch local marketing to boost your local authority
Small businesses depend much on their local customers for business, which is why local marketing is one of the best 2020 marketing strategies for SMBs. Local marketing is all about spreading awareness of your brand in your area. You want to show that you're an active participant in your local community.
Doing so will boost your brand's trust and authority and lead to more sales. Some things that you can do this year to market to your locale is:
7. Send out deals and promotions to spread brand awareness
Promotional marketing is also about spreading awareness of your brand to people. Deals are also an incentive for customers to make a purchase. Customers enjoy getting free and discounted things, which is why promotional marketing is one of the best marketing techniques for 2020. They'll feel like they're getting a great deal (something they can brag about, which means free advertising) and that you care about them by providing a great customer experience. In your SMB marketing strategy for 2020, be sure that you're planning strategic promotional events and deals throughout the year. Hitting the holiday seasons with deals is a great way to get people through your door.
Those seasons also offer the opportunity for pre- and post-season deals that encourage people to opt-in. Apps like Groupon allow you to publish coupons that users can take advantage of. Adding coupons to those apps can go a long way in generating awareness of your brand in those audiences.
Also, be sure to hand out free samples and demos.
8. Outsource to drive your marketing strategies to new heights
With small budgets and limited time and personnel, you know you can't do everything. That's why outsourcing any of these top 2020 marketing strategies can help you get ahead of the game. As a full-service digital marketing agency, WebFX can help you with whatever you need, whether social media management or building up your SEO.
When you partner with us, your success is our main concern. We have the resources and expertise to adapt the best marketing strategies for small businesses in 2020 to your business, and whatever new challenges you encounter, you can be sure that we'll be right there working through it with you.
What you need before diving into your 2020 SMB marketing strategy
Before you start diving into using the best 2020 marketing strategies for SMBs, you must ensure that you have a few key components solidified. You must know:
Your target audience inside and out: Knowing who you're marketing to is essential for success with any marketing strategy in 2020. You want to target people who are most interested in your products or services. When you know who you're targeting, you can market the right thing at the right time to the right people.
Small businesses that know the people they market to — their age, gender, occupation, behavior, interests, and preferences — are the SMBs that are on the road to marketing success in 2020.
Your marketing goals: If you want to drive success with your marketing strategies for SMBs, you need to have a clear focus. You must know exactly what you want to achieve with your marketing campaign.
To make the biggest impact, you must set SMART goals.
These are specific, achievable goals that you set to reach in a certain amount of time and can be easily measurable. SMART goals will help your small business stay focused and remain on track for 2020.
Your budget: Before you dive into marketing strategies, you need to know how much you're willing to spend on those strategies.
Each marketing strategy will cost something, whether money, time, or effort, but if you budget right, you can make the most out of what you put in.
How to test and optimize: Every successful marketing strategy goes through multiple rounds of testing and optimization. Be ready to test to see what's working and what isn't for your marketing techniques.
Keep in mind that to properly test and optimize something, you need to be able to measure the metrics that matter most to your marketing goal.
Bring the most effective marketing strategies for 2020 to your business
With the most effective marketing strategies for 2020, from SEO to social media, your company can drive leads and sales this year and next.
If you're looking for some professional help when it comes to adopting the best 2020 marketing strategies, WebFX can help. As an established SMB marketing company — we've helped our clients earn over $3 billion in revenue over the past five years — we can provide your business with a custom strategy that drives real, measurable results. Contact us online or call us at 888-601-5359 to speak with a digital marketing specialist!
WebFX Careers
Join our mission to provide industry-leading digital marketing services to businesses around the globe - all while building your personal knowledge and growing as an individual.