Finding the right prospects is critical if you want to earn sales and revenue for your business. Not everyone is interested in what you offer, so you must market your company to people that are. With the help of buyer personas, you can attract more qualified leads for your business.
On this page, we'll cover everything you need to know, including:
Keep reading to learn more!
P.S. Tired of being the last to know about the latest marketing trends? Join 200,000 savvy marketers by subscribing to Revenue Weekly for the latest tips and tricks for marketing your business!
What are buyer personas?
Buyer personas are semi-fictional representations of the customer or client you want to invest in your products or services. These profiles represent the ideal candidates, or target audience, and are based on your current customer base and market data.
What are negative buyer personas?
Negative buyer personas are people you don't want to target to become customers. These are people who aren't a good fit for your business.
For example, you may sell $10,000+ watches and have broke college students visiting your product pages, dreaming about your watches. They aren't a good fit for your business, as they're likely never to convert.
If you're a business-to-business (B2B) company, you may have companies in certain industries or specific sizes that aren't a good fit for your client base.
Negative buyer personas can help you focus on who you want to target by knowing who you don't want to attract with your marketing.
Why are buyer personas important?
Creating customer personas is a fundamental part of your marketing strategy, but why?
Here are three reasons you need to create buyer personas:
1. Customer personas help you deliver a personalized marketing experience
Customers can choose what businesses they interact with on the web. There are dozens of companies vying for their attention, which means that every company needs to create marketing messages that resonate with that audience.
These personas help you create messages that engage your audience. These personas tell you who is in your audience and what matters to them, so you can deliver marketing materials that catch their attention and get them to engage.
2. Customer personas help you waste less marketing dollars
The last thing you want to do is waste valuable marketing dollars trying to reach people who aren't interested in your products or services. Think of it like this: You would waste a lot of marketing dollars trying to promote your meat products to a vegan.
With customer personas, you don't waste marketing dollars targeting the wrong people or promoting the wrong products to your ideal customers. You know who they are, what they like, and what matters most to them. It enables you to deliver more effective marketing messages, leading to increased leads for your business.
3. Customer personas help you earn more sales
Creating buyer personas helps you increase your sales because you target people most interested in what you offer. Buyer personas tell you who wants to buy your product or use your services. When you know who your customers are and what makes them tick, you can deliver marketing materials that resonate with them.
As a result, you delivered more tailored experiences that result in increased conversions and sales for your company.
How to create a buyer persona in 3 easy steps
Ready to start creating buyer personas? Here's how to create a buyer persona in three simple steps:
1. Document demographic information
The first step to creating customer personas is to document demographic information. When you know the demographics of your ideal audience, you have a better idea of who is likely to become a customer or client.
You can obtain demographic information by looking at your current customers. You'll want to document information like:
Age
Gender
Occupation
Socioeconomic status
Family status
And more
You can also use Google Analytics to help you narrow down the focus of your buyer personas. You can find information by going into the Audience tab and selecting Audiences. Under that category, you'll see a breakdown of different information about your audience.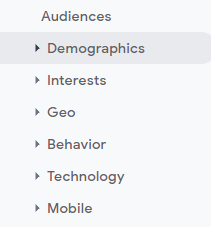 Here you can see demographic information, audience interests, and more!

2. Identify pain points and motivations
The next step in creating a buyer persona is to think about your audience's pain points and buying motives.
Pain points are the problems your customers currently face. It's a core reason why they seek out your products or services — they need a solution to their problem. Identifying these pain points help you better understand why people seek you out and how you provide a solution to their problem.
Knowing that information helps you create more compelling customer personas. You can understand what drives specific people to seek you out, so you know how to market to those pain points.
Additionally, you'll also want to look at audience motivation. What motivates your audience to seek out and choose solutions? Much of the motivation can come from the pain points, but other factors like budget and time can influence decisions.
3. Understand your role
A key component of creating buyer personas is understanding where you fit into the equation. A big part of motivating people to choose your product or service is understanding how you can help. How does your product or service provide the solution they need?
At this point, you'll want to think about the benefits of your product or service. Highlighting the benefits helps you show your audience why you're a good fit and how you solve their pain points.
It enables you to understand which benefits are most important to people in your audience, so you can deliver information that matters most to them.
Buyer persona examples: 3 examples of customer personas
Now that you know how to create a buyer persona, let's look at some examples to help you understand how your buyer personas will look once you've gathered all the information.
Many businesses will create fictitious people and give their profiles names that represent segments of their target audience. In this example, pretend you own a meal delivery service trying to target three different types of people.
Here are those customer personas:
Nadia, the on-the-go businesswoman
Is 25-28 years old
Spends long hours at her sales job in the city
She has an income of $70,000+
She has no children and no partner
She likes to spend her free time relaxing and enjoying a good book
Eloise and Ronald, the busy parents
They are 30-45 years old
They are married
They have two or more children
They spend their time taking their kids to sporting events, plays, and more
They work white-collar jobs (lawyers, computer analysts, etc.)
Richard, the young, inexperienced meal maker
He is 25 years old
He works a white-collar job
He likes to go out with friends and try new restaurants
He is adventurous and enjoys doing activities like hiking, mountain biking
He has no children or partner
With these three marketing personas, you can see how each person has specific details about them that help your company identify who you're targeting.
In this case, you created profiles of people who are ideal for your meal delivery service: The busy businesswoman who doesn't have time to cook, the busy parents, and the inexperienced meal maker. All these profiles help you identify who you're targeting, so you can deliver marketing messages that best resonate with them.
Start creating buyer personas today
Creating customer personas can help your business target the right people and earn more sales. If you need help finding the right marketing strategies to target your buyer personas, look no further than WebFX.
Our digital marketing services can help you reach people most interested in what you have to offer. With our team of over 500, we can help you launch digital marketing strategies that drive success.
Ready to earn more qualified leads that turn into revenue? Contact us online or call us today at 888-601-5359 to speak with a strategist!
WebFX Careers
Join our mission to provide industry-leading digital marketing services to businesses around the globe - all while building your personal knowledge and growing as an individual.