What is a Good Bounce Rate?
While there's not one simple answer to what a good bounce rate benchmark is, bounce rates can range anywhere from 10% or less to as high as 90% or more. It all really depends on the goals of your website's pages, which we'll discuss further down on this page.
You want people to stay on your site as long as possible. At some point, of course, everyone leaves—you just hope they leave later rather than sooner. That's why it's discouraging when someone visits a page on your website and then leaves without exploring other pages. This is known as a "bounce."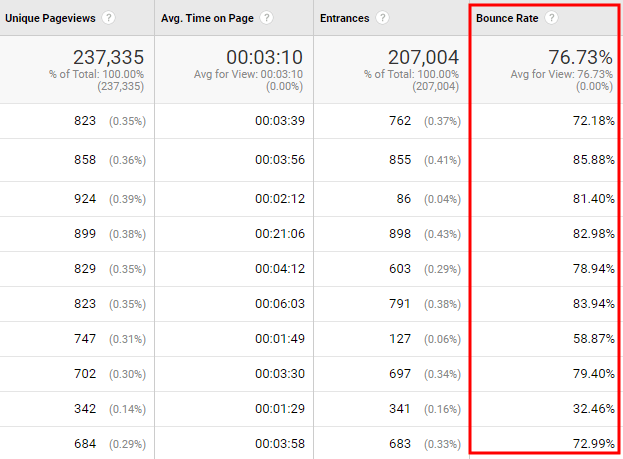 There are plenty of reasons why people might land on your website and then immediately click away. They may have clicked the wrong link, came for a specific piece of information and couldn't find it, or maybe came for a piece of information and did find it, but just weren't interested in anything else on the page. These situations are inevitable, and not everyone is going to stick around. But if most of your visitors are leaving after one page, you may have a problem.
On this page, you'll learn how bounce rates are calculated and what they say about your website's performance. We'll also discuss what a good bounce rate benchmark is, and how to improve bounce rate on your site.
You can also contact us online or call 888-601-5359 today to speak with one of our experts!
What is bounce rate?
Bounce rate is the rate at which web visitors enter your site and then leave without visiting any additional pages, regardless of how long they stay on the initial page.
The number is calculated by dividing the number of visitors who click and leave—those who "bounce"—by the total number of visitors to a page.
The bounce rate is calculated the same way for every type of page. Rates mean different things for different pages, so one page might have a different bounce rate benchmark than another.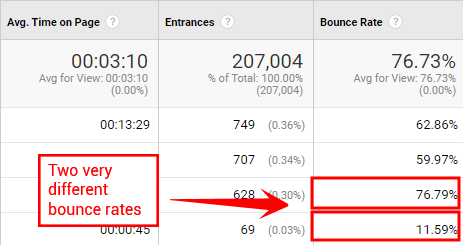 Articles, for example, often have very high bounce rates, but are still considered successful because their purpose is to attract readers. If, however, a landing page that is designed to encourage visitors to convert has a high bounce rate, that's a sign that the page isn't effective.
What is considered a good bounce rate benchmark?
Most SEOs are familiar with the question, "What is a good bounce rate?" The simple answer is that it depends on the page. Some pages are meant to bring visitors to the site, and require no further action. So for news articles and blogs, the bounce rate could be close to 95 percent.
Other pages need lower bounce rates because they exist specifically to bring people to other areas of the website. Lead generation pages, for example, are designed to increase conversions by requesting information or inviting visitors to sign up for additional communication. The average bounce rate is closer to 50 percent on these pages. That being said, it's important to base your bounce rate goals on your site's past performance—not ­arbitrary percentages on other websites.
Ultimately, your bounce rate will vary from page to page on your website—and that's okay. But if your bounce rates are higher than you'd like on pages designed to convert, it's possible to lower them with a little extra effort. Keep reading to find out how.
Our digital marketing campaigns impact the metrics that improve your bottom line.
See More Results

WebFX has driven the following results for clients:

$3 billion
In client revenue

7.8 million
Leads for our clients

5.2 million
Client phone calls
How to improve bounce rate on your website: 3 Important Tips
Bounce rates can be affected by a number of factors, not just on your site, but elsewhere on the web. You may have to fully scrub your page to find out why your bounce rate is so high, but the answer will most likely be revealed when you follow these steps.
1. Check SEO elements
Some people click away from a page because they were expecting one thing and got something else that's unrelated to their search. This happens when a page is optimized for a wrong or misleading search. Run an SEO analysis to find out if your page is one of them.
Check the URL and header tags to make sure they accurately reflect the content on the page. Do a keyword analysis to see if your chosen keywords match what the target visitor would look for in a web search. If there's a mismatch between SEO and content, you not only have an inflated bounce rate—you could be missing valuable leads.
2. Analyze layout and design
Web design should be clean, clear, and simple. A poorly designed page turns off visitors and quickly drives them away, increasing your bounce rate. Check your pages for signs of a poor or cluttered design that makes visitors not want to stay.
Does the page take a long time to load? Are there so many frames that you don't know where you're supposed to look? Does the content follow a straight line, or does the user have to jump around to figure out what to do? Straighten out your layout, and watch your average bounce rate come down.
3. Look for inaccurate inbound links
The problem with your web page may not be your problem at all. Inbound links help to generate new visitors and expand your reach, but they can backfire if the anchor text has nothing to do with your content. Scan the web for inbound links to your site and find out if they're bumping up your bounce rate.
It's not uncommon to find out your site is being linked with text that either ignores the content on the page or focuses on a side topic. If you discover one, contact the site owner and either request a change in anchor text or ask the owner to remove the link altogether. You may lose a few clicks, but the change in bounce and conversion rates is worth losing people who aren't viable leads.
Want to improve your site's bounce rate?
It might seem odd to analyze the people leaving your site, but doing so can help you identify weak spots that may be hurting your website's performance. Do you know your average bounce rate?
If not, it's time to find out. You have an answer to what a good bounce rate is, but if you'd like assistance monitoring or improving your site's bounce rate, don't hesitate to contact us! Our talented team of Internet marketers can help you with all aspects of your online presence, and help you generate more revenue with the web.