If you're trying to improve your ranking in Google's search results, experts will tell you to monitor and improve your Domain Authority. When it comes to upgrading your Domain Authority score, you probably have one question: What is a good Domain Authority? There is no definitive number when it comes to your domain authority, but there are several best practices you can follow to improve your score and ranking in search results.
On this page, we'll provide you with five tips for how to increase your Domain Authority. If you need help improving your Domain Authority score, contact us online to speak with a strategist about our SEO services.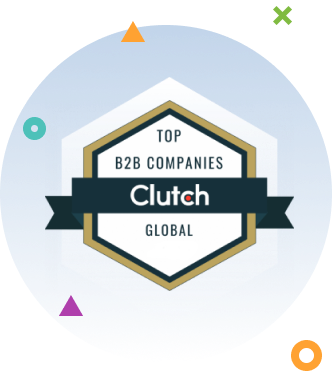 Independent research from Clutch has named
WebFX the top
SEO company

in the United States.

Over 200 WebFX clients have been interviewed by Clutch to discuss their experience partnering with us.

Check out more Clutch Reviews
What is a good Domain Authority?
The biggest question surrounding Domain Authority score is, "What is a good Domain Authority?" Many website owners ask this question in hopes of knowing the ideal number for ranking better in Google search results. So, what is a good Domain Authority score?
The truth is there is no ideal or specific number you need to achieve to succeed. Moz's Domain Authority scale goes from 1-100. One is the worst score, while 100 is the best. Many businesses get the idea that they need a domain score of 100 because it's at the top of the scale. Even large companies like Amazon don't have a perfect 100 score, though!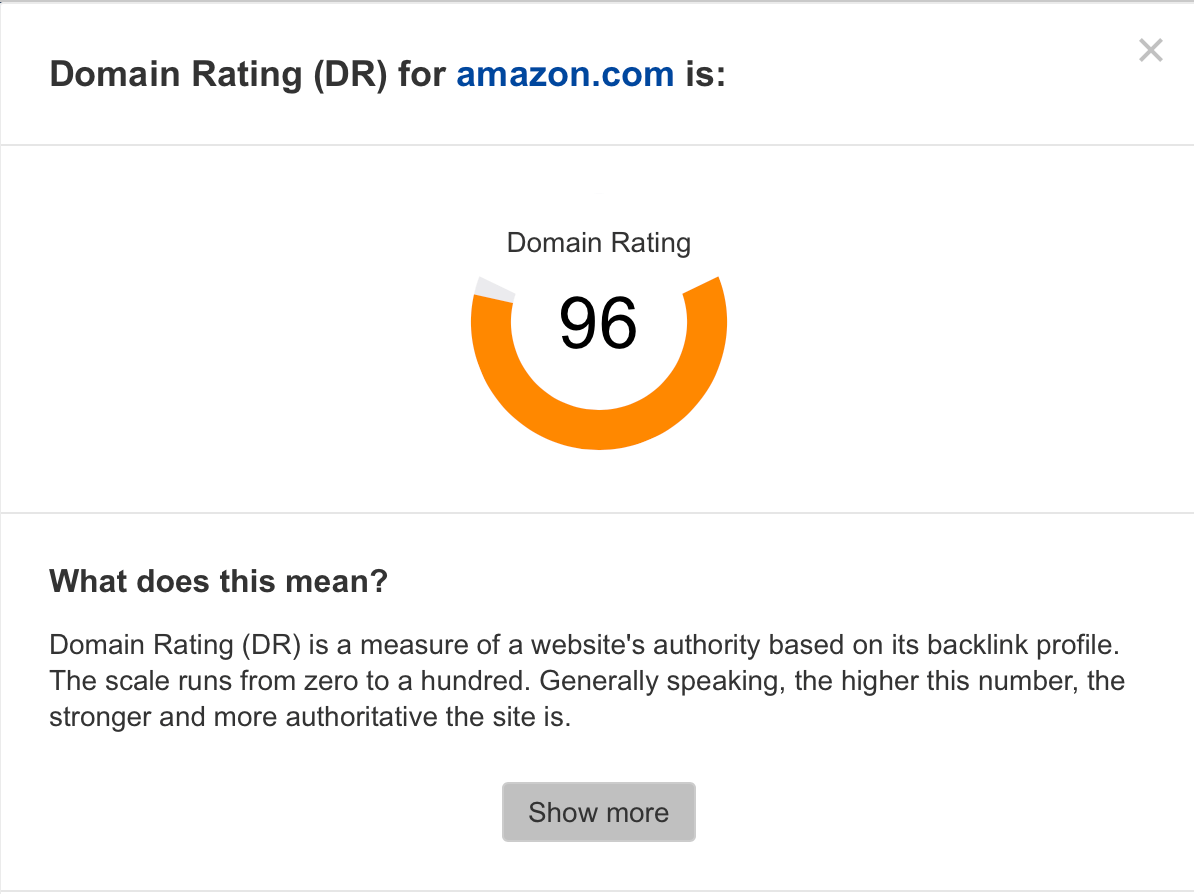 There aren't specific "good" or "bad" Domain Authority scores, either. Having a domain score of 55 may appear "bad," while a domain score of 85 may seem "good" because of their distances from 100, but it's not true. Having a score further or closer to 100 does not indicate a bad or good Domain Authority.
The reality is that there is no perfect number because Domain Authority is a comparative metric.
"A good Domain Authority score depends on your direct online competition. This competition includes companies that rank in search results for the same keywords as your business. They also have a similar business size and scale to yours."
If you owned a clothing boutique, for example, you wouldn't compare yourself to Target.
Target is in a league of its own, competing with the likes of Walmart and Amazon. Trying to compare your domain score to Target's sets your clothing boutique up for failure. Instead, you want to look at other clothing boutiques or small-scale thrift shops that are about the same size as your store.
You'll want to look at ones that rank for similar keywords, too. If you found the same ten websites trying to rank for your targeted keywords, you'd focus on these businesses and their domain scores. So, a good Domain Authority score rests solely on your competition.
You want to have the highest Domain Authority score as your competitors, but you don't want it to be so high that you're out of competition with them. If all your direct competitors have scores between 40 and 50, a good domain score for your business falls between 55 and 60. It's enough to help you stand above your competition and have a better chance of ranking higher in search results.
How does Moz determine your domain ranking?
When you're trying to achieve a good Domain Authority score, it's essential to understand how you get your score. While Moz's algorithm is a secret, there are a few known signals that help improve your score:
Linking root domains
Social signals
MozRank
Quality content
MozTrust
Search engine optimization (SEO) friendliness
These factors are just a few of the more than 40 factors that Moz uses to calculate your score.
5 tips to increase your Domain Authority
Now that you know how to find your ideal Domain Authority score, it's time to look at how you can improve your current Domain Authority score. It's important to note that it's easier to improve your domain score from 20 to 30 than 70 to 80. You can't rapidly improve your score overnight, so it will take time to optimize and get a higher domain ranking. Let's take a look at five ways to increase Domain Authority:
1. Follow SEO best practices
If you want to improve your Domain Authority, start by following SEO best practices. Following SEO best practices will help you continually improve your rankings in search results while strengthening your domain score. You'll want to optimize your on-page content to help it perform better in search results.
On-page optimizations include elements like:
Each of these elements plays a fundamental role in your SEO ranking. Generally, SEO matters to your Domain Authority, so you want to follow SEO best practices. By following necessary optimizations for SEO, you'll help improve your ranking and your Domain Authority.
Need help with your SEO, marketing manager?
Check out our SEO Guide for Marketing Managers to start driving more site traffic, leads and revenue!
View the Guide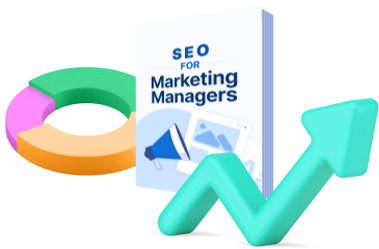 2. Create linkable content
If you want to know how to increase Domain Authority, start by creating linkable content. Content plays an essential role in improving your score, so you'll want to invest time and effort into creating great content that people want to share. So, how do you create high-quality, linkable content?
First, start by choosing relevant keywords for your content. Your keyword selection is crucial because it determines where you appear in search results. Choose industry-relevant keywords to help you drive interested traffic and earn links from industry authorities.
When you create content, focus on quality over quantity. High-quality content will provide your audience with a better experience, which can motivate them to share your content. It will drive better results for your business.
Additionally, you'll want to publish content often. If you're consistently distributing content, you create more opportunities for authoritative sites to link to your pages. These high-quality links will help improve your domain score.
Overall, focus on posting high-quality content regularly.
3. Remove bad link profiles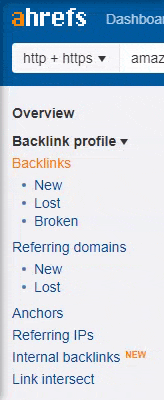 When trying to earn credible links to your website, you may receive some not-so-great links to your page. There will be websites that link to your profile that hurt your Domain Authority score. You must comb through your link profile to check on the types of links you receive.
Most domain checkers include backlink checker tools. You can use backlink checker tools, like Ahrefs, to see which sites link to your content. It provides you with the opportunity to pick out bad backlinks, contact those websites, and ask them to remove the link to your site.
This process applies to links on your website, too. You must comb through your website and check the links on your pages. Remove any bad links and fix any broken ones that may hurt your domain score.
By removing bad and broken links, you'll help improve your domain ranking. You'll get closer to a good Domain Authority score because you will only have credible and authoritative sites linking to your website.
4. Improve internal linking
Many experts focus on earning external links to improve your domain ranking. While it's one of the most critical elements of achieving a good Domain Authority score, internal linking plays an essential role in helping improve your Domain Authority. Internal linking keeps leads on your site longer, which can improve your SEO ranking.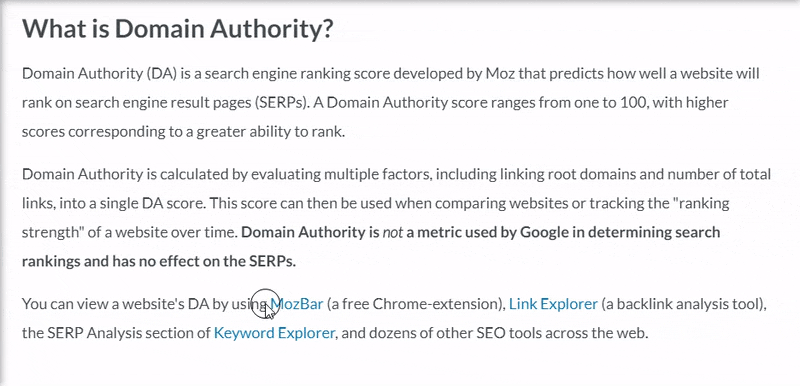 Above, you can see internal linking on Moz's website. When you create content, you want to link internally to other pages on your site. These internal links keep leads on your website longer and get them engaged on your page.
It also makes it easier for search engines to index your pages so that you can appear in more search results. This practice is excellent for improving your domain ranking and SEO.
5. Make your site mobile-friendly
Considering that people spend 70% of their Internet time on mobile, it's no surprise that mobile-friendliness is necessary to rank high in Google search results. With a responsive site, everyone can find, view, and share your content, which can improve your domain score. You can create a mobile-friendly site by:
Using responsive design: Responsive design ensures your website adapts to whatever device a person uses. Your website will scale to your audience's mobile devices and tablets, ensuring they can easily browse your site.
Adding mobile elements to your site: People browse your website on mobile devices differently than on desktop. Adding mobile elements, like hamburger menus and call to action (CTA) buttons within thumb reach, help enhance the mobile experience.
Improving page load time: When users search, they want answers fast. Use Google PageSpeed Insights to check your current site load time and how you can improve. You can also invest in page speed services to improve your site load time.
Making your site mobile-friendly helps you create a better experience for your audience. With a mobile-friendly site, you can rank higher in search results, which can lead to more traffic, shares, and links, as well as an improved domain score.
93% of WebFX customers are extremely satisfied with their digital marketing results.
"Working with WebFX, everything is very organized and strategic. We're only a year into our partnership, and our expectations have definitely been met."
View More Client Testimonials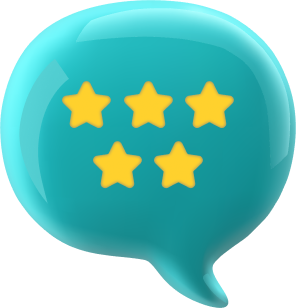 Start improving your Domain Authority today
Though Domain Authority isn't a direct factor in SEO rankings, it serves as a great predictor for how you will rank in search results. By having a good Domain Authority score, you'll help your site rank better in search results. If you're looking to improve your domain score, our team at WebFX can help.
We're a full-service digital marketing company that offers SEO services to help improve your domain score. With one of the most well-connected earned media and online influencer teams in the world, we can help you choose a domain name, build a website, and get noticed. To learn more about how you can get a good Domain Authority score with WebFX, contact us online or call us today at 888-601-5359 to speak with a strategist about our competitive SEO plans.