Did you know that the top organic search result earns a 34% clickthrough rate (CTR) on desktop and a 31% CTR on mobile? As a business, you want your website to be at the top search result spot for relevant queries, so you can earn more site visits, leads, and revenue.
Reaching the top takes work, though — and search engine optimization (SEO) will help. A solid SEO campaign strategy will not only propel your website to the top of search engine results pages (SERPs) but will also boost the long-term success of your business.
If you're thinking about executing your SEO strategy, it's a good time to start now. You'll want to break your SEO strategy down into manageable SEO campaigns.
Keep reading to learn more about what an SEO campaign is and how you can create a revenue-driving SEO campaign. This blog post will go through these topics:
What is an SEO campaign?
You're probably familiar with the term SEO, which is the strategic process of optimizing your website to rank higher in SERPs. It is an ongoing process and a long-term commitment.
An SEO campaign is a project that has a timetable, plan, and KPIs aligned with your overarching goal of ranking in SERPs. Your business's ongoing SEO may have multiple SEO campaigns running at the same time.
Think of ongoing SEO as your overarching goal in life, say living a healthy lifestyle. It's a commitment, and it doesn't end when you eat an apple in one day.
You break down your healthy lifestyle goal into manageable projects, so you can measure your progress. Perhaps you want to consult a doctor in your first month to identify any health issue you need to address. You might also want to begin your first month with the goal of logging 5000 steps daily.
By having campaigns or manageable projects working toward your goal, you have bite-sized and measurable pieces of tasks, so you can track your progress!
SEO campaign example
Still not quite sure about the role of an SEO campaign? Let's illustrate it with an example.
Suppose you own used car dealerships. Your SEO goal is to rank at the top of organic search results every time someone searches for "used car dealers [in your city]."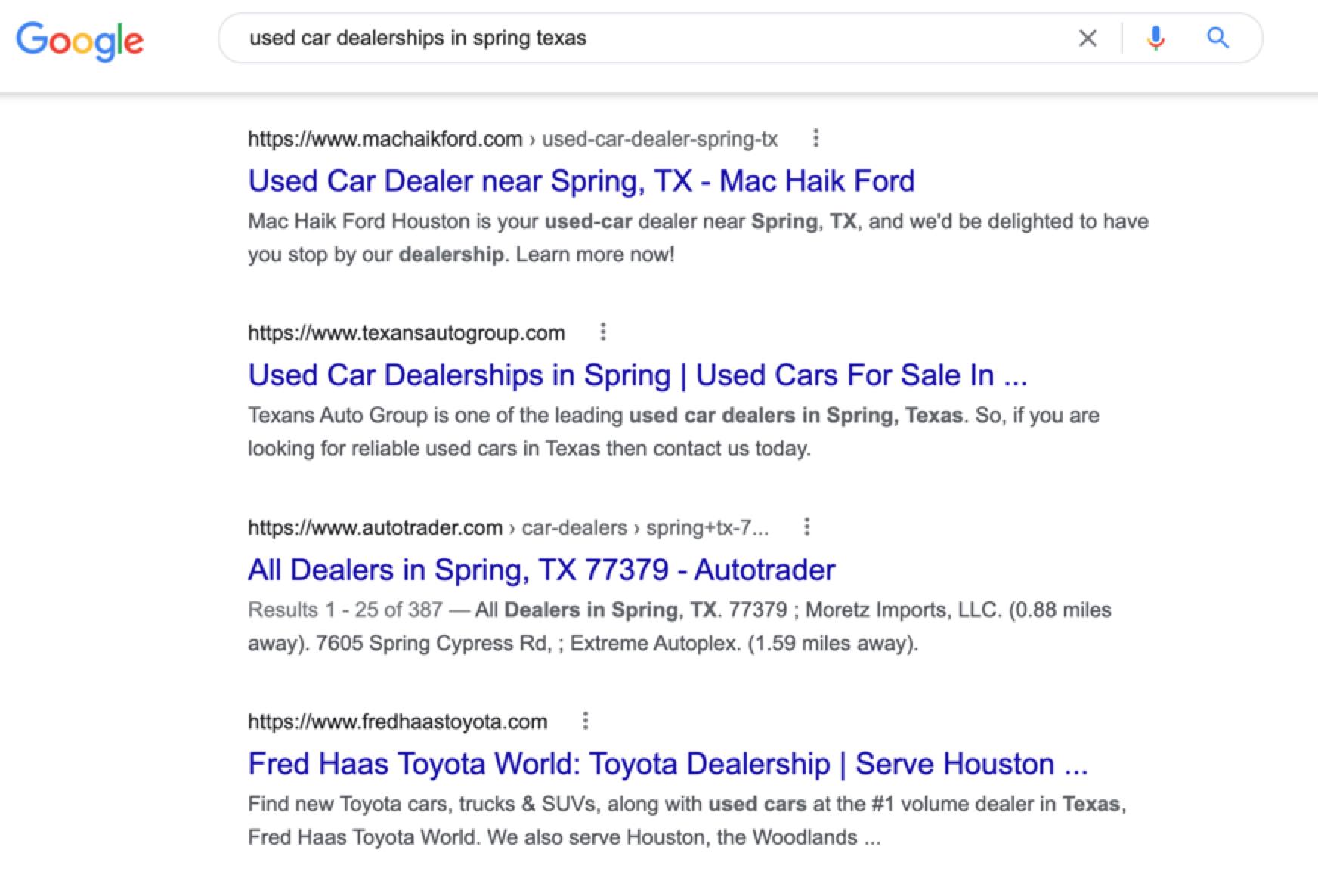 Here are some action items you might consider for your custom SEO campaign.
After careful evaluation of your website, you learn that certain pages take more than 10 seconds to load. You also discover that only two pages on your website mention that you accept used car trade-ins and buy back used cars. On top of that, your location-specific pages don't get a lot of traffic.
Your SEO campaign can focus on improving page load time and creating new pages on used car trade-ins. Identify the slow-loading pages and optimize these pages. Once you're done optimizing the images and the pages, review your page load speed in Google's Page Speed Insights.
You can also create a tutorial page on how your prospects can trade in or sell their car. A page dedicated to testimonials of happy customers who traded in their cars is a great addition to your website, too!
Implementing a local SEO for each location where your business operates is something you might consider for your campaign. Create a Google My Business Profile for each location. You can also create additional pages on your website dedicated to each location.
If you'd like to discuss how you can craft an SEO campaign strategy with an expert, contact us online or call 888-601-5359 to speak with a strategist. WebFX is an agency you can count on to drive desirable results and take your SEO campaigns to new heights. We've driven over $3 billion in sales and 7.8 million for our clients.
How to plan an SEO campaign strategy in seven steps
Now that you know what an SEO campaign is, let's get into how to plan an SEO campaign strategy in seven easy steps:
Let's get into the details:
1. Perform an SEO audit on your website
An SEO audit is like a website's annual physical exam with your doctor — except you're not limited to doing it yearly. An SEO audit is a regular check up on your website to see if its overall SEO health is in good shape. It looks at several factors that affect your ranking and recommendations.
You can use our free SEO Checker to assess several factors, including the following:
Your URL
Site speed
Page's title tag
Page's meta description
Page's heading tags
And more!
By running an SEO audit, you know exactly what needs work and what changes you need to make so you can improve your chances of ranking in SERPs.
Your initial SEO audit will also be your baseline data. You can plan multiple SEO campaigns based on your SEO audit results.
2. Set clear objectives for each SEO campaign
After running an SEO audit, you want to set clear objectives for each of your SEO campaigns. What do you want to achieve with each SEO campaign?
Make sure you set SMART goals — specific, measurable, attainable, relevant, and time-bound.
For example, are you looking at improving a webpage's ranking for a specific search term? Take note of its current rank, and set a ranking goal that you want to achieve after a certain period when you're done with some optimization work.
3. Perform keyword research
After setting clear objectives for your campaign, perform keyword research. For SEO, keyword research entails finding, analyzing, and selecting search queries that people use on search engines.
When doing keyword research for SEO campaign planning, brainstorm relevant keywords that searchers use when looking for your business or products. Create a list of these keywords and make specific, detailed versions of them.
The specific keywords are called long-tail keywords, which have lower search volume. Because they are detailed search queries, fewer people use them. For that same reason, these keywords have lower competition, and your website has a higher chance of ranking.
Use keyword research tools like KeywordsFX, so you eliminate the guesswork on valuable keywords and search trends. Once you have a list of these relevant long-tail keywords, use them in your SEO campaign efforts by either optimizing existing pages for them or creating new content surrounding them.
4. Create useful content or re-optimize your existing pages
Once you've set your SEO campaign objectives and identified long-tail keywords, the next step is to craft useful content for your audience.
For example, you own a pet supplies store, and you're aiming to rank in searches for dog food supplies delivery in your city. You can re-optimize your existing About Us page on your website to incorporate the keyword.
If you wish to rank for "best dog food in Austin," for example, and your website has a blog, you can create evergreen content about dog food nutrition and tips for finding the best dog food for a canine friend.
5. Perform on-page optimizations
Your SEO campaign doesn't end once new pages are created or old pages are edited. Make sure you perform on-page SEO.
On-page SEO involves optimizing elements that are found on your web pages, such as your page title tags, meta description, web page copies, internal links, and even your page's loading speed. Run through an on-page SEO checklist, so you don't miss anything!
6. Perform off-page optimizations
Another important optimization step you should take is off-page SEO, which tells search engines that other websites find your website useful. While on-page SEO involves optimizing elements found on your pages, off-page SEO is about efforts off of it, like having other reputable websites link to your site.
A popular off-page SEO technique is backlinking, which involves generating natural links to your website. By earning links from reputable websites, users are led to another helpful resource online, thus improving their experience. That's why Google includes these links as a ranking factor — it's a way to measure expertise, authority, and trust.
For example, let's say a reputable industry blog mentioned your workforce management company in one of its posts. You can reach out to the author to link their mention of your business to your homepage.
Run through our off-page SEO checklist to win those links to your site!
7. Track your SEO campaign's progress
Find out if your SEO campaign is meeting its objectives by tracking the metrics you identified as important and measuring your results.
For example, if you're eyeing an improved ranking for a particular keyword, you can use tools like Google Search Console. If your objective was to increase the number of lead form submissions on your website, you can measure the conversions from Google Analytics.
Our proprietary tools LeadManagerFX and MarketingCloudFX can also give you more valuable insights about your customers' journey from awareness to conversion. Know which pages they visited, which campaigns brought them back to your site, and more!
You can also check out other handy SEO tools like Google Data Studio and Ahrefs.
Ready to roll out an SEO campaign?
If you are pumped to start your SEO campaign, contact us online or call 888-601-5359 to speak with a strategist. Our team of 500 is equally excited to help you with your SEO campaign strategy.
WebFX Careers
Join our mission to provide industry-leading digital marketing services to businesses around the globe - all while building your personal knowledge and growing as an individual.