Today, more than 90% of online experiences start with search engines. When people want to find businesses, products, and services, they start their quest with a simple online search. Fortunately, search engine optimization (SEO) ensures you're there to meet them at the top of the search results — and with SEO Checker, you can see what's holding your website back from the top spot.
But what if you're a local business looking to boost traffic to your physical store? How does local SEO differ from traditional, organic search optimization — and which should you use? Luckily, your favorite marketing team is here to answer all your SEO vs. local SEO questions. Just keep reading, or contact us to ask a strategist your burning questions!
What's the difference between SEO and local SEO?
Both traditional and local SEO focus on improving your rankings in online search results so more people can find, contact, and purchase from your business. Here's the difference.
While traditional SEO focuses on improving your site's visibility on a national or global scale, local SEO allows you to capture local search territory to connect with searchers in your area. SEO and local SEO use many of the same strategies. However, local SEO solutions employ specialized measures to help you connect with searchers in your area.
Now that you know the difference between SEO and local SEO, let's look at some hallmarks of each strategy.
What is SEO?
We'll start with a definition of traditional SEO, also known as organic or national SEO. Valuable for businesses in any sector, SEO includes numerous on- and off-page strategies to boost your website's rankings in relevant search results.
Anatomy of a traditional search result
To better understand how SEO works, let's look at the anatomy of a search result for the keyword "rent camping gear."
Paid ads
When searching on Google, you'll first notice a series of paid search advertisements. Marked with "Ad" labels, these pay-per-click (PPC) ads appear at the top of search results — above organic results.

We're not focused on these results when talking about SEO, but they're important to note.
SERP features
Next, you may see several SERP features, depending on the search. SERP features are special results intended to provide searchers with helpful information — often without needing to click on a result. These things include:
When searching "rent camping gear," I see a featured snippet, immediately after the paid ads, that answers the question, "Can I rent camping equipment?" Organic search results
Finally, we see a list of unpaid search results — the "meat" of organic SEO.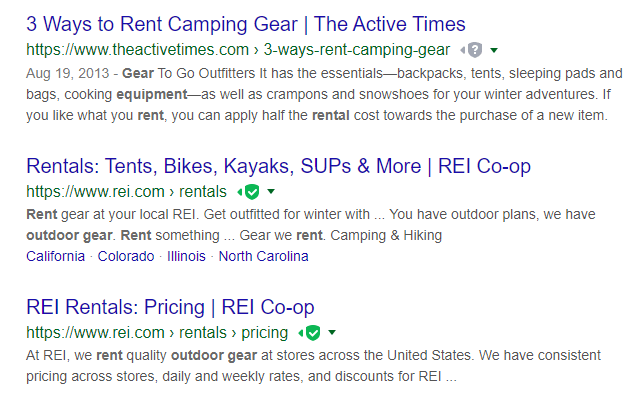 Since 68% of all clicks go to the first five positions in search results, it's extremely important to maintain top rankings, so people can find and contact you. How do you rank at the top of search results on a national or even global scale?
The answer is SEO — and it consists of numerous rank-boosting strategies.
Traditional SEO strategies
When optimizing for traditional SEO vs. local SEO, you'll likely use the following strategies:
In short, these SEO strategies ensure your business shows up at the top of search results when people search keywords related to your business, products, and services. Ultimately, SEO allows more people to find, contact, and purchase from your business — and it translates directly into increased revenue.
What businesses should use SEO?
SEO benefits businesses of all sizes in a wide array of industries, from ecommerce to tech and more. Just take a look at our case studies to learn more about how SEO drives results for WebFX clients.
That said, some businesses benefit from a more local approach to SEO. To learn more, let's take a deep dive into local SEO: what is local search, who is it for, and how is it different from traditional, organic SEO?
What is local SEO?
Local SEO — a subset of traditional SEO — focuses your optimization efforts on reaching more local searchers. For example, let's say I'm planning a trip and search, "best hotels in LA." If you own or manage a hotel in the LA area, you want to show up at the top of the local results for that search — and local SEO can help you get there.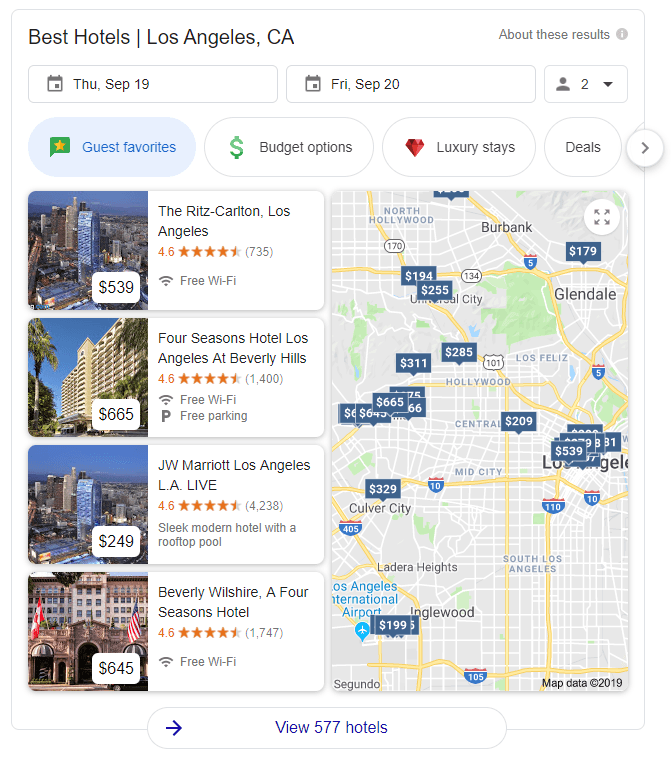 Since 80% of local searches convert, it's hugely important to invest in local SEO if you're a local business looking to boost foot traffic, sales, and revenue.
Anatomy of a local search result
In addition to ads, SERP features, and organic listings, local search results contain some unique features. Let's take a look at another example to understand the difference between traditional and local search results.
Local SEO 3-pack

If I search "best restaurants in LA," Google returns a local SEO 3-pack — a map and list of the top three restaurants that match my search criteria. It looks like this: Google pulls the business information from the restaurants' Google My Business profiles, so it's extremely important to claim your listing (more on that later) when optimizing for local SEO.

In some cases, like the hotel example above, Google pulls results from Google Travel, which is why you may see more than three options. You'll see the same thing when searching, "flights to LA," with a list of available flights and prices from Google Travel. Google Local Services ads
For some local searches, you may notice Google Local Services ads.
These ads appear at the top of local search results, and they operate similarly to PPC ads. Again, these paid ads aren't part of the organic search results, but they do appear in local searches. They look like this:

Currently, Google Local Services is only available to select industries and cities, so you'll need to confirm your eligibility.
If you want to learn more about how you can advertise with Google Local Services, check out our stress-free ad options.
GET STARTED WITH GOOGLE LOCAL SERVICES ADS
Local SEO strategies
In addition to traditional SEO strategies, local SEO employs some additional tactics to help you reach local searchers. These local strategies include:
What businesses should use local SEO?
Not sure if local SEO is right for you? If you work in these industries, you + local SEO = match made in heaven.
For companies looking to attract and convert more local traffic, local SEO is essential.
Do SEO and local SEO affect each other?
Great question! It's impossible to draw a solid box around traditional vs. local SEO — and there's some overlap between the two strategies. That said, your traditional SEO efforts will likely end up helping your local SEO and vice versa if done correctly. If you already have an SEO plan in place, it may just require a few tweaks to start driving more qualified, local traffic.
For instance, adding location-specific keywords and content vs. more general information allows you to appeal to a local audience. Adding these pages will also help your organic SEO strategy, as you'll have more opportunities to rank in relevant search results. When navigating the waters of traditional vs. local SEO, it's helpful to consult the experts — like the team at WebFX. We'll help to answer all your national SEO vs. local SEO questions, so you can rest assured you're getting the best business results.
Looking for an all-in-one SEO audit tool? You've found it.
SEO Checker provides data on key metrics to give you:
Complete SEO score

Content Grade

Site Speed Analysis

and more.
Get started with traditional or local SEO today!
Have more questions about organic SEO vs. local SEO? We have you covered. Check out our resources below to learn more:
Contact us today, or give us a ring at 888-601-5359 to get started with your custom-fit SEO or local SEO strategy!
WebFX Careers
Join our mission to provide industry-leading digital marketing services to businesses around the globe - all while building your personal knowledge and growing as an individual.