7 minute read
Sarah Berry is a Google Analytics-certified Web Marketing Consultant at WebFX. She's written over 400 articles on digital marketing, covering topics like SEO, CRO, and Amazon. When she isn't polishing her Time Magazine Person of the Year Award, she's spending time with her flock of ducks.
Search engine optimization (SEO) focuses on helping your website rank well in search results, while user experience (UX) deals with how users interact with your website. UX is all about users, while Google's algorithm is all that matters for SEO… or is it?
Building a website is a constant battle of SEO vs. UX. The two can't possibly work together toward the same goals… or can they? Marketers, designers, and business owners often view SEO and UX as two competing disciplines, but they have more in common than you might think.
Read on to discover the differences between SEO vs. UX, their similarities, and how they can work together. As a full-service digital marketing agency, WebFX has extensive experience with both SEO and UX-focused web design. To learn more about what we do, check out our portfolio and feel free to contact us to learn more about our web design.
What is SEO?
SEO is a collection of methods for improving how a page ranks in search engines for relevant keywords.
It aims to increase the quantity and quality of traffic that comes to a site through organic search results. Since 93% of online experiences begin with a search engine, and 75% of users don't click past the first page of results, SEO is crucial to helping people find your website.
What is UX?
UX aims to improve the user experience. People often discuss UX in terms of design, but it can also apply to the customer's entire experience with a company, including its website, products, and staff.
Concerning websites, good UX keeps people on your site longer, provides a more enjoyable experience, and increases conversions.
SEO vs. UX
Google and other search engines use complex algorithms to rank websites in search results. These algorithms consider more than 200 ranking factors. SEO involves optimizing your site for these algorithms.
You optimize pages so that search engines can crawl them and rank them for relevant keywords. Because SEO deals with optimizing your website for algorithms, some people believe it isn't compatible with optimizing your site for human visitors. However, this belief is based on an outdated idea of what SEO is.
SEO does consider search engine algorithms, and you might make changes to a site for SEO purposes that you wouldn't make otherwise. As times goes on, though, what's good for SEO and what's good for UX are becoming increasingly similar.
How Google accounts for UX
Google is continuously updating its algorithm to provide better results to users. Its goal, Google says, is to "provide you the most useful and relevant information." As Google updates its algorithm, it gets better at understanding what each page is about, whether it will be useful to users, and whether it provides a good user experience.
In the past, it was easier to game the system. SEOs would, for example, stuff excessive amounts of keywords into content, making it hard for users to read. However, the tactic worked for helping companies rank better in search engines.
Google eventually cracked down on this and other similar practices. That's not to say that people still don't try to cheat the system in ways that are bad for users, but Google works to identify these tactics and penalize sites that use them. Now, Google's goal is to rank pages with excellent user experience, and the algorithm is continually getting better at achieving this task.
Increasingly, if you make a change that improves user experience, it also improves your SEO. In fact, Google says the best thing you can do to make your site Google-friendly is to provide high-quality content that informs and engages your audience.
BONUS READING: 5 UX Design Trends for 2023
How SEO and UX work together
Many of the things that improve your UX also improve your SEO. Here are some of the ways they work together.
1. Positive user signals
Elements that improve UX increase how long visitors stay on your site. Easy-to-use navigation enables users to easily find more content they're interested in, for example. When users spend a long time on your website, this tells Google that they found it useful.
Since Google wants to provide useful content, your rankings improve.
2. Backlinks
When someone links to your site, they effectively recommend it to their audience. People want the sites they recommend through linking to be useful to their audience and provide them with good UX. So, UX improvements can increase the number of backlinks you get.
The quality and quantity of websites linking to yours can significantly improve your rankings. So, by helping you gain more links, UX can improve your SEO.
3. Page speed
More than 80% of people expect pages to load in three seconds or less. Increasing your page speed improves your user experience by getting people the content they want faster. Google also considers page speed when determining how to rank pages, so improving the speed at which your site loads improves both your UX and SEO.
Google even offers a free tool called PageSpeed Insights, which measures your page speed and provides recommendations for improving it. Here's an example report from the tool:
4. Mobile-friendliness
People spend 70% of their Internet time on mobile devices, and 74% of users say they're more likely to return to a website if it's mobile-friendly. Making your site more mobile-friendly can also improve its rankings. Starting in July 2019, Google began using mobile-first indexing for all new websites by default, meaning it primarily uses the mobile version of your content for ranking.
Google also offers a free tool for testing your website's mobile-friendliness, called the Mobile-Friendly Test Tool: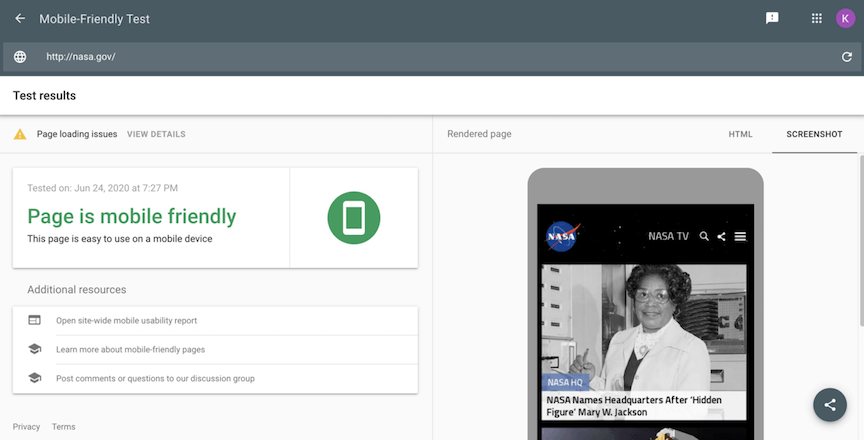 UX and SEO best practices
So, how can you improve your UX and SEO and ensure they work together? Check out these UX and SEO best practices.
1. Integrate your UX and SEO strategies
Sometimes, two different teams work on UX and SEO in a siloed approach. When creating a new page or website, it's important to consider UX and SEO together. Maximize communication between your UX and SEO teams and consider both throughout the design process.
2. Conduct a UX SEO audit
If you already have a website, consider conducting a UX SEO audit. A UX analysis uncovers information about how visitors are interacting with your site, revealing opportunities for improvement. An SEO audit analyzes your site's SEO performance, helping you make improvements in this area as well.
You can start with a free SEO Checker tool and conduct a full audit for a more in-depth analysis.
Looking for an all-in-one SEO audit tool? You've found it.
SEO Checker provides data on key metrics to give you:
Complete SEO score

Content Grade

Site Speed Analysis

and more.
3. Perform ongoing testing
Continuously testing your website is crucial for improving its performance over time. You can use split testing to determine which changes lead to the most significant UX improvements. Split testing involves creating two different versions of a web page and showing each version to different users.
You can then analyze the performance of the two versions to see which performs best. After seeing the results, you'll keep the best-performing page. To test your SEO, you can make changes to certain pages and see if the updates improve your rankings.
SEO and UX: It's about users
Although people sometimes think in terms of SEO vs. UX, it's crucial to consider them both when creating content for your website and ensure they work together. Both SEO and UX are essential for a successful website. SEO brings people to your website, while UX keeps them on your site longer and increases conversions.
While SEO and UX are two different disciplines, users should be at the center of both your SEO and UX strategies. With this in mind, many of the changes you make to improve your UX will improve your SEO and vice versa. At WebFX, we have more than 25 years of experience in digital marketing and have helped clients from a wide range of industries with their UX, SEO, and other areas of Internet marketing. To get more digital marketing tips, join more than 200,000 marketers in signing up for our email newsletters. To learn more about our digital marketing services, contact us today!
Sarah Berry is a Google Analytics-certified

Web Marketing Consultant at WebFX

. She's written over 400 articles on digital marketing, covering topics like SEO, CRO, and Amazon. When she isn't polishing her Time Magazine Person of the Year Award, she's spending time with her flock of ducks.

WebFX is a full-service marketing agency with 1000+ client reviews and a 4.9-star rating on Clutch! Find out how our expert team and revenue-accelerating tech can drive results for you! Learn more
Try our free SEO Checker
Boost your site's search performance with our free SEO Checker. Analyze your website for optimization tips on titles, headers, content, speed, and more. Get a free report now to enhance rankings on Google, Bing, Yahoo, and beyond!
How Is Your Website's SEO?
Use our free tool to get your score calculated in under 60 seconds.
Try our free SEO Checker
Boost your site's search performance with our free SEO Checker. Analyze your website for optimization tips on titles, headers, content, speed, and more. Get a free report now to enhance rankings on Google, Bing, Yahoo, and beyond!