A busy construction manager or contractor looking for reliable rental equipment will look online to find what they need fast. To capitalize on this potential lead, you'll want a well-designed website that showcases your equipment rental services and makes it easy for them to rent the necessary equipment.
But creating a user-friendly, lead-converting website that generates traffic and drives sales is complex. To help you master web design for equipment rentals, we've gathered the top five elements you need on your site. Keep reading to learn more!
By the way, at WebFX, we offer customized web design services for equipment rentals. We'll create a stunning website that keeps leads on your site and guides them to convert. If you'd like to go ahead and speak with a strategist, call us at 888-601-5359 or contact us online!
We'll help you create a website that stands out.
"WebFX has been instrumental in helping us develop a new website, allowing us to be a leader in our industry."
Learn More About Our Web Design Services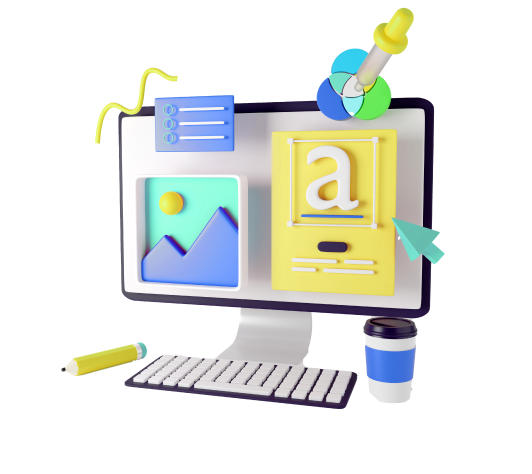 5 key elements of web design for equipment rentals
For your equipment rental website to drive results, you'll need to design it strategically, but what makes a well-designed website? If you focus on these five web design elements, you'll be on the right track:
1. SEO-optimized
For your website to generate revenue, you need it to appear high in the search results when your target audience searches for terms related to your business. While SEO for equipment rentals involves many moving parts, your site's design affects how search engines crawl and index it.
SEO-optimized web design includes aspects like:
While SEO-friendly web design includes more elements, these four areas are excellent starting points.
With SEO-optimized web design for equipment rentals, you'll help your site rank higher in the search results. Because these searchers are looking for terms related to equipment rentals, high rankings will help you drive more qualified traffic and earn leads.
2. Mobile-friendly
Mobile-friendliness is critical for helping your site rank and delivering a positive user experience.
To generate results, your equipment rental website needs to work well on mobile devices. Your content should be easy to read, the navigation menus easy to follow, and the checkout process easy to complete.
The best way to accomplish these goals is by using a responsive design, which automatically adapts the site's elements for the user's screen size.
3. Conversion-optimized
Once your site's technical elements are ready, don't overlook the user-facing details. When a user visits your site, you want to make it easy for them to contact you or rent the necessary equipment. To do so, you'll want to:
Showcase your equipment with product photos
Answer questions visitors might have about the equipment or your rental policies
Store information about equipment someone has rented previously
Integrate visually appealing calls-to-action (CTAs)

Designing your product pages for rentals means including an easy-to-see "rent" button and a calendar or similar user-friendly feature for visitors to select the days they need the equipment.
Your website should also let visitors know the days the equipment is unavailable because someone else has already rented it.
The easier you make it for people to rent your equipment, the more conversions your website will see.
4. Easily navigable
Closely tied to conversion optimization is your site's navigation. You want users to find what they came for with ease. Some ways your equipment rental company might accomplish this goal include:
Categorizing your products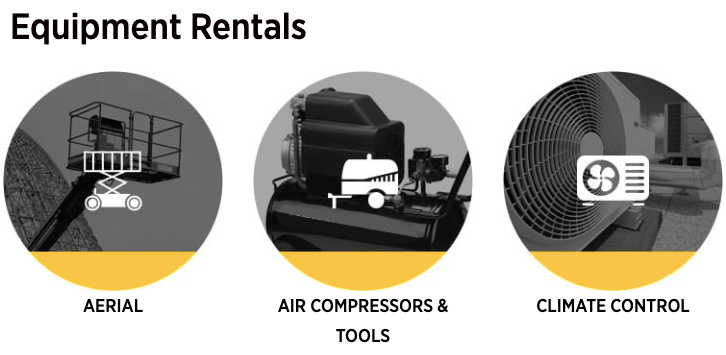 5. Aesthetically pleasing
Last on this list of necessary web design elements is an aesthetically pleasing website.
Users — yes, even construction managers and contractors — prefer to browse sites that look beautiful. Your site's visual aesthetics communicate your branding, making your equipment rental company more recognizable, and they help your website stand out from the competition.
A well-designed site also builds trust. Think about the last time you visited a company website that was poorly designed, and compare that to a time you visited a site with a crisp, clean design. Which did you trust more?
If your answer was the well-designed site, you're in good company. A site's design contributes 75% of its credibility, making the aesthetics a critical element. To encourage visitors to trust you enough to invest in your equipment rentals, ensure your site looks as great as your equipment is reliable.
Our web design services for equipment rentals
Ready to elevate your equipment rental web design to emphasize each of these elements? We'll design a beautiful site that convinces visitors to rent your equipment for their next construction project.
Our expert website design services for equipment rentals include:
A fully customized design: Your site is your company's primary digital touchpoint with customers, so it should represent your business fully. Your website should also stand out from the competition, and a unique design is the best way to make that happen.
Responsive design: To make your site user-friendly for everyone who visits — whether on a computer, tablet, or smartphone — we employ a responsive design. Responsive design is a cost-effective way to ensure your site stays mobile-friendly.
SEO-friendly design: At WebFX, we're experts in web design and SEO. When you partner with us for equipment rental web design, we'll ensure your site's design aligns with SEO best practices.
HTTPS for site security: When construction managers and contractors rent equipment on your site, they need to trust that their information is secure. To facilitate this trust, we set up all sites with HTTPS, the standard for secure websites.
Forward compatibility: Online trends change rapidly, so you need a site that anticipates these changes. When we design your website, we'll ensure it's forward-compatible and continues to provide a top-tier user experience throughout browser updates.
Ecommerce functionality: Many equipment rental websites allow visitors to rent equipment online. If you want your site to have this capability, we have you covered. Our experts know how to design sales-driving ecommerce sites for businesses like yours.
We cover every feature your site needs to generate traffic and drive revenue. When you partner with us, our award-winning designers will create a website tailored to your business's unique needs without you having to lift a finger.
What if you already have a website? No problem! We also offer website redesign services to help your site meet its full potential.
Design the perfect website for your equipment rental company
Your rental equipment website is critical to driving more sales for your business, so give it the attention it deserves. Consider partnering with a web design agency to free up valuable time you can spend taking care of your customers and equipment.
At WebFX, our award-winning designers will create a website that converts more leads. Whether you need an all-new site or a redesign for an existing site, we'll create a customized design that suits your business's needs.
Want to speak with a strategist about our website design services for equipment rentals? Call us at 888-601-5359 or contact us online today!
Earn a 20% greater ROI with WebFX