When people search for equipment rentals, you want your business to appear at the top of the search results. Appearing on the first page determines whether many people see your site — 75% of searchers won't click through to the second page.
This prime placement in the search results helps you generate more leads for your equipment rental business, which can convert into sales. But how do you manage this feat? Through search engine optimization (SEO).
Keep reading to learn what SEO for equipment rentals is and how it works in a one-stop guide.
Or, if you'd like to speak with an expert about boosting your company's SEO strategy, call us at 888-601-5359 or contact us online to learn about our SEO services for equipment rentals!
Independent research from Clutch has named WebFX the
top SEO company

in the United States.

Clutch has personally interviewed more than 250 WebFX clients to discuss their experience partnering with us.

Read More Clutch Reviews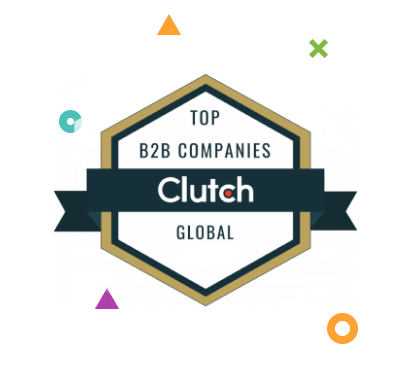 What is SEO for equipment rentals?
SEO for equipment rentals is optimizing your site to help it appear higher in the search results for keywords related to your business. It involves making your site more user-friendly, with valuable content for your audience, and helping search engines read and understand your pages.
To rank websites, search engines send bots to crawl the site's pages. As they crawl the pages, the bots "read" the content and gauge how relevant it is for users searching for specific keywords. The crawlers also measure the page against several factors, known as SEO ranking factors.
SEO ranking factors might include on-page elements, like your content, technical elements, like the backend code of your site, and off-page elements, like how many external sites link to yours. Each factor indicates how positive or valuable of an experience users might have on the page.
Once search engines finish crawling a page, they index and rank it. How high your pages appear in search engines depends upon the search engine's findings when it crawls your pages.
How does SEO for equipment rental companies work?
Keeping this information in mind, equipment rental SEO involves building and adjusting your site to match the ranking factors.
Because search engine crawlers determine your ranking, you'll want to keep them in mind, but ultimately, search engines crawl sites for future users.
All the best SEO strategies prioritize users and their experience first.
For your equipment rental company, that means providing the information your target audience needs on an easy-to-navigate site, showcasing your available equipment, and making it easy for visitors to rent it online or contact you about it.
Fortunately, the search engine bots have become more advanced, making your two goals of satisfying the user and the bot much more compatible. By prioritizing the user as you follow these SEO steps, you'll help your equipment rental site gather higher search rankings:
1. Choose strategic keywords
Search engines run off keywords. Anytime someone searches for something, they type a keyword into the search bar.

To appear high in the search results, you'll need to understand what keywords your target audience uses. You might have some keyword ideas through your industry knowledge and past customer interactions. To gather more choices, you can use keyword research tools.
For example, KeywordsFX provides many keywords related to the one you enter in the search bar. You'll want to choose keywords for which you understand the search intent, or what the searcher is trying to find.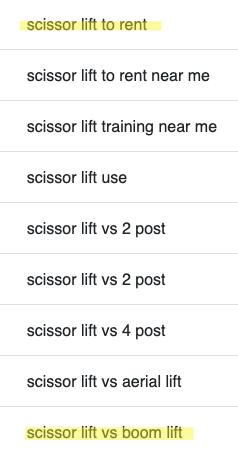 Someone searching "scissor lift to rent" likely wants to rent a scissor lift, but someone searching "scissor lift or boom lift" might need information comparing the two pieces of equipment.
Both keywords can prove valuable for your business if you create content that answers the search intent, which we'll explore in a later section.
You'll also want to choose keywords that balance search volume and competition. Long-tail keywords, or keywords that contain more than three words, provide a more explicit search intent and less competition.
You can find the search volume and competition through tools like Keywords Everywhere and Keyword Tool.
2. Map content to your keywords
Once you've chosen your keywords, you'll need to map content to each keyword. Search engines rank pages, not sites, so you'll need a page for each keyword or topic you want to cover.
To avoid duplicate content — which search engines penalize — group related keywords together.
For example, "scissor lift or boom lift" and "scissor lift vs. boom lift" likely have the same search intent, and content targeting them would look nearly identical. As a result, you could group these keywords and create one page targeting both.
As you map content to your keywords, you might find that some existing pages on your site already target keywords — or could target some of your keywords. That's great! Make a note of that, and you can re-optimize that content to save yourself time from creating all-new pages.
3. Optimize for on-page SEO
Once you've planned your content, you'll need to create it. While writing the content, follow on-page SEO best practices, such as:
Including your target keyword in your URL, title tag, H1, subheadings, introduction, and throughout the body copy
Answering the search intent quickly and using the rest of the body to elaborate or provide supplemental information
Creating valuable, unique content that's meaningful to users
Making your content skimmable with short paragraphs and subheadings
Writing an informative meta description that describes your page
Including multimedia and writing alt text for images
Adding internal links to and from other pages on your site
If you keep these on-page tips in mind while creating and re-optimizing your content, you'll be well on your way to higher rankings.
4. Optimize for technical SEO
But optimizing your site doesn't stop there. You'll also need to engage in technical SEO to ensure the backend development of your site facilitates a positive user experience and helps search engines crawl your site.
Technical SEO for equipment rental companies includes tasks like:
Though this technical SEO list isn't comprehensive, it does provide the foundational factors you'll need to begin optimizing your site's technical elements.
5. Build backlinks
Once you've done all you can to optimize your onsite elements for equipment rental SEO, it's time to head off your site. Search engines like Google want to rank authoritative websites, and one of the best ways to show Google your authority is by building backlinks to your site.
Backlinks are any link to your site from another site. You'll want genuine, relevant backlinks that help Google position you in your industry. The more authoritative backlinks you receive, the better.
As an equipment rental company, you might want backlinks from industry magazines, construction professionals, equipment manufacturers, and similar sites. Because your clients will look for companies near them, you can also focus on local directories.
Building backlinks is one of the trickiest aspects of SEO because it's out of your control. You don't want to pay for backlinks because search engines can spot these black hat SEO techniques. But some of the best "white hat" ways to build backlinks are:
Creating authoritative, informative content that'll naturally generate links
Posting an original infographic on your website
Writing guest blogs and participating in interviews
Looking for positive mentions of your company online and politely requesting they link to your site
These are real SEO results driven for a WebFX client.
You're next.
Learn More About SEO Services


260%
increase in organic revenue

198%
increase in organic transactions
150%
increase in organic traffic

3872%
increase in sessions from SEO
Leverage our SEO services for equipment rentals to grow your business
Now that you know how SEO for equipment rentals works, you can see how complex of a process it is. If you'd like to turn to an experienced SEO company to take care of it for you, you've come to the right place.
At WebFX, we have over 25 years of experience in digital marketing, and our strategies have driven over 7.8 million leads and $3 billion in revenue for our clients.
We generate these impressive results by leveraging our expertise and data-driven marketing to create customized strategies for clients in 154 industries. When you partner with us for SEO, we'll do the same for you.
Ready to learn more about how our SEO services will grow your business's web presence? Call us at 888-601-5359 or request a free proposal online today!
Earn a 20% greater ROI with WebFX