People love to visit resorts to get away from it all. And today, vacationers use the Internet to decide where they want to spend their time away from their busy lives. That's why your resort needs an Internet marketing strategy.
The Internet offers you almost limitless potential to market your resort since you can share information about your resort, book rooms right from your site, and even share fun things that your customers could do when they stay.
Plus, it costs less than traditional marketing and has the potential to generate a lot more leads. Best of all, it allows you to communicate directly with potential guests to answer questions and better accommodate their needs.
Those are all some incredible benefits — and this is how you can achieve them all with Internet marketing. If you'd like to speak with an Internet marketing specialist, feel free to contact us at 888-601-5359.
1. Create interactive multimedia brochures
Brochures give readers a brief taste of what they can expect from your resort, but ink-and-paper brochures only give people a two-dimensional preview.
An online brochure can do more. In addition to full-color photos and marketing copy, it can also add sounds, motion, and virtual tours of your facilities. This makes it an incredible piece of content for promoting your resort.
The key is to choose a variety of features that capture the feeling of staying at your facility. Include photo slideshows, videos, 360-degree views of rooms, a map of nearby attractions, and even interviews with your staff.
Throughout the brochures, you can also pepper in links to registration forms, contact emails for key staff members, and other lead-generation strategies. And you can do it all from one simple brochure!

Hear What It's Like to Work With WebFX!

"All of my interaction with our account manager has been so positive. I worried about the amount of money I was spending and she has made it worth my while. I understand there is a team behind her as well but I have been so impressed. Her responsiveness is outstanding."
Real Estate Rental
2. Post videos showing your facilities
A video is the perfect complement to any site looking to generate leads for a business.
In addition to attracting more eyes than text content, it gives people a reason to stay on your site for a long period of time. You can engage people with quick shots of your facilities, a panning view of the view from room balconies, and much more.
On top of that, you can engage visitors to your site with videos of the property and surrounding areas, along with footage of guests enjoying on-site activities and amenities. You can post them on your website, your Facebook page, and your YouTube channel too, just to make sure everyone sees what you've created.
The key is to keep people on your site so that they'll eventually book a room and convert. And when you use the above suggestions, you can accomplish both of those goals in no time.
3. Target B2B audiences
Many hotels and resorts attract a diverse range of guests. Some of these guests are families enjoying a vacation, while others are business people traveling to meetings or conferences.
And — unlike B2C customers who may book one or two rooms at a time — B2B customers can book dozens or even hundreds of rooms in one transaction. That's why part of your marketing strategy should be geared towards business leaders and decision makers.
As a resort, you can easily use your facilities to host a conference or convention for an industry, regardless of how big it is. That gives you a huge pool of potential customers, and all of them will want a place at your resort since you're the one hosting the event.
To capitalize on that, you can offer coupons or discounts for businesses that register for large quantities of rooms at a time. Offer blocks and recommend that they use a coupon code on your site to get the discounted rates that'll help them save when they send employees to a conference.
4. Publish guest testimonials
When you're using Internet marketing to get people to your resort, your end goal is to have someone book a room. To make sure people do that, they have to trust you. And one of the best ways to get customers to trust you is to publish testimonials from your previous guests.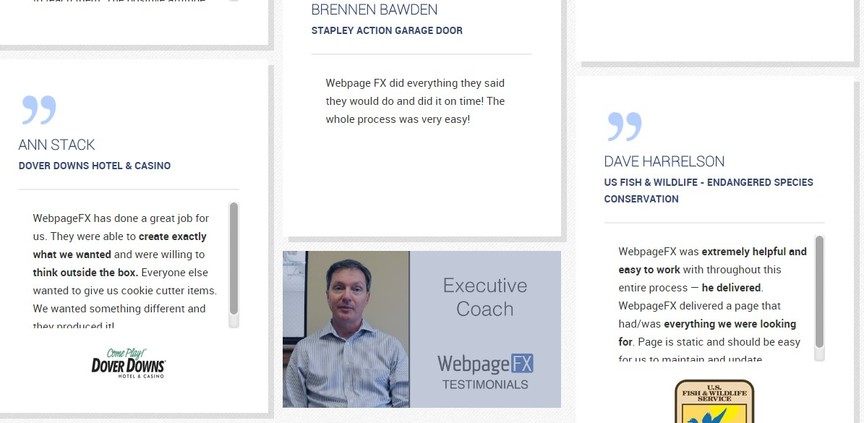 A glowing testimonial from any of your guests go a long way for potential guests who are on the fence about your resort. People naturally view testimonials as unbiased, unpaid endorsements for a company. So if you have a lot of them, you must be doing something right!
To get your testimonials, you can send out brief surveys or questionnaires to guests after they've left your resort. Ask for ratings on food, housekeeping, accommodations, and more to get the information you need.
In addition to getting positive feedback from them, you should also take their criticisms to heart. After all, that's valuable information you can use to improve your own resort, so future guests enjoy themselves even more.
Our digital marketing campaigns impact the metrics that improve your bottom line.
See More Results

WebFX has driven the following results for clients:

$3 billion
In client revenue

7.8 million
Leads for our clients

5.2 million
Client phone calls
Secure more bookings with Internet marketing for your resort
WebFX is a full-service Internet marketing company that offers solutions for every form of digital marketing you could want. From SEO to reputation management and more, our talented team of Internet marketers will get you the results you need to grow your business.
Contact us today to lay out your company's unique Internet marketing strategy!
Earn a 20% greater ROI with WebFX