Chapter 3: How to Get Started With SEO
Need help with SEO, marketing manager? We've got you.
How to Get Started With SEO
If you've read the first two chapters of our Marketing Manager's SEO Guide, you're familiar with what search engine optimization (SEO) is and why it's helpful.
SEO is one of the most effective digital marketing methods available, with organic search driving more than half of all website traffic. For that reason, it's important to know the essentials of getting started with SEO.
In this chapter, we'll look at how marketing managers can get started with SEO, so you can earn more site traffic, leads, and revenue. Here's what you'll learn:
Read on to learn more about how to start SEO. Then call 888-601-5359 or contact us online to get a free quote from the agency with over 25 years of experience!
How to get started with SEO: Getting your website on search engines
Getting your website on search engines is key to starting SEO.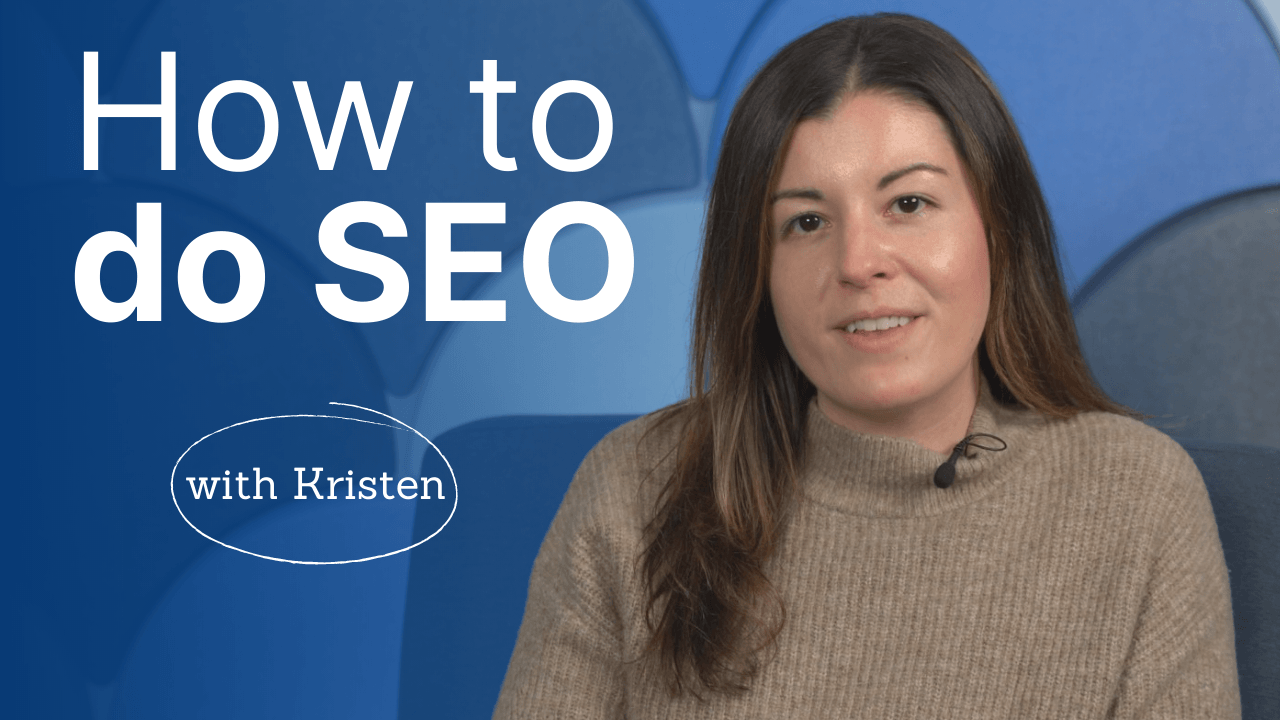 For an in-depth walkthrough, check out the previous chapter, "How Search Engines Work," which covers the crawling, indexing, and ranking process and provides a walkthrough for getting your site crawled and indexed.
You can also learn more about crawling, indexing, and ranking with these resources:
How to get started with SEO: Optimizing your website for on-page SEO
On-page SEO is another critical component of a successful SEO strategy. Like technical SEO, on-page SEO focuses on your website but emphasizes your front-end optimizations. These optimizations can range from your title tags and meta descriptions to your keyword research and content production.
Learn more about on-page SEO in chapter 1.
You can also check out these resources from our library:
How to get started with SEO: Optimizing your website for technical SEO
Technical SEO is a critical SEO component for a few reasons, including:
Technical SEO helps search engines understand your website
Technical SEO provides users with a fast, intuitive on-site experience
Technical SEO enriches your look in search results, which can impact click-through rates
As a marketing manager, you'll work with several other professionals to improve your technical SEO, like:
Web developers
Web designers
SEOs
If you work with a full-service SEO agency, like WebFX, the collaboration aspect of technical SEO is easy. You can access web developers and web designers who understand and work within SEO best practices, ensuring you'll work towards (and not against) SEO with site updates, redesigns, and more.
Should you manage your SEO in-house, you'll need to help your development and design team understand the importance and best SEO practices. Resources like this SEO Guide for Marketing Managers can serve as the basis for building your company's SEO knowledge.
So, where should your team start with technical SEO? Return to Chapter 1 for advice and tips!
You can also check out these supporting resources:
How to get started with SEO: Optimizing your website for off-page SEO
Off-page SEO is one of the most challenging parts of SEO. It's one of the most important ranking factors for Google, though. That's why every business must invest its time and resources into optimizing its off-site SEO.
Learn more about optimizing your site for off-page SEO.
The following resources can also help you build a competitive off-page SEO plan:
The marketing manager's checklist for getting started with SEO
Having covered in the previous sections the SEO basics — what SEO is and why you can benefit from it — we can now move on to the next section of our SEO overview: How to start SEO for your business.
P.S. We've also put together a video with advice from one of our expert Internet marketers.
If you want to launch your own SEO campaign, you should start by considering a few critical questions. Only once you've answered each of these will you have a clear sense of which direction you plan to go with your SEO.
Here are the three main questions to consider when getting started with SEO!
1. Should you choose agency or in-house SEO?
The very first question to ask yourself is this: Will you do all your SEO in-house, or will you partner with an external SEO agency to let them bear the brunt of the work for you?
For most businesses, it's not too hard to answer this question. You can manage your SEO entirely in-house if you choose, but you should only do so if you already possess an extensive familiarity with it and feel confident that you can drive results.
If that doesn't sound like you, you're unquestionably better off relying on the expertise of an experienced SEO agency like WebFX.
2. How much should you budget for SEO?
Once you've decided between in-house and agency SEO, you have to determine how much you're willing to budget for it. Of course, to do that, you first need to have a rough understanding of how much SEO costs.
Unfortunately, there's no set standard for SEO costs. Prices can range anywhere from $500 to $30,000 per month, depending on the size of your business and the scope of your marketing.
For a small business, SEO pricing will typically fall on the lower end of that spectrum, but be careful not to shoot too low — anything under $750 per month is likely too low-quality to waste your time and money on.
3. How can you find the right SEO agency for you?
If you decide to work with an agency, you'll have to determine what agencies you want to consider. SEO agencies can take a variety of forms, so to narrow down the list, try asking questions about each agency like:
What services do they provide?
How much experience do they have?
How much do they cost?
What types of businesses do they work with?
Are they known for driving results?
Ideally, you'll probably want to find an agency that has plenty of experience and a reputation of driving results for clients. It's also crucial to make sure your industry is among those they work with, and that they offer the types of services you're looking for.
Why partner with WebFX for SEO services?
Now that you understand how to go about choosing an SEO agency to partner with, why should you choose WebFX? There are several ways a partnership with us can benefit you, most notably in the form of stellar SEO results.
Here's a brief overview of our SEO process, pricing, and rich history of driving results for our clients!
Our R.O.C.K.E.T. SEO process
When we set to work on your SEO, we'll go in with a solid, tried-and-true plan for earning you the highest ROI. Consisting of six major steps, our R.O.C.K.E.T. SEO process will ensure that every facet of your SEO is given the right amount of time and focus.
Here's a breakdown of the steps in the R.O.C.K.ET. process:
Research: WebFX will begin by thoroughly researching your business, competitors, and industry. We'll get to know your business inside and out, so we can help you rank for your most valuable search terms.
Optimize: Our second step is to go through your web materials and optimize them for various technical SEO elements like page speed and mobile-friendliness, making sure Google views them favorably.
Content: Next in the process is content. For this step, we'll begin crafting web content like blog posts and videos to rank in Google and draw users to your site.
Keywords: Your content won't rank in Google without keywords, so our fourth step will involve researching and implementing the best and most relevant keywords for your website.
Earned media and links: With our on-page work done, we'll move on to promoting your content on other websites by earning backlinks and building industry relationships.
Testing: Finally, we'll closely monitor the progress of your SEO — both on your site and off — and reoptimize as needed to drive bigger and better results.
With our R.O.C.K.E.T. process, your SEO campaigns will drive tangible results in the form of website traffic, leads, and revenue.
Our history of driving results
When you partner with WebFX, you don't have to wonder what you're getting into. Our past results can show you exactly who you are and what we do for our clients.
Over the past five years alone, we've generated 7.8 million leads and $3 billion in revenue for our clients. You'd be hard-pressed to find any other agency that can match those kinds of numbers!
Furthermore, our clients have remained consistently happy and impressed with the quality of our services. We've earned more than 1020 testimonials over the years, and we've been named the top SEO agency in the world on Clutch.
Get started on your SEO campaigns with WebFX!
Hopefully this SEO overview has given you an idea of how to start SEO. But that doesn't mean you're an SEO expert, so why not partner with people who are?
WebFX's team of over 500 experts drives impressive client results with our SEO services, and we'd love to do the same for you. When you partner with us, you'll get help with all the SEO basics listed above, as well as all the intricacies that go with them.
To learn about how to evaluate your SEO, check out chapter 4 of our SEO Guide for Marketing Managers. Then give us a call at 888-601-5359 or contact us online to get started with SEO today!