How to Use & Find LSI Keywords
Google has been talking about "LSI keywords" and how they're becoming more important since 2015.
And while that's true, they don't spend much time telling Internet marketers what LSI keywords actually are.
LSI stands for latent semantic index(ing). In a nutshell, it's a computer program designed to learn synonyms based on context. You may have heard of this before when Google made the news for its strides in machine learning and artificial intelligence.
If all of that sounds complicated, you're right. But LSI keywords are now a major part of search engine algorithms, so it's worth spending some time learning how to make them work to your advantage.
On this page, we'll take a look at the LSI process, how you can find LSI keywords, and how you can use them to improve your website. You can also contact us online or call 888-601-5359 today to speak with one of our experts directly!
What is latent semantic indexing?
The LSI process started with Google's algorithm. LSI was implemented in the Google algorithm in 2004 to help the search engine deliver more relevant results to users.
But it wasn't just about keywords. LSI opened the doors for Google to understand anchor text used in hyperlinks and "link neighborhoods," or groups of sites that link to one another.
With all of that in one update, Google's search results dramatically changed. They weren't just looking for exact-match keywords anymore — the algorithm could understand synonyms and context.
That means Google doesn't just look at a single keyword on your page and how often you use it. Instead, it looks at everything your page offers.
It starts with Google's crawlers (or "spiders").
As Google crawls your page, it looks at the page's keywords to identify its topic — just like it's done for years.
But after the LSI update, Google began also looking at the other keywords on your page as well. Their algorithm weighs your business name, industry, and site to get a well-rounded understanding of each page you have.
In fact, Google's algorithm can "read" a page to understand its context, meaning it's capable of differentiating words based on the smallest details. For example, it can tell the difference between a literal shoehorn tool and the expression "to shoehorn" something.
As Google reads, it categorizes keywords according to that determined context so it can make sense of what's on a page. It's almost exactly the same way a person reads, which is why LSI became such an important part of Google's algorithm.
After all, Google wants to deliver the best possible search results to its users — even for terms that have never been searched before. That's an incredible standard of quality, and Google wouldn't be able to achieve it without LSI.
So when Google crawls WebFX.com, it might see the terms "Internet marketing" and "digital marketing" on the same page. But since we use those terms interchangeably, Google will figure out that they're two ways of phrasing the same idea.
This doesn't directly translate to domination in search results, though. So if you have a page that targets "running shoes" and include the words "jogging shoes," Google will understand that they're the same thing.
Then, when someone searches "running shoes" on Google, your page may come up.
But when someone searches "jogging shoes," it may not.
That's because "running shoes" is acting as the "main" keyword on your page (for lack of a better term). So adding the context of "jogging shoes" helps Google understand your page better, and it might even help that page rank higher.
But it won't make your page rank perfectly for two different keywords.
With that in mind, the trick to LSI keywords is to find the right ones for your site and keep a few best practices in mind while implementing them.
First, let's look at how you can find them.
How do you find LSI keywords?
You have a few options to find LSI keywords in your industry. We'll take a look at the two most popular methods below.
Method 1. Know your industry
The first requires the least research, but relies on your knowledge of your industry. When you know your industry thoroughly, you can naturally pair synonyms together to give your pages more ranking power.
For example, let's say you're a foodservice supplier that specializes in catering supplies. You're selling 8″ disposable plastic dinner plates, but you know your primary audience doesn't search for that keyword on Google.
So instead, you add the LSI keyword that your audience does search — "wedding plates."
Now, you have your bases covered. You're targeting the literal description of the product in your page's text, and you're also incorporating the way your audience uses it to give it context.
When Google scans your page, it'll see your literal keyword alongside "wedding plates" and deduce that they're referring to the same product.
And you're not Google's only source of knowledge on this topic, either! It'll learn from other places it's seen the phrase "wedding plates" and compare them to your page to get a better understanding of your product.
Then, Google can rank your page for "8" disposable plastic dinner plates," "wedding plates," and any other LSI keywords you'd like to add.
But your industry knowledge is just the first step to finding LSI keywords. No matter how much you know about your industry, a little research can help you uncover even more possibilities.
That's why you need tools.
Method 2. Use online tools
After Google began considering LSI keywords, some programmers figured out how to identify them automatically.
Those programmers have created free online tools you can use to find LSI keywords that you may not have thought of otherwise.
It's up to you to leverage these LSI tools so your company doesn't fall behind your competitors.
The first (and best) tool we recommend is LSI Graph. To get a list of LSI keywords, just enter your page's main keyword, and you'll get a list of related keywords to consider.
For this example, let's use "Internet marketing."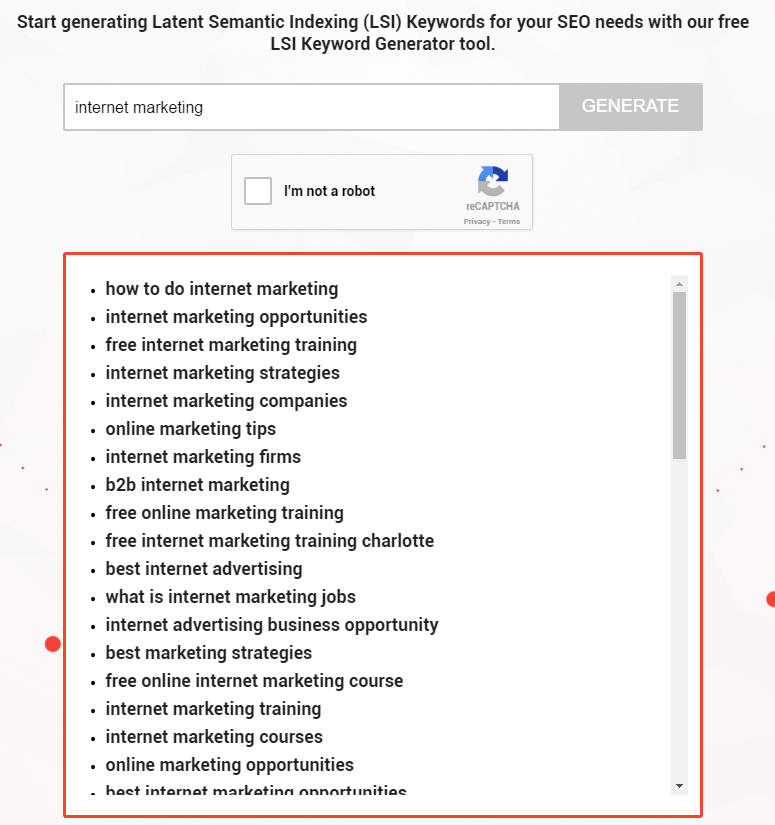 That's a lot of options! And they're all good, depending on the context.
If we were creating a page for WebFX on how Internet marketing works, we may want to pair "Internet marketing" with "how to do Internet marketing."
On the other hand, if we were talking about ways for small businesses to improve their marketing strategies, we might use the LSI keyword "Internet marketing opportunities."
All of these keywords are appropriate for different contexts. The key is determining which ones work best for the page you're creating.
Even if you see an LSI keyword that doesn't fit your page's context, you can still write it down to use on a different page, improving your site's overall SEO power.
And that brings us to our next important question — how do you use LSI keywords?
How do you use LSI keywords?
Despite how hard it was for Google to implement LSI in their algorithm, it's surprisingly easy to use LSI keywords on your website.
All you have to do is replace a few instances of your page's main keyword with an LSI keyword. You don't have to do it often — but using an LSI keyword every once in a while won't hurt.
As a rule of thumb, you can add an LSI keyword for every 300 words on a page.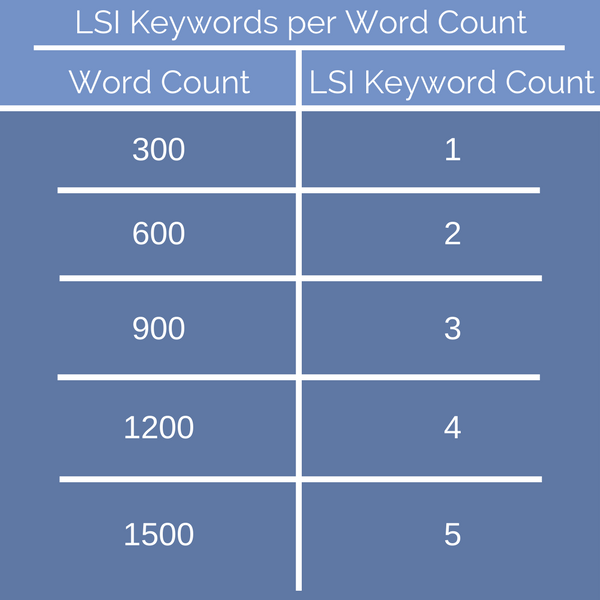 This ratio isn't perfect — it doesn't guarantee you'll rank for an LSI keyword — but it's a general guideline to get you headed in the right direction.
By peppering LSI keywords into your page's text, you help Google understand your page and give it more ranking power – even if it's just a little bit at a time.
Adding a few LSI keywords at a time also makes sure you don't overload your page with keywords, which is known as keyword stuffing.
The best strategy for LSI keywords is to use them naturally throughout your text, just like you would do with the primary keyword on a page.
Regardless of how often you use them, your priority on any page should be to give clear, concise, and helpful information that encourages your readers to convert into paying customers.
When you do that, you'll probably wind up using LSI keywords naturally in your text without even consciously trying.
In a way, that's exactly what you want. If you use LSI keywords without even realizing it, it's unlikely that Google will view your page as an attempt at keyword stuffing.
That means you give your readers a better experience, Google ranks your pages higher, and you improve your online presence overall.
Learn how we increased traffic by over 40%, and conversions by over 100% for an ecommerce client.
Read the Case Study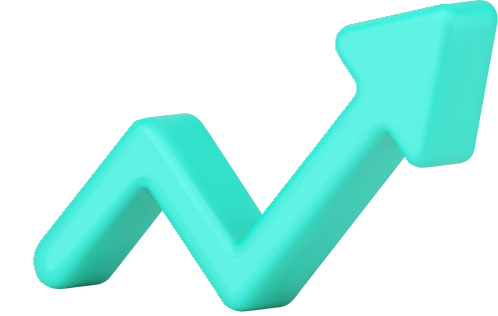 WebFX knows how to use LSI keywords
At WebFX, we have a full team of copywriters who know exactly how to find and use LSI keywords.
Our team has helped clients become the #1 ranked search result for hundreds of different keywords, and we've gotten our clients in the top 10 search results for thousands more.
If you want to improve your company's recognition in search results, we'll do the same for you!
Contact us today to create a top-of-the-line marketing strategy that'll make use of your most valuable LSI keywords!
How Is Your Website's SEO?
Use our free tool to get your score calculated in under 60 seconds.