The 3 Crucial Elements of SEO that Increase Your Website Traffic
Search engine optimization, or SEO, has become a huge priority for marketers over the last few years. It's easy to see why—higher search engine rankings result in more traffic, more leads, and higher sales and conversions. But how, exactly, does it work? How does adding keywords to various site elements improve your chances of ranking well in search engines?
In the early days of the web, site owners could rank high in search engines by adding lots of search terms to web pages, whether they were relevant to the website or not. Search engines caught on and, over time, have refined their algorithms to favor high-quality content and sites. This means that SEO is now more complex than just adding the right words to your copy.
Read on to find out how good SEO can increase traffic to your site, as well as how you can take the steps to make that happen.
If you'd like to speak with a specialist before reading on, you can reach us at 888-601.5359.
Don't forget, WebFX is here for you, no matter where your location. Whether you need Columbus SEO or SEO in another country, WebFX can help.
Keywords
One of the most basic aspects of SEO (and creating an SEO strategy plan) is including keywords in your title and header tags, meta descriptions, and body copy. These keywords are what tell search engines what your site and pages are about, and show them that your page is relevant when users search for those keywords.
In the early days of SEO, many site owners saw this as an opportunity to plaster broad keywords all over their sites. Thankfully, search engines have gotten smarter since then. This means that you have to be a bit more careful when selecting and using keywords, but also that users are shown better results. So what kinds of keywords should you use?
Long-tail keywords
Think about the words and phrases you could use to sum up your site. For example, if your business is a car dealership, you may think that words like "cars" are worth trying to rank for. And while it would be great if all users who searched "cars" were directed to your site, it's not that easy when there are thousands of other sites about cars.
Instead, aim to include long-tail keywords, like "used car dealership." Although there are likely far fewer people searching this phrase than "cars," think about the intent of the searchers. People searching "cars" could be looking for a variety of things—photos, forums, the animated children's film—but people searching for "used car dealership" are likely looking to buy a car. By focusing on longer keywords, you have a better chance of ranking well, and also attracting more qualified traffic.
Location-based keywords
In addition to including keywords that tell what your site is specifically about, you should also include location-based keywords. Google and other search engines have no way of knowing where your business is unless you tell them, so it's important to include city and region names if you want your site to be shown to searchers in a particular area.
Going off of the last example, if your dealership is located in Harrisburg, you would want to include the keyword "used car dealership in Harrisburg." This is even more targeted, and will help your chances of being found by searchers nearby.
Content
In addition to simply including keywords, your site needs to have quality content to improve its SEO and rank well in search results. And although search engines can't read your articles like humans, they can look at a few signals to determine whether or not your content is worth recommending to searchers.
Length
When creating pages on your site, it's important that they have substantial content. But how long should your content be? Short blurbs may be easier to produce, but don't provide much to readers. Because of this, you should aim for quality over quantity. That doesn't mean that you need to write encyclopedia-length pages, but that you should always provide comprehensive information to your site visitors.
Freshness
Search engines prefer sites that are "fresh," or regularly updated. This means that you can't just create a bunch of pages and then let them sit for months at a time, hoping that your site traffic will improve. Of course, if you are happy with the content on those pages, there's no need to change them just for SEO purposes. Instead, consider starting a blog. Even if you only post once a week, this will show search engines that your site is being maintained and updated regularly.
Internal linking
Considering that your site probably only spans one or two industries or interests, there's a good chance that some of your pages, articles, and blog posts are related. Whenever possible, link this content together. If you've written a post about home decorating, for instance, link it to an earlier post about interior design—and vice versa.
Off-page signals
As with people, websites are judged by the company they keep. Your website is ranked based on the number of unique domain names linking back to your site, indicating how many site owners are referencing your content in their own.
Guest blogging
Guest blogging is a great way to attract new audiences and bring more visitors to your website. Take advantage of any opportunity to produce content for another website. If the editor allows it, add links to your website in the article.
Outreach
Links to your site operate like "votes" for its content and quality. Because of this, it's worth spending some time to get them. And although you should never directly ask another site owner to just link to you, look for opportunities to build relationships that could eventually grow into links. When content on another site links to your website, it helps position your site as a reliable source of knowledge and strengthens your search engine rankings in the process.
Time to Level Up Your Sales
Our long list of services helps you grow every aspect of your business with marketing strategies that are proven to increase bottom-line metrics like revenue and conversions.
In the past 5 years, we've managed more than 12.9 MILLION transactions across our client base.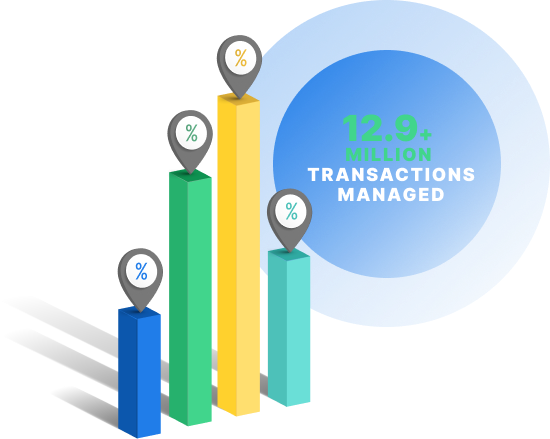 Are you ready to jump in to SEO?
If you're reading this page and already have an SEO strategy in place, congratulations! We hope that it includes our 3 crucial elements so that it can attract the most traffic possible to your website.
If you don't already have an SEO plan in place, and want to increase website traffic with the strategies that we've mentioned, WebFX is the place to call.
We have a full, in-house team of SEO specialists who can help take your business to the next level with SEO.
We can't wait to hear from you! Contact us today for more information and a free quote!
For more information on how SEO increases traffic, or to get started with an SEO strategy, feel free to contact us! Our dedicated team of SEO professionals is more than happy to help you start growing your business with the web.
How Is Your Website's SEO?
Use our free tool to get your score calculated in under 60 seconds.