How Does Voice Search Affect SEO?
Devices like Amazon Alexa and Google Home are becoming more common in U.S. households. In addition to Siri, people use these devices to conduct voice searches. As these devices continue to grow in popularity, it's important that you adopt a voice search optimization plan to reach more voice searchers.
On this page, we'll dive into more detail about voice search and provide you with six tips to optimize your website for voice searches. If you want to learn how voice search optimization can help your business reach valuable leads, call us today at 888-601-5359 to speak with a strategist.
Let's get started!
What is voice search?
If you've used Siri on your phone or devices like Amazon Alexa or Google Home, you may have some experience with voice search. With voice search, you speak to a device and verbally ask a question instead of typing a query.
When you conduct a voice search, the device will either provide an answer taken from a website or direct you to a website for more information.
As the device speaks the answer to you, it will tell you where it got the information.
Some devices, like Google Home, will send a link in the Google Assistant app. This allows users to open the link to read more information on the topic.
How does voice search impact SEO?
Voice search is different from traditional search queries. People don't speak the way they type. This means that you have to account for voice search queries in your SEO plan.
When people conduct voice searches, they tend to ask questions. Instead of searching "car battery for a 2012 Honda Civic" they conduct a verbal search by asking, "Where can I buy a car battery for a 2012 Honda Civic?" or "What type of battery does a 2012 Honda Civic need?"
This means your business needs to account for more conversational queries. People talk to voice search devices as if they are another person — so you need to account for conversational tones and phrases that people use when speaking.
Essentially, voice search requires you to optimize your SEO plan to focus on how users verbally search, what phrases or keywords they use, and what information they want to find.
6 voice search SEO tips
If you want to perform well in voice searches, follow these six tips.
1. Aim for the "position zero" spot
If you want to appear in more voice searches, you need to optimize your site to obtain featured snippets — and ultimately position zero. A study conducted by Moz found that 87% of voice search answers stem from featured snippets. This stat shows how critical it is that you aim for position zero in the search results.
So what are featured snippets (position zero)?
When you conduct a search online, you will sometimes see a box at the top of the search results. It's typically a paragraph of information with your search terms bolded. This box of information — a featured snippet — is pulled from a site that Google believes offers the right answer.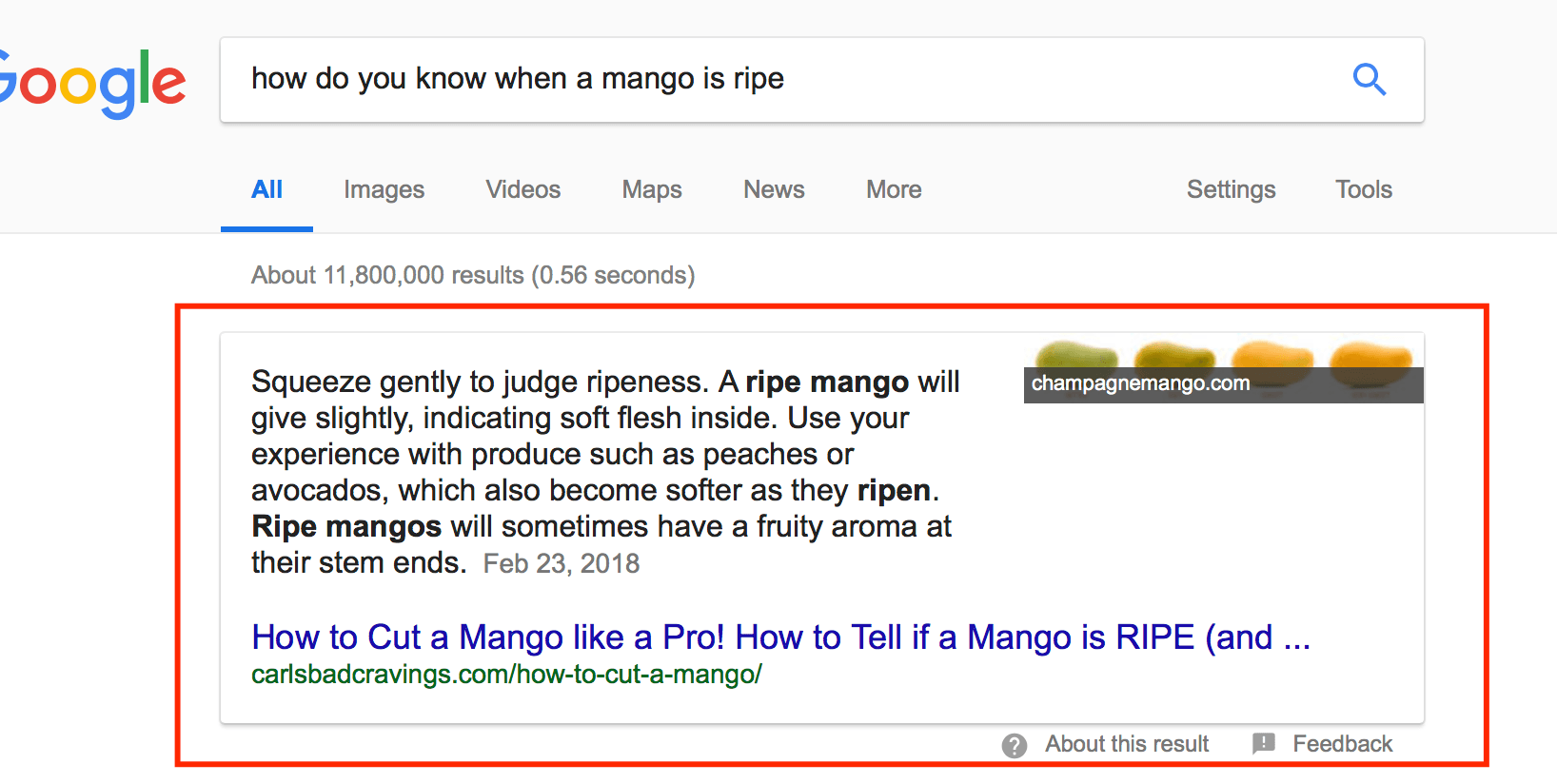 Position zero is when a search result displays a featured snippet above the first organic search result. In a voice search, Google pulls information from featured snippets. They often offer the correct information and the information is concise enough for Google to relay back to the user.
When Google reads the featured snippet, they also attribute the information to the proper website. If your site provided the information, Google will say "According to [website]" or "We found this information on [website]."
Some voice search devices also send links to users if they want to read more. Even if the searcher doesn't visit your website, they will still gain brand awareness — and be more likely to choose your business in the future.
If a search query doesn't return featured snippets, your business has the opportunity to secure one and gain a leg up against competitors.
2. Focus on semantic search
Semantic search is a type of search strategy where you focus on improving your understanding of user search intent. This allows you to create content that better matches what searchers want to find — and ultimately earn more voice search features.
You want to understand your audience's search intent to better optimize your site for those searches.
For example, if someone searches "movies in Philadelphia" through a voice search, they are more than likely searching for movies that are playing in the Philadelphia area. On a desktop search, however, someone could be searching for movies that were set in Philadelphia.
In this case, if you were a movie theater owner, you'd want to optimize for all possible phrases that users could use to find show times. This includes "movies in Philadelphia," and "movies Philadelphia."
When you understand the user search intent, you can optimize to appear in search results related to their query. It will help you better understand your voice search audience, so you can properly optimize your site for those keywords.
3. Create valuable, informative content
When you create content, it's tempting to use terms and jargon native to your field, but your average reader may not know what those terms mean. If you want to optimize effectively for voice search, write in a language that your audience uses.
It's better to write content that is conversational because it will appeal more to your audience. They will understand your content, too. If they conduct a voice search, they can easily understand your information when it's written in the conversational language they use.
Want to get a better sense of how your customers speak and what interest them? Take a look at how they interact on your website and social media. This will help you understand your audience better and write in a way that makes sense to them.
It's also important to account for how your audience phrases voice searches. They will generally ask questions starting with who, what where, why, when, or how.
You can also use Google autofill to get an idea of how people search for a particular topic.
4. Make sure your brand name is readable
If you manage to get a featured snippet, it's a great way to expose people to your brand. It's important, however, that your brand name is easily readable by Google. If Google can't pronounce your brand name, your audience won't understand it or remember it.
To know if your audience will understand your website, conduct a radio test. Radio tests focus on different aspects of your business's name to see how it could be misconstrued by your audience.
For instance, if you have the number 2 in your businesses name, your audience could easily get confused upon hearing it. Is it 2, two, to, or too? Your audience may be able to guess based on context, but if they aren't familiar with your brand, they may not know.
This also happens with words that sound similar. For instance, C, see, and sea all sound the same when someone says them. Upon hearing that in a voice search, your audience wouldn't know which form of "see" it is.
These are just a few of the tests you need to pass to have a readable brand name. Make sure your brand name is readable, so leads will remember your site and visit it later.
5. Claim your Google Business Profile
Many voice search queries come from people looking for local businesses. They'll ask questions like "Where's the closest pizza shop near me?" or "Where can I buy car tires?"
Your Google Business Profile listing is the key to driving local traffic. When users conduct voice searches on Siri, Siri generates a list of the top three places near that person. This is known as the local SEO 3-pack.
To appear in the local SEO 3-pack, claim your Google Business Profile. Once you've claimed your listing, fill out all the information for it. Pay special attention to the contact information, address, and hours of operation to ensure they are accurate and up-to-date.
These pieces of information are important because voice searchers will ask for this information most often. They'll want to know where your business is located, know when it's open, or call to get more information.
You can also optimize your listing by including links to content, photos, and earning reviews. If you put in the time to optimize your Google Business Profile, you'll see positive results.
6. Create an FAQ page
When people conduct searches, they typically pose questions to find answers. By creating an FAQ page, you can help drive leads to your site by providing the answer to their question.
FAQs are great for creating answers to common questions surrounding your products, industries, and company. You can provide your audience with knowledge and help them get to know a little more about your business.
Creating an FAQ page can get your information featured in snippets. If you want to take it a step further, you can create content that directly addresses common questions. It's beneficial to help your business attract valuable leads.
WebFX will help you optimize your site for voice search
Voice search will continue to grow in popularity as mobile devices get more sophisticated. To keep up with this changing technology, you must optimize your website for voice search. At WebFX, we have a team of 500+ experts that will help you adapt your site to perform well in voice searches.
We're a full-service digital marketing company that specializes in SEO. We have more than 25 years of experience creating impactful SEO plans that drive results. Our team of experts know how to adapt your SEO plan for voice search.
If you're looking for a company that drives results, look no further than WebFX. To date, we've driven over $3 billion in sales and over 7.8 million leads for our clients.
Our clients love the work we do, too. In fact, we have over 1020 client testimonials that attest to the great work we do for our clients. Check them out to see what it's like to partner with a top SEO company like WebFX!
Get started today
If you're ready to start optimizing your business' site for voice search, contact us online or call us today at 888-601-5359 to speak with a strategist.
We look forward to hearing from you!
How Is Your Website's SEO?
Use our free tool to get your score calculated in under 60 seconds.