You've probably heard about the benefits of search engine optimization (SEO), such as how it can bring more qualified traffic and leads to your site by helping you rank in Google for relevant keywords. But is SEO cost-effective? Is SEO worth the money for your business?
In short, yes, SEO is a valuable digital marketing strategy for a wide range of business types. You need to use the right strategies, though, to get the most out of your SEO. In this post, we'll discuss why SEO is cost-effective and how to get the most return on investment (ROI) from your SEO.
Have questions about the cost of SEO? We have answers in the video below! Check it out before you continue reading!
At WebFX, we create custom, data-driven SEO strategies for our clients, and we've been named the world's top SEO company by Clutch. If you'd like to learn more about digital marketing from our team of experts, sign up for our email newsletters!
Is SEO cost-effective?
Yes, SEO is cost-effective if you have the right strategies in place and, if you outsource your SEO, you choose the right partner.
Organic search drives more than half of all web traffic, and SEO helps you capture some of this traffic and bring qualified leads to your website without breaking the bank.
What makes SEO so cost-effective?
Did you know that 89% of marketers say that SEO is a successful strategy? Let's look at some of the reasons it's so successful and why SEO is worth the money to so many businesses.
1. Your customers use search
Chances are, your customers are using search engines. About 93% of online sessions start with a search engine, and 71% of B2B customers begin their research with search. If you want to earn more customers online, you need to go where they are by establishing a presence on search engine results pages (SERPs).
It's not enough, though, to just let Google index your pages. Nearly 95% of search traffic goes to the first page of results, so you need to rank well for keywords relevant to your industry. SEO enables you to accomplish this task.
2. SEO provides high-quality leads
For search traffic to really help your business, it needs to come from users who are likely to become customers. SEO enables you to bring high-quality leads to your site through keyword research. Keyword research, an integral part of SEO, involves performing analyses to determine which keywords your future customers are searching to find information related to your industry, company, and products or services.
The fact that these leads are searching terms related to your business shows that they're qualified. For example, if you run a music store, your customers might be searching "how to fix warped guitar neck" or "guitar stores in [name of your city]." Here's what part of the SERP for "guitar stores in Baltimore" looks like: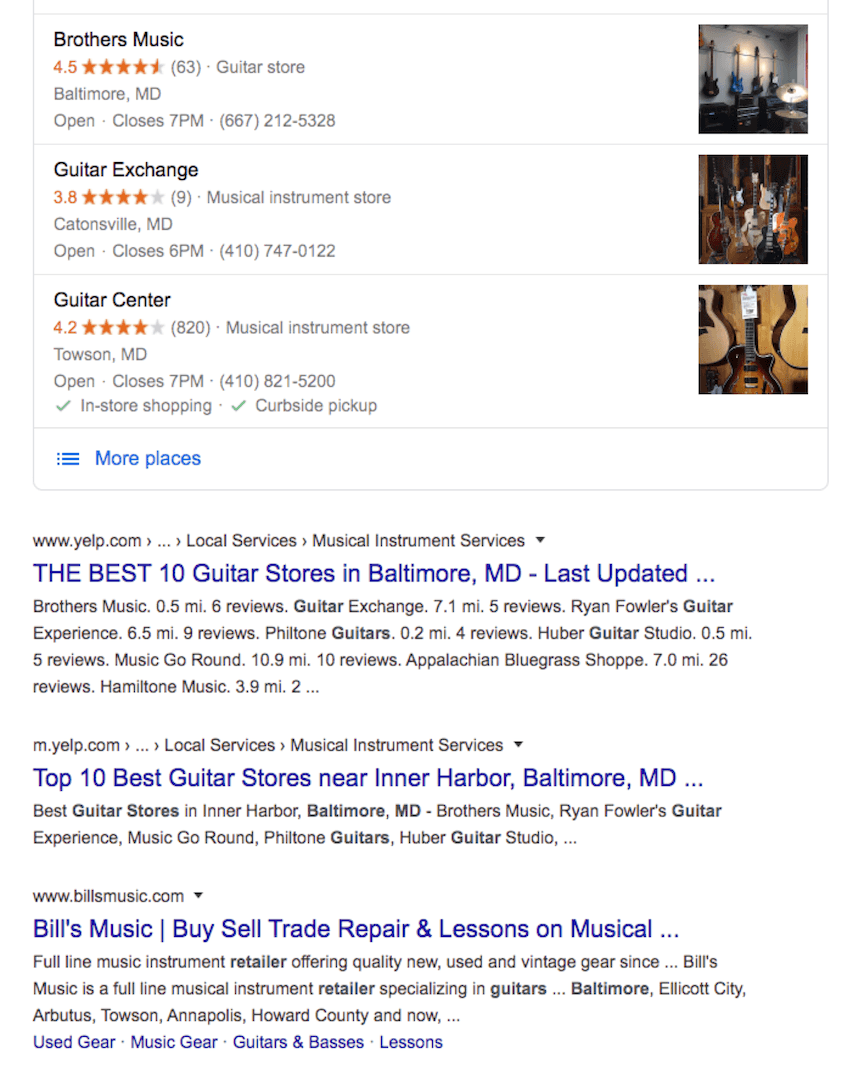 The high close rate of SEO leads provides more evidence that it produces highly qualified leads. SEO leads have a close rate of nearly 15 percent, compared to the two percent close rate of traditional marketing leads.
3. SEO provides long-term success
SEO is an investment that continues to provide benefits over the long term. When you pay for ads, you stop getting results when you stop paying for ad space. In contrast, SEO builds up your site authority, content, and visibility in search engines sustainably over time.
As long as you keep up with your SEO, the content you create will continue to bring in traffic for a long time after you publish it. And, the more you build your site authority, the faster you can rank new content. Is working with an SEO agency cost-effective?
What about working with an SEO agency? It's possible to do some SEO work yourself, so is paying for SEO worth it? While you can do SEO yourself, learning SEO takes time.
More than 200 factors impact your rankings, so there's a lot to take into account. Because SEO takes a long time to master, it will take you a while to launch your SEO strategy, and the process will involve a lot of trial and error. SEO is a long-term strategy, but with a DIY approach, it takes even longer to see results.
The time you spend learning SEO, implementing your strategy, and correcting mistakes is also time you could spend on your core business. Professional SEO agencies have the experience, knowledge, and resources necessary to get optimal results quickly. While you'll pay more up-front, you'll get a higher ROI, making the upfront costs worthwhile.
If you have a lot of time on your hands and don't mind waiting to see results, doing your own SEO can be a smart approach. Otherwise, paying for SEO services is typically more cost-effective.
How to get the most out of your SEO
SEO is generally a cost-effective strategy, but you need to take the right approach to get the most out of it. Here are some tips to help you get the best SEO ROI.
1. Use a custom strategy
Some companies use a cookie-cutter approach to SEO work, but this often produces lackluster results since it doesn't take into account the unique needs of your business. These types of strategies also aren't able to adapt quickly to changes. To get the most out of SEO, you need a strategy tailored to your business's needs, goals, and audience.2. Use SEO alongside other digital marketing strategies
SEO works well with other types of digital marketing and helps you get the most out of your efforts in other channels. For example, creating content as part of your SEO strategy gives you something to share on social media. Or, people might discover your brand through organic search, and because they're familiar with it, they might later click on one of your pay-per-click ads.
SEO provides the most benefit when it's part of a well-rounded digital marketing strategy.
3. Track your SEO ROI
It's essential that you track your SEO ROI or work with a digital marketing company that provides regular reporting. Monitoring your SEO campaigns allows you to see what's working well and what's not so you can adjust your methods as needed. Measuring your SEO ROI also provides evidence of your SEO's cost-effectiveness. You can use your ROI data to determine how much you want to invest in SEO in the future.
Google Analytics is an incredibly useful tool for measuring your SEO ROI. To measure ROI in Google Analytics:
Set up conversion tracking, which allows you to track sales, leads, and other conversions on your site
Sort your conversions by channel to see how many of your conversions you can attribute to organic search
Calculate your revenue from organic search conversions and divide it by the cost of your investment
In this example from Google Analytics' Assisted Conversions report, you can see that organic search led to 773 conversions, which equaled about 24% of total conversions and provided a value of $741.60.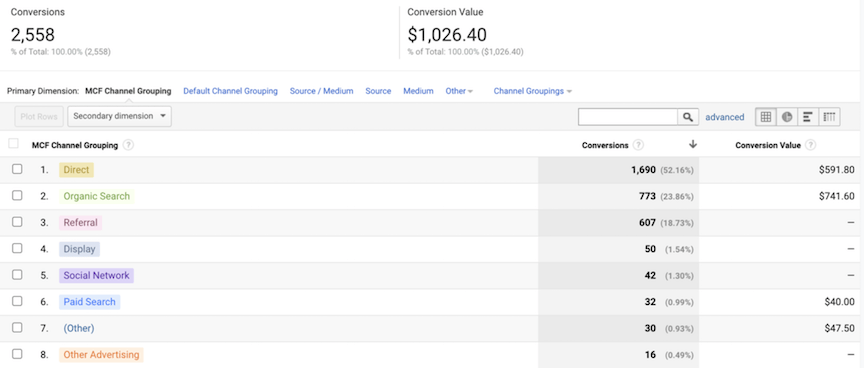 For more details on how to measure the ROI of SEO with Google Analytics, check out this blog post.
4. Choose the right SEO partner
Another key to getting the most out of your SEO is choosing the right company as your partner. When evaluating an SEO company, ask your questions such as the following:
Get the most out of your SEO with WebFX
At WebFX, we have more than 25 years of experience in digital marketing, and our strategies have generated more than $3 billion for our clients over the last five years. If you'd like to get more digital marketing insights from our team, join 200,000 marketers in signing up for our email newsletters. To learn more about how we can help you get the most out of your SEO, request a free quote today.
How is your website's SEO?
Use our free tool to get your score calculated in under 60 seconds.
WebFX Careers
Join our mission to provide industry-leading digital marketing services to businesses around the globe - all while building your personal knowledge and growing as an individual.