SEO Content Strategy: 7 Tips for Creating SEO Content
You've been optimizing your site for months with search engine optimization (SEO) techniques and feel great about the work you've done. With this newfound confidence, you decide to check your analytics and see if your hard work has paid off. Much to your dismay, you don't see a significant increase in traffic on your site. You may be in need of a new SEO content strategy to drive consistent growth for your business.
You decide to spy on your competitors and see they're ranking for all kinds of keywords and pulling in significant traffic to their site. But how are they doing it? What are you missing?
There is a good chance your competitors have an SEO content strategy.
How to create SEO content in 7 steps
What is an SEO content strategy?
SEO content creation is when you write your site's content with the intention of ranking highly in search engines. When you promote your business with an SEO content strategy, you focus on creating high-quality, optimized content so people can find your business in search engines, and ultimately, form a relationship with your business.
Truth be told, your SEO and content strategy should usually be tied together.
SEO content is critical if you want to help your business appear in more relevant search results and ramp up traffic on your site. When you write your content with SEO in mind, you focus on creating optimized and relevant content that enables you to reach more leads and drive them to your site.
Your competition's already doing it, and now, it's time you do it too!
On this page, we'll provide you with seven tips for creating SEO content that helps you rank better in search.
If you find you can't get enough of these helpful tips, subscribe to Revenue Weekly to get more useful tips and tricks for creating content for SEO! Or you can call us today at 888-601-5359 to jumpstart your SEO content strategy!
How to create the best SEO-friendly content
Below, we'll talk about tips to help you create an SEO content strategy that will achieve real results.
1. Figure out who you're targeting
The first item on our list of SEO content creation tips is in regard to your target audience. If you want to develop a successful SEO content strategy, you must know exactly who you want to reach with your content. Without knowing your target audience, its' nearly impossible to write content for them.
So, how do you determine your target audience?
It's simple — look at your current customer base!
Look at who currently purchases your products or uses your services. You'll want to define information like:
Demographics (age,gender)
Interests
Hobbies
Socioeconomic status
Occupation
And more
This information will help you create marketing personas. Marketing personas are fictional depictions of real customers that visit your business. Having these profiles helps you see the different types of people you target, so you can create content that resonates with them.
2. Generate a list of topics
Next on our tips for creating SEO content is choosing your topics. Your content topics focus on concepts or ideas that your audience wants to know about and learn more. These are not keywords (which we'll dive into next), but general ideas for topics you can cover.
Pretend you own a garden center. You want to generate content, so you decide to create a list of ideas that relate to gardening. It might look something like this:
Creating gardens
Caring for gardens
Choosing plants
Planting
Watering plants
These are fantastic topic ideas for longform content, or content that's longer than 2000 words. That's because they cover broad, general topics.
However, you can certainly write content on more detailed topics, too.
So, let's look at the topic "planting." Think about what type of questions your audience would ask regarding planting. Your audience may ask questions surrounding topics like:
How to plant a specific plant
Time of year to plant certain types of plants
Types of plants to plant (based on location, yard type, etc.)
Tools needed to plant
Poisonous plants for animals
Now you've got two lists of topics! Generating a list of topics will help jumpstart your SEO content strategy so you can start producing content your audience wants to see.
Feeling stuck on creating content topic ideas? Use our free blog post idea generator to help you get past your creative block!
3. Identify your keywords
Once you know the topics you want to cover, it's time to do some keyword research. Keyword research will help you identify what terms to use on your page so you can rank highly in search results and attract relevant traffic.
You can use a tool like KeywordsFX to help you find relevant terms for your page.

So, let's take the topic of types of plants for deserts. If you pop in the term "plants for deserts," you'll generate a list of valuable keywords you can use for the page.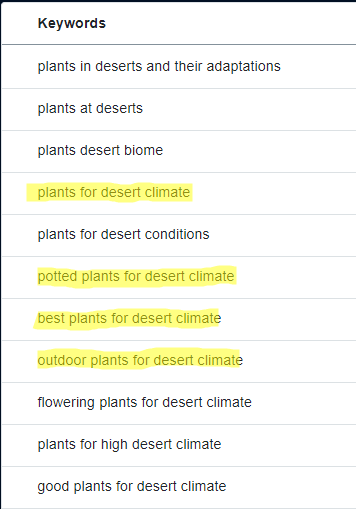 As you can see, you get an abundance of great keywords like "plants for desert climate" and "best plants for desert climate."
One thing you'll notice with most of these keywords is that they tend to be longer. In general, you'll want to focus on these long-tail keywords, which contain three or more words, for your content. Long-tail keywords help you reach more qualified leads looking for your content because the searches are specific, making these leads more likely to hold an interest in your business.
4. Use a variety of content formats
If you want to follow SEO content best practices, the next step is to use a variety of content formats. There are many different content mediums available to your business, including:
Ebooks
Guides
Podcasts
And more
You'll want to use a variety of these content formats to keep your SEO content strategy engaging for your audience.
Out of all these content formats, it's most critical for SEO, that you create a blog.
Blogs have a resounding impact on SEO and your business. Here are just a few stats from SEO Tribunal that show the effects:
Companies that blog get 97% more links to their website
Companies that blog receive 434% more indexed pages (meaning more pages appearing in search results)
Companies that blog have 55% more visitors to their site
Blogging has a massive impact on earning more links, indexed pages, and visitors to your site — all of which have a positive impact on your SEO.
You can even double down on some types of content! For example, you could create a blog post that features a video you created to help drive traffic to your blog and keep users engaged on the page. It creates a win-win situation that enables you to rank higher in search results.
5. Integrate keywords on your content pages
Next on our list of SEO content best practices is keyword integration. You can't rank in search results if you don't integrate keywords on to your page.
Generally, you'll want to integrate your core keyword into your:
Main page heading
Subheadings (H2s, H3s)
Body text
Here's a great example from Chewy. When searching for the term "poisonous plants for dogs," Chewy's listing pops up in search results with the keyword integrated into both the title tag and meta description.
When you visit the page, you see the keyword, again, in the main page heading.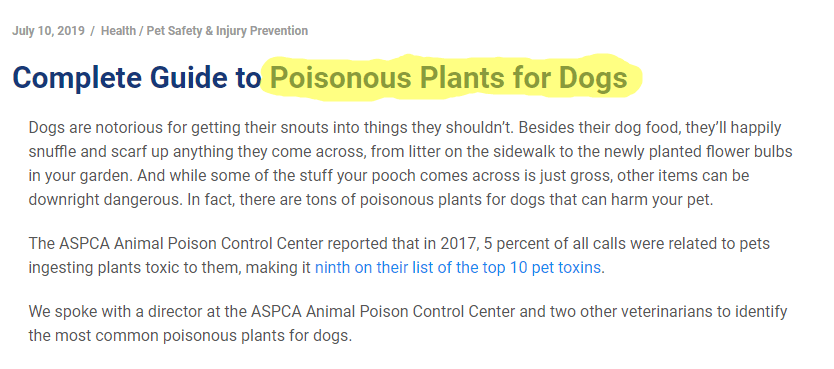 As you scroll further down the page, you'll find the keyword in the page's subheading, too.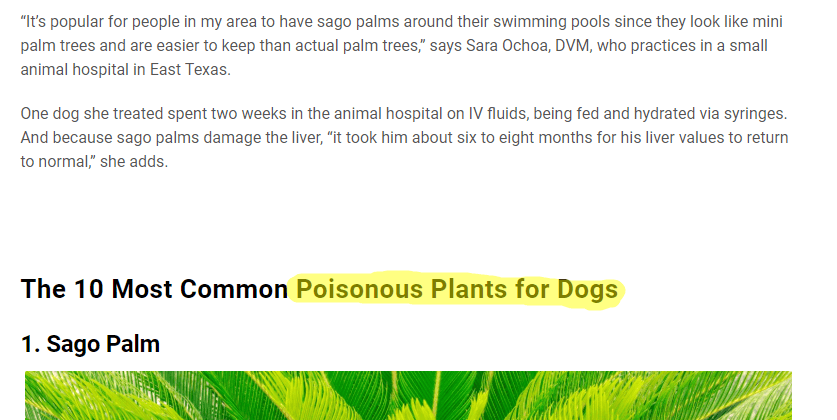 Lastly, you'll find Chewy integrated the term throughout the body text on the page.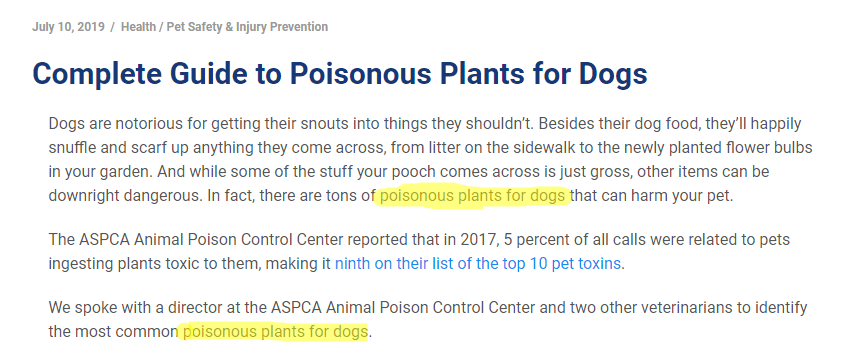 Chewy is an excellent example of how to integrate your keyword into the different components of your page to help you rank in search results.
But wait! When you're integrating keywords, don't incorporate them too much. This practice is called keyword stuffing, and when you try to stuff your keyword into the page too much, it has negative repercussions for your business.
6. Create a content calendar
As you focus on how to optimize content for SEO, don't forget that you need to publish content often to be effective. To help you stay on top of posting content frequently, create a content calendar.
A content calendar will help you stay organized. It can help you plan out when you're going to create, edit, and publish content for your company, and it helps hold your team accountable and ensures you're posting enough.
When you're creating your content calendar, you'll only want to plan three or four weeks in advance. Since your business, budget, and audience can change frequently, you don't want to waste time developing a year-long content plan that changes within a month.
Not sure where to start with your content calendar? Check out our free blogging calendar template to help you get started!
7. Analyze your content performance
As you're pumping out content and optimizing it for search engines, don't forget one of the most critical SEO content best practices: monitor your content.
You need to monitor and analyze your content performance to ensure your current content strategy works. Metrics in analytics reports also provide you with valuable insight into which pieces of content engage or interest your audience.
When you analyze your content, you'll want to look at metrics like:
Traffic
Pages visited
And more
Tracking this information helps you see which blog posts garner the most engagement, which can help shape your SEO content marketing strategy for the future.
Create your one-of-a-kind SEO content strategy with WebFX
No SEO strategy is complete with an SEO content strategy. When you know how to create and optimize content for SEO, you can help your business rank in more relevant searches and drive more credible traffic to your site.
You might feel like this is a big undertaking, but that's where WebFX can help. We have over 25 years of experience creating SEO content strategies that help companies grow online.
When you partner with us, you're partnering with a team of 500+ experts that know how to drive results. We've driven over $3,021,182,299 in sales and 7,839,684 leads for our clients. We love helping our clients thrive online, and we can help you too!
Give us a call at 888-601-5359 to speak with a strategist or contact us online to see how we can help you develop an SEO content strategy that works.
How Is Your Website's SEO?
Use our free tool to get your score calculated in under 60 seconds.