SEO for Multiple Domains: Your Multiple Domain Strategy
You've just taken inventory of your current marketing campaign and you're looking for a way to up the ante in terms of SEO.
Although you're driving significant traffic to your original website (or maybe you're not), you want to find a way to dominate search engine results pages so that users will have no choice but to click on your website in SERPs.
If this sounds like you, and your business sells a wide enough variety of products to branch out into niche brands, it's time to talk about SEO on multiple domains.

You may have heard of this strategy before, or it might be news to you. Either way, on this page, we'll talk about SEO for microsites, as well as a multiple domain strategy to help your business increase website traffic, sales, and even revenue.
Keep in mind that not every business needs a multi-domain strategy, and not every business fits the bill. You'll only want to consider creating a microsite if you're looking to create a niche brand from your original storefront.
As with any strategy, there are pros and cons to a multiple domain strategy, so we'll cover those as well!
If you're ready to get started, keep reading, but if you'd like to speak with an SEO specialist about SEO on multiple domains, give us a call at 888-601-5359!
Our digital marketing campaigns impact the metrics that improve your bottom line.
See More Results

WebFX has driven the following results for clients:

$3 billion
In client revenue

7.8 million
Leads for our clients

5.2 million
Client phone calls
Why consider SEO for multiple domains
Whether you've heard of SEO for multiple domains before or not, it's time to talk about the basics.
In short, when you operate a multiple domain strategy, it allows you to win over more real estate in search engines, which consequently means that you'll likely see more clicks to your website. This strategy allows you to essentially saturate or take over search engine results so that users are more likely to land on your website.
But how so? This strategy involves creating multiple domains for your business. These are also known as microsites. This could be for a niche segment of your brand, or it could be a separate microsite that is different from your original brand.
Either way, more websites mean more opportunities to rank for specific keywords and take over more room on search engine results pages.
SEO for multiple domains is useful for companies that want to take their marketing campaign to the next level, but keep in mind, you won't see results overnight with this strategy. You won't even see results in a month.

When you opt for a multiple domain strategy, it takes lots of time and effort to successfully plan and execute your campaign, so if you're looking for a quick marketing win, SEO for multiple domains isn't it.
If you're okay with waiting and creating a strategy that will serve you well in the long-term, SEO for multiple domains is for you.
Let's talk more about the pros and cons of operating a multi-domain strategy.
How to do SEO for multiple domains
If you've decided that SEO for multiple domains is for you, follow the steps below to get started.
1. Come up with a niche brand name
First things first, you'll have to come up with the branding for your new niche site. This is just as important as the branding of your original site, since it will help users recognize and become familiar with your new brand.
You might consider creating a brand that is similar in style to your original so that users can easily draw comparisons and mentally connect your two business to each other.
You'll want to come up with a color palette for the new brand, a logo, and a name, as well as minor style details. To stay consistent, you might follow the design guidelines of your original site.
2. Create a domain
Visit a site like GoDaddy.com to purchase a new domain name that fits your new brand. You'll need to find one that isn't already taken, and one that speaks to the name of your niche brand.
After you create a domain and have it up and running, it's time to optimize it for SEO.
3. Create content
Your new microsite is fundamentally the same as your original website. You'll need to create amazing content that targets your new niche keywords in order to increase and gain traffic traction to your new site.
Without content, your new microsite won't have anything for Google to rank, and it'll never end up in SERPs or see traffic.
4. Mention your microsite on your original site
You'll want to make sure that our original site mentions and links to your microsite. Consider placing it somewhere in the header or footer, so that there is a reference to your niche brand on every page of your site.
5. Create social media profiles for your new niche brand
Making an online presence for your niche brand is just as important as it was for your original brand. You'll want to be sure to create a social media presence for your new brand — that means creating Facebook, Instagram, Twitter, and Snapchat profiles for users to follow.
To ensure that you don't confuse users, be sure to not link to your microsite's social accounts on your original site — but do be sure to link to them on the matching niche brand's website.
6. Optimize for SEO
Implementing SEO on your niche site is the same as SEO for your original site. You'll want to optimize for your new niche keywords and ensure that they make it into your content. That way, you can rank for your ultra-niche product and service terms and increase traffic to your microsite.
Independent research from Clutch has named WebFX the
top SEO company

in the United States.

Clutch has personally interviewed more than 250 WebFX clients to discuss their experience partnering with us.

Read More Clutch Reviews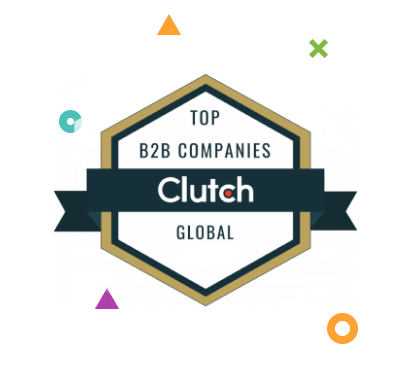 Pros of a multiple domain strategy
Let's talk about the good stuff first. There is obviously more than one positive aspect of adding multiple domains to your marketing strategy. Otherwise, it wouldn't be used by some of the biggest brands out there like Shutterfly and Procter and Gamble.

For example, Shutterfly's sub-brand, Tiny Prints, has its own domain, but it's still clear that Shutterfly is the big name.
Here are some serious pros of adding a multiple domain strategy to your current marketing campaign:
1. You take up more space in search results
Plain and simple, the more URLs you have ranking in search results, the better chance you have of selling your products overall.
For example, if you own an outdoor supply shop that caters to hundreds of outdoor activities, it would be an effective tactic to create a microsite that is branded especially for your fishing gear. That way, when users search for "bass fishing lures," not only will your main site rank, but so will your microsite.
That means you have double the chances of a user landing on your site — and potentially even triple if you're also running PPC ads.
Check out how Shutterfly and Tiny Prints together, are taking up tons of space on this results page.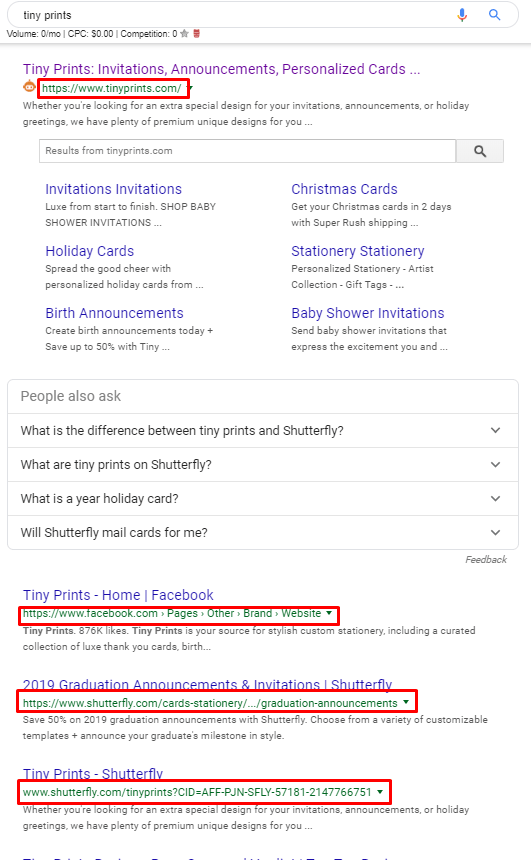 It's important to remember though, just because you launch a microsite doesn't automatically mean that both your original site and your microsite(s) will rank.
The example above was based on the scenario that you're able to write beneficial, intriguing content for users that Google ranks highly based on target keywords and other algorithm elements.
The same SEO principles apply to microsites, so the fact that you are running SEO on multiple domains doesn't automatically mean that both will rank highly. However, if you can create stellar content and target the right keywords, the results of SEO on multiple domains can help you take up more space in search results — helping you achieve more clicks overall.
2. You can get extremely granular with search intent
Google is getting smarter and smarter, and it's never acceptable to simply stuffing your keywords into your content — as a matter of fact, you can be penalized for that.
Instead, you have to write content that actually appeals to the reader, and much deeper than that, you have to write content that caters to their needs.
For example, if you write a surface-level piece of content that outlines the different kinds of fishing, you may not rank — even if you sprinkle your target keyword naturally throughout the content. Instead, you have to home in on what your audience actually wants to know about fishing locations and write about that.
Do they want to know what kinds of fish you can catch? When the best time of year is to fish those locations? It's about more than just target keywords — you have to match your audience's search intent.
When you create multiple domains, you're able to cover more granular topics related to your brand, and more effectively hit on search intent. Of course, a blog would be effective on your home site, but creating a more niche blog to speak to specific user intent on your microsite can be even more effective.
Not to mention, users that visit a microsite with super niche, user-intent focused information are far more likely to convert. That's because they're on a site that they already know they're interested in.
3. You can sell your products on both sites
It's likely that you've considered duplicate content issues if you're posting your products on two separate domains.
However, one of the benefits of having a multiple domain strategy is that you don't have to worry about duplicate content when it comes to your products and services. You can still sell the same things on both websites.
Not only that, but when you're able to sell the same products in two locations, it doubles the chances you have of making a sale.
Where you do have to be careful is written content like article pages and blogs. You won't be able to simply "copy and paste" content from your original domain to your microsite. This could cause Google to detect duplicate content.
Cons of a multiple domain strategy
Now that we've looked at the pros involved with a multiple domain strategy, it's time to look at some negative factors.
In deciding whether or not you should opt for a multiple domain strategy, it's important to consider both the positive and potential negative elements of creating microsites.
1. Your branding can become weak in the process
In the process of creating a multiple domain strategy, you can see a decrease in the overall quality of your branding. Although proper SEO on your multiple domains can keep your branding strong, it's more likely that it can be weakened in the process of creating microsites.
Consider this, if you create a microsite based on your outdoor brand that caters to fisherman, you now have to create a logo to go with it. It's crucial that you have separate branding so that users are able to realize your microsite as a brand of its own, but it can be hard to provide equal branding efforts for two websites.
The logo isn't the only thing you'll have to take care of — you'll also have to create separate social media accounts for your second domain, as well as niche content, PPC ads, and any other marketing strategies you want to add to the pot.
Depending on the size of your company, spreading yourself too thin when it comes to branding two companies can put a strain on your original business.
If you want to take the leap and pull off SEO for multiple domains, you'll need a dedicated marketing partner to help.
Did you know that WebFX is a full-service digital marketing agency that can help take your business to the next level with a multi-domain strategy? It's true!
2. Microsites usually take a long time to rank
Even though a multi-domain strategy might sound like a great idea, it's only worth the time and effort if you're okay with waiting for results.
There is a lot that goes into creating a microsite — you're essentially starting another business website from scratch. Here are the action items you'll need to take with your second domain:
Write fresh, niche content
Create new branding
Create social media accounts for the new brand
Create email marketing campaigns for the new brand
Copy relevant products and services from your original website
Perform SEO on the new domain
Just as your first website took time to rank, your microsite will, too.
3. It may confuse your customers
SEO for multiple domains is only successful if you're good at communicating with your audience about your second brand. For example, some brands do a great job at adding their original brand to their second domain — something like "Elf Yourself by Office Max."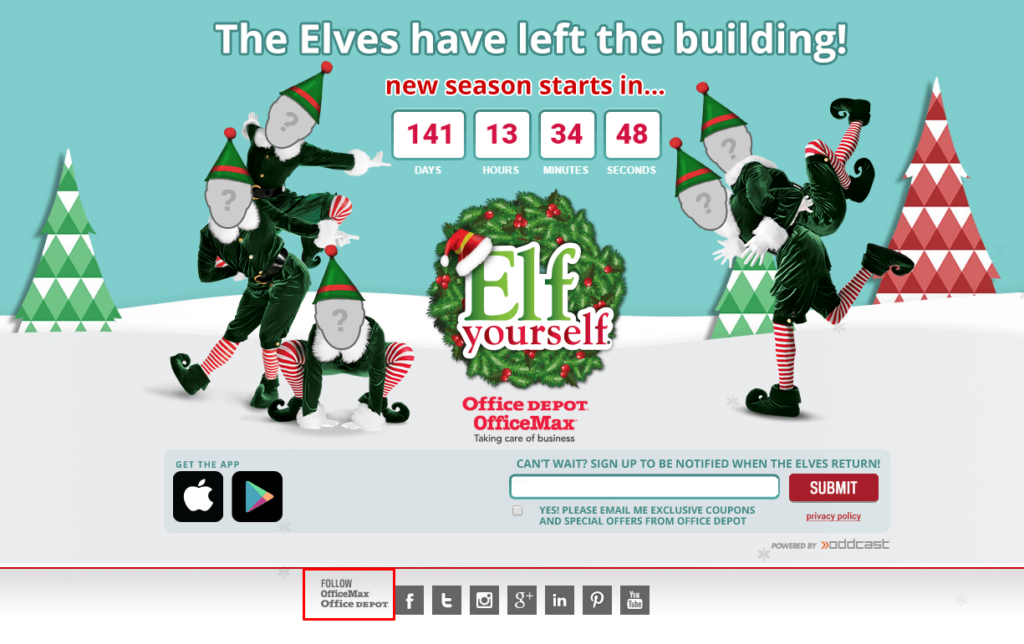 Office Max has branding all over the site, so users know that Elf Yourself is a brand that belongs to Office Max.
The waters can get muddy if you mention your original brand on your microsite, or vice versa, without ever mentioning that your brands are connected. The confusion among your multiple domains can confuse people and leave them wondering who they're actually shopping with.
What's the consensus on a multiple domain strategy?
The key takeaway?
A multi-domain strategy can definitely be effective if you have the right kind of business. For example, if you own a huge company that offers tons of products, and you're looking for a way to branch off into "niche online stores," a multi-domain strategy could be perfect for you.
However, the only way to ensure that you reap all the benefits of a multiple domain strategy is to implement SEO on multiple domains.
SEO is the key to ranking, and without it, your sites won't rank highly — depleting the purpose for them in the first place.
SEO involves tons of micro-strategies that allow your website to rank highly for the terms that mean the most to your business, as well as your microsite.
In doing SEO properly, you'll be able to take over search engine results pages with two domains instead of one and increase your chances for new customers and more sales.
WebFX can implement SEO on multiple domains
If you're ready to take the leap of faith and opt for a multiple domain strategy, WebFX is here to help.
We are a full-service digital marketing agency which means we offer far more than just SEO. Not only can we implement SEO on your multiple domains, but we can actually help create those domains for you.
Our award-winning web design team can take your original brand and help it grow with a niche website that helps you attract key clients.
We also have an entire department dedicated to custom content creation so that your microsite has the best chance to rank highly in Google.
If you're ready to implement SEO on multiple domains, WebFX is here for you.
Contact us online for a free quote, or give us a call at 888-601-5359 for more information!
How is your website's SEO?
Use our free tool to get your score calculated in under 60 seconds.