How to Create an SEO Plan Like a Pro
With almost 90 percent of marketers crediting search engine optimization (SEO) as a successful strategy, you know that it's valuable and can help your company thrive. Launching an SEO strategy, however, isn't easy. That's why it's critical to invest time in building your SEO plan.
This quick guide provides everything your team needs when it comes to SEO planning, from a step-by-step overview of how to build search engine optimization plans to a helpful FAQ that answers some of the most common questions about SEO strategy plans.
Learn more about creating your company's SEO strategy now!
If you're looking for professional help with building, launching, and managing your campaign, WebFX can help. With our decades of experience and impressive client results, we're the trusted choice for small-to-midsized businesses worldwide.
Just contact us online or call us at 888-601-5359 to learn more!
What is an SEO strategy?
An SEO strategy, also called a search engine optimization strategy, is the process of developing and implementing an SEO plan that works toward your SEO goals, like producing more SEO content or achieving higher rankings in search results.
1. Conduct a website SEO audit

Before your company develops any search engine optimization plans, you need to evaluate your current strategy and status. Even if you don't have an SEO strategy, it's still essential to conduct an audit because it provides your team and business with a baseline for your performance.
You can audit your site a few ways, including:
In-house
While an in-house audit can save your company money upfront, it isn't always the best option.
If you're new to SEO, for example, handling your audit in-house can cause your team to miss several critical SEO factors. You may forget to evaluate your page speed, for instance, or to analyze your internal linking strategy.
Even if you have an extensive SEO background, leading your audit in-house can cause you to overlook obvious, but broken features of your site. That's because, like everyone else on your team, you look at your site every day, which is why it's helpful to get a third-party perspective.
Free SEO audit tools
Whether you're auditing your SEO strategy in-house or with the help of a third-party, it doesn't hurt to use a free SEO audit tool. While the free versions of these SEO checkers rarely provide an in-depth look at your website, they can highlight some features you've missed.
WebFX, for example, offers a free SEO audit tool that can analyze and grade individual pages.
While you can take advantage of tools like these, it's more valuable (and better use of your time) to get input from an experienced professional. That way, you can build an informed and accurate step-by-step SEO website strategy for your business.
Professional SEO audit services
Companies can also invest in professional SEO audit services, which generally offer the most value.
With a professional audit, your business receives instant access to an SEO expert. They evaluate your site, discover issues, and then compile a list of actionable recommendations. In some cases, the company conducting the audit may include services for making those changes on your site.
When it comes to SEO planning, a professional audit provides your SEO strategy with a solid foundation. You've had an experienced professional take an extensive look at your site and provide your team with actionable insight into where you can improve.
No matter how you audit your website, an SEO audit should look at the following:
On-page optimization: Your on-page optimization includes everything on your site, like your internal linking structure, image optimization, page content, and more. If you're completing this process in-house, it requires technical and non-technical SEO knowledge.
Off-page optimization: Your off-page optimization includes your online presence outside your site. Your backlink profile (or the number and quality of websites linking to yours) is a critical part of off-page optimization.
If you audit your website in-house or with an SEO audit tool, compile your results in a shareable location. For example, you can upload data to Google Sheets. That way, you can access the information whenever, plus share it with team members.
2. Research your target audience
Developing an SEO strategy goes outside your website. While companies will often start optimizing their site for search engines, like by writing and publishing blog posts, many skip the critical step of analyzing their target audience.
You may have a compilation of buyer personas already, but a successful SEO strategy plan needs more than that. It needs to understand how your audience searches and interacts online. That way, you can find not only relevant keywords but also create relevant content that speaks to your audience.
Learn more about your audience by taking advantage of these research tools:
Industry forums
Customer support staff
Sales team members
When you start your research, you want to focus on answering these questions:
Who in the industry does my audience trust when they're looking for answers?
Where does my audience go or what platforms do they use to find answers?
What questions does my audience have about our industry, products, or services?
What are my audience's pain points when it comes to products or services in my industry?
What does my audience expect from a product or service provider?
With a more in-depth insight into who your audience is and what your audience wants, your business can build a competitive SEO strategy plan. You can discover searches and keywords, for example, that matter to your audience and write content that speaks to them and earns their attention.
3. Complete a competitor analysis
If you want to make the most of SEO planning, however, your team should take the time to evaluate your competitors. A competitor analysis can help your company (or SEO agency) uncover opportunities for your strategy, as well as weaknesses in your competition's approach.
Before your team starts evaluating your competitors, it's essential to understand that your online competitors aren't always your direct competitors. Depending on your keyword strategy, you may compete with industry blogs or companies in a different sector of your industry.
For example, if a footwear company wants to create a blog post about the best track running shoes, they may write a post that targets the search, "best shoes for running track," and discover that several blogs top the search results, versus footwear manufacturers.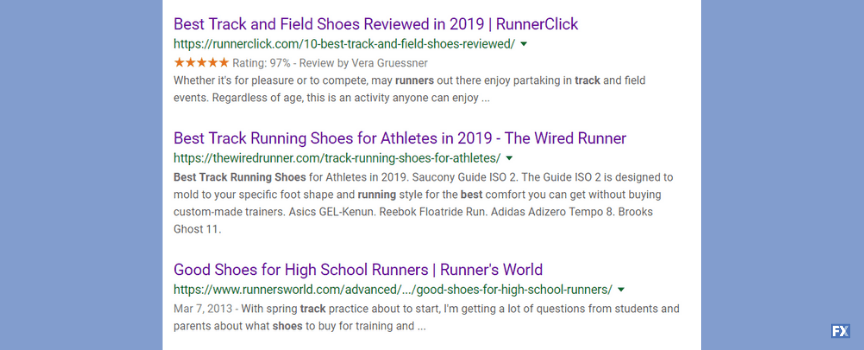 In comparison, if your business targets searches with a buy or purchase intent, like "asics cosmoracer," you'll encounter more direct competitors in search results. In the example below, for example, you have not only the manufacturer (ASICS) appearing in search results but also resellers like Amazon.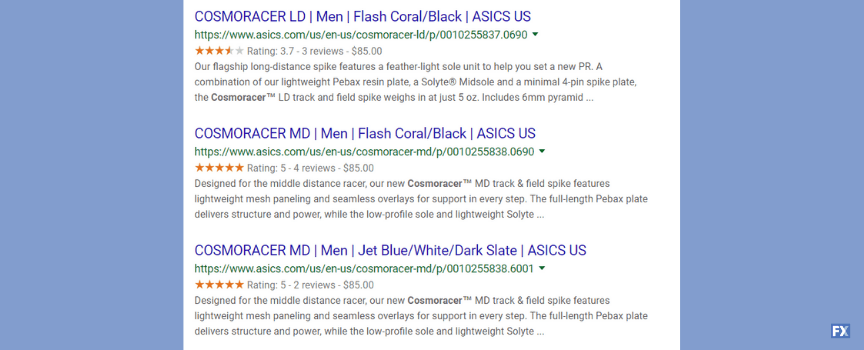 Either way, your business wants to compile a list of online competitors and evaluate them. In most cases, your SEO strategy plan should include top, middle, and bottom-of-the-funnel keywords, which means your competitors may range from businesses like yours to industry news sites.
When you analyze your competitors, you want to answer the following questions:
What searches or keywords do they rank for?
What types of searches, like transactional or informational, do they focus on?
Are they following SEO best practices?
What site or page features improve the usability of their website and content?
How do they promote their content, like through social media, to their audience?
Do they have a strong backlink profile, with trusted sites linking to them?
What do online users say about the company, like on social media or review sites?
How does their SEO strategy compare to yours?
These are a lot of questions to answer, and they do require some digging. A competitor analysis, however, plays a significant part in SEO planning. When you discover where a competitor excels or falls flat, you can incorporate it into your SEO strategy plan.
For example, a competitor analysis can help your company discover a content gap. Or, you may uncover a neat web design that improves the usability of your site massively. You may even get fresh ideas for your strategy by looking at other websites and SEO content strategies.
Again, for the best results with developing an SEO strategy, you want to compile this research into one accessible location. You can use Google Sheets to store your data, as well as tools like Ahrefs, Screaming Frog, and SEO Checker to evaluate competitors.
4. Compile a list of valuable keywords
Next, your team can move onto your keyword strategy. Based on your competitor research, as well as SEO audit, you probably have an idea about which keywords your SEO strategy could target. It's helpful to log and expand on all these ideas, though.
That's why you want to set aside time to research keywords.
While your team can manually research keywords (without any tools), it'll save your business time and improve your keyword research results if you use some tools. These time-saving tools range from web browser applications to browser extensions.
The best keyword research tools include:
While Ahrefs requires a monthly subscription, KeywordsFX and Keywords Everywhere are available for free. Use these free tools to your advantage and find valuable keywords for your business to target in its content.
For the best results, your company should focus on long-tail keywords.
A long-tail keyword or search consists of three to four words.
Compared to short-tail keywords (which feature one to two words), long-tail keywords come with less competition from competitors. They also offer better access to your target market because they're specific.

As an example, think about these two keywords: "buy women's size 8 running track shoes" and "running track shoes."
If someone searches for, "buy women's size 8 running track shoes," you know they're curious about running track shoes. It's right there in their search.
A search like, "running sneakers," however, brings a lot of questions. Are they looking for casual sneakers, long-distance running shoes, track running shoes, or another type of shoe?
You don't know — and they may not either.
That's why you want to focus your SEO planning on long-tail keywords. If you're a larger business, like an enterprise or big brand, however, your company's SEO strategy plan may feature short-tail keywords due to your existing online presence.
No matter how your team decides to approach your keyword strategy, you want to compile all these keywords (like your SEO audit and competitor analysis results) into one easy-to-access location, like a Google Sheet.
If you're using tools like Keywords Everywhere, you can export the data to Google Sheets in a few clicks.
5. Create a list of recommendations
Ok, your team has completed the following tasks:
Audited your website
Reviewed your target audience
Evaluated your competitors
Compiled your keywords
Whether your company's decision-makers already support your SEO initiatives or you need to get them to sign-on, it's critical for your team to compile a list of recommendations or a game-plan for your SEO strategy. This step is a vital part of SEO planning because it provides your business with a foundation.
When you create your SEO website strategy, you want to answer the following questions:
What do you want to accomplish with SEO?
What is the expected value or impact of your SEO strategy plan?
When do you plan to achieve these goals?
How do you plan to accomplish those goals?
What resources or team members do you need to complete those goals?
For the best results, it's helpful for your team to provide a peek at your plan.
Maybe, for example, you'll outline a three-month plan, which highlights planned fixes (following your audit) and new content (thanks to your keyword research) to show what you're going to do and how you're going to do it.
If you're providing a plan for your company's decision-makers, it's essential to explain the turnaround time for SEO. In most cases, SEO requires a few months to show results. That's why many SEO agencies will have an initial six-month contract for their SEO services.
As you draft your recommendation report, keep in mind that your team doesn't have to get too detailed with your strategy. If you overwhelm company leaders (or even your teammates) with information, it can make decision-makers hesitant and team members confused.
Once you complete your recommendations and receive approval, you can start optimizing your site.
FAQs about SEO and SEO planning
Do you have additional questions about SEO and SEO planning? Browse our FAQ!
1. What is SEO?
SEO is a family of strategies for optimizing your website for search engines, like Google and Bing. It also focuses on optimizing your site for users, pushing your company to provide valuable information and a seamless user experience (UX).
Learn more about SEO with our free SEO guide!
2. How do you do SEO, step-by-step?
A step-by-step SEO strategy generally follows (or at least includes) these steps:
Complete an SEO audit
Research the target audience
Review competitor SEO strategies
Compile relevant keywords for targeting
Optimize existing page features, like title tags and meta descriptions
Develop fresh, new content
Track website performance, from rankings to site traffic
As SEO is an ongoing strategy, your company can expect to continue this process, from researching new keywords to optimizing existing content. It's a routine, yet strategic process. That's why, if you're going to build an SEO strategy plan, you need to commit to it.
3. Is it possible to do SEO for free?

Anyone can do SEO, including for free.
If you're leading an SEO initiative for your company, however, your business is making a financial investment in SEO. It's paying your team to develop and manage its SEO strategy. In some cases, it may even provide your department with a budget for your SEO strategy.
The good news, however, is that you can do SEO on a small budget. You don't have to purchase tools like Ahrefs, for example. Instead, you can use free offerings like Google Analytics and Keywords Everywhere to oversee your SEO strategy plan.
This feature of SEO is a significant advantage, especially when business leaders aren't on-board with SEO. When you take the initiative to optimize your site (and do it successfully), you can use that data to demonstrate the value of SEO, which can help earn support for a bigger, more impactful strategy.
4. How much should businesses pay for SEO services?
If your business wants to invest in SEO but doesn't have the time or resources to lead your SEO strategy in-house, you can pass that responsibility onto an SEO agency. While costs for SEO companies vary, most charge a monthly rate of $1500 to $5000.
Companies can also partner with SEO consultants, who often charge $100 to $300 per hour. Working with a consultant is useful when you're looking to troubleshoot an SEO problem, like a site that isn't ranking. It's generally not the best option when you want someone to manage your strategy full-time.
If you'd like to learn more about the cost of SEO, check out our SEO pricing breakdown!
Create a custom search engine optimization plan with WebFX
Optimizing a website for search isn't easy. It requires continuous upkeep and a competitive strategy (especially when direct competitors start SEO planning), which is why many businesses invest in SEO services.
If you're looking for an experienced partner to help develop, launch, and manage your SEO strategy, WebFX can help. With our custom SEO plans and advanced AI technology, as well as experienced SEO specialists, we've helped our clients earn 7,839,684 leads and $3,021,182,299 in revenue.
Discover how we can help your business grow by contacting us online or calling us at 888-601-5359!