6 Voice Search Optimization Tips for 2023
Currently, over 325 million people search the Internet with voice search devices. This technology is rapidly growing more popular among consumers. As voice search continues to gain traction, you must adapt your digital marketing strategy to keep up with these changes.
On this page, we'll provide you with six tips to optimize for voice search in 2023. If you need help with featured snippet and voice search optimization, call us today at 888-601-5359 to speak with a strategist.
Let's get started!
Our digital marketing campaigns impact the metrics that improve your bottom line.
See More Results

WebFX has driven the following results for clients:

$3 billion
In client revenue

7.8 million
Leads for our clients

5.2 million
Client phone calls
1. Optimize your keyword strategy
The first step to optimizing for voice search is choosing the right keywords. Like SEO, voice search optimization relies heavily on keyword usage. You want to choose relevant keywords for your listing, so you can obtain valuable leads.
Like SEO, you'll want to focus on long-tail keywords for your campaign. These are keywords that contain three or more words. Keywords like "chocolate chip pancake recipe" and "Mexican restaurant in Harrisburg, PA" are both long-tail keywords.
These keywords are better for your campaign because they drive more valuable leads to your business. With voice search, people are more likely to search with long-tail keywords because their queries tend to be longer than the ones they type.
When you choose your keywords, you'll want to consider how your audience phrases their queries. You want to focus on how people speak and ask questions to their voice devices. People speak differently than they type, so you must account for different word usage and phrasing.
For example, someone might type "chocolate chip pancake recipe" into Google. If someone was searching for that same keyword verbally, they might say "Hey Google, what is the best chocolate chip pancake recipe?"
Sometimes people will phrase things completely differently in voice search than the way they would type. For example, someone may type into Google "Sheetz near me," but in voice search, they may say "Where can I find the closest Sheetz?"
These two searches have the same goal in mind, but they are phrased differently. The second phrase is an example of natural language. When someone searches verbally, they phrase questions in a way that is natural to them.
In fact, 70 percent of all Google voice searches involve using natural language. You must account for this in your campaign when you optimize to ensure you don't miss out on leads.
2. Create an FAQ page
When users conduct searches on Google, Google pulls the information from position 0. This is also known as the featured snippet. It's the top box of text that you see above the search results.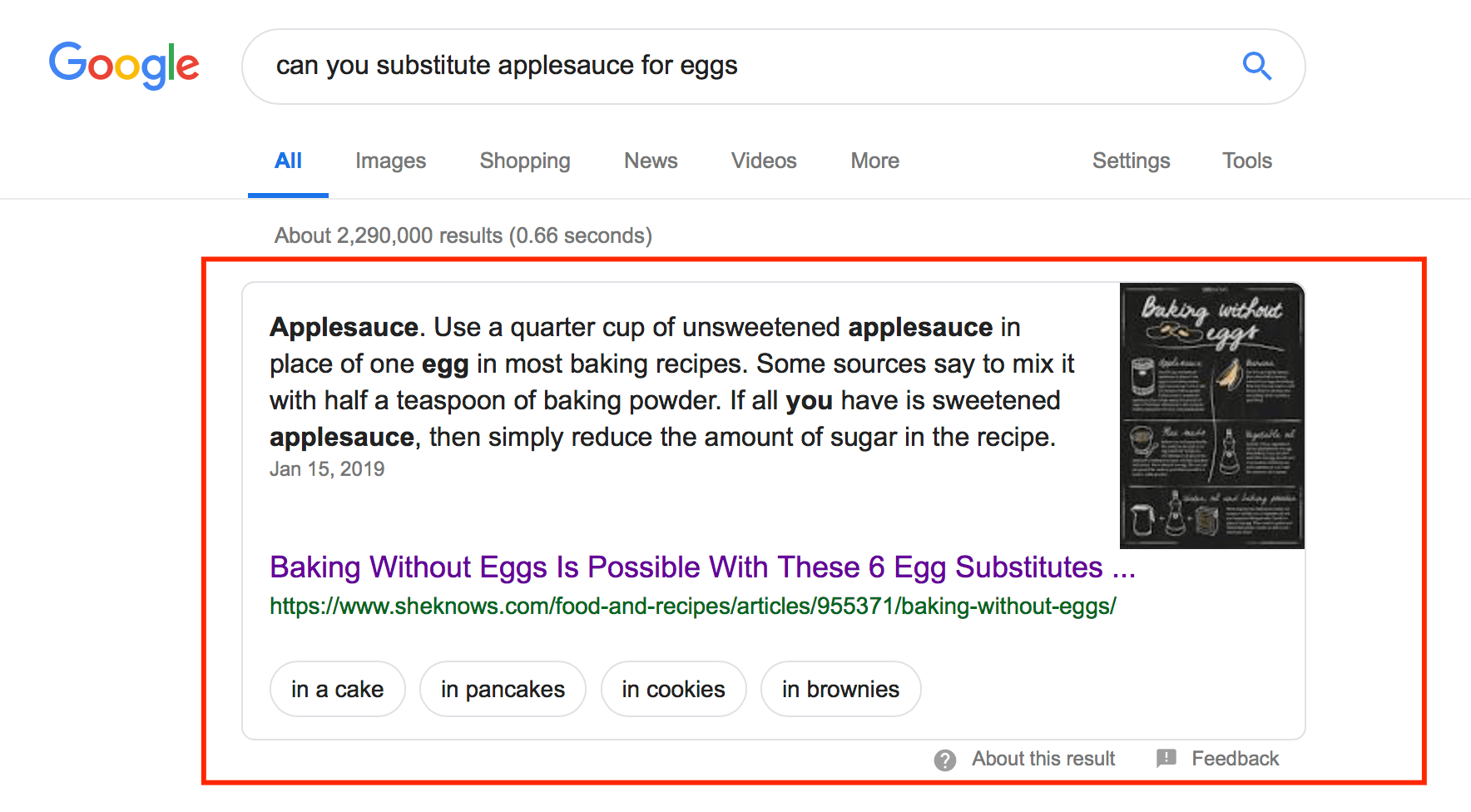 If you want users to hear information from your site, you must aim for this position 0. A great way to do this is by creating an FAQ page.
An FAQ page is a quick way for you to provide your audience with valuable information and answer their questions. You can give a concise answer to their questions, which is what Google looks for in the featured snippet. They want to provide helpful information fast to searchers.
To create an FAQ page, you must think of the types of questions your audience will ask. Think about different topics surrounding your business. What types of questions is your audience likely to ask?
Let's say you own a shoe store. Here are a few questions people might ask:
What kinds of shoes do you carry?
How much do your shoes cost?
What are the best hiking shoes?
What brand of shoes are the most comfortable?
How do you waterproof shoes?
These are just a few questions some people might ask. By answering these questions, you can integrate important keywords that will help you appear in relevant voice search results. If you answer the question about waterproofing shoes, the short paragraph in your FAQ may appear in the voice search results when someone asks that question.
An FAQ page is a great way to create a central hub of information for your business. It helps you integrate valuable keywords and provide helpful information that increases your chances of appearing in voice search results.
If you need help compiling an FAQ page for your business, our dedicated team of 500+ experts can help you. We have over 25 years of experience earning our clients leads in voice and web searches! Call us today or check out our latest articles on voice search optimization for more information.
3. Optimize your local listing
When people conduct voice searches, they are often looking for local businesses to visit. They'll conduct queries such as "Where can I buy?" and "Where is the closest [business] to me?" If you want to reach these leads, you must optimize your local listing.
Google pulls business information from the local SEO 3-pack. These are the top three listings you see when you conduct a "near me" search on desktop. Google generates these results to help provide you with the most relevant businesses to your query.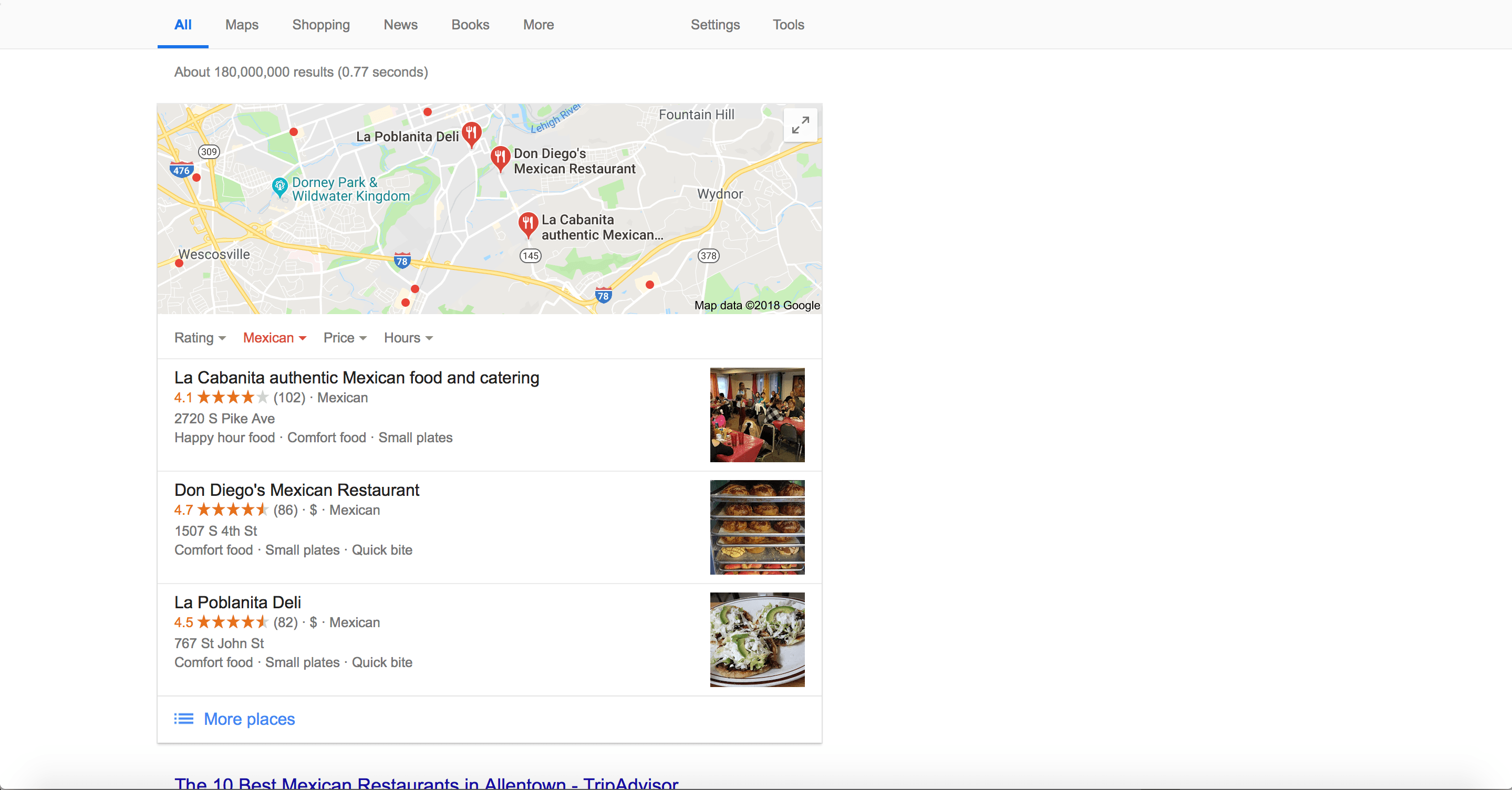 When you conduct a voice search on Siri, you'll see this local SEO 3-pack on your screen. You have the option to click on the different listings that appear. When you click on them, you'll see information for the business and have the option to call or get directions.
If you want leads to choose your business, you must complete your local listing. This means you must include your name, email, physical address, and phone number. You want to make it easy for your audience to contact your business if they are interested.
People are more likely to visit your business when they have access to that information, too. They don't want to go into things blindly, so having a complete local listing will help drive leads to choose your business.
4. Optimize for mobile
As we stated previously, Siri will generate a list of results when you conduct a voice search query. This makes it easy for users to find a result that looks pertinent and check it out. However, getting leads to click on your listing is only the first half of the puzzle.
The second half is getting them to remain on your site. Too many businesses lose leads because they don't optimize their sites to create a positive experience. With voice search, it's crucial that you optimize for mobile.
You want your site to be mobile-friendly, because many users will get directed to the mobile version of your site if they want more information. There are many elements you can input to make your site mobile-friendly, but the biggest one is responsive design.
Responsive design ensures that your website adapts to whatever device a user is using. Whether it's a smartphone or tablet, your website will adjust to fit the user's screen. It ensures that your audience has a positive experience on your site and remains on it.
By optimizing for mobile, you'll keep leads on your page after they conduct their voice search. It's a valuable way to earn more leads for your business.
5. Optimize for different speakers
Numerous companies have their own smart speakers on the market. Each speaker adds a different experience to voice search and operates uniquely to its counterparts. Let's break down the different devices and how you can optimize for them:
Google Home: The Google Home Series focuses on pulling results from the featured snippet and local SEO 3-pack. If you want to reach these leads, focus on providing your audience with valuable information and filling out your local listing.
Alexa: Alexa draws its information from Bing. You'll want to focus on optimizing for Bing Places and aiming to get the featured snippet position. It's also important to focus on optimizing your Yelp profile as well.
Siri: Siri pulls information from Google's search results. Again, you'll want to focus on earning the featured snippet and optimizing for the local SEO 3-pack.
These are three of the most popular voice search devices. By optimizing individually for each device, you'll help your business earn valuable conversions.
6. Create content
Content creation is extremely valuable to your voice search optimization for 2023. This method helps drive valuable traffic to your page. It's also great for helping your information appear in voice search queries.
Your audience is constantly seeking out information and looking for answers to their questions. Content is an opportunity for you to share your knowledge with your audience and help them learn. It helps you build trust and establish yourself as an authority in your field.
Content is extremely beneficial to helping people on different steps in the buying journey. People typically follow this pattern for buying:
Awareness: Becoming aware of a need for a product
Interest: Browsing different companies to see who offers the best product
Evaluation: Analyzing the options to find the best product
Purchase: Purchasing the product from the best option
You can create content for all parts of this journey. You can help people become aware of why they might need something, show them their options, and help nudge them towards choosing your business.
By creating content, you'll help your information appear in the voice search results. You'll provide your audience with valuable information and drive more leads to your business.
Time to Level Up Your Sales
Our long list of services helps you grow every aspect of your business with marketing strategies that are proven to increase bottom-line metrics like revenue and conversions.
In the past 5 years, we've managed more than 12.9 MILLION transactions across our client base.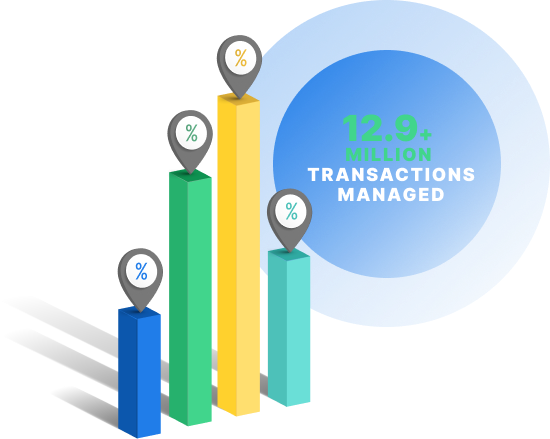 WebFX will help you optimize for voice search
Voice search is rapidly becoming a popular way for users to conduct searches. As this technology continues to grow, it's crucial that you adapt your digital marketing strategy for voice search optimization. At WebFX, we have the knowledge and expertise to help you do so.
We're a full-service digital marketing company that specializes in voice search optimization, and our team of over 500+ experts will bring their knowledge and expertise to your campaigns. Our featured snippet creation & optimization services, along with our other digital marketing services, will help you reach more users through voice search.
If you're ready to start optimizing your voice search campaign for 2023, contact us online or call us today at 888-601-5359 to speak with a strategist.
We look forward to helping your business grow!
How Is Your Website's SEO?
Use our free tool to get your score calculated in under 60 seconds.