But present day, it's much more than a social media platform for job hunting, it's also a fantastic place to advertise your business.
When you work with a LinkedIn marketing agency, you'll see the highest return on your LinkedIn marketing campaign. Why? Because they're professionals!
A LinkedIn marketing company will help you set up ads, create and schedule content, and even report on your success.
Not yet convinced that you should be marketing your company on LinkedIn? Keep reading and we'll give you plenty more reasons to do so.
If you'd like to talk directly with a specialist about what LinkedIn marketing services WebFX offers, feel free to give us a call at 888-601-5359!
What does a LinkedIn marketing agency do?
You might be skeptical of hiring a digital marketing agency for LinkedIn, but it's one of the best decisions you can make. With over 610 million self-reported users, LinkedIn is a fantastic place to get your business in front of a huge audience.
Not to mention, when you own a business, the last thing you're thinking about is all your social platforms. When you hire a LinkedIn marketing agency, they'll take care of your LinkedIn presence for you.
Here are a few of the most important things a LinkedIn marketing company will do for your business.
Build brand awareness
It's important for your business to have a LinkedIn presence simply to build brand awareness. Everything you post is tied directly to your brand, and over time, your audience will start to catch on.
If you opt for LinkedIn ads, your LinkedIn marketing firm will create ads that speak to your unique style to increase brand awareness among users that might not follow you yet.
Not only that, but they'll focus on branding all your content to ensure that your followers always know that a post belongs to your company.
When you increase brand awareness, you increase loyalty — and increased loyalty leads to more sales down the road.
Help you target the right audience
Finding the right audience is a make-or-break aspect of marketing. If you market to the wrong audience, you won't see results, and you'll waste a lot of money in the process.
It's critical that you determine your target audience as early in your campaign as possible so that you know you're using your marketing budget effectively.
A LinkedIn marketing firm can help you do just that by researching your competitors and seeing who they target, diving into your current LinkedIn presence, and more.
Knowing your target audience drives your campaign since you'll use that information to create ad campaigns, write content, and more.
Create content just for LinkedIn
Speaking of writing content, your LinkedIn marketing company can help you do that, too.
They know that you're busy running a business, so they'll take charge when it comes to writing content specifically for your LinkedIn profile.
To do so, they'll start with keyword research. They'll find both long-tail and short-tail keywords that are important to your audience, and create content based on that.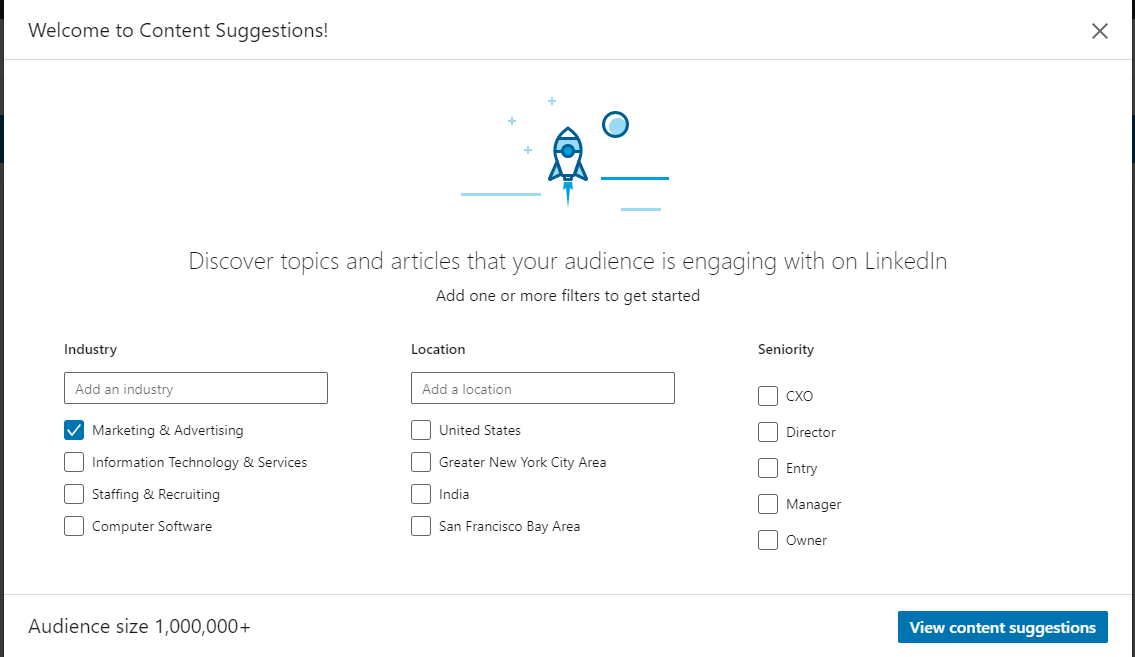 Long-tail keywords are more detailed, whereas short-tail keywords are broad. You'll likely have more success with content that targets long-tail keywords since fewer companies write using those longer, specific terms.
Your LinkedIn marketing firm will use the keywords that they find during keyword research to craft content that informs and engages your target audience.
Their goal is to create content that entices users to click to your website, and they're good at it.
Interact with your audience
If you want to have a strong LinkedIn presence, it's crucial that you interact with your audience. Your followers will trust you more when they get a response to their message, for example.
But as a business owner, you won't always have time to interact with your audience in the comments of a post or get back to their messages quickly.
That's where a LinkedIn marketing agency comes in to help.
They can monitor your profile and respond to users' comments and messages thoughtfully and in a timely manner.
Over time, you'll build a relationship with your audience simply because you took the time to interact with them.
Increase website traffic
Another benefit of hiring a LinkedIn marketing company is that you'll see an increase in website traffic — if you hire a highly-rated company, that is.
They'll help increase traffic to your website by creating content that users are interested in, crafting calls-to-action that engage users, and finally, making it easy for users to get to your site.
Your LinkedIn marketing strategist will put together a campaign that keeps website traffic and conversions top of mind, and help you reach those goals.
Create LinkedIn ads and landing pages
One of the best features of LinkedIn is its ad platform.
In fact, marketers ranked LinkedIn as the number one platform for B2B lead generation. That's impressive!
With a LinkedIn Campaign Manager account, you'll be able to create ads that sell more of your products than ever before, and your LinkedIn marketing firm will handle everything.
Using the keywords that they noted from keyword research, your LinkedIn marketing company will craft ads that go after your target audience using those valuable keywords.
Not only that, but they'll craft custom landing pages that get the job done and sell your products.
Report on your campaign success
The best LinkedIn marketing agencies are the ones that consistently report on your campaign.
These agencies take the time to dive into the analytics of your LinkedIn profile to determine what strategies work and which could use improvements. The best part?
They provide you with those reports.

You'll be able to see the numbers for yourself and understand exactly how your LinkedIn profile performs in terms of lead generation, interaction, brand awareness, and more.
Why should you hire a LinkedIn marketing company?
We think there's an obvious answer when it comes to answering the question "Why should I hire a LinkedIn marketing company?" But if you need a few more reasons, we'll list them below.
1. They let you run your business
Running your business is your specialty — running LinkedIn accounts is a LinkedIn marketing agency's specialty. Leaving it to the experts gives you a huge advantage — here's why:
They free up your time to run your business
They save you money and resources by eliminating the need to train a current employee
They save you money and resources by eliminating the need to hire an in-house specialist
They save you money by running successful campaigns from the start
Hiring a LinkedIn marketing agency lets you do what you do best, and they take care of your LinkedIn presence.
2. They drive real results
It takes time and experience to learn the intricacies of marketing your company on LinkedIn, and unless you have the time to dedicate, it'll be hard to learn them all.
When you hire a LinkedIn marketing firm, you can rely on them to drive real results — since they market companies like yours day in and day out.
Not to mention, they have access to tools and programs that help them create flawless campaigns, and they have a team of specialists who work on LinkedIn for a living.
3. They have experience
You should strive to hire a LinkedIn marketing agency with at least five to seven years of experience.
When you set your standards high, you'll end up with a LinkedIn marketing firm that understands multiple industries and a range of campaigns.
They can take that know-how into your campaign and drive the best results possible.
Not to mention, an agency who's been in business that long knows what they're doing. The longer an agency is in business, the more you can trust them with your campaign.
Mid-Size Businesses Trust WebFX
Their focus on ROI and their innate ability to communicate this information in a way that I understand has been the missing link with other digital marketing firms that I have used in the past.
Leah Pickard. ABWE

How to find the perfect LinkedIn marketing firm
With so many LinkedIn marketing firms out there, it can be difficult to narrow it down. Here are a few tips to help you find and hire the perfect LinkedIn marketing firm for your business.
Do your research
It's crucial that you do your research well ahead of hiring a LinkedIn marketing agency. You should know what services typical LinkedIn marketing firms offer, as well as baseline costs.
That way, when you speak to a variety of agencies, you can discern which ones might be charging too much for their services, which ones might not be worth your time, and which ones don't offer the services you need.
Know your goals
If you go into your search for a LinkedIn marketing agency not knowing your goals beforehand, you might select a company that can't help you meet them.
Start by making a list of objectives you want to achieve with LinkedIn marketing — whether that be boosted brand awareness, an increase in leads, or simply an improved presence.
That way, when you speak to potential agencies, you'll be able to tell them upfront what you're looking for and determine if they're able to drive the results you're after.
Ask a lot of questions
The only way you'll find the best LinkedIn marketing agency is by asking a lot of questions. The more questions you ask, the more you'll learn about an agency and the more certain you'll be when it comes time to pick a winner.
You should ask questions like:
What industries have you worked with?
How long does it typically take for me to see results?
Do you provide reporting on my account?
How long have you been in business?
How much do your LinkedIn services cost?
How often can I expect correspondence from you?
These are all valid questions that have extremely telling answers, so make sure you take notes!
If the agency you're speaking with beats around the bush, or fails to answer any of the questions, it likely means they have something to hide.
You want to work with an agency that provides answers to all your questions without hesitation and even takes the time to explain them.
Consider budget
When you begin your search for a LinkedIn marketing agency, you must consider your budget. Sit down and map out your marketing spend and how much you can spend on LinkedIn specifically.
Documenting your budget will go a long way in your decision-making process since you should never choose an agency that's too expensive for your budget.
If you do your research ahead of time and you're well informed about the cost of an average LinkedIn marketing campaign, you can find an agency that fits your budget.
WebFX is a top LinkedIn marketing agency
WebFX is a top LinkedIn marketing agency located in Harrisburg, Pennsylvania. We pride ourselves on the results that we drive for our clients and the more than 550 client testimonials that we have to prove it.
When we work with you, you become part of our family — your business is our business. We'll work hard to get to know your company, your goals, and what your competition is doing on LinkedIn. From there, we'll craft a custom campaign that drives the results you're after.
We know that every company is different, which is why we don't believe in cookie-cutter marketing campaigns. We want to craft something that we know will drive results for your company — since its specific to you.
But that's not all, we also offer social media services for several other platforms including:
For the best results with your social media marketing campaign, consider opting for another platform, too!
If you're ready to start marketing your company on LinkedIn, WebFX wants to talk to you. We have a full team of in-house social media specialists who are ready to take your business by storm with LinkedIn marketing.
If you're interested in a free quote, contact us online, or if you want to speak directly to a specialist, give us a call at 888-601-5359!