Once you've assembled a stellar marketing team, you should have no problem staying organized and on track, right? Wrong. It's easy for teams to become unorganized and lose productivity, and lack of organization can hurt your marketing success while increasing stress levels and lowering employee morale—ouch.
At WebFX, we're all about maximizing organization and productivity with time-saving tips and tools. In this post, we'll take a look at eight organizational tools that can keep your marketing team on the fast track to success.
93% of WebFX customers are extremely satisfied with their digital marketing results.
"Working with WebFX, everything is very organized and strategic. We're only a year into our partnership, and our expectations have definitely been met."
View More Client Testimonials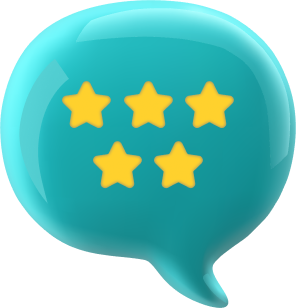 1. Basecamp
Rallying team members around a project and making sure everyone is on the same page can be a difficult task, especially when there are countless emails and chats flying around the office. But Basecamp's intuitive project management interface makes it easy for marketing teams to collaborate on projects and client work. If teammates need to discuss projects and share files, they can use Basecamp's forum-style messaging feature.
And Basecamp's calendar function allows teams to schedule meetings, events, and milestones. In addition, the to-do list feature lets marketing managers assign tasks to individual team members or leave them open for teammates to assign. At any time, teams can see project overviews, specific tasks, and who is in charge of each step.
Basecamp ensures that nothing slips through the cracks, keeping your team on track and helping you complete all necessary items on time and with everyone in the loop.
2. Trello
When it comes to project management, Trello is a powerful organizational tool for work. The modern version of sticky notes on a whiteboard, Trello uses a system of boards and cards that helps teammates visualize each step of a project or campaign. You can drag and drop cards onto each person's list, giving them a clear picture of exactly what they need to accomplish and what tasks they should work on next.
You can also create checklists within cards and attach files with more specific instructions. In addition, team members can flag cards by assigning various colors if they need help at any stage of the project.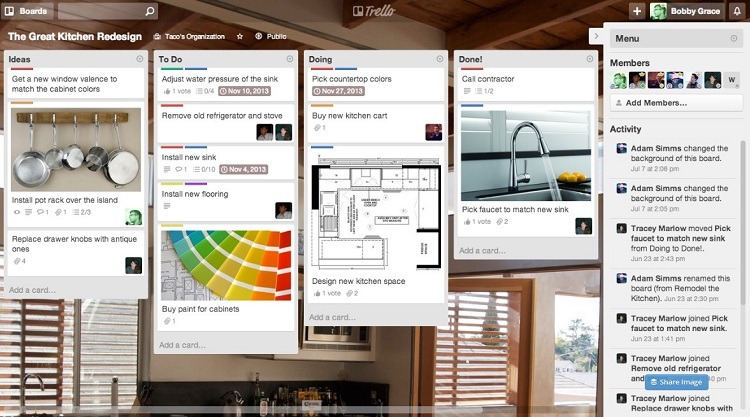 3. KeePass
Your marketing team will likely need to remember passwords for a variety of sites and tools. But remembering and trying to organize your passwords can take up precious work time. KeePass is a free, open-source password manager that allows teams to securely manage all of their passwords in one database.
With KeePass, your team can store, manage, and sort passwords. In addition, it also allows you to create strong passwords that you don't need to worry about typing every time you need to sign in to an account. So whenever you need to retrieve a password, you can simply log in with your master password to unlock all of your passwords.
Then, you can easily copy and paste them into the login fields of any site.
4. Buffer
Buffer is a social media scheduling tool that makes it easy for marketing teams to create, schedule, and evaluate social media content. Teams can queue updates via Buffer, and the tool will automatically post them at optimal times throughout the day. For example, if I come across an interesting article that I want to share on WebFX's Twitter, I can log into Buffer and schedule it to post later that week.
Buffer allows teams to maintain a consistent presence on social media without flooding followers' news feeds. And it facilitates seamless collaboration between teammates and clients. At WebFX, we run social media campaigns for hundreds of clients.
And switching to Buffer has helped us shave off 40 hours each month when it comes to managing our social accounts.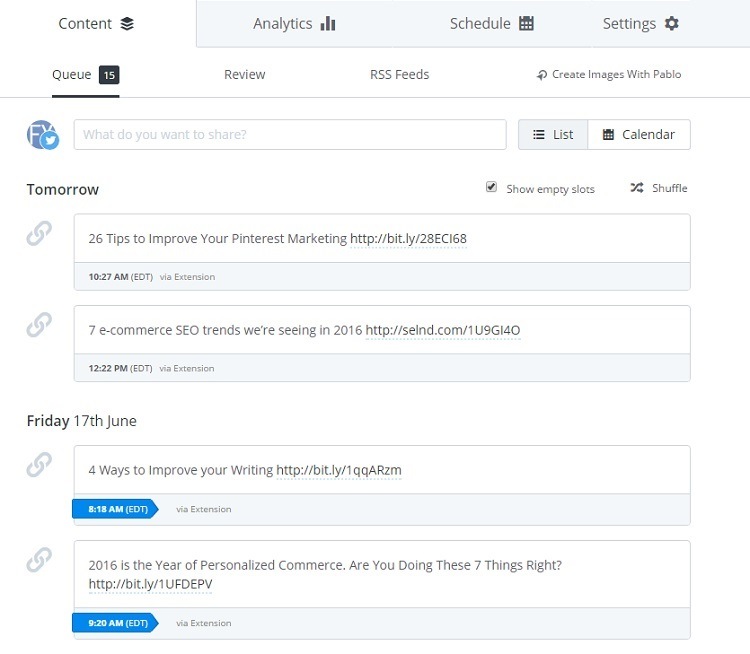 5. Jing
Jing allows users to capture screenshots and video recordings of their computer screens. Let's be honest.
Sometimes, words just aren't enough to explain issues with your website, campaigns, and other parts of your marketing strategy. Instead of attempting to explain your question about the layout of a new page on your website with words alone, you can take a screenshot, highlight the area of concern, and send it off to another teammate for review. When new employees start working at WebFX, one of the first things they do is download a screencasting program, like Jing.
It's a great way to streamline the training process, and it can reduce the amount of time your team spends in meetings and running across the office to ask teammates questions.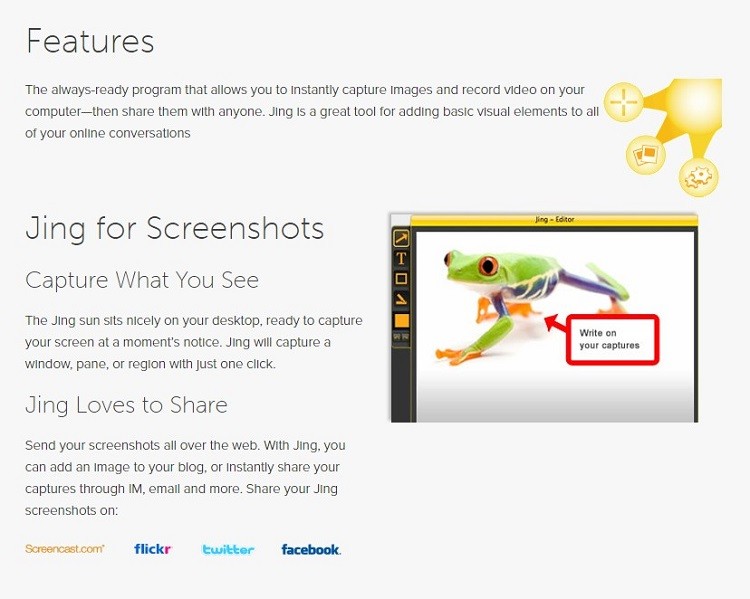 6. Pocket
Staying on top of industry trends is important, but your team probably doesn't have a lot of extra time to read articles during the workday. With Pocket, you can collect and save articles and videos to read at your convenience.
Then, you can access your list of content from any device. This means that you can save an article to Pocket via your desktop at work and pull it up on your phone while you wait for your latte (or cold jar, if you're like me) the next morning. You can also group articles with tags, and Pocket's built-in search function makes it easy to find those articles later.
7. Evernote
An easy-to-use note-taking app, Evernote allows your team to organize research, draft blog posts, save articles, and store important information. And the best part? It syncs across all your devices, so you can easily record ideas on the go.
In addition, Evernote's Chrome extension lets you save texts, links, and images with the click of a button. Evernote is great for marketing teams because team members can access and update shared notes at any time. Everyone can see what they need to accomplish for a campaign and stay up to date with teammates' progress.
This reduces extra clutter and cuts down on lengthy email chains.
8. Feedly
Feedly, an RSS management tool, allows marketing teams to connect with content they care about. Using Feedly, you can easily follow all of your favorite blogs, news sites, podcasts, and more. It delivers all of your content in one, easy-to-navigate dashboard.
Feedly gives your team the ability to organize an unlimited number of feeds, and it facilitates seamless integration with Twitter, Pinterest, and Facebook. This helps marketing teams stay on top of industry news and curate content based on their interests and goals.
Our digital marketing campaigns impact the metrics that improve your bottom line.
See More Results

WebFX has driven the following results for clients:

$3 billion
In client revenue

7.8 million
Leads for our clients

5.2 million
Client phone calls
Want to improve your marketing team's organization?
These are the best organizational tools for marketing. They are a great place to start and are cost-effective alternatives to more expensive options.
If you want to improve your process for scheduling meetings, look for a meeting scheduler that your team can use.
There are a lot of other free and freemium tools online that can address your team's needs, whether you need them for kickoff meetings or quarterly business reviews!
How is your website's SEO?
Use our free tool to get your score calculated in under 60 seconds.
Get posts by email
Join 200,000 marketing managers and subscribe to Revenue Weekly!
"*" indicates required fields
WebFX Careers
Join our mission to provide industry-leading digital marketing services to businesses around the globe - all while building your personal knowledge and growing as an individual.