Almost 1.4 billion people worldwide donate to a charity. Even though millions of people give, it's still a challenge for many organizations to reach their goals while keeping expenses low. A $10,000 monthly advertising grant from Google, however, can change that.
With Google Ad Grants, your nonprofit organization can reach people looking to help. Whether they're interested in donating, volunteering, or learning more, an ad on Google can skyrocket your organization's reach, donations, and ability to make a change in the world. Curious to learn how Google Grants for nonprofits can help your organization?
Keep reading to learn all about Google's advertising grants for nonprofits, from the requirements to the application process. Plus, discover why pay-per-click (PPC) advertising is a worthwhile channel for nonprofit organizations like yours.
What are Google Ad Grants?

Google Ad Grants
is a donation program that provides eligible nonprofit organizations with up to $10,000 each month (or $329 per day) of free advertising spend. Qualifying organizations can use this ad spend on Google Ads, previously known as Google Ads, to create text-based PPC ads.
What are PPC ads?
PPC ads help attract more visitors and donors to your nonprofit's website.
It's important to note that while pay-per-click for Google Grants operates similarly to regular ad programs, it focuses specifically on helping nonprofits extend their reach.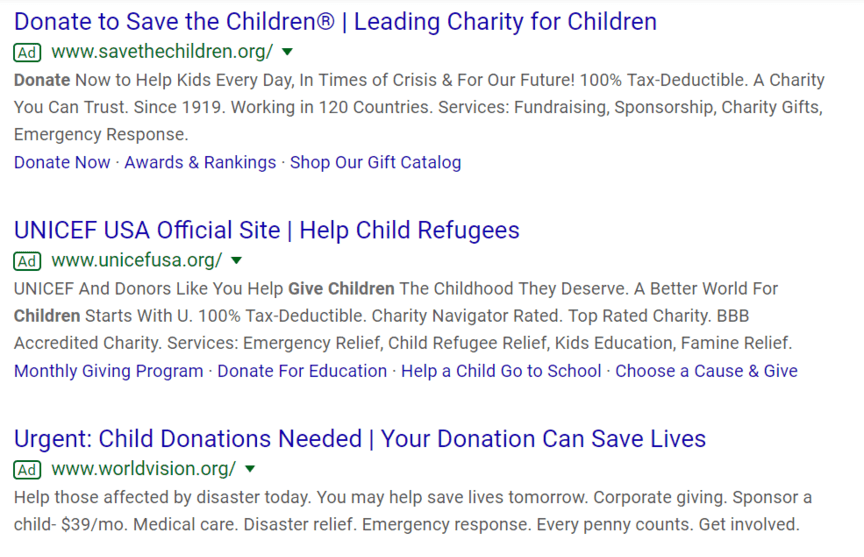 Ads created through the Ad Grants program show at the top and sides of search results on Google. Only nonprofit organizations can apply for Google's nonprofit grants, and there are some restrictions on eligibility, which you'll learn more about below.
Who is eligible for Google Ad Grants?
If you want to apply for Google Ad Grants, you must be an eligible charity or not-for-profit organization.
The following requirements that come with Google Ad Grants for nonprofits include:
If your organization operates as one of the following, you are not eligible for Google Ad Grants:
Government agency
Academic institution
Childcare center
Medical organization
Organizations that function as educational institutions should research Google for Education. Of course, there are a few exclusions to the rules above. For example, philanthropic educational programs (like church-sponsored preschool or early learning programs) can receive Google Ad Grants.
The best way to determine whether your organization is eligible for Ad Grants is to read the eligibility information on Google's website. If your organization does not meet the above criteria but wants to use digital advertising to attract new donors or leads, you can still use PPC. While you may not have a monthly ad spend of $10,000, you can still set aside funds to reach people looking to help organizations like yours.
How does my nonprofit apply for Google Grants?
If your organization meets the requirements for Google Grants, congratulations!

You can start the application process with the following steps:
Confirm your eligibility and ensure you meet all the requirements
Apply to Google for Nonprofits
Register your organization with TechSoup or an approved TechSoup partner
Once you receive your verification token from TechSoup, your team can complete the Google for Nonprofits application process. After that finishes, you can move on to submitting your Google Ad Grants request. For earning your Google nonprofit grant, follow these steps:
If you have any questions about the application process, connect with Google for assistance.
What does my nonprofit need to do to keep our Google Ad Grant?
Following your approval for Google Ad Grants, your nonprofit will need to launch its first campaign. Before you do, however, it's essential to review the standards that come with a nonprofit grant from Google. If your organization doesn't meet these requirements, your account will get deactivated, and you will lose your monthly $10,000 ad spend.
Review these standards beforehand to keep your nonprofit's Google Grants and your ads active:
Google Ad Grants: Account requirements
At the account level, your organization must follow these standards:
Create a minimum of two active ad groups per campaign, with each ad group containing a set of similar keywords and two active text ads
Enable at least two sitelink ad extensions
Use conversion-based Smart bidding, except for Smart campaigns
Set up conversion tracking and at least one conversion goal, like a donation
Generate at least one conversion per month
Maintain a 5% click-through rate (CTR) at the account level (cancellation happens after two consecutive months of failing to meet this requirement)
When your nonprofit receives approval for a Google Ad Grant, you will often receive instructions that cover these critical points, like setting up conversion tracking. For the best results, bookmark and reference Google's dedicated account setup guide when launching your campaigns.
Google Ad Grants: Targeting
For targeting, like location and keywords, you must meet these requirements:
Limit single-word keywords to branded words, recognized medical conditions, and words such as "donate," "donation," and "charities"
Eliminate keywords that include names of other organizations, places, historical events, people, and generic terms like "best videos" or "today's news"
Avoid keywords with a Quality Score of two or less (use an automated rule to pause these kinds of keywords immediately)
Apply geo-targeting to show ads in locations relevant to the nonprofit (for example, a local organization would want to advertise to people in that area versus worldwide)
Again, Google offers a dedicated guide for setting up your nonprofit's account, campaigns, and targeting. Use it to your advantage. Whether you're creating your first campaign or tenth campaign, it will help you follow the standards that come with advertising grants from Google.
If you ever lose Google Ads for your nonprofit, like by using single-word keywords outside the exceptions, you can request admission again. Just update your account for compliance and then make your request.
Why should I use Google Grants for my nonprofit?
It's a smart decision to use Google Ad Grants for your nonprofit. A few reasons why include:
1. Free advertising
With Google Ad Grants, you can promote your nonprofit's programs and events on the most popular search engine in the world. Plus, with a provided $10,000 monthly ad spend, a Google Grant is essentially free advertising.
2. Instant results
One of the main benefits of PPC advertising is that results are instantaneous. If you're trying to drive traffic to your nonprofit website quickly, PPC advertising is a great option. In fact, if approved for a Google Grant, you can begin sending qualified traffic to your website as soon as your ads go live.
3. Marketing and advertising insights
PPC advertising also allows you to test a variety of keywords and advertisements to determine what attracts the most traffic to your website. Then, you can incorporate those insights into your website copy and marketing materials to better resonate with your target audience. With Google Ads for your nonprofit, you can share your message with people interested and invested in your mission for zero cost, besides your time.
Even better, with pay-per-click ads, your nonprofit can achieve greater visibility, more donations, and more volunteers.
Learn how to make the most of your Google Grants
A paid advertising campaign can make a tremendous difference for a nonprofit organization like yours. While Google Ad Grants may provide the money to get started, it's essential to learn how to make the most of your ad spend. With tips and tricks for Google Grant management, your team can earn more donations, exposure, and volunteers at a lower cost, which helps you do more with your ad spend.
Get that advice delivered straight to your inbox with our Revenue Weekly newsletter — sign up now!
Get posts by email
Join 200,000 marketing managers and subscribe to Revenue Weekly!
"*" indicates required fields
WebFX Careers
Join our mission to provide industry-leading digital marketing services to businesses around the globe - all while building your personal knowledge and growing as an individual.