What is PPC? Pay-Per-Click Marketing Basics [Guide]
PPC is a form of advertising that allows you to pay a fee to have your website display in search engine results pages (SERPs) when someone searches for specific keywords. You'll pay each time someone clicks on your ad. Keep reading to learn more about PPC and how it can benefit your business!
Looking for an answer to the question, "what is PPC?" Well, you're in the right place!
If you've ever used Google, (and we're guessing you have), you've probably seen pay-per-click (PPC) ads. Maybe you've even clicked on some of these ads, which appear above the organic search results on search engine results pages (SERPs). You may have also seen PPC display ads or PPC ads on social media sites.
Keep reading to learn more about PPC's meaning, as well as how pay-per-click advertising works. Plus, get a step-by-step guide for launching your first PPC ad campaign.
Here's a quick overview of everything we'll cover:
If you need help launching or improving your ads, contact us online and ask about our PPC packages!
Questioning the quality of your SMB's PPC performance?
Get your FREE PPC audit from WebFX today!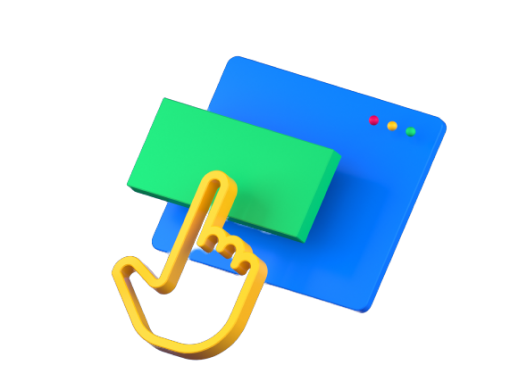 What is PPC?
PPC is a digital marketing strategy that allows you to place ads on search engine result pages, social media sites, and other websites. With PPC, you pay each time someone clicks on your ad. The amount you pay is based on how much you bid for the ad space and various other factors.
How does PPC work?
The PPC marketing process can vary depending on the platform you choose, but typically the process will look something like this:
Choose your PPC platform
Select your ad and campaign type based on your goals
Set your budget
Determine your bidding strategy
Add the URL of your landing page
Create your ad and write ad copy
Bid on your ad's keyword
PPC and Google Ads — How does it work?
Google Ads is the most popular PPC platform in the world. It enables businesses to easily launch PPC ads on Google search result pages and other Google properties.
But how does PPC work in Google Ads?
When you create an ad on Google Ads, you'll choose a keyword to target for that ad and place a bid on the keyword. The keyword is the word or phrase someone will type into Google. Once they search for that keyword, the goal is that your ad will appear as one of the first results.
Once you choose your keyword and place a bid, the ad auction will begin. Once Google launches an ad auction, it looks at the following factors:
Ad Rank: Google bases your Ad Rank on your ad's bid, quality, ad extensions, and expected click-through rate (CTR). Your landing page experience also influences your Ad Rank. Additional factors, like the user's search and past behavior, as well as the auction's competitiveness factor into your Ad Rank. Google calculates your Ad Rank at every auction.
Bid: Your bid is how much you're willing to pay for someone to click on your ad. In most cases, your bid will be keyword-specific, meaning you'll pay different amounts for different keywords. A high bid does not equal a win. You can bid low and still win the auction with a high-quality ad, which is what you want.
Quality Score: Google calculates your Quality Score using your ad's relevance to user searches, as well as landing page experience and expected CTR. Quality Score helps Google estimate the quality of your ads, keyword targeting, and landing pages. You can check your Quality Score in Google Ads, which gives you a starting point for improving your Quality Score and Ad Rank.
These three factors combine in the following formula:
Bid x Quality Score = Ad Rank
After Google determines your Ad Rank, it determines your placement in search results.
A higher Ad Rank equals a higher position in search results. If you have the top Ad Rank, you will win the auction. Even if you don't win the auction, you still may earn a spot in search results, though it will be below higher quality ads.
Following this step, Google calculates your cost-per-click (CPC) or what you pay for a click on your ad:
Ad Rank of Advertiser Below You / Quality Score + $0.01 = Your CPC
Once this step happens, the PPC ad auction finally finishes.
Why is PPC important?
PPC can drive revenue for your business in many ways! Let's dive into just a few of the incredible benefits of PPC ads:
PPC ads boost your online visibility
Pay-per-click helps you to increase brand awareness for your business, drive leads to your website, and boost conversions.
You have many options for where your PPC ads show up, which gives you control of what audiences see your ads and how you target your most valuable potential customers.
PPC ads can fit into any marketing budget
PPC is one of the most cost-effective digital marketing strategies out there because it allows you to decide the maximum amount you'll pay for your ads.
Sounds too good to be true, right? Wrong!
With traditional marketing strategies like placing an ad in the newspaper, or advertising your business on a billboard, you'll pay a set budget — but are you even sure how many customers see that ad?
It doesn't matter if 10 potential customers see your ad or 1,000 — you'll pay the same price for that newspaper ad or billboard.
The difference with PPC advertising is that you only pay for your ad when a user clicks it. That's right! With PPC ads, you don't pay for ad space, you pay for the action.
PPC ads have a higher ROI than traditional advertisements
That being said, you can be sure that the ROI of a PPC campaign is high because you never pay for an ad unless there is potential for a conversion (someone clicking your ad and ending up on your website).
When a user clicks on your ad, they're directed to a landing page. A landing page usually consists of a form for users to take action and either purchase the product or learn more about the product. Either way, your landing page entices users to take the next step in the purchasing process — no matter what that step might be.
How to build a PPC campaign plan
Now that you know the answer to the question "what is PPC" and the PPC definition, let's talk about how to launch a PPC ad so you can enjoy more sales and revenue for your business.
Step 1: Decide on your platforms
There isn't just one kind of PPC ad. In fact, there are a handful. You can place PPC ads in search engines, on social media, or even on other websites that your customers visit.
With so many choices, you should first decide where you want your ads to show up. Are you looking to place your products at the top of search results? Paid search ads are right for you.
Do you want to market your products and services to all of your social media followers and beyond? Then social media ads sound like a great fit.
No matter what you decide, it's important to have a game plan before diving head first into the realm of PPC.
If you're still not sure what platforms you want to use to advertise, we'll talk more about each in the next section!
Step 2: Do keyword research
One of the biggest benefits of using PPC ads as a digital marketing strategy is that you can target your most valuable audience with keywords that are important to your business.
For instance, if you're investing in PPC services for chimney and masonry, you want your ads to show when a user searches for "leaking chimney repair services near me." You can add that keyword to your ad campaign, meaning your ad will have the potential to show up for customers that submit that search query.
But before you start targeting every keyword that's related to your industry or niche, it's important to do your research — keyword research that is.
Keyword research in a nutshell
Keyword research allows you to gain insight on how different keywords perform, how much competition there is for that keyword, and what the average cost-per-click is.
This information will help you decide whether or not to target a specific keyword.
Keyword research tools
There are a lot of tools out there to help you do keyword research. Our favorite is KeywordsFX. This platform allows you to search for keywords that you're interested in targeting and get all of the most beneficial information about that keyword.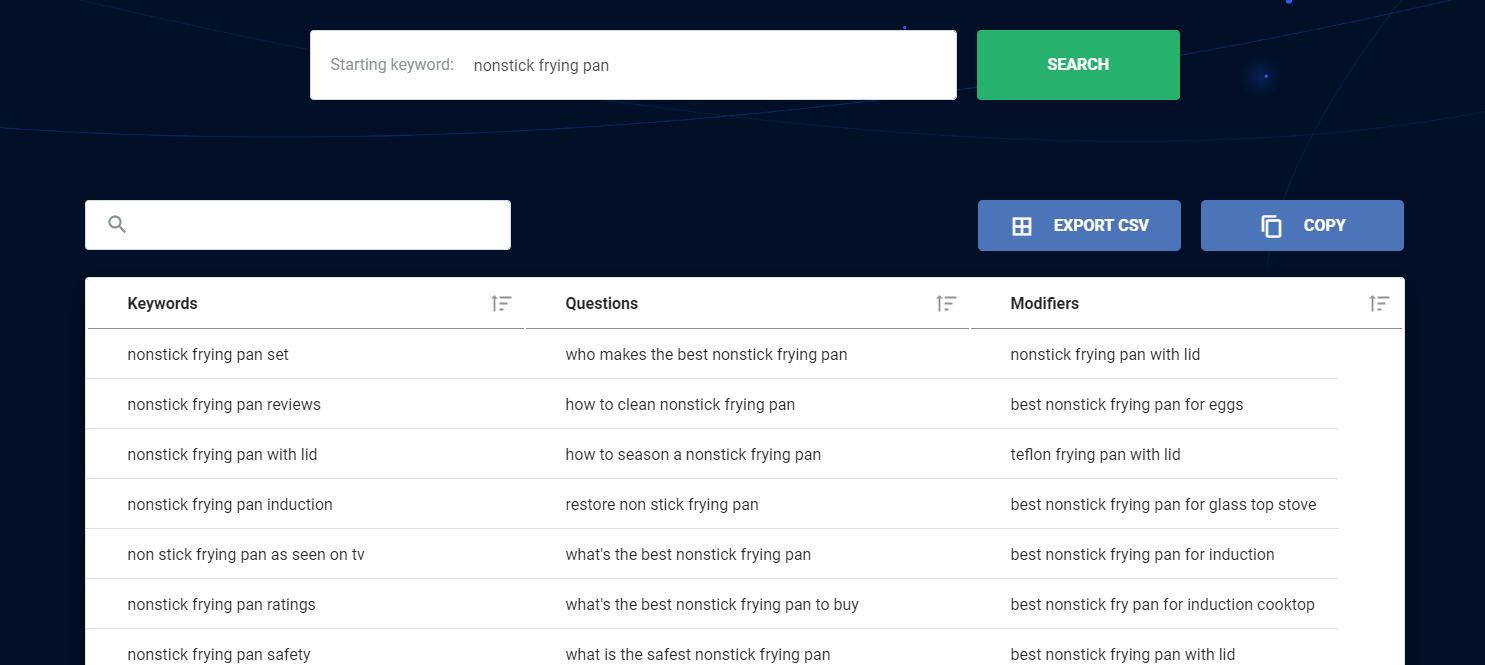 You'll see the competition, the search volume and CPC, along with a lot of keyword suggestions that are close to the one that you searched.
Keeping keywords organized
Before you enter keywords into a tool, we recommend having a spreadsheet of all the keywords that you're interested in targeting. This will help you keep track of important information regarding those target terms.
If the information you see on a tool makes you shy away from that keyword (whether the CPC is too high for your budget, or it has extremely high competition), cross it off your list so you have a clean, uncluttered sheet.
You can even export the keywords that KeywordsFX recommends and keep that as a running list of keywords to target as well.
The keywords you target
There are a lot of different keyword combinations out there, so how do you know which is best to target?
There are two main kinds of keywords: short and long tail keywords.
Short tail, or general, keywords are just that — general. Examples of short tail keywords include "NYC bakeries," "running shoes," "cat carriers," or "plane tickets." These keywords don't give a ton of information about what the user really wants, rather a broad overview.
These keywords are difficult to target because everyone tries to rank for them. Every shoe store in the business will try to target "running shoes," and every pet store will try to target "cat carriers."

The keywords that are easier to rank for are long tail keywords. These are far more detailed than general keywords and are typically more like phrases than one or two words.
Examples of long tail keywords include "NYC wedding cake bakeries," "size 7 pink women's running shoes," "20-inch plush cat carriers," or "direct flights from Philly to Texas."

These keywords are far easier to target because not every company in each niche offers these exact products.
Long tail keywords allow you to target extremely specific products or services that you offer, and the best part is, when a customer searches these keywords, it typically means they're ready to convert.
Long tail keyword searches are typically done after a shopper has done all the research on the product or services they need, and they've now come to a decision on exactly what they want.
That being said, long tail keyword targeting for your PPC ads are a win-win. Not only will you have an easier time winning bids for that keyword (since the competition is typically low), but you'll also get traffic to your website that is closer to conversion.
Step 3: Set your budget
As much as nobody likes to talk about budget, it's definitely an important part of any business. If you don't have a budget set, it's a lot easier to find yourself in a financial blunder. That's why every business should have a specific marketing budget set aside.
This budget should only be used for marketing and advertising campaigns, and it should be both realistic and reasonable.
Before you set a budget, it's important to do your research so that you set a reasonable one.
If you're looking to adopt more than one marketing strategy, you should look at multiple agencies and take note of what they charge for each of the services you're interested in.
Taking note of a wide range of agencies' pricing will help you get a well-rounded idea of what to expect for the kind of marketing campaign you're interested in implementing.
When it comes to PPC, you'll decide exactly how much you pay for ads, but if you are interested in an agency running your PPC campaign for you, you'll also have to consider management costs.
Take note of reasonable agencies' costs for these initiatives and begin to create a budget around it.
How much do you have to spend on marketing? Is your budget reasonable? Will your current budget get you the pay-per-click services you're interested in?
Once you come to an overall budget, you'll want to divide out what portion of the budget you want to spend on ads and what part you'll spend on management.
The more detailed you get with the allotment of money you have to spend, the more you'll be able to stay on track financially.
Again, you should be reasonable but realistic about your budget for each element of your campaign to ensure that you're able to get the results you're interested in.
Step 4: Set up your ad platform account
If you plan to advertise on Google, you'll want to set up a Google Ads account.
Signing up for Google Ads is free, but you'll have to provide a payment method and billing information to activate your account. The platform needs this information to know where to charge your ad spend.
Providing your information
When you first create an account, you'll have to provide information like your email address, and the website address for the business that you're advertising.
After creating an account, it's time to set up your campaign.
Set up your first campaign
You'll first have the opportunity to set an average amount for how much you're willing to spend, per day, on your account.
You'll then provide information including who your audience is, what keywords you want to target, and geographic locations where you want your ads to show up.
After setting this information, it's time to submit your bid. This is called your maximum cost-per-click, and the number you provide is the absolute most you're willing to pay to have an ad for the keyword you specified.
After setting your bid, you'll want to write your ad — this is simply the text content that users will see when your ad ranks above organic results.
Be sure to link it to a landing page on your website that directs users to the next steps involved in making a purchase.
Set up billing and start advertising to your target audience
The final step in the process is to provide Google Ads with your billing information so that you ad can go live.
As we mentioned before, your account won't be considered active until you provide this information, since ads are charged by how often users click them.
And that's it! Your Google Ads campaign is ready to go, and you're ready to start watching clicks roll in.
Step 5: Analyze your ads
One of the most important parts of a PPC campaign is tracking it. Without analyzing and tracking the ways your PPC ads perform, you're missing out on valuable information that can help you improve your ad campaign.
When you analyze your ads' performance and how users interact with them, you'll be able to make changes to your campaign that will allow your ads to perform even better.
To analyze your PPC ads, you'll want to link your Google Ads account and Google Analytics account. When you link your accounts, all of the information collected by your ads will automatically be uploaded into your analytics account, making it easy to see important data about your campaign.
Conversion tracking
To see how your ads are performing, you'll want to set up a conversion action within your Google Ads account. This action is anything that you deem important — anything that you consider a conversion.
This could be clicking on an ad, filling out a form on your landing page, or purchasing one of the products featured in an ad.
No matter what your conversion action is, you'll be able to track it when you set up conversion tracking.
To track conversions, you'll simply add a code to your website that allows customer clicks to trigger cookie placement. When that cookie is placed and the customer completes the action that you've named a conversion, Google Analytics counts that as a conversion.
You can then see these results in Google Analytics. Did you know that you can even call-track your PPC ads? That's right — you can track customers by how they found you based on a specific number!
What are the different types of PPC ads?
If you thought you can only advertise in search engines, you were wrong! Check out the different kinds of pay-per-click ads you can use to market your business:
1. Search ads
Search ads are some of the most common PPC ads.
Search ads appear in search engines like Google and Bing, and they are targeted by keyword.
When you enter a search query into a search engine, it's that search engine's job to return the best results to the user. They want to provide you with the results that are most likely to get you to make a purchase, and PPC ads targeted by keywords are a great way to do so.
These ads show up above organic results, and they are marked with the small "Ad" logo. These are text PPC ads, though you can also opt for ads that show an image of your product.
These can show up above organic results also, but sometimes they also show up on the right-hand side of your search.
2. Social media ads
With billions of users on the various social media platforms including Facebook, Twitter, and Instagram, it can only benefit your company from advertising there.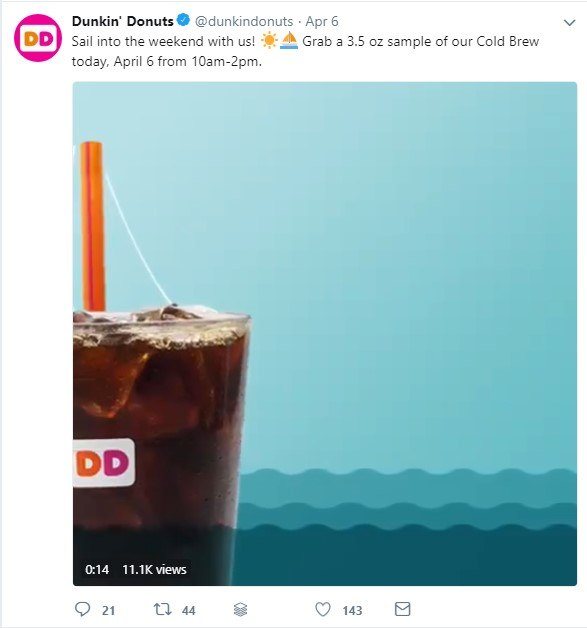 Chances are there are more than just a few users that are interested in your products and services given the huge audience, so social media is a great place for PPC ads.
One of the best characteristics of social media ads is that you can target your perfect audience based on demographics, interests, location, and more.
Not only do they bring more potential customers to your website to convert, but they also increase brand awareness exponentially.
Something of importance to note with social media ads is that the more human your ads are, the more successful you'll be. In a study done by the University of Oxford, they found that context matters. Their studies found that when brands tap into users' emotions, they'll perform better from an advertising standpoint.
3. Display ads
If you're looking to build extreme brand awareness, display ads are a great option for you.
These ads are the ones that you see as a banner, image, or even text on the different websites that you browse.
The reason they're great for increasing brand awareness is because they appear almost subconsciously on pages that you love to read.
Think back to the last time you were reading a blog, and a Dunkin' Donuts display ads appeared in the top of the screen. Though you may think you've paid no mind to the ad, you probably got Dunkin' later that week.
4. Retargeting ads
What is PPC retargeting? It's a great way to remind users of something they have searched for in the past, and encourage them to purchase what they left behind, or purchase again.
When you browse the web, depending on what websites you visit, those websites drop cookies in your browser.
Other sites that you visit notice those cookies and display ads for the website that dropped the cookies.
Retargeting ads can be in the form of a banner ad, a text ad, or an image ad, and you can also take advantage of them on other digital platforms like email marketing.
Traffic attracted through PPC advertising yields 50% more conversions than organic advertising.
Are you leveraging PPC in your marketing efforts? Let's get started.
View the Guide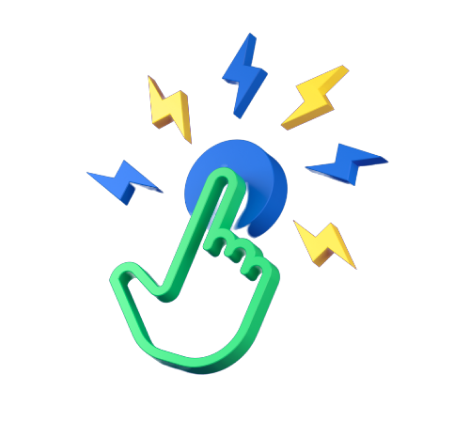 Top PPC platforms
Curious about the top PPC advertising platforms? Here are some of the most popular PPC networks today:
1. Google Ads
Like we mentioned above, Google Ads is the most popular PPC platform. You could call it the king of paid advertising platforms.
You can use Google's reach to launch ads that drive real results for your business on Google's popular search engine. The Google Display Network is also a good option to launch display ads on other websites.
2. Bing Ads
Bing is another popular search engine. While it's not quite as popular as Google, it still receives a fair amount of web traffic. That means you'll likely face less competition when bidding on keywords, making Bing Ads a good option for many small businesses.
3. Facebook Ads
You'll also find PPC ads on social media platforms like Facebook. Facebook Ads enables you to create a wide range of ad types, including videos and images, to promote your brand to users as they scroll through their timeline.
4. Instagram Ads
Instagram and Facebook are both owned by the company Meta, which means Instagram Ads works essentially in the same way as Facebook Ads. You can choose from a variety of ad formats and can also target users based on specific demographics and interests.
5. Twitter Ads
Twitter is also one of the most popular social media platforms, making it a great option to launch ads that reach your target audience. Like Facebook and Instagram, Twitter also offers you the opportunity to create different types of ads. One ad type that stands out, though, is the option to launch promoted tweets which can make your organic tweets soar to the top of a user's feed.
6. LinkedIn Ads
LinkedIn is also a very valuable PPC advertising resource, especially for business-to-business (B2B) companies. You can use LinkedIn Ads to share informational content about your business or industry and promote open job positions.
7. Amazon Ads
If you're looking to promote products from your Amazon store, launching advertisements with Amazon Ads is a must. Amazon Ads can appear as sponsored items on the Amazon website and app as well as on third-party websites as display advertisements.
Good agencies have more than 50 testimonials.
Great agencies have more than 100 testimonials.
WebFX has over 1000+ glowing client testimonials.
See What Makes Us Stand out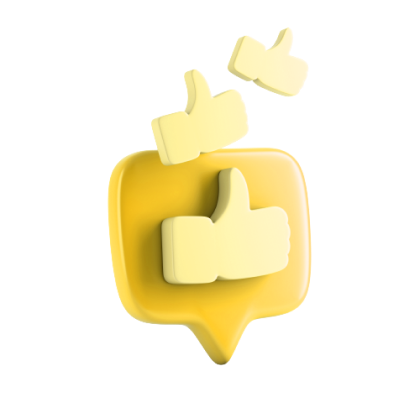 Get started with pay-per-click advertising
Whether you're interested in a simple PPC campaign, pay-per-click packages, or a full digital marketing campaign, WebFX can help.
We have some of the most talented professionals in the business — over 500 to be exact, and we can't wait to help your business grow with our digital marketing services.
Besides PPC, we offer the following:
And that's just the start.
We know that no two companies are the same, which is why when you work with us, you'll get a completely custom PPC campaign that is well-suited to your specific business goals and initiatives.
We'll work hard to find the most effective keywords for your campaign, research your competition, and find a package that fits with your budget in order to help your business grow with PPC.
If you'd like to learn more, or if you're interested in a free quote, contact us online today, or call us at 888-601-5359.
We can't wait to hear from you!
Earn a 20% greater ROI with WebFX