What are marketing activities? Marketing activities refer to the techniques that individuals and businesses use to promote their products or services, gain more sales, and improve brand awareness.
Tina owns a dog grooming and accessories shop. Because Tina is a dog owner of three, her business has gained loyal customers from the nearby park where she walks her pets every morning.
One day, Tina decides it's time to expand her customer base. What should she do to promote her business and market its services?
If you're like Tina and you're looking for marketing activities examples, you're in the right place! This blog post will discuss strategies and marketing activities for small- to midsized businesses (SMBs):
You can also get more marketing tips by signing up for our newsletter, Revenue Weekly. Join over 200,000 marketers who get the latest marketing advice delivered straight to their inbox.
What are marketing activities?
Marketing activities refer to the techniques that individuals and businesses use to promote their products or services, gain more sales, and improve brand awareness. These activities involve:
Understanding the customers and their needs
Effective brand communication
Delivering the products and services that address customers' needs
Depending on the business goals and its customers, brands use a variety of marketing activities to communicate with prospects and existing customers. An ideal marketing strategy includes several marketing tactics and tools that measure success.
Let's learn more about these marketing activities in the next section!
5 marketing activities ideas
SMBs can boost their brand awareness and communicate with their prospects through various methods. Here are some marketing activities ideas:
Ready to learn how to do each one? Let's go through each marketing activity:
1. Market research
Market research is the process of learning more about your prospects and customers. It's a marketing activity that gathers your audience's demographic information, and dives into understanding their values, purchasing behavior, and attitudes toward your business. As a result, it helps you develop products and services that address your audience's pain points.
In addition, you'll find out what they like about your current products or services, and identify what needs improvement. You can also update your communication plan based on what your audience loves about your offerings.
Because qualitative and quantitative market research give you a lot of information about your customers and prospects, you can easily segment your buyer personas. Having different persona segments lets you customize your marketing messages for each segment, and use the marketing channel suitable for each one.
2. SEM
This marketing activity uses search engines like Google to promote your business. After all, 80% of users start with their product research online.
An SEM activity includes paid and organic strategies. The paid strategy of SEM, pay-per-click advertising (PPC), involves placing ads on search engine results pages (SERPs) and other websites. You pay a certain amount every time a user clicks on your ad.
The organic strategy, meanwhile, is search engine optimization (SEO). It's a strategic process of improving your website, so its pages rank higher in SERPs. This strategy involves creating useful content about topics that your intended audience searches for and optimizing your website's pages so they appear in relevant search queries.
If we go back to Tina and her dog grooming business, she can optimize her existing pages about her business's services. She can also create useful blog posts about dog ownership and grooming. Additionally, she could create evergreen content, like how to trim a dog's nails, that increases her business's brand awareness.
3. Content marketing
One of the marketing activities that SMBs can employ is content marketing. This approach involves creating and distributing relevant and useful content for a business's target audience.
You can publish your content on your website or YouTube if it's in video format. Then, you can promote your content through social media or your email newsletter.
For example, let's say you're in the business of event planning and styling. You can create video content about the different ways to style a table napkin for a dinner party.
You can upload this useful video on YouTube, and embed it in a blog post. Promote it further by sharing the blog post among your email newsletter subscribers.
By producing relevant content for your target audience, they become more familiar with your business, your expertise, and your services. When they need to hire an expert, they'll know whom to turn to!
4. Email marketing
Email marketing is a strategy that uses — you guessed it — email. With email marketing, you send your marketing messages directly to your intended audience's inbox.
Both business-to-business and business-to-consumer companies use email marketing. Why? Email marketing is one of the most effective ways to communicate with your audience, having a reported 4400% return on investment.
One of the advantages of email marketing is you can segment your recipients and craft different marketing messages for each persona segment. You can segment them based on their location, interests, or their stage in the sales funnel.
Email marketing also lets you A/B test your messages and email newsletter layout to find out which one is the most effective among your audience.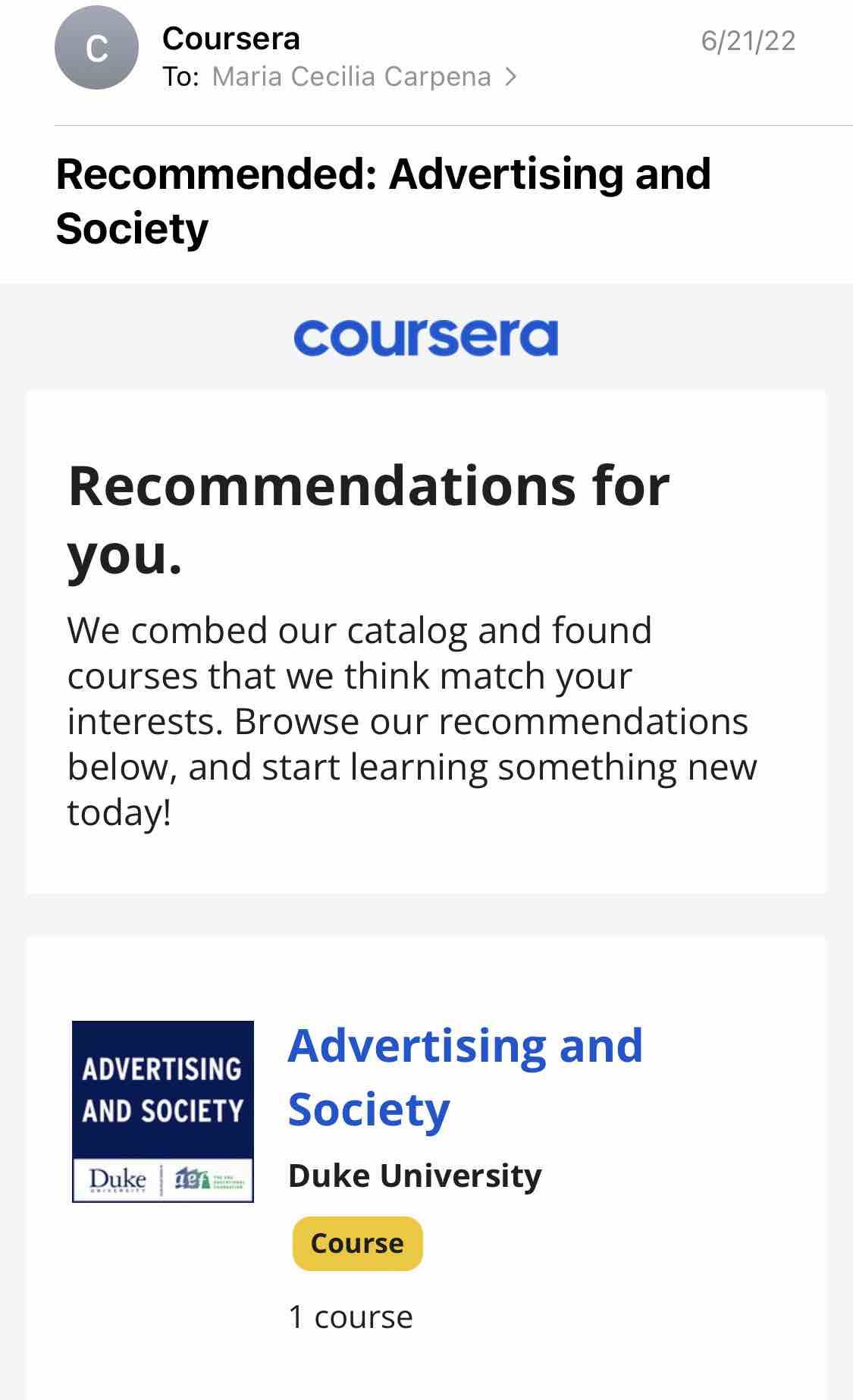 Have you ever received a newsletter from a business that seems tailored specifically for you? Here's an email newsletter from an open online course provider. When I signed up for an account, I expressed interest in some topics, including advertising, so I received an email about this course recommendation.
Email management tools like EmailMarketingFX can help you seamlessly send out your emails, so you don't have to do all the manual work. You can also perform A/B testing and monitor the results in real-time using these tools!
5. Social media marketing
Another marketing activity that SMBs can use is social media marketing. You can use any social media platform, depending on your audience and business:
Using any of these platforms, your business can connect, engage, and communicate with your target audience. You can also promote your offerings on your page to increase brand awareness, lead your target audience to your website, and convert them into leads!
Engage with your audience through your organic social media posts or paid social media ads. Another excellent way to engage with your audience is to join relevant groups and communities on social media. Not only do you connect with your prospects and customers, but you also get to know them better through social listening.
It's time to plan your marketing activities
Did these marketing activities ideas get you pumped up to kick-start your strategies? If so, WebFX is ready to help.
Our team of 500+ digital marketing experts has generated over $3 billion in revenue for our clients. Contact us online or call 888-601-5359 to speak with a strategist about our digital marketing services!
Our digital marketing campaigns impact the metrics that improve your bottom line.
See More Results

WebFX has driven the following results for clients:

$3 billion
In client revenue

7.8 million
Leads for our clients

5.2 million
Client phone calls
WebFX Careers
Join our mission to provide industry-leading digital marketing services to businesses around the globe - all while building your personal knowledge and growing as an individual.