As technology develops, it provides new ways for people to connect. Today, businesses are taking advantage of opportunities to connect with people through webinars, conferences, and more. Virtual events are taking center stage in the 21st century for businesses looking to find an easier way to host events.
Similar to events that bring large groups of people together under one roof, it's equally important to market your virtual event. But how do you do so successfully? On this page, we'll provide you with eight tips for marketing virtual events.
Keep reading to learn more about how to promote a virtual event, and subscribe to Revenue Weekly for the latest tips and tricks on marketing!
1. Ask yourself if your event can be online
This first tip for marketing virtual events is an important one — you must ask yourself if your event will be successful in an online format. First, ask yourself these questions:
Is it possible to do everything I want to do through an online event?
Will my event offer value to my audience?
Can I still achieve my goals virtually?
If you answer "yes," to these questions, an online event is an excellent option for your business. If you answer "no" to any of these questions, you may need to dive deeper and figure out if it's possible to adjust your event while still making it successful.

2. Create a brand for your event
Once you've deemed your event can be held successfully online, it's time to figure out how to promote a virtual event. The first step for promoting your event involves creating a brand. It's essential to establish a brand identity for your event, so people become familiar with it and remember your event better.
Developing a brand identity will also help your event look more composed and build trust with your audience. When it comes to choosing your brand identity, you can go one of two ways:
Create a brand style that fits your business and reflects your company
Create a brand style that has a theme for the specific event, but doesn't necessarily fit with your company's brand style
So, for example, let's say you're a gaming company, and you decide you're going to host a gaming convention online. If your company's brand colors are red, black, and white, you could mimic that same color scheme in your online convention. On the other hand, if the theme of your convention is mystical and sci-fi video games, you may choose a purple or blue palette to mimic the mystical and sci-fi style.
When you choose your brand style, ensure you establish your:
Colors
Fonts
Themes
Image style
And more
By establishing your brand theme, you'll create a cohesive marketing strategy for your virtual event.
3. Use multiple channels to promote your event
Next on our list of marketing ideas for virtual events is to use multiple channels to reach interested leads. Many companies make the mistake of promoting their event solely through one channel. If you want to have a large attendance at your virtual event, you need to utilize multiple channels to reach interested people.
You can choose from numerous channels, including:
Search engines
And more
Using multiple channels enables you to widen your reach to get more people to attend your virtual event.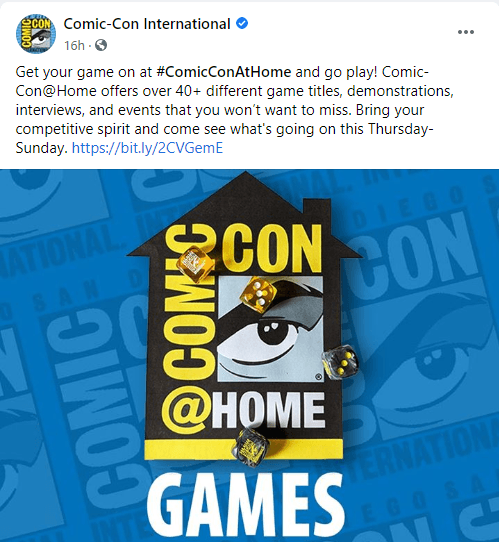 4. Know your budget
If you want to succeed in marketing virtual events, you need to know your budget. Since you'll want to invest in marketing on multiple channels, you need to know how much you can spend on each. It's important to break down each channel and see how much it costs to run a campaign to advertise your event.
With channels like PPC and social media ads, you control your budget. You determine how much you want to spend on your ads, so you have a little more flexibility in terms of how much you spend. Other strategies, like email marketing and search engine optimization (SEO), require you to spend a certain amount to have an effective campaign.
So, before you start launching channels and marketing your virtual event, make sure you know how much you're willing to spend.
5. Build a dedicated webpage or landing page for your event
If you want to know how to promote a virtual event, start by building a dedicated web page or landing page. Your audience should have a place they can go to get all the information they need about your event. When you create this dedicated page, you want to ensure that you keep the event's theme throughout. You'll also want to ensure that you include essential information for your online event's promotion:
Event name
Event dates
Event location
Event agenda
Event price
Event details/what your audience can expect
This page acts as a one-stop-shop for all your event information. Additionally, you can link to this page in your advertising campaigns or on your social channels, making it easy to provide users with information on your virtual event.
P.S. When you create your dedicated virtual event page, make sure you make it easy for people to register for the event. Don't ask for too much information or make the process too long.
It will deter people from attending your event.
6. Send "save the date" emails
One of the best marketing ideas for virtual events is to send "save the date" emails. Save the date emails enable you to reach out to people who already subscribe to your content and get them interested in your event. It's a great email to send as you're finalizing the schedule and details of your event.
Sending this save the date helps create awareness for the event ahead of time, so they can start planning if they're going to attend. You can then follow up the save the date email with the formal invitation for the event.
7. Promote your event frequently
If you want people to attend your virtual event, you need to remind them about it. A core part of marketing virtual events is making sure that your audience doesn't forget about them. However, this doesn't mean that you spam your social media channels with only information about your event.
But you should post frequently enough to reach your audience and encourage people to attend your event. Figure out essential milestones leading up to the event to post. For example, if you're promoting your event that's in three months, you might create posts each week counting down to the registration deadline.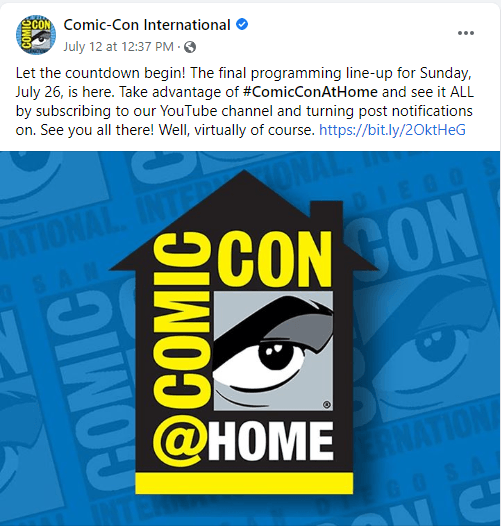 Then, once the registration deadline passes, you can post in each week with a countdown to the event and important information or updates about the event.
8. Follow up with attendees after the event
Marketing for virtual events doesn't stop when the events end. It's critical, especially if you plan to make your event a yearly, quarterly, or monthly endeavor, that you ask for feedback and follow up after your event. You can follow up with attendees by:
Sending a follow-up email about the event and thanking them for attending
Sending a recording of the event for people who want to go back or revisit specific points
Sending a survey or poll about the event
Following up is critical to understanding what worked with your event and what can be improved for next time.
Start marketing for virtual events today
It can feel overwhelming trying to market for a virtual event, but you don't have to go at it alone. At WebFX, we have a team of over 500 experts that are ready to help you optimize your marketing channels to promote your virtual events better. Give us a call at 888-601-5359 or contact us online to speak with a strategist about how we can help you market all your future events and more!
How is your website's SEO?
Use our free tool to get your score calculated in under 60 seconds.
Get posts by email
Join 200,000 marketing managers and subscribe to Revenue Weekly!
"*" indicates required fields
WebFX Careers
Join our mission to provide industry-leading digital marketing services to businesses around the globe - all while building your personal knowledge and growing as an individual.