You just sat down at the new restaurant in town, and you're bombarded with lunch options. The sheer volume of choices makes you think long and hard about your decision. Similarly, there are so many social media platforms out there that it can take you a lot of consideration and time to decide which ones you should advertise with, and today, we're going to cover Facebook ads vs. LinkedIn ads. Keep reading to learn more about LinkedIn vs. Facebook and how to determine which platform you should use to advertise your company. If you'd like to speak to a specialist about social media advertising, feel free to give us a call at 888-601-5359!
LinkedIn vs. Facebook: Which is better for advertising your business?

LinkedIn and Facebook are two of the most popular social media platforms out there — making the topic of Facebook ads vs. LinkedIn ads an important one. There are a few things to consider when deciding between Facebook and LinkedIn for your advertising endeavors. You should consider things like:
Who is your audience?
How detailed of an audience do you want to target?
How much do you want to spend on ads?
How interested are you in ad design and aesthetics?
These are just a few basic things to consider when deciding between Facebook advertising vs. LinkedIn advertising. How do you know which to choose, though? Let's dive right in and find out.
What about Facebook Ads vs Google Ads?
Who is your audience?
Selecting the perfect platform for your social media advertising campaign has everything to do with your audience.
For example, Snapchat is known to cater to millennials, while LinkedIn most commonly targets professionals. Thinking about your audience can help you decide between Facebook ads and LinkedIn ads.
You should use Facebook ads if you want to advertise to a vast audience.
Facebook has over 2.4 billion users, while LinkedIn has just over 260 million users. Based on the user base alone, it makes sense to advertise on Facebook if you want to get your ads in front of more people.
You should use LinkedIn ads if your target market is mostly professionals.
It's no secret that LinkedIn is known for catering specifically to professionals — some even call it the professional version of Facebook. If you want to target business owners or an audience that works in a specific industry, LinkedIn will be an excellent option for you.
How detailed of an audience do you want to target?
When it comes to audience targeting, both platforms offer great options. However, in a game of Facebook ads vs. LinkedIn ads, Facebook offers more detailed targeting options.

When you use Facebook ads, you can target users based on:
General interests
Liked pages
Important dates like birthdays
Demographics
Location
Buying history
Education level
Industry
Job title

On the other hand, LinkedIn ads allow you to target users based on:
Demographics
Schools attended
Current employer
Joined LinkedIn groups
Company size
Industry
Job title
It's not surprising that LinkedIn targeting options center around being a working professional, where Facebook targeting options allow you to get more granular with a broader audience.
How much do you want to spend on ads?
With both Facebook advertising and LinkedIn advertising, you choose exactly how much you'll spend — making both cost-efficient ad platforms. However, there are some differences in cost-per-click (CPC) for each platform. If you're looking at the average cost-per-click for LinkedIn ads, or how much you'll pay every time someone clicks your ad, it's somewhere around $5.26 per click.
Compare that to Facebook's average CPC, which is just $0.97. A high-level comparison would tell you that Facebook is the cheaper platform to advertise with, and you wouldn't be wrong. However, just because you pay less per click on Facebook doesn't mean you won't earn higher value leads on LinkedIn. It's all about who you're targeting and what kind of lead you earn.
For example, you might pay a lower CPC for a Facebook ad, but the lead that you achieved was an email newsletter sign-up. In the end, that email sign-up might turn into a long-term relationship between you and the customer, but it might not be worth as much as your lead on LinkedIn that you paid a little more to attract and engage.
How interested are you in ad design and aesthetics?
When you're talking about Facebook ads vs. LinkedIn ads, Facebook offers a few more ad options — meaning you can choose from a more extensive selection of ad formats to create an ad that you genuinely love. Here are a few Facebook ad format options:
Photo ads
Video ads
Story ads
Messenger ads
On the other hand, LinkedIn offers some great ad options too, but not as many as Facebook. LinkedIn offers the following ad format options:
Display ads
Sponsored content
Sponsored InMail
Text ads
Dynamic ads
Overall, both platforms provide a variety of ad format options, but when you boil it down, Facebook has a few more ad alternatives with some added customization opportunities.
So, which is better? Facebook advertising or LinkedIn advertising?
When you're considering Facebook advertising vs. LinkedIn advertising, there are a few major differences, but overall, both social platforms provide fantastic advertising opportunities.
Let's look at the pros and cons of each so that you can choose which platform is better for your business: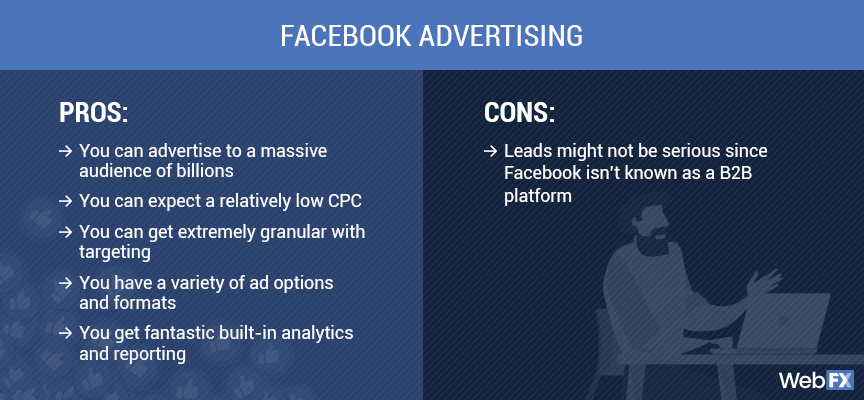 Pros of Facebook advertising
You can advertise to a massive audience of billions
You can expect a relatively low CPC
You can get extremely granular with targeting
You have a variety of ad options and formats
You get fantastic built-in analytics and reporting
Paid or organic facebook advertising? see what our experts say
Cons of Facebook advertising
Leads might not be serious since Facebook isn't known as a B2B platform

Pros of LinkedIn advertising
You're meeting B2B customers where they are
Your leads could potentially be worth more
Cons of LinkedIn advertising
Much smaller audience than Facebook
Targeting options focus on professional qualities
Not as many ad formats
So, what do you think? Now that you know the pros and cons of each platform, you have all the necessary information that you need to make a choice in the battle of Facebook ads vs. LinkedIn ads.
We foster and form long-term partnerships so that your business has long-term results.
Over 90% of WebFX clients continue partnering with us into year 2 of their campaign.
Hear from Our Happy Customers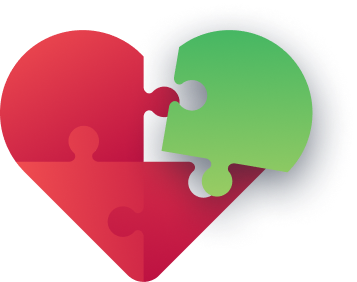 Facebook ads vs. LinkedIn ads: How do we weigh in?
As marketing professionals, what do we think is the better advertising option?
You might not like the answer, but the truth is, it varies by business. If you own a B2B company, you'll likely have great success on LinkedIn, but that doesn't mean you won't have success on Facebook.
If you opt for Facebook, you'll likely spend a little less, and based on the granular targeting options, you could get engagement rates that are through the roof! Each platform has its pros and cons that make up for the shortcomings of the other.
That said, we recommend opting for both a Facebook and a LinkedIn advertising strategy to measure success. It's nearly impossible to determine what platform will provide the best results until you test them both. Start your ads at the same time to measure their performance over a set period.
When your campaigns wrap up, you can compare essential success metrics like:
Clicks
CPC
Conversions
Impressions
And more
Each of these metrics compared on each platform can help you decide which platform will drive more success for your unique business. On the other hand, if you want to fire at all cylinders, it's never a bad idea to advertise on multiple social platforms. At WebFX, we offer social media marketing strategies for:
Facebook
Instagram
Twitter
LinkedIn
Pinterest
The best part? When you work with a social media marketing agency like us, we can help you manage social advertising campaigns that work together to drive the best results.
WebFX can help you decide: LinkedIn vs. Facebook for advertising
If you're still on the fence about what social platform will drive the best results for your company, WebFX can help. We have a whole team of social media specialists who can help you make the most of your social ad budget and increase clicks, engagement, and leads overall. We'll get to know your business, your goals, and your industry so that we provide the best campaign possible.
If you're ready to get started, contact us online for a free quote or give us a call at 888-601-5359!
Get posts by email
Join 200,000 marketing managers and subscribe to Revenue Weekly!
"*" indicates required fields
WebFX Careers
Join our mission to provide industry-leading digital marketing services to businesses around the globe - all while building your personal knowledge and growing as an individual.