Though the saying goes that "you shouldn't judge a book by its cover," many people rely on the book's cover to tell them if it's a worthwhile read. It's no different with YouTube videos — people use YouTube thumbnails to tell them if they should click on a video.
So, if you want to get info on creating click-worthy YouTube thumbnails, you've come to the right place! I'll cover two critical areas of YouTube thumbnails:
Want to get more tips and tricks for creating top-tier videos? Subscribe to our newsletter, Revenue Weekly, for the inside scoop on how to market your business effectively!
Why your YouTube thumbnail matters
If you're creating YouTube videos, you may wonder why you need to pay attention to your YouTube thumbnails.
Here are a few reasons you'll want to learn how to create YouTube thumbnails:
1. Custom thumbnails perform better than snapshots
Throughout this piece, I'm focusing on custom thumbnails. And why is that? Because custom thumbnails generate better results than snapshots.
Snapshots are still images from your video that provide a preview. Some people opt to take this route because it's easy — you pick a still image from your video and set it as your thumbnail.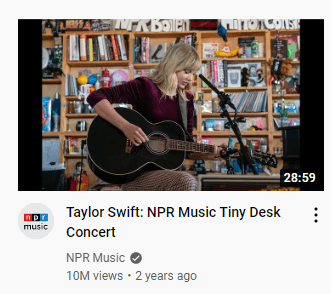 So, what's the problem?
Well, there isn't always that picture-perfect moment where you can grab a still image for your video. It's also challenging to figure out what part of your video will serve as the most enticing part to get prospects to click.
That's the benefit of creating a custom YouTube thumbnail. When you create a custom YouTube thumbnail, you can create something more eye-catching and descriptive, so people want to click on your video.

That leads to the following two reasons to make a YouTube thumbnail customized to your video.
2. Thumbnails determine relevancy
A custom thumbnail helps show prospects how your video is relevant to the content they want to watch. While your title and description help inform the reader, your thumbnail is the element that catches their eye. It tells them how your video is relevant to their search.
With custom YouTube thumbnails, you can add text to your thumbnail. It's an easy way for you to indicate what the reader can expect in your video. You can also design your thumbnail to feature an all-encompassing image representing your video.
Take this example on comic book cleaning. This video provides a custom thumbnail that includes text and a hand-picked image. When putting the two components together, I have a good idea of what to expect with this video.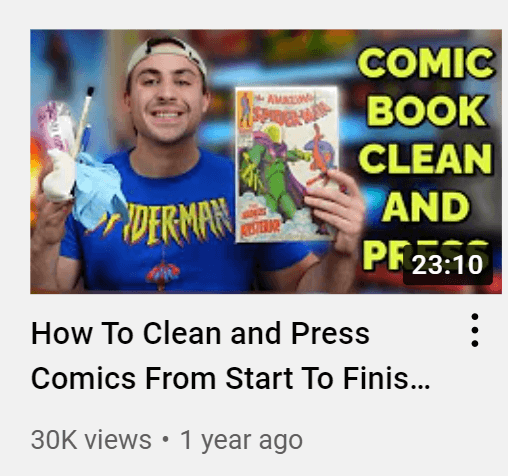 So, overall, having the right thumbnail is critical for helping viewers determine the relevancy of your video.
3. Thumbnails impact clicks
The most important reason to make a YouTube thumbnail is that it impacts whether people click on your video. As I mentioned earlier, many people are drawn to books based on their covers. You need to create a custom thumbnail that draws people to your video.
Creating the right YouTube thumbnail could be the difference between someone clicking or scrolling. It's essential to put time and effort into your thumbnails so people want to click them and watch your video.
How to make a thumbnail for YouTube
Now that you know why you need to make a YouTube thumbnail, it's time to dive into how to get started!
Here's how to make a thumbnail for YouTube:
Here's more on those steps:
1. Select your YouTube thumbnail maker
If you want to create a YouTube thumbnail, start using a thumbnail maker. Using one of these makers is the easiest way for you to create your custom thumbnail without hassle.
Here's a short list of thumbnail makers you can use:
These thumbnail makers often provide templates you can use to create your thumbnail. They also offer additional graphic and design features to help you create a custom YouTube thumbnail that generates clicks.
2. Make sure your dimensions are right
The next part you need to follow in how to make a thumbnail for YouTube is checking the dimensions of the thumbnail you're creating. If you're using a template, the dimensions should already be correct.
But if you want to ensure you're on the right track, make sure your image is as close to 1280 x 720 pixels as possible. This size is ideal for YouTube thumbnails to ensure your graphic is high-quality and doesn't appear stretched or grainy.
3. Choose the image(s) you want to use
When you create a custom YouTube thumbnail, you need to select the image(s) for it. You can opt to use one large image, or you may opt to use multiple photos. The context depends on your video.
Don't overload your thumbnail with too many pictures. You want to ensure that your image is clear and doesn't overwhelm anyone who sees it.
Additionally, use high-quality images in your video, so your thumbnail is clear.
4. Add your text and design elements
Once your images are placed, you can add text and design elements. If you want to know how to make a thumbnail for YouTube that generates clicks, make your thumbnail engaging and informative.
You can add relevant text that informs the searcher about the context of your video. If you choose, you can repeat the text in your video's title to emphasize the context of your content.

If you want to add emojis, shapes, or other objects to your thumbnail, you can do that too.

Make sure that as you add elements, you keep your YouTube thumbnails focused and make it easy to see what's in your video.

5. Download your thumbnail
After you've crafted your masterpiece, the next step in how to make a thumbnail for YouTube is to download your graphic.
Once you download your thumbnail, you can upload it to your YouTube video.
6. Upload the thumbnail when you upload your YouTube video
After you create your YouTube thumbnail, it's time to add it to your video! This step is super easy — after you upload your video content, you'll see a section for Thumbnail. Click Upload thumbnail and add your beautifully crafted graphic!
Need help creating YouTube thumbnails that generate clicks and views?
Now that you know how to make a YouTube thumbnail, you may feel unsure about creating one that will entice people to watch your videos. If you feel uncertain about creating a custom YouTube thumbnail, the experts at WebFX can help.
With our video marketing services, we can help you craft videos with custom YouTube thumbnails that generate more clicks and views.
Our team knows a thing or two about driving results. In the past five years, we've driven over $3 billion in revenue and over 7.8 million leads.
Ready to make revenue-driving YouTube videos? Contact us online or call us today at 888-601-5359 to speak with a strategist!
WebFX Careers
Join our mission to provide industry-leading digital marketing services to businesses around the globe - all while building your personal knowledge and growing as an individual.