Facebook is one of the most versatile advertising platforms for restaurant businesses. When you use Facebook ads for your restaurant, you can easily target the people that are most likely to become your diners.
Never created ads on Facebook before? Check out our guide on how to set up a Facebook ad!
If you need professional help with social media advertising, contact us online or call us at 888-601-5359 to talk to a social media advertising specialist about our Facebook advertising services.
Why use Facebook for restaurant ads?
Why use Facebook restaurant ads? Facebook ads have a wide range of targeting options, allowing you to focus in on the people who want to eat at your restaurant.
On Facebook Ads Manager, you can choose useful targeting options such as:
Location targeting: Facebook allows you to target people within a location. The platform provides you with two different options. You can target by a radius you define around a city center or an area you identify, or you can target by zip code.
Age targeting: You define the age ranges for the people that your restaurant ad gets shown to, such as 18-25 or 25-54. The default is 18-65+.
Gender targeting: Facebook gives you three options: men, women, and all.
Detailed targeting: Users on Facebook can help improve your targeting based on their demographics, behaviors, or interests.For example, you can show your restaurant business ads to people based on criteria like the ads they've previously clicked on, pages they've engaged with, activities they're interested in, mobile devices they use, and more.
Lookalike audiences: Facebook helps expand your restaurant's reach by targeting people with similar characteristics and behaviors to customers you have interacted with before. This new audience is called a lookalike audience.When you make a lookalike audience, you base it on customer email lists that you already have on file. Facebook checks out the profiles of the users that have profiles registered under those emails, then looks for people with similar likes, interests, and viewing patterns.
Facebook has more targeting options than just the ones mentioned, so check out all you can do in the Facebook Ads Manager platform.
Not happy with your social media engagement?
We've got just the blog post for you.
Read the Blog Post & Watch the Video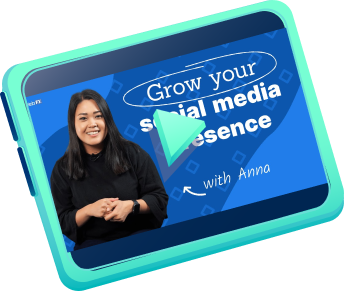 Hear What It's Like to Work With WebFX!

"I work with a couple other companies across our portfolio and I certainly have the best working relationship and success with WebFX. I appreciate the collaboration, patience and always prompt response with our last minute requests. The WebFX team always presents "guinea pig" ideas that we can test on the properties, some of which come from completely different types of establishments. I truly appreciate the ability to pivot and think outside of the box, especially during these most challenging year!"
Restaurant
How to advertise your restaurant on Facebook
Since Facebook provides such a variety of targeting options for your restaurant ads, you'll need to identify the audience that works for each ad best.
There are two things that you need to consider when identifying your audience.
1. What do you want to accomplish with your ad?
Every one of your ads should have a measurable goal.
Consider what it is that you want to accomplish with your ad.
Do you want to:
Spread awareness of your restaurant?
Build trust in your brand?
Bring one-time diners back to your location?
Gain more followers on social media?
Show off the value that you can provide?
Your goal will help determine your audience, ad format, ad copy, and call to action (CTA).
2. Where is your target audience in the marketing sales funnel?
How people make dining decisions varies. Your customers can be impulsive when purchasing, or they can take their time deciding where to eat. Know how your target audience will move through the marketing sales funnel by studying their behaviors.
This quote from David Baekholm sums it up nicely:
"By identifying customer behavior signals (through your website, app, or other channels) you can start to get a clear understanding of what kind of behaviors correlate with likeliness to convert, either now or in the future."
Here are two easy ways you can learn about your audience, and they play off each other pretty well:
Make an organic post on Facebook: Organic posts are a great way to see how your existing fan base reacts to content without the investment of paid ads. With posts that work well, you can identify who is engaging with them and make a Facebook ad that targets people of the same demographics and behaviors.
Create multiple versions of the same Facebook ad: After you evaluate how your organic posts are doing and find one that might work well as a paid ad, don't just create one ad.Instead, create a new version of the ad for slightly different audiences, such as one ad for diners aged 18-24, and another for diners aged 25-54, or ads that hit different related interests, like coffee vs. mocha lover.Creating multiple versions of your restaurant Facebook ad is a way of testing your ad's performance and narrowing in on exactly where your target audience lives on Facebook.By identifying who engages with your ads and what actions they take following the engagement, you can start anticipating the needs of your customers and identifying where they are in the sales funnel.
Our digital marketing campaigns impact the metrics that improve your bottom line.
See More Results

WebFX has driven the following results for clients:

$3 billion
In client revenue

7.8 million
Leads for our clients

5.2 million
Client phone calls
10 tips for a successful Facebook restaurant ad
Need some inspiration for what the focus of your ad should be?
Check out these ten tips (with examples of restaurant Facebook ads) to spice up your next Facebook advertising campaign!
1. Invest in images of tasteful food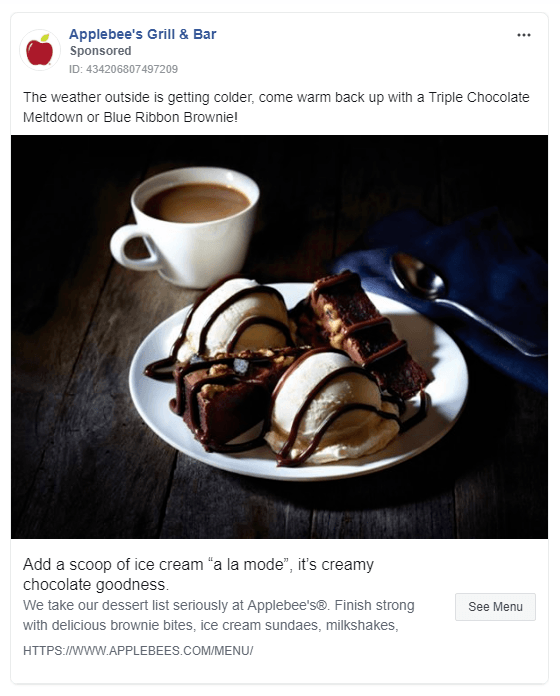 Looks delicious!
Your image is the first thing on your ad that Facebook users will see. It's what attracts their attention. Photo posts get 120% more engagement on Facebook than those without.
Since a major portion of a diner's trust in a brand relies on the quality of the food, it makes sense that the images you show in your Facebook ads should look appetizing.
Investing in high-quality, professional photos of your food will ensure that your diners' mouths will be absolutely watering when they see your restaurant's ad.
This Applebee's makes me want to eat it right up!
2. Boost likes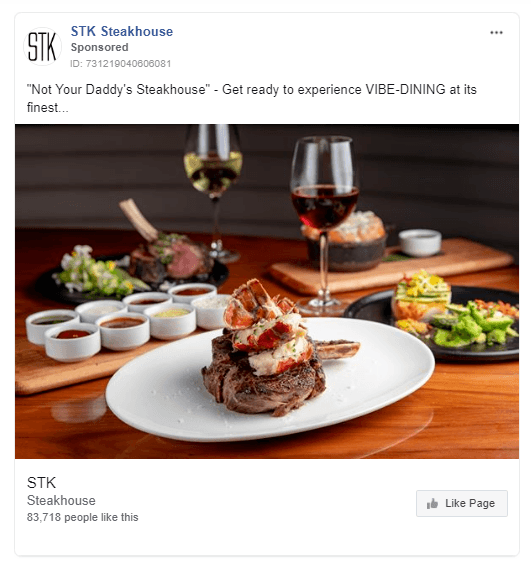 I'd hit that like button!
Extend your restaurant's reach on Facebook by increasing the number of likes your page has.
Likes on Facebook are useful. They let you remarket organically to anyone who likes your page. Likes also boost traffic to your website and help you build more personal relationships with your followers.
Ads like this tasty looking steak from STK Steakhouse remind customers the value you can bring to them. This type of ad is best used for people who have already experienced what you have to offer. If you can get them to like your page, it'll be even easier to remarket your restaurant to your previous customers.
Use ads like STK Steakhouse's to show off the ambiance of your restaurant's dining experience to boost your likes on Facebook.
3. Advertise new locations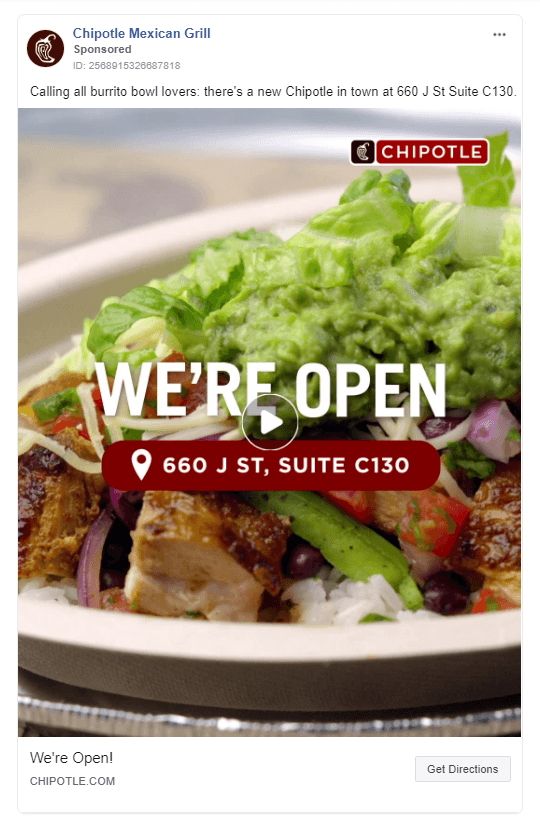 Quick, grab the car!
Boosting your restaurant's visibility (like this Chipotle ad showing off delicious food and their new address) is an excellent way of attracting customers whenever you open in a new location.
This type of ad tends to work better for chain restaurants who regularly open new locations, but the CTA can still work great for small mom-and-pop restaurants who want to increase awareness or host an event while providing convenience to their customers.
4. Provide coupons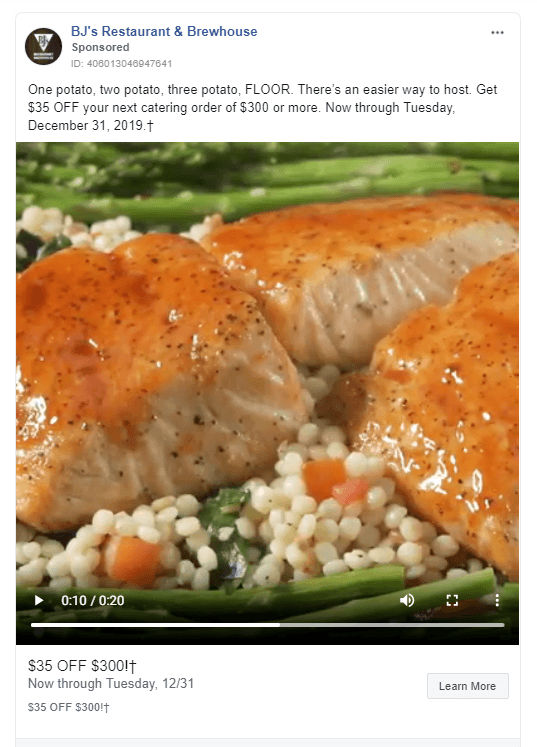 Who doesn't like a good deal?
Coupon offers and deals are great ways to boost traffic to your restaurant's location or to increase sales with your catering Facebook ads. Coupon deals provide an incentive to diners to eat at your restaurant versus your competitors.
Deals like Buy One Get One (BOGO) and other discount freebies also help your restaurant build relationships with customers. Your diners will see it as you giving back. They'll get a little something in return for dining with you, just like the $35 off for this BJ's catering video ad.
5. Offer gift cards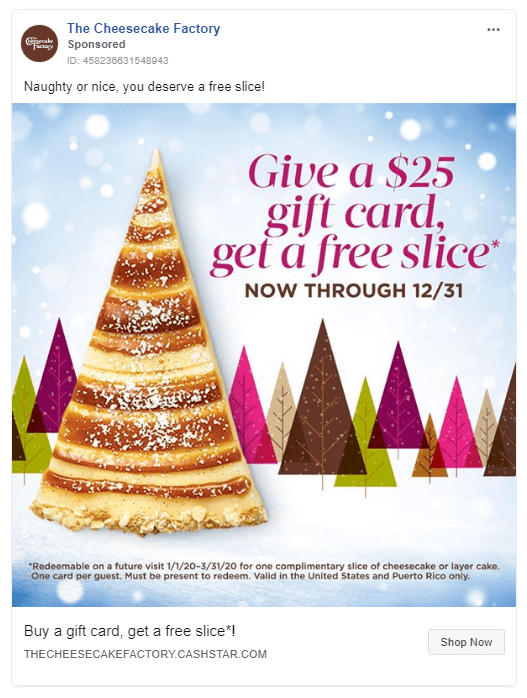 Yum, gift cards!
When people eat good food, they want to share their experience with others. Gift cards are a great way of helping your customers spread the love, especially when there's a special occasion like a birthday or when someone wants to say thanks.
When paired with a deal for the gift card purchaser (like how this Cheesecake Factory ad offers a free slice of pie when purchasing a $25 gift card), well, the deal gets even sweeter.
6. Provide download option
Let's download and dine!
Drive your omnichannel marketing with a "Download" CTA like this P.F. Chang's ad.
Of course, this approach for Facebook restaurant ads requires having an app for your restaurant (which is not a bad idea). Apps smooth out the dining experience for customers, especially if you offer delivery or takeout.
With an app, diners can:
Reserve seats
Order
Find and use app-exclusive coupons and deals
Use loyalty points and rewards programs
And more!
Your diners will enjoy all the perks your app can give them.
7. Promote seasonal specials
Christmas dinner, here we come!
Take advantage of seasonal events with ads like Black Bear Diner's.
Not only will they send more traffic to your location during that time of year — meaning more diners and more revenue — but customers will view your restaurant as engaged participants of their community, which increases the amount of trust they have for your business.
8. Showcase exciting contests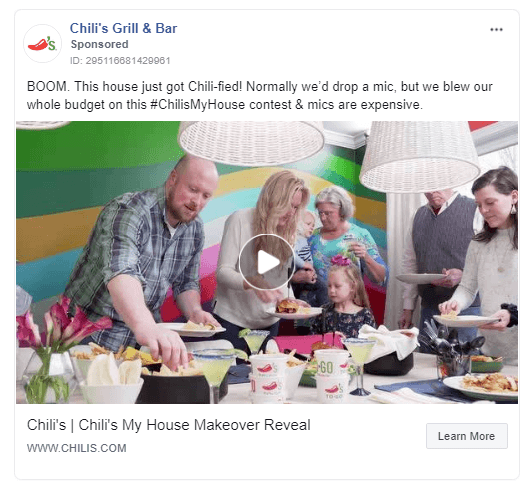 And the winner is!
Host exciting contests and display the results with a Facebook ad like this Chili's one — which, by the way, isn't even food-related. Chili's decided to host a contest, and the contest winners got their house revamped with a Chili's theme.
Contests are an exciting and engaging way to bring increased awareness of your restaurant to your diners, and ads like Chili's can help prove to your customers that you are not only there to sell them food, but to build relationships as well.
9. Encourage promotional events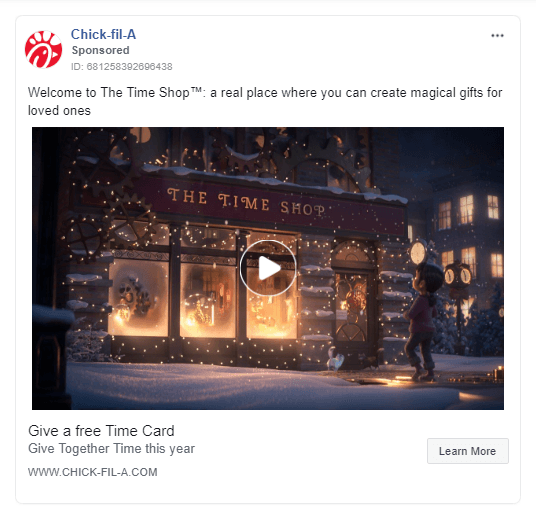 Time for a celebration!
Similar to contests and seasonal specials, events can help grow awareness of your brand, build relationships with your diners, and show off your community participation.
An ad showcasing your event on Facebook could help you drive traffic to your website, gather emails, phone numbers, or accomplish any other CTA that fits the theme of your event.
Check out this Chick-fil-a ad for their Time Shop event they held this month. It's got an adorable video.
10. Celebrate birthdays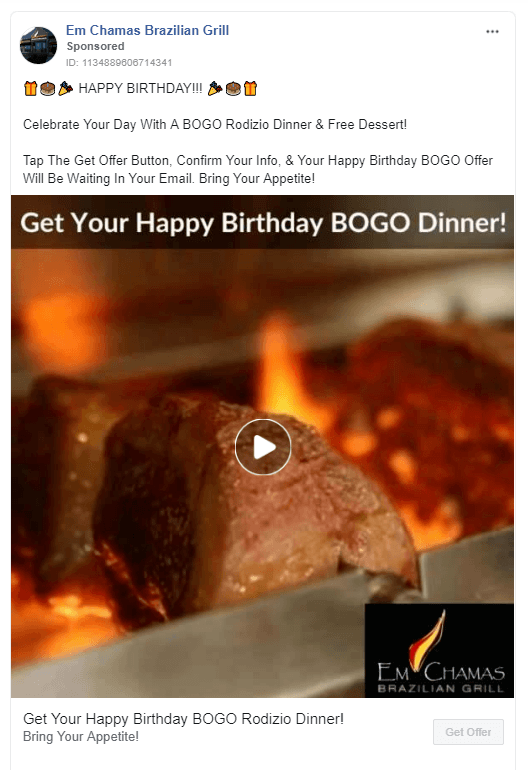 Happy birthday!
Giving out birthday deals shows diners that you care about them. Advertising those deals on Facebook like Em Chamas did here helps customers become aware of the birthday deals you offer.
Facebook even has the targeting option to let you show your ad to diners on or a few days before their birthday.
As a bonus, there's a high chance that your diners won't come alone, either.
74% of people use social media when making a purchasing decision.
Make their decision easy with a stellar social media presence. See how your brand can level up by requesting a no-obligation proposal today.
One of our experts will be in touch within 24 hours!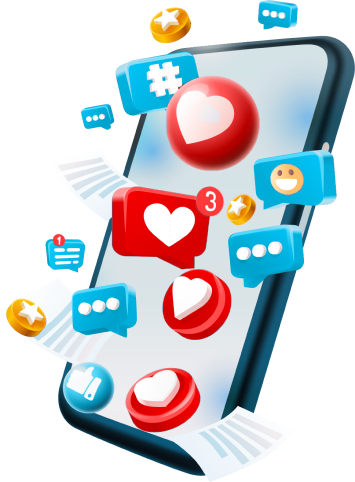 Spectacular Facebook restaurant ads with WebFX
Ready to create stunning Facebook ads for your restaurant?
WebFX has Facebook advertising services for you! With decades of experience, we provide the experience and expertise needed to get your restaurant's Facebook advertising campaign up and running!
Our client satisfaction rate is 488% higher than similar Facebook advertising and digital marketing agencies in the industry, so we're sure that you'll love working with us!
Contact us online or call us at 888-601-5359 for a free quote!
Earn a 20% greater ROI with WebFX