Benefits of YouTube for Business
YouTube is the largest and most popular video-sharing site in the world. It's so popular that it's the second largest search engine on the web next to Google, just from how many people look up new videos on it, and even has its own ranking algorithm.
And it's not just for entertainment. YouTube has millions of channels set up by individual brands, filled with how-to videos, behind-the-scenes looks at the company, and tours of the facilities.
With that in mind, your company can start using YouTube today to create a high-quality channel that'll create and connect you with customers for years at a time.
Call 888-601-5359 to speak with a strategist about video marketing services from WebFX, or keep reading to learn more about how your business can benefit from using this platform.
WebFX is a partner businesses trust.
Hear from HydroWorx, who saw a 236% increase in organic sessions with WebFX services.
Watch the Video Testimonial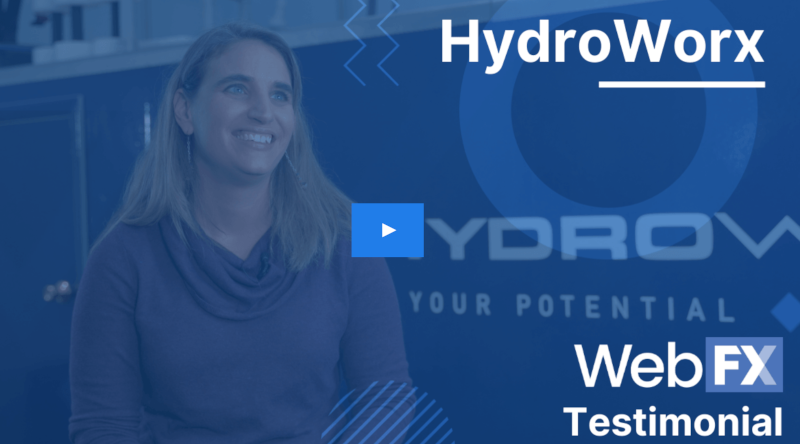 What you can expect from a YouTube channel
If you are serious about making YouTube part of your overall Internet marketing strategy (and taking advantage of YouTube monetization), you can expect some great results.
1. You can always reach a new audience
You never know who might stumble across your YouTube videos.
That's why it's essential for you to optimize each video for keywords, especially in the title. The more people who can find your video through common keywords, the better they'll perform.
Plus, you can add overlays to your video that promote your channel, other videos or even your website to help increase brand awareness.
2. Your videos will show in Google search results
Google indexes every video that's on YouTube.
So once you optimize a video's title with keywords and links to your website, you can show up multiple times in the same search results.
That gives your company a great chance of attracting the attention of potential customers, whether they start by watching your video or clicking to a landing page on your site.
3. Your videos stay on YouTube indefinitely
As long as your videos don't violate YouTube's rules, you can keep your videos on YouTube permanently.
This means that you can constantly get new views for your videos years after you've posted them. So the sooner you post a video, the better it can perform as time passes.
4. YouTube is international
YouTube is used in most countries, and that means you can expand your reach globally. If people speak your language, they can probably find you on YouTube.
5. You can add a face to your brand
Are you still in the process of developing a strong, recognizable brand? YouTube videos are a great way to promote your brand, your company's personality, and the people who help your business grow day after day.
6. It's possible to have a private video
This could be a video that is only distributed to your current customers. As the name implies, the public can't view your private videos, which means people can't search them on YouTube, Google, or other search engines.
This is a way to make clients feel exclusive and handpicked. Give them a sneak peek about your new products or services, show off your facilities, and more all in a private video.
7. Add transcripts and captions
If you want to make sure you reach as many customers as possible, you should add transcripts and captions to all of your videos.
That way, you can make sure your videos are viewable by pretty much everyone, from a potential customer who may be deaf to someone who's using a computer with a broken sound card.
8. Control the comments
Because you added a video to your channel, you can control the comments on it.
If you prefer, you can even turn off the comments on your YouTube video. This helps eliminate negative or off-topic comments associated with your YouTube channel.
YouTube video ideas to get started
Now that you have an idea of why to use YouTube to market your company, it's time to come up with some videos.
Consider making videos around any of these topics:
New products and services
Demonstrations of how to use products
Answers to commonly asked questions
Question-and-answer sessions with the company's founders
Videos of PowerPoint presentations
Commercials for your organization
Case studies
Client testimonials
Interviews with customers, employees or industry experts
Tips and hints
Your videos can be as short or long as you want, although it's usually best to keep them under three minutes.
Most people won't stick around if they don't have a reason to keep watching. You can create your videos using any equipment you like, such as your tablet, smartphone or video camera.
If you don't have editing software, don't worry—YouTube's own editor can help you smooth out your final draft!
Time to Level Up Your Sales
Our long list of services helps you grow every aspect of your business with marketing strategies that are proven to increase bottom-line metrics like revenue and conversions.
In the past 5 years, we've managed more than 12.9 MILLION transactions across our client base.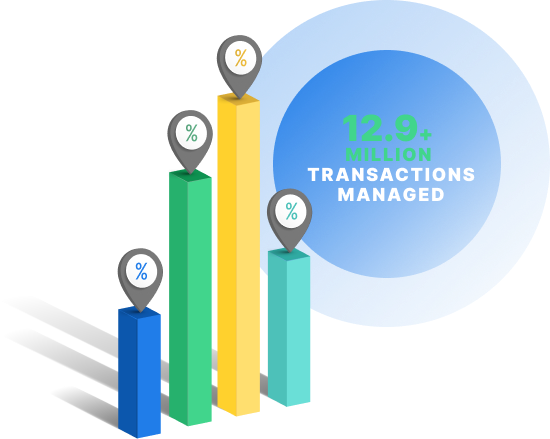 WebFX knows YouTube marketing
We're proud to have a full team of smart, experienced, and diligent marketers at WebFX, all of whom know how to maximize your YouTube channel's reach.
We've worked on YouTube with our clients before, and we've delivered results that've helped them grow their businesses. If you want to get more customers, we know the best ways for you to use the biggest video-sharing network in the world!
Contact us today to set up a YouTube marketing plan that's unique to your company!