Why Hire a Marketing Agency? (+6 Tips for Hiring One)
While in-house marketing can help you keep all business within your organization, it is not feasible for all companies. That's why many companies choose to hire a marketing agency and get the results they want with less work.
This post will dive into the specifics of how to hire a marketing agency, including:
Read on to learn how to hire a marketing agency. Or, call us at 888-601-5359 to see how WebFX can transform your marketing campaigns!
Don't miss our Marketing Manager Insider emails!
Join 200,000 smart marketers and get the month's hottest marketing news and insights delivered straight to your inbox!
Enter your email below:
Inline Subscription Form - CTA 72
"*" indicates required fields
(Don't worry, we'll never share your information!)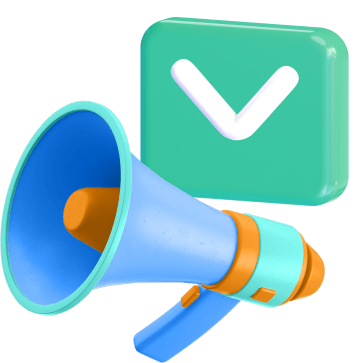 Why hire a marketing agency
There are many reasons to hire a marketing agency — that's why so many companies do it. Here are just a few factors to consider:
Cost-effectiveness: Hiring a marketing agency helps you get the most bang for your buck. When you pay digital marketing prices, you get a better return on investment (ROI) and results than you would in-house.
Having multiple specialists in one place: You likely don't have a career in marketing if you're considering outsourcing. With a marketing agency, you can work with trained specialists who have experience with problem-solving and creating campaigns.
Access to software: Many marketing companies have their own marketing technology, or they know how to use popular options. Instead of learning the ins and outs on your own, you can get help from the tech professionals.
Consistency across channels: Marketing often involves multiple channels — email, social media, advertising, etc. It can be harder to keep up with all of it and run a business. A marketing agency can give you consistent results across each channel.
In short, a marketing agency can help you get the most out of your approach while offering more insight and technology. Each agency will also offer unique benefits, such as particular fields of experience or services.
Tips to hire a marketing agency
So, now that you know why to hire a marketing agency, how do you do it? Follow these six tips when picking the right agency for your company:
Know what strategies you want to invest in
Have a budget in mind
Have goals/know what you want to accomplish
Look at a company's portfolio
Read reviews from other clients
Above all, remember that your agency is meant to be best for your company. While your competitors might work in-house or with a certain agency, you should focus on what can give the best results for your needs.
1. Know what strategies you want to invest in
Before you pick an agency, decide what strategies you want to try for your business. Setting business goals can help you match the strategy to your needs. A competitor analysis can also help you understand what areas you can target to match competition.
In terms of traditional marketing, you could pick from print ads, cold calling and call tracking, and TV advertising.
For digital marketing, you can use a mix of strategies like:
2. Have a budget in mind
Knowing your budget before evaluating marketing agencies will help you narrow your search.
For example, let's say you want to invest in SEO. If you know the average cost of SEO services, you could look for companies that advertise within that range. Plus, if you set up a budget ahead of time, you can look for companies who over- or under-charge their clients.
3. Have goals and know what you want to accomplish
Setting marketing goals is a crucial part to finding an agency. If you don't know what you want to accomplish, you won't be able to find an agency to help you achieve your goals.
Your marketing goals might include:
Earning more conversions on your website
Improving your social media presence
Creating more cohesive branding
Boosting ecommerce purchases
You can set specific, measurable, achievable, relevant, and time-based (SMART) goals before you work with a marketing agency to help guide your search for the right partner.
4. Look at a company's portfolio
Looking at a company's past work can show you what they have to offer. A portfolio will summarize their work without being overly sales focused. You can get a better idea of what the company will do for you as you browse their past work.
5. Read reviews from other clients
If you want to know more about a company, read their reviews!
Some agencies will post reviews on their website, but you can look on Google and other review sites to see what everyone has to say. Be mindful of how the agency reacts to negative reviews — if they want to make It right, that shows they care about customers' experience with them.
Questions to ask before hiring
Before you sign on the dotted line, you must feel positive that this company will give you the best results and be a good fit. Here are a few questions to ask yourself when hiring a marketing agency:
Does the company understand my goals and share my values? The agency you hire is an extension of your team, so it's crucial that they understand your perspective.
How involved do I want to be in the marketing process? Whether you want total control or a hands-off experience, make sure that's a viable option.
Do they offer everything I need? Double check that they have all the services, specialties, and software you require for success.
Time to Level Up Your Sales
Our long list of services helps you grow every aspect of your business with marketing strategies that are proven to increase bottom-line metrics like revenue and conversions.
In the past 5 years, we've managed more than 12.9 MILLION transactions across our client base.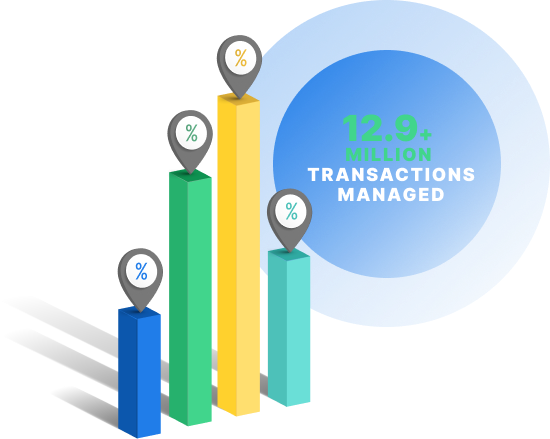 Find out more about marketing agencies with WebFX
If you want to learn more about marketing agencies, WebFX can help. As a leading digital marketing agency with 25 years of experience, we know all that goes into finding and hiring a marketing agency for your company.
We help companies across industries with digital marketing services that drive revenue and leads. Our portfolio and 1020 testimonials speak for themselves.
Want to learn more? Contact us online today and chat with a specialist about what we can do for your business!