When it comes to digital marketing, social media for banks offers financial institutions like yours the chance to connect with your target market, attract new customers, and build customer loyalty. If you want to grow your bank and improve your brand image, invest in social media banking.
With people spending almost 30% of their online time on social media, it's a smart decision to use social media. Not to mention, more than 70% of people turn to social media when making purchase decisions, whether for getting advice on which coffee maker to purchase or which bank to trust for a loan.
If you're ready to bring social media and your bank together, keep reading for seven helpful tips on using social media for banks. For professional help with getting started on social media, contact us online or call us at 888-601-5359 to learn how our social media marketing services can help you!
Not happy with your social media engagement?
We've got just the blog post for you.
Read the Blog Post & Watch the Video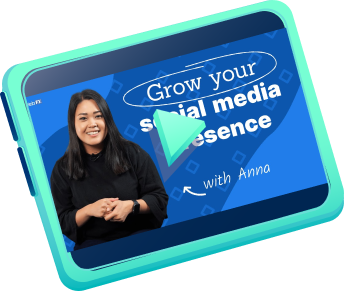 8 tips for using social media for banks
Learn how to get the most value from social media for banks with these eight tips:
1. Share informative posts
The easiest way to use social media platforms like Facebook and Twitter as a bank is to simply create posts that will increase engagement.
Ideally, you should post to Facebook twice a day if you have at least 10,000 followers. However, if you have less than 10,000 followers, you should only post 1-5 times per month for maximum engagement.
Generally, you can post more on Twitter.
As far as what kind of content to post, you have many options.
First, you should always make posts when something new is happening at your bank. For example, if you're promoting a special interest rate on personal loans for the next two months, Facebook and Twitter are the perfect platforms to share that information with your followers.
You can also use a social media network like Instagram to advertise an offer like this, though you'll need to create an eye-catching graphic or video.
No matter where you post your offer, sharing it helps your current members be aware of the promotion, and can show potential customers what they stand to gain.
You can also create posts with more general information, like banking or money-saving tips.
Sharing information that can help your customers is a sure-fire way to increase their trust in your bank because they know you're willing to help and offer valuable advice.
2. Create infographics
Infographics are pieces of content that illustrate information in a visual way.
Users tend to interact and share infographics more than written content because they are engaging and fun to look at. In fact, infographics are "liked" and shared three times more than any other content on social media.
Whether you create one yourself using a program like Canva, or you hire a freelancer to create an infographic for your bank, you should always be sure to include only the most important information.
The purpose of an infographic is to allow users to skim it quickly and get the information they need, alongside some fun and engaging graphics.
For example, you could create an infographic on the step-by-step process of opening a checking account, along with tips on how to keep it healthy.
It's also possible that if users find your infographic extremely helpful or unique, they could share it with their friends — spreading word of your bank even further across social media.
3. Include links to your bank's website
Facebook and Twitter are great places to share links to your website. Both networks make it convenient for your friends to simply click, and end up on your blog, informational pages, and more.
If your bank has a blog, you can share links to your latest posts to keep current and potential customers coming to your site.
You can also share links to pages that give more information about the different kinds of loans you offer, your FAQs, and other popular pages on your website.
For a social media network like Instagram, you'll need to get creative with linking to your website. Instagram doesn't allow links within posts, though profiles may feature one link.
Tools like Linktree can help you share more than one link with users. With Linktree, you create a link hub. Users click your Linktree link and then see a list of other links, like to a recently mentioned blog post.
For the best results with social media banking, use a tool like Linktree to get the most traction from your social media marketing efforts.
4. Post content from trusted industry leaders
When you share content that belongs to leaders in the banking industry, you'll be satisfying your followers' needs for useful and informative content.
Not only that, but when industry leaders see that you're sharing their content, they might be more willing to share your content as well — which takes your posts to the next level in terms of reach.
5. Offer customer service
Social media for banks shouldn't be the only part of your bank's customer service strategy, but it's definitely great to have.
Often times, social media is the first place dissatisfied customers will go with their thoughts and feelings about a business. If you see that your bank is tagged in a negative comment, use it as an opportunity to do some reputation management and customer service.
You should try your hardest to respond to every complaint you're tagged in to ensure that users know your bank is paying attention to their needs.
Respond nicely to negative comments, and encourage customers to contact you via messenger or to call your office to resolve the issue.
You should also respond to positive comments to thank users for their feedback and answer any questions that you might be tagged in.
Additionally, if you get a query via messenger, you should always respond in a polite, timely manner.
Remember, however, to keep these conversations secure. If someone needs help getting into their account, initiate contact on social media, but then refer them to more secure channels to resolve the issue.
6. Use hashtags
Hashtags are a helpful strategy for banking on social media because they can get your bank discovered. Generally, hashtags offer the most value on networks like Twitter and Instagram.
Hashtags are a way of labeling your posts and organizing them in a way that tells users what you're talking about.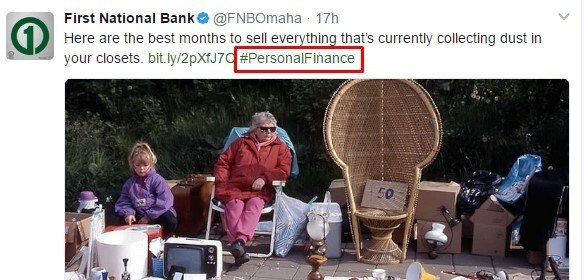 For example, if you tweet "get ready for your summer vacation with 2.9% interest rate on personal loans," you could use any number of hashtags including #personalloans, #vacation, #lowinterestrate, and any other hashtag that classifies your tweet.
When users search for a hashtag, like #personalloans, your tweet or Instagram post will show up, and users that didn't even know about your bank could find you.
7. Hold contests
Everyone loves free things — and that's why contests work so well on social media.
Your bank could share an image describing a contest that you're holding — such as a drawing for gift cards to local businesses, or tickets to popular events.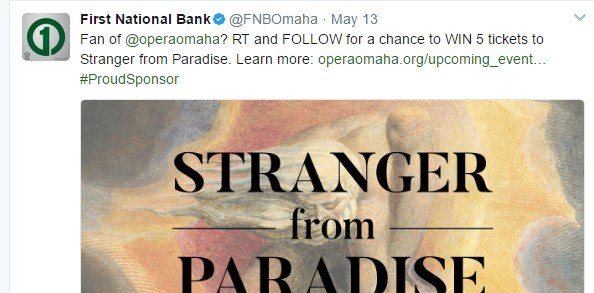 Contests like these help spread the word about your bank, since they encourage users to share your accounts — all the while being entered in a contest to win something for free.
Hear What It's Like to Work With WebFX!

"WebFX's collaboration and success of working on a complete re-design with our website vendor and our Bank to ensure the absolute best site and SEO out of the gate has been such a positive experience."
Bank
Attract more customers with social media for banks
Bringing together social media and your bank is a process. It takes time to establish a process and guidelines, which can leave your social media strategy on pause.
Partnering with an experienced social media agency, however, can streamline this process and ensure your bank launches its social media plan and gets the results it wants.
At WebFX, we bring more than 25 years of experience to social media for banks, having helped our clients attract more than 7.8 million leads in the past five years.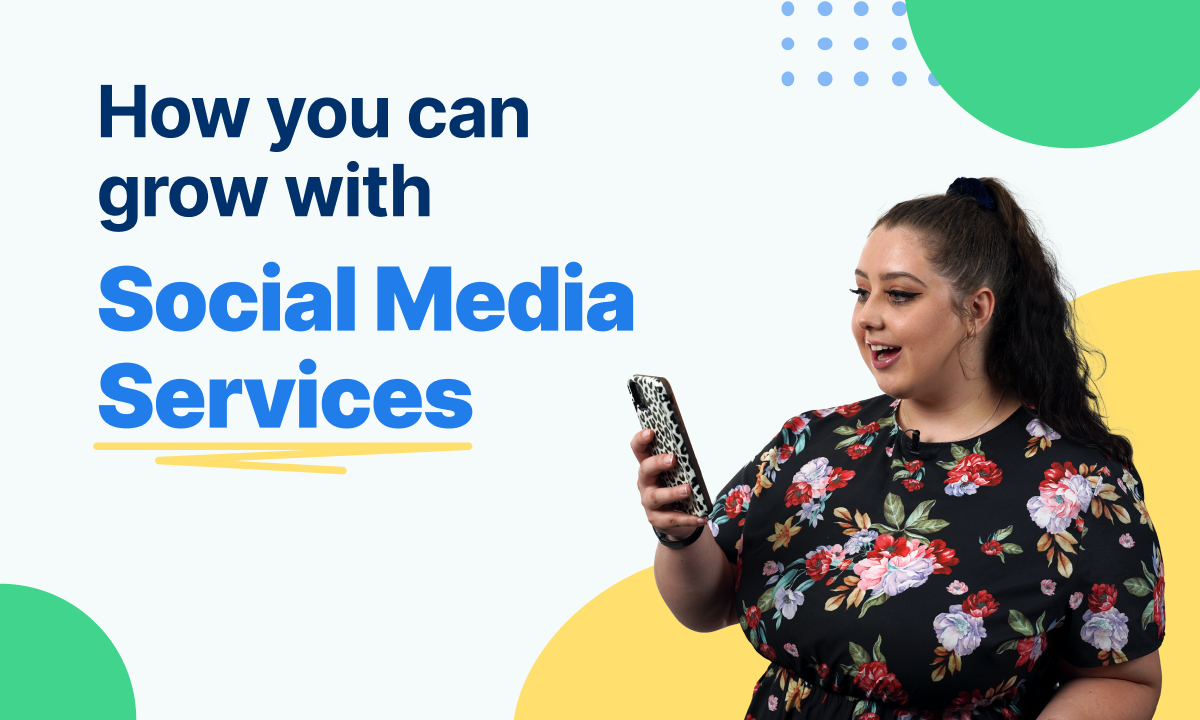 If your bank is ready to create a social media presence, we can help.
Get the most benefit from social media for banks with a custom social media campaign from our seasoned team of social media specialists.
Contact us today or call us at 888-601-5359 to get started.
Earn a 20% greater ROI with WebFX